Investment Thesis
Guardian Capital's (OTC:GCAAF) operating businesses are being assigned very low valuation by the market. In my opinion, these operating businesses are worth close to CAD 450 million, but the market is assigning a value of about CAD 30 million to these businesses over and above the value of the company's security portfolio.
Overview
Guardian Capital Group Ltd. is a Canadian CAD 615 million market cap investment manager based in Canada, which is carrying CAD 688 million of securities on its balance sheet (as on Sept. 2018). Of the CAD 688 million, CAD 394 million consists of 3.7 million Bank of Montreal (NYSE:BMO) common shares. BMO's shares were acquired by Guardian in 2001 when Guardian's consumer facing mutual fund business was sold to the Bank of Montreal, one of the biggest banks in Canada. Having divested its Mutual Fund Business, Guardian currently focuses on managing institutional money, retail intermediary (Independent Financial Advisors) and private wealth management. It has been growing this business consistently.
Since 2001, Guardian has been selling its initial cache of BMO shares (4.96 million originally; now 3.7 million remaining), while diversifying both its mother lode (in-house securities portfolio) as well as seeding new investment management businesses in Canada, the U.S. and U.K. Surprisingly, even after 17 years post divestiture of its original mutual fund business, the security portfolio is worth almost as much as the entire business, and the operating asset management business (with approx. CAD 30 billion of Asset Under Management) is available for almost free. It's almost as if the market thinks that the firm is incompetent to build another asset/investment management business.
Operating Structure
Guardian Capital Group is a diversified financial services firm with several businesses:
| | |
| --- | --- |
| Guardian Capital LP | Guardian Capital LP has been managing institutional assets for over 50 years for pension plans, insurers, foundations, endowments, third-party mutual funds and ETFs. |
| Guardian Capital Advisors LP | Guardian Capital Advisors LP has provided private wealth management to individuals, families and charitable organizations since 1992. |
| GuardCap Asset Management Limited | GuardCap Asset Management Limited was acquired in 2014 to broaden the company's global perspective and expand its institutional asset management footprint to the U.K. |
| Alta Capital Management LLC | Alta Capital Management LLC is a long-standing, US-based institutional investment manager. The company acquired a 70% majority interest in 2018 to strengthen its presence and distribution network in the United States. |
| Alexandria Bancorp | Alexandria Bancorp is a bank in Cayman Islands that provides trust and corporate administration, investment management and banking services for international clients. |
| Worldsource Wealth Management | Worldsource Wealth Management is an integrated wealth management platform for financial advisors across Canada to deliver professional advice on mutual funds, securities and insurance. |
Background
Guardian was founded in 1962. In 1987, John Christodoulou took over Guardian as CEO succeeding one of the founders, Norman Short. John Christodoulou was a Greek-Egyptian immigrant to Canada and a tenured Professor of Finance at Queen's University in Kingston, Ontario. John Christodoulou was an acknowledged financial genius who built Guardian into an outstanding full service asset management company with multiple businesses. In 2001, Guardian sold its mutual funds business to Bank of Montreal for $181 million and negotiated to take the proceeds in BMO stock instead of cash for tax and valuation reasons. This was a masterstroke and is the foundation of the mother lode the company holds today.
Guardian has a dual voting structure. The common (voting) stock (TSX:GCG) is controlled by family of the late John Christodoulou (He passed away in 2011). The common stock also trades on the Toronto Stock Exchange, though there are only 3.2 million shares outstanding. Class A shares (TSX:GCG.A), which have equivalent economic value with respect to dividends and earnings per share, are much more numerous (25.793 million shares outstanding) and more liquid. The Class A shares trade on TSE as well as in the US OTC exchange (grey market). The dual structure ensures family control of the business and any takeover attempt would have to be with the family agreement. From a retail investor view point, Class A shares make more sense as voting power is practically meaningless and liquidity more important.
Sum-of-the-Parts Valuation
My sum-of-the-part calculations are as follows:
A. Assuming a 15% decline in the value of its security portfolio since Q3-2018 - $688 - 15% = $584.
B. Minus met debt of approx. $81 million
C. Add value of $30 billion AUM - approx. 1.5% of AUM = $450 million (Range $300 to $900 million). Net $853 million value. This is available for around $615 million. A 35% discount to market value.
Some readers will argue rightly that point C. above is the most critical estimate. That is true. However, I think most asset managers are valued between 1% of AUM on the low side and 3% of the high side. I chose a midpoint of 1.5% AUM. You may choose 1% or even lower - but that still gives you a decent margin of safety.
Another way to estimate C. would be to apply a reasonable multiple to the income generated by the operating businesses. The operating income is approx. $50 million a year. A 10 X multiple gives you $500 million. This is in the ballpark.
Growth
The company's growth metrics over the last decade has been impressive. All numbers below denote annualized compounded growth rates (%) on a per share basis.
| | | | |
| --- | --- | --- | --- |
| Annual Rates (per share) | 10 yrs | 5 yrs | 12 months |
| Revenue Growth (%) | 14.80 | 8.40 | 21.70 |
| EBITDA Growth (%) | 27.20 | 25.10 | 44.90 |
| Operating Income Growth (%) | 19.90 | 4.00 | 63.40 |
| EPS without NRI Growth (%) | 24.90 | 32.80 | 32.50 |
| Free Cash Flow Growth (%) | 21.00 | 9.80 | -72.20 |
| Book Value Growth (%) | 12.20 | 14.60 | 16.50 |
(Source: GuruFocus.com)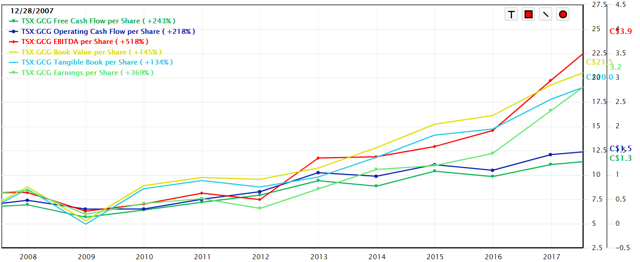 The following chart shows that book value and stock price are closely correlated. In 2018, the company has made a major move by acquiring the majority (70%) in an asset management business in the U.S. (Alta Capital Management).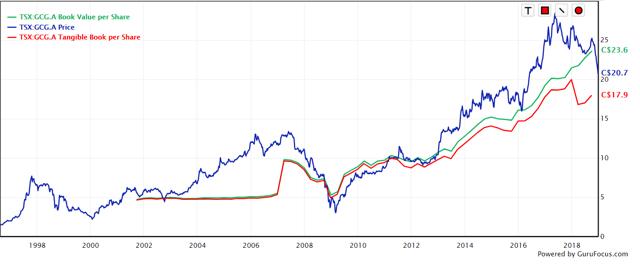 The company's investment management businesses have started to produce impressive operating income.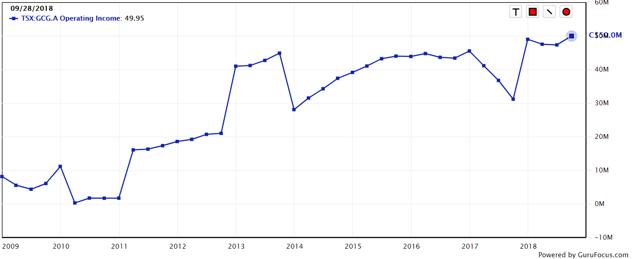 Buybacks & Dividends
The company has been aggressively buying back its shares in the open market and has reduced outstanding diluted shares (common & Class A) by 25% since 2007. All these buybacks, combined with growth of operating income, have more than quadrupled earnings per share in the last decade.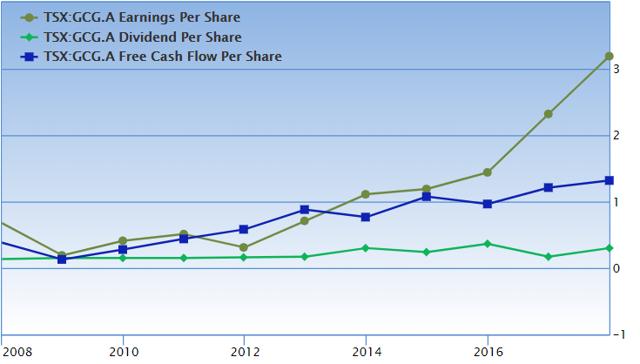 (Source: GuruFocus.com)
The company pays a small but growing dividend, which is currently yielding 2.15% (on Dec. 31, 2018). Over the last five years, dividend has been increasing at double-digit rates. If you were to combine the dividend with the average three-year buyback ratio of 2.8% (as of Sept. 2018), the three years' total shareholder payments are in the 5% a year range, which is excellent given the solid balance sheet.
Investor Takeaway
The company is extremely value oriented and shareholder friendly, emphasizing both the conservation of capital and consistent growth at a reasonable price. I believe it's highly undervalued because little value is being assigned to its growing investment management businesses. Its large core security portfolio explains the bulk of its stock price. Because of family control of the voting shares, there is no quick buck to be made here via M&A but the last decade has shown that this company is a terrific compounder of value and is being managed for the very long term. I am sure at the right price the family would agree to sell its operating businesses to a strategic buyer, just as it previously sold its mutual fund business to the Bank of Montreal. Family control also ensures that management remains aligned with the long-term interests of the shareholders. I, as a small investor, am happy to go along for the ride knowing that my interests are aligned with the family and management. In a bear market of course both its security portfolio and AUM would be reduced. So an investor should be cognizant of this (short-term) market risk. However, if you are a long-term investor interested in consistent growth and capital preservation, Guardian Capital is the right vehicle with a terrific track record.
Disclosure: I am/we are long BMO. I wrote this article myself, and it expresses my own opinions. I am not receiving compensation for it (other than from Seeking Alpha). I have no business relationship with any company whose stock is mentioned in this article.
Additional disclosure: Guardian Capital Group trades primarily on the Toronto Stock Exchange (TSX) and reports in Canadian Dollars. The non-voting shares also trades lightly on the US OTC exchange. The Canadian dollar is currently trading at around 1.34 per US Dollar. US investors will be subjected to a Canadian withholding tax (15%) on dividends if the shares are held in a taxable account. The withholding tax can be claimed as a credit on your tax return to avoid double taxation.