Welcome to our Cannabis Industry Analysis where we analyze the latest and hottest topics in the industry to help you stay ahead of the curve.
Introduction
We think there are three main challenges facing the retailers in the Canadian provinces that do allow privately run retail stores. As we discussed the provinces initially in "Complete Cannabis Guide #4: Provincial Regulations In Canada", the provinces have adopted different models when it comes cannabis retail. All of the provinces except Saskatchewan will control distribution which means that the wholesale margin will be controlled by the government.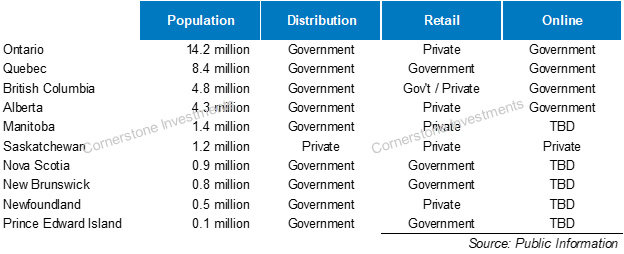 The largest market, Ontario, decided to reverse its course back in July and now the province will become one of the most promising markets in Canada. The retail market in Canada has really become a lot more interesting after Ontario opted in. However, there are three unique key features that shaped the Canadian cannabis retail market as discussed below.
There are five publicly-traded cannabis retail stocks: Alcanna (OTCPK:LQSIF), Choom Holdings (OTCQB:CHOOF), National Access Cannabis (OTCPK:NACNF), and Inner Spirit (OTC:INSHF), and Hide Tide (CSE: HITI).
#1 Online Competition
Most provinces are running a monopoly on the online sales of cannabis including Ontario, Quebec, British Columbia, and Alberta. In a world where e-commerce has become the predominant way of shopping for many consumers, online stores will also represent a large portion of the overall cannabis sales. Based on some of the U.S. cannabis companies that report sales from online, we are seeing numbers in the range of 30-50% of their sales coming from online stores. Canadian retailers are deprived of the ability to run online stores which significantly reduced the addressable market for them. The prospect for their profitability is also significantly reduced due to the restriction because they will have to rely on in-store sales to cover their overhead and staffing costs. We do not see the situation to change at all and believe that the Canadian cannabis retailers are dealt with a permanent disadvantage when compared to their American counterparts.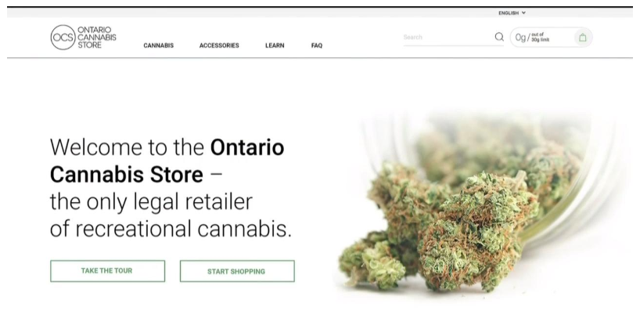 (OSC Website)
#2 Margin Compression
Given that all provinces except Saskatchewan will control wholesale, the cannabis retailers will have no choice but to buy from the provincial wholesalers at the prices they determine. For example, based on the information released by the Alberta government wholesaler, the prices that are offered to all retailers in the province are C$8.35 per gram. The wholesale prices included C$6.40 of product costs, $1.0 of Federal excise tax, $1.08 of provincial tax, and $0.42 of GST.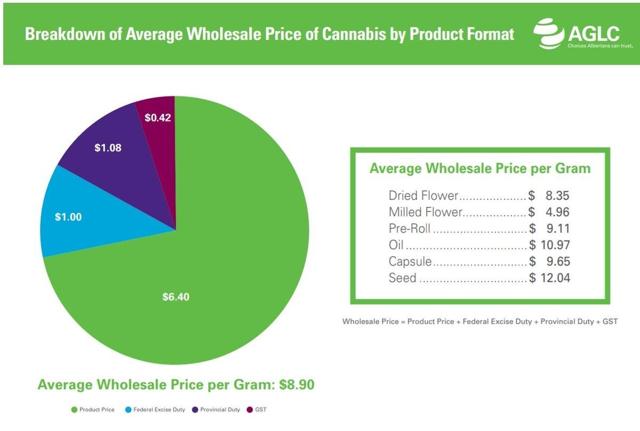 (Source: AGLC)
The margins for retailers in Alberta will become very tight because our research on the provincial online stores is showing pricing in the range of C$9.50-$10.50 per gram for most of the dried flower SKUs. If retailers are getting their supplies from the provincial wholesalers for C$8.35 per gram, the gross margin for them would be between C$1.15-$2.15 for dried flowers. Assuming the mid-point of $1.75 per gram, the gross margin would only be 17.5% for the dried flow category. We think oil and capsule are likely to garner higher margins and Canada's independent cannabis retailer, National Access Cannabis, reported a gross margin of over 30% for the first 50 days of legalization. In any case, we think the margin for cannabis retailers will be constrained by the wholesale prices charged by provincial sellers and the fierce competition from illegal supply channels that are unlikely to go away anything soon.
#3 Limited Scale
The retail cannabis market is significantly limited by the government imposed limits on size and number of licenses. British Columbia should be a lucrative market but the government will run their own cannabis stores to compete with private stores, and the limit of 8 licenses per company makes it very hard to any retailer to scale up and spread out costs. Most retailers need dozens if not hundreds of stores in order to be profitable given the economics of scale in the competitive retail market. Alberta's limit of 37 is definitely better than British Columbia but still makes it very hard because we don't think most companies will be able to achieve the hard cap before the market becomes saturated. Lastly, Ontario represents one of the most promising markets for retailers in Canada but the complete regulations have not been finalized and remains a work in process. We remain cautiously optimistic on the outlook for Ontario retailers as the biggest cannabis market in Canada will only see 25 licenses generated through a lottery system by April 2019.
British Columbia: 8 maximum licenses
Alberta: <15% of all licenses (37 based on 250 licenses)
Ontario: contemplating 15% cap similar to Alberta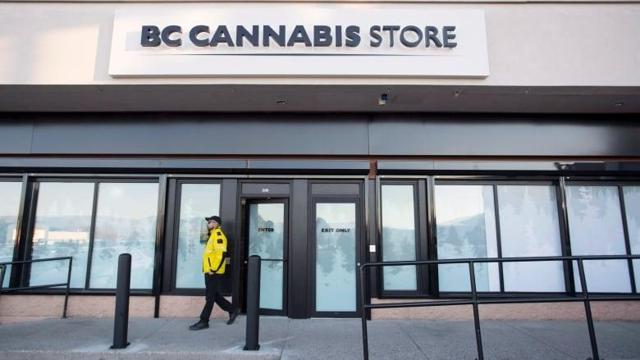 (Source: Burnaby Now)
Conclusion
The Canadian cannabis retailers experienced a roller-coaster year in which the Ontario government excited everyone with the privatization plan but later imposed a short-term limit of 25 licenses until April 2019. Alberta started out strong but had to suspend its licensing process due to severe product shortages. We think the supply shortages plaguing the industry should subdue towards the 2H of 2019 as productions come online and the market should turn to a surplus by the end of 2019 or early 2020. Ontario government will likely resume its original plan of issuing an unlimited number of licenses sometime during 2019 but the details around the selection process and any concentration cap (15% being contemplated) still depend on the fine prints. We remain cautious about the cannabis retailers as a group in Canada and believe that the government-controlled distribution model will hamper their ability to manage supply chain and optimize profits. If liquor is an example where a similar government wholesale model was adopted in Alberta and British Columbia, one only needs to look at Alcanna and its struggling performance in recent years. We prefer to wait and see what happens in 2019 before recommending an investment in Canadian cannabis retail stocks.
Disclosure: I/we have no positions in any stocks mentioned, and no plans to initiate any positions within the next 72 hours. I wrote this article myself, and it expresses my own opinions. I am not receiving compensation for it (other than from Seeking Alpha). I have no business relationship with any company whose stock is mentioned in this article.
Editor's Note: This article covers one or more microcap stocks. Please be aware of the risks associated with these stocks.