2018 was the first year since 2008 that delivered negative returns for the S&P 500 (IVV). The streak was broken. But for Canadian investors and 'thanks' to a weak Canadian Dollar and strong US Dollar, Canadian investors still had a positive year for US markets. That streak is still intact.
Portfoliovisualizer.com shows IVV down 4.4% for 2018. But for a Canadian investor the US market would have delivered +4.1% for 2019.
It was a year when Dividend Growth Stocks (VIG) 'out performed' the market. VIG was down just by 2%. And that said, our 15 skimmed largest cap Achievers outperformed the total index in 2018, just as they had done in 2017.
For more on that index skimming exercise you can start with this article Buying Dividend Growth Stocks Without Looking.
Those 15 companies are 3M (NYSE:MMM), Pepsi (NYSE:PEP), CVS Health Corporation (NYSE:CVS), Wal-Mart (NYSE:WMT), Johnson & Johnson (NYSE:JNJ), Qualcomm (NASDAQ:QCOM), United Technologies (NYSE:UTX), Lowe's (NYSE:LOW), Walgreens Boots Alliance (NASDAQ:WBA), Medtronic (NYSE:MDT), Nike (NYSE:NKE), Abbott Labs (NYSE:ABT), Colgate-Palmolive (NYSE:CL), Texas Instruments (NYSE:TXN) and Microsoft (NASDAQ:MSFT).
And while a couple of companies were kicked out of the index, and CVS is soon to follow, I have stuck with all of the original skims from early 2015. This is also an exercise in buy and hold. And while it was also an exercise in buy and hold and add, given my new life work adventure I now need to access the dividends and I'm not averse to share harvesting as well when the need arises. Here's Did I Get Lucky With My Apple Share Harvesting, or What?
Here's the performance of the Dividend 15 vs VIG from January of 2017 to end of 2018. The chart is courtesy of portfoliovisualizer.com, and of course past performance does not guarantee future returns.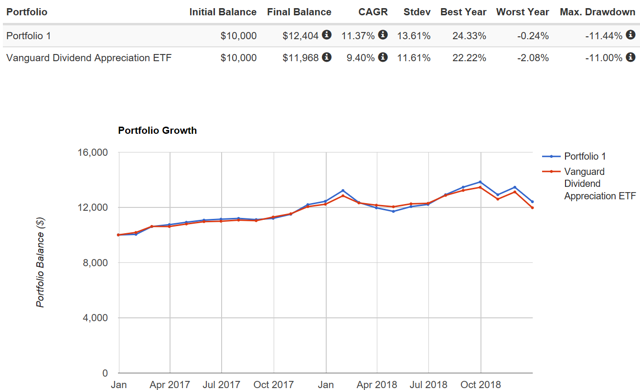 Here's the annual breakdown. A market beat in 2017, much less drawdown in 2018.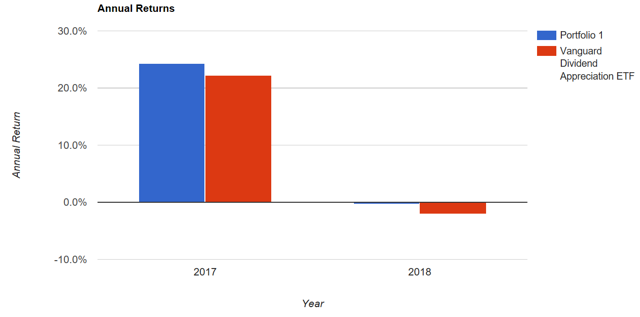 And here's the returns for the constituents for 2018.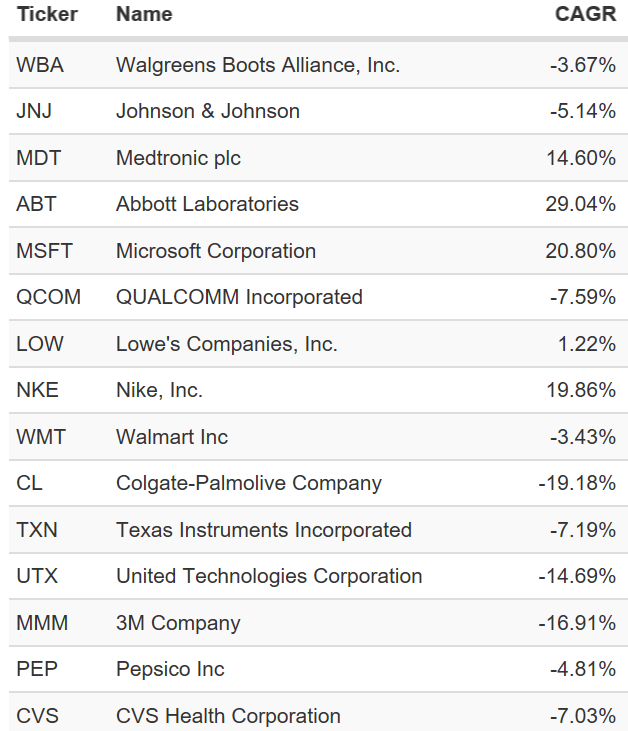 We can see that the outperformance was drive by 4 companies, Nike, Microsoft, Abbott Labs and Medtronic. All said, I am continually surprised at how 15 companies can so closely track an index. Of course a large part of the credit goes to the fact that the Dividend Achievers Index is cap weighted (more value to largest companies) and I bought 15 of the largest cap.
Here's the performance from 2015 to end of 2018.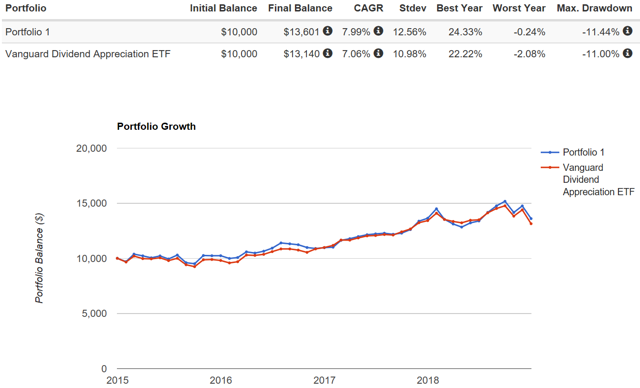 That outperformance could certainly be courtesy of a little luck as Microsoft and Texas Instruments have been wonderful outperformers and their weighting (tech weighting) for the Dividend 15 would be 13%, and that is greater than the overall tech weighting for the total VIG.
The Canadian Wide Moat 7.
My readers will know that for my personal portfolio I hold a concentrated portfolio of just 7 companies. Here's The Dividend Growth Wide Moat 7 From Canada.
The holdings are the 3 biggest banks in Canada, Royal Bank of Canada (NYSE:RBC), Toronto Dominion Bank (NYSE:TD), Scotiabank (NYSE:BNS).
In the Telco space Bell Canada (NYSE:BCE) and Telus (NYSE:TU).
And Canada's two big energy/pipelines Enbridge (NYSE:ENB) and TransCanada Pipelines (NYSE:TRP).
I do not expose my wife's accounts to that concentration risk. She holds Vanguard's High Dividend Index, ticker VDY on the Toronto Stock Exchange. That fund is greatly over-weighted to the Canadian financials at over 60%.
2018 was not a good year for Canadian stocks.
Portfolio 1 is the VDY Index Fund.
Portfolio 2 is the Canadian Composite Fund, iShares XIC.
The performance includes dividend reinvestment.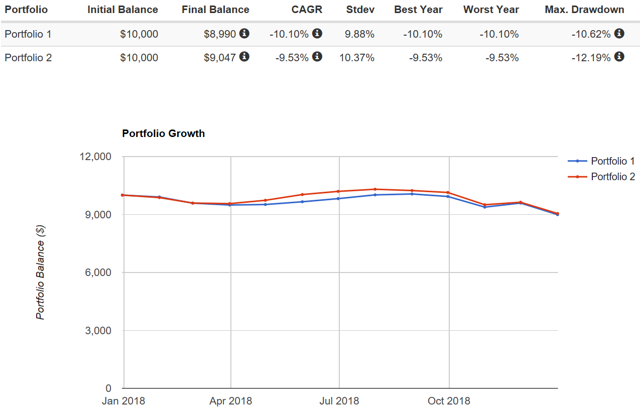 Here's the Wide Moat 7 vs the Vanguard VDY big dividend benchmark.
Portfolio 1 is the Wide Moat 7.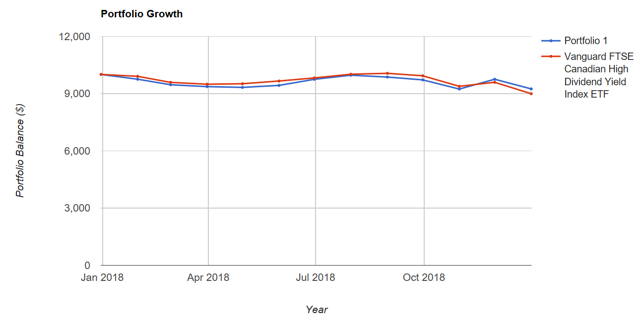 I certainly have to admit that it was a surprise that the concentrated portfolio of 7 would hold up better than the high dividend benchmark and the Canadian market composite index fund. It was certainly a year when the new utility Telco's and the pipelines where hit hard due to interest rate hikes, and the fear that we were entering a lasting rising rate environment.
But as I wrote in this article, after those companies and sectors took their initial hit, The Defensive Utilities, Pipelines and Telco's Start To Do Their Thing, Again.
Here's the individual returns and drawdown for 2018.

The market started to absorb the initial rate hikes and 'thanks' to a weakening Canadian economy, the fears of a rising rate environment started to dissipate. The defensive stocks started to do their 'defensive thing' in a weak environment for stocks. In November and December the pipelines and Bell delivered nice positive gains taking the Wide Moat 7 above the index for the year. Telus was a rock throughout the year. Telus was flat for the year with dividend reinvestment and the maximum drawdown was -5.8% for 2018. Bell took a harder hit for the year.
Bonds were weak as well with that fear of a rising rate environment; but the bond market did recover late in the year delivering positive returns in the last quarter. Bonds also started to do their thing. A Canadian with a Balanced Portfolio would been flat or down slightly (2-3%) due to the strong US dollar/weak Canadians dollar.
The international developed markets (EFA) did not do well in 2018.
The year of nothingness.
For all of the noise and fear mongering, in the end, 2018 was a year of nothingness for an Intelligent Investor with a longer term perspective. We experience very modest volatility and drawdown and perhaps small portfolio declines for many.
If we are investing within our risk tolerance level, this should feel like nothing much at all. I entered my new life work stage and perhaps hit what many fear in their first year of retirement/semi retirement - a down market. It did not bother me at all. I'd rather have a strong market, but with my increasing dividend stream and bond component, I was not emotionally affected by the modest market declines or the never-ending cacophony from the fear mongers.
The professional active managers and financial media were all over the place in 2018. We the sensible self-directed investors - not so much.
The markets are allowed to take a breather. They're even allowed to offer meaningful declines. The markets are like a box of chocolates - you never know what you're going to get.
Author's note: Thanks for reading. Please always know and invest within your risk tolerance level. Always know all tax implications and consequences. If you liked this article, please hit that "Like" button.
Disclosure: I am/we are long BNS, TD, RY, AAPL, NKE, BCE, TU, ENB, TRP, CVS, WBA, MSFT, MMM, CL, JNJ, QCOM, MDT, BRK.B, ABT, PEP, TXN, BLK. I wrote this article myself, and it expresses my own opinions. I am not receiving compensation for it (other than from Seeking Alpha). I have no business relationship with any company whose stock is mentioned in this article.