I seem to have become an informal spokesperson for mortgage insurance stocks MGIC (symbol MTG) Radian (RDN), Essent (ESNT) and National Mortgage (NMIH). I can't help myself; the valuations seem so darn compelling, and as a result, I have built a major financial interest. I therefore feel it prudent to keep researching them to see where I might be wrong.
My research keeps saying the same thing – these stocks are remarkably cheap. Today's discussion takes new angles on my basic theme – their earnings risks are way overblown. If I am right, the mortgage insurance stocks are very plausibly doubles or more from current prices. When? Got me. But their fair values are simply much higher.
What Mr. Market is not thinking about the private mortgage insurers.
For fun, let's calculate how MGIC's earnings per share (EPS) and book value per share will play out over the next five years if nothing much changes in the economy or the housing market. In this scenario I assume:
Based on these assumptions, here's the result:

Wow! By 2023, MGIC's EPS approaches $4 a share and book value nears $30 a share, compared to forecasts of $1.60 and $11.70 respectively for 2019. How is that possible? Through the magic of share repurchases. Based on our assumptions above, MGIC would be able to buy back over 40 million shares a year, or over 10% of shares outstanding a year.
This seems like too dumb of an outcome even for the frequently dumb Mr. Market. Which is why I like the stocks!
What Mr. Market is thinking about the market insurers.
The big variable for mortgage insurers is always credit. What credit loss ratio does Mr. Market (ever wonder what his first name is?) implicitly assume at a $10 stock price for MGIC? My simple model says it looks like triple my assumed 10 bp of insurance in force, or 30 bp. Take a look: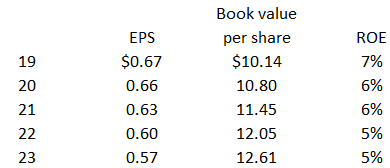 Is my base case more likely? Or Mr. Market's forecast? More data to help you decide.
As I said above, the fate of the mortgage insurers' stocks is in the hand of mortgage credit quality. I therefore diligently research that topic, often skipping meals and missing episodes of The Walking Dead (actually I've missed all of the episodes, but that's really not pertinent to the topic at hand, is it?). Here is what I've come up with.
Credit data #1 – previous testimony.
I already presented in prior posts what I believe is strong evidence that the home mortgage credit outlook is quite positive:
Credit data #2 – The critical underwriting standard table brought back for your edification
The conservative lending standards referred to above show up in a dramatically less risky credit risk exposure for the mortgage insurers. I've shown this table for Radian before, but it is worth repeating; it is the core of the mortgage insurers' stock story.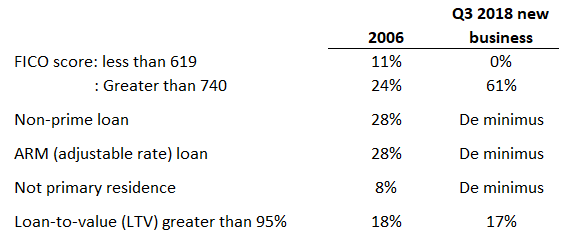 Source: Company reports
Credit data #3 – Evidence from the industry newbies
Private mortgage insurers Essent and National Mortgage started up after the housing bubble burst, so the performance of their insurance portfolios is a good indicator of the quality of the past decade's underwriting. Both or their actual paid claims (actual cash paid rather than the credit loss accounting entry) in 2018 were less than 1 bp of its insurance in force. My 10 bp credit loss forecast is therefore 10x the industry's current core loss rate.
Credit data #4 – Evidence from Fannie Mae and Freddie Mac
Drilling down on mortgage defaults for Fannie Mae and Freddie Mac during the housing bust is revealing. My goal was to find the loss experience during the housing bust of the mortgage insurers' core product, which is a 10% downpayment "conforming" loan. "Conforming" means a prime (700+ credit score) borrower and standard loan terms like full documentation and debt-to-income limits. Unfortunately, that data is unavailable in public documents. But I did learn the following:
While the mortgage insurers didn't tell us the exact share that nonconforming loans were of their total loans insured in 2007, my best guess is that below-prime was at least 20% and non-standard terms was at least 30%. Today, both of those percentages are nearly 0%.
I conclude from that data that a low downpayment in itself is far less risky than a low quality borrower or non-standard loan terms.
Credit data #5 – a history of MGIC's paid claims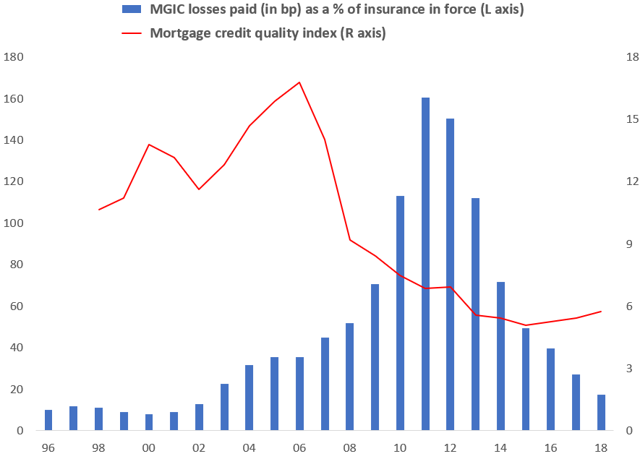 Source: Company reports
Note that up to 2002, MGIC's paid claims as a percent of insurance in force were below 10 bp. They then proceeded to soar up to a peak of 160 bp during 2011. What happened? For one, recessions in 2001 and 2007-2009. But more importantly, the introduction of insurance on non-conforming loans in 1999. Even during that first year, subprime loans were defaulting at 400% of the rate of conforming loans. The disastrous strategy of getting into the non-prime/non-standard markets essentially bankrupted the private mortgage insurance industry in 2009. But MGIC and its peers haven't insured a material amount of non-conforming loans since 2007.
Finally, credit data #6 – Home prices and recessions
The mortgage insurers' claims can't rise sharply without a sharp drop in home prices. How likely is that? The indicators I referenced in credit data #1 above argue against it. Here's another chart to suggest how unlikely that is: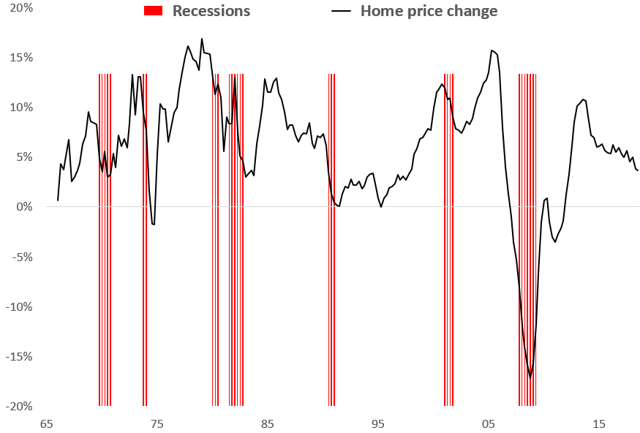 Sources: Federal Reserve, Bureau of the Census
During the last seven recessions, during only one did home prices decline. The fact that it was the last recession gives it outsized importance in our thinking because the wounds can still be felt. But the current housing market and this economy in my view compare far more to the prior six recessions.
Summing up.
I define genius as someone who thinks like me. In that case, Ruchir Sharma, chief global strategist at Morgan Stanley is an Einstein. Here's a quote from a December 30, 2018 New York Times op-ed piece:
"One answer, in any transition period like this one, is to look to anti-bubbles… Anti-bubbles are the mirror image [of bubbles], taking shape in overlooked corners of the world and defined by light trading, with prices stagnating at low levels despite solid growth in the economy or company."
At their current valuations, the private mortgage insurers are truly anti-bubble stocks. Buy some. Or buy some more.
Disclosure: I am/we are long NMIH. I wrote this article myself, and it expresses my own opinions. I am not receiving compensation for it (other than from Seeking Alpha). I have no business relationship with any company whose stock is mentioned in this article.