Editor's note: Seeking Alpha is proud to welcome Alex Haak as a new contributor. It's easy to become a Seeking Alpha contributor and earn money for your best investment ideas. Active contributors also get free access to the SA PRO archive. Click here to find out more »
In this article I will explain what BIGO is, why YY's (YY) stake makes sense and (more importantly) how consolidating BIGO will affect YY's financial statements going forward.
Brief Summary of BIGO
BIGO was founded in 2014 by no other than YY's founder and (acting) CEO David Li. In 2016, BIGO launched its first service called BIGO live. BIGO Live is a live streaming platform which works, not surprisingly, very similarly to YY Live. Just like YY live and YY's subsidiary HUYA (HUYA), most of BIGO's revenues come from users gifting virtual items to their favorite streamer.
BIGO Live is BIGO's core platform with 225 million registered users as of November 2018. BIGO Live exceeded 40 million MAU at the end of June (up from 13 million at the end of 2017) with users spending on average 40 minutes a day on the platform. Unlike most competitors, BIGO Live offers a fairly localized service with offices in all their core markets in order to adapt to local trends and events. For example, BIGO responded to Diwali, India's biggest holiday of the year, by adding a service called BIGO LUDO, which is a game that is traditionally played during the Diwali season. The service helped BIGO reach its highest traffic numbers in the Indian market this November, as compared with its counterparts. BIGO Live is among the top 10 apps in the social networking category for most Southeast Asian countries, Saudi Arabia, Pakistan, India, New Zealand and more. The graph below from Dubai News Gate shows BIGO Live's registered users in millions versus live-streaming app ''M17''.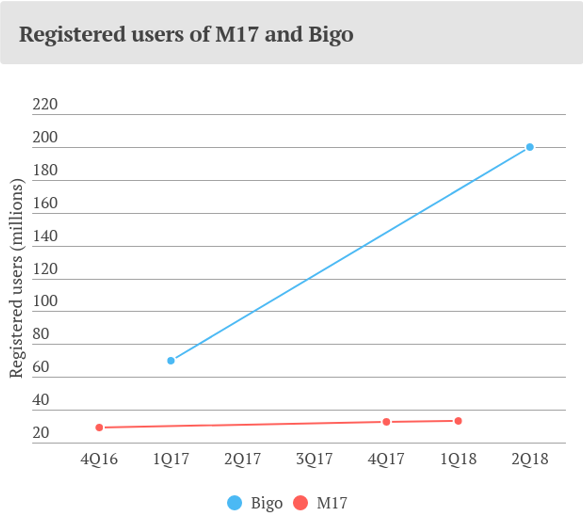 (Image Source: Dubai News Gate)
Over the past year, BIGO has been launching more apps/websites ranging from e-sports focused CubeTV to short-video app LIKE. BIGO launched LIKE in August of 2017 and the app reportedly reached 50 million users within 10 months, with about 64% of LIKE's users coming from India. CubeTV reportedly had over 2 million MAU as of May 2018, before launching in South America, Russia and the Middle East. BIGO has rolled out CubeTV to some of those regions in the past months, and their efforts have been paying off. According to SimilarWeb, CubeTV's website traffic has exploded the past months, with more than 66% of the traffic coming from Brazil.

(Source: SimilarWeb)
BIGO improves YY's portfolio in a number of ways:
BIGO diversifies YY's predominately China-focused portfolio. The Chinese streaming market is getting more and more competitive, with the likes of Momo (MOMO) and Tencent Music's (TME) WeSing, and with Weibo (WB) recently acquiring live-streaming platform Yizhibo. BIGO's international apps/websites are therefore a great addition.
BIGO has a solid track record of being able to scale apps/platforms worldwide.
BIGO's short-video app LIKE will help diversify YY's streaming-focused portfolio. BIGO's expertise in short video could also help YY develop and scale a short-video app for the Chinese market.
The Financial Side
YY has been an investor in BIGO from the early days, when YY acquired a 27.8% stake in the outfit. YY did not participate in the ensuing rounds, including a series C funding round in which BIGO was valued at $400 million. By my estimations, the series diluted YY's stake to below 20%. In that year (2017), just one year after BIGO launched BIGO Live, BIGO reached $300 million in revenue and was already profitable, which is very impressive for such a young company. In June 2018, YY led BIGO's series D funding round by investing $272 million out of the totally raised $365 million. This made YY BIGO's largest shareholder. YY also obtained the right to purchase additional BIGO shares to get a controlling stake (50.1%) one year after the transaction (June 2019). YY did not disclose its current stake or BIGO's valuation, but by my estimations YY's stake should be around 35%.
Most analysts have included BIGO in their SOTP analysis, but have not integrated BIGO in their 2019 and 2020 revenue and EPS forecasts, which could give us an edge. In the SOTP analyses I have read, consensus has BIGO reaching between $550 and $650 million in revenue in 2018 and between $900 and $1000 million in revenue in 2019. The analyst consensus calls for 100% and 60% Y/Y growth rates, but I believe this to be conservative.
What makes me believe analysts' estimations to be conservative?
In June 2018, Tech in Asia published an article about BIGO in which they mentioned the following: "The company tells Tech in Asia that its revenue has been growing 15 percent month-on-month, and it says it can achieve US$1 billion in revenue and US$200 million in profit this year." This implies a 233% Y/Y growth rate for 2018 and about 60% above analyst consensus.
On YY's Q2 2018 earnings call, management gave the following update on how BIGO is performing:
So the monthly active users for Bigo has been -- exceeds 40 million in the first half of this year. And the income -- the revenues coming from the first half of this year has reached to the whole year's -- the last year's whole year scale -- the revenue scale.
So, BIGO reached $300 million in revenue in the first half of 2018, as much as in full year 2017.
As I quoted above, BIGO claimed to have grown 15% month on month for the first five months of 2018, which we know resulted in $300 million in revenue for the first half of 2018. With those numbers we can calculate the implied month on month growth rate for the remaining seven months to get BIGO's $1 billion revenue number.

(Source: BIGO)
Basically, BIGO assumes that the 15% month on month growth rate is sustainable for the rest of the year. There are a few reasons/data points that suggest to me the company will achieve this goal.
First, like I mentioned before, both YY and BIGO have the same CEO and (co-) founder, David Li. David Li has a history of under-promising and over-delivering at YY by on average 4%. The table below shows the percentage difference between revenue guidance given the previous quarter vs. reported revenue.

(Source: YY)
Second, SensorTower publishes quarterly and monthly data on top grossing worldwide apps, and BIGO Live has been climbing the ranks. Keep in mind that BIGO Live is mostly used in Southeast Asia, India and the Middle East, where Android dominates the market. BIGO Live was #7 in worldwide non-gaming apps by revenue on Google Play in 2017, #6 in Q1 and Q2 of 2018 (where BIGO said to be able to achieve $1 billion in revenue in 2018) and it ranked #4 in November. This implies BIGO is outgrowing other apps in terms of revenue.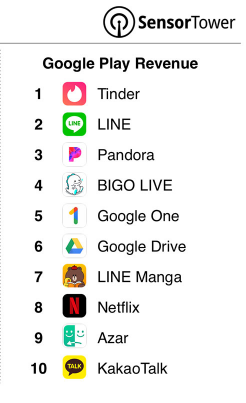 (Source: SensorTower)
Third, according to SensorTower, BIGO's short-video platform "LIKE" was the fifth most downloaded app worldwide on Google play and sixth overall in November, up from being outside the top 10 in earlier rankings.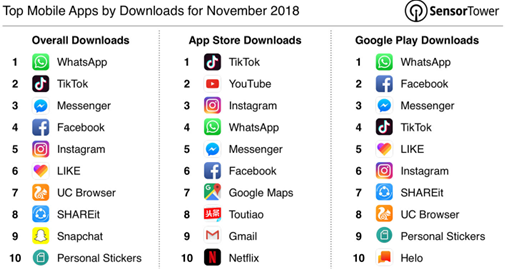 (Source: SensorTower)
LIKE recently reached over 100 million total downloads, up from 50 million in June (around the time BIGO said to be able to achieve $1 billion in 2018 revenue).
Fourth, David Li was a guest on 996's podcast in October and this is what he had to say:
HANS TUNG: … Will BIGO eventually IPO on its own or will it be acquired by YY later do you think?

DAVID LI: I think based on the valuation maybe YY does not have the ability to acquire BIGO anymore.

HANS TUNG: I see.

DAVID LI: Maybe, because BIGO's business is growing very fast.
David Li saying YY might not be able to acquire BIGO anymore is very interesting, especially taking into consideration that YY has more than a billion USD in cash and has plenty of room to issue debt. This suggests to me BIGO continued to perform very well.
How will consolidating BIGO affect YY's top line?
For my calculations I assumed YY is exercising its option to buy additional BIGO shares to get a controlling stake. YY will most likely exercise the option somewhere after mid-2019, which is the reason I calculated FY 2020 to be able to give a full year impact of consolidating BIGO.
I have calculated 2020 revenue based on the following three scenarios:
Conservative scenario using analysts' expectations: revenue of $600 million in 2018, $960 million in 2019 and $1.35 billion in 2020 representing 100%, 60% and 40% growth rates respectively.
Most likely scenario in my eyes: revenue of $1 billion in 2018, $1.5 billion in 2019 and $2.1 billion in 2020 representing 233%, 50% and 40% growth rates respectively.
Aggressive scenario: revenue of $1 billion in 2018, $1.6 billion in 2019 and $2.4 billion in 2020, representing 233%, 60% and 50% growth rates respectively.

(Source: own estimates combined with data from Thomson Reuters) (USD/CNY rate at time of writing: 6.9)
In summary, all else equal, consolidating BIGO should add between 21% and 38% to the analyst consensus for YY's 2020 revenue.
How will consolidating BIGO impact YY's bottom line?
Calculating the impact on YY's bottom line is harder because of the lack of data. The only information I have on BIGO's margins:
BIGO was profitable in 2017, but no idea how profitable.
In Tech in Asia's article, BIGO says it could reach $200 million in EBT on $1 billion in revenue, implying a 20% EBT margin
YY's management on BIGO's profitability on YY's Q2 earnings call: "BIGO's the live streaming business is highly profitable in many Southeast Asia markets as well as Middle East market."
Keep in mind that the following calculation only provides a rough indication of BIGO's impact on YY's bottom line and is certainly not reliable.
I took analysts' consensus on YY's 2020 EBT ($632 million) and I used YY's average tax rate (18%). Keep in mind the assumed tax rate will most likely differ from YY's actual 2020 tax rate, because of the different rates BIGO is exposed to.

(Source: own estimates combined with data from Thomson Reuters)
Challenges to my thesis
Besides the obvious macro risks, there are a few challenges to my thesis.
First, I assumed 'all else equal' in my 2020 revenue scenarios, but all else might not be the same in 2020. Tencent acquired an option to acquire additional HUYA shares to get a controlling stake between Q2 2020 and Q2 2021. If Tencent exercises this option, YY would not be able to consolidate HUYA anymore. Regardless, the calculation should still be valuable for investors who are trying to assess the impact BIGO will have on YY.
Second, YY might decide to not exercise the option to get a controlling stake (very unlikely in my opinion).
Takeaway
To summarize, consolidating BIGO should be a pretty big catalyst for YY's stock price going forward. This should lead to analysts having to significantly increase YY's 2019 H2 and 2020 revenue forecasts. Based on my research, If all else is equal, analysts will have to increase YY's 2020 revenue forecasts by 21%-38%.
Thanks for reading and I am looking forward to reading you guys' take.
Disclaimer: This is not financial advice. Do your own due diligence before making trades in these securities. The views expressed in this article are my personal opinion.