By 17th September 2018, S&P reached its peak at 2,929. Since then, it has been down significantly, closing at 2,506 on the last day of 2018, a 14.5% drop. However, economic data shows that the U.S. economy is still in good condition. In November 2018, the U.S. wage is an all-time high of $22.95 per hour, and the employment rate is only 3.70%. Low employment rate and rising income have resulted in higher consumer confidence, reaching 135.7. So, it seems like there is a low probability of the U.S. economic recession in the next six months. Thus, the large recent market drop has created many buying opportunities.
I have done screening to find investment opportunities which meet the following criteria for investors:
Trading in the U.S. and the market cap is larger than $100 million.
The stock price has dropped significantly (> 20%) in the past 3 months
The valuation is quite cheap (profitable and trading at less than 7x EV/EBIT)
In the past five years, those companies have experienced good growth in sales.
I exclude the financial companies as financial companies, including banks and insurance groups, need different criteria and ratios to be properly assessed.
The reason I chose this screen criteria is to find the growing and profitable businesses which have just recently beaten down by the general market sentiment. Thus, when investors can buy the stocks with these criteria, there is a high probability that their investment return over time can be quite satisfactory.
Here are the 26 stocks which meet those three criteria above: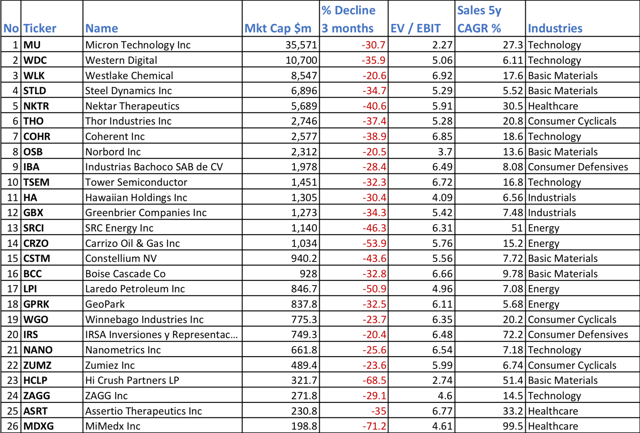 Source: Author's table
As Seeking Alpha's readers, you might find this list interesting as it presents opportunities for investment when the market has been declining.
Micron stands out as a good investment opportunity
One highlighted investment opportunity example from this list is Micron Technology (MU), the leading producer of DRAM and NAND chips. In the long run, Micron will benefit from the huge global demand for memory and storage in the rising trend of self-driving cars and artificial intelligence.
It is estimated that around 62,000 GB would be created in 2021. Thus, we always need faster processing memory and higher storage capacity. Micron, with 21.6% global market share in DRAM, will definitely benefit from this long-term technology trend. In the past three months, Micron has dropped by more than 30% while having a ridiculously low valuation, at only 2.27x EV/EBIT. The company has been buying its stock to return cash to shareholders. Thus, with the falling stock price, the buyback program makes more sense as Micron can buy its own stock back at a much lower price.
In the first quarter of 2019, it generates $4.8 billion in operating cash flow, and at least 50% of those, $2.4 billion will be used for buybacks. At the current price, around 75.6 million shares, or 6.3% of total outstanding shares would be retired. Furthermore, Micron's management is also keen on reducing leverage, lowering debt balance in Q1 2019 by $500 million. Indeed, a global leading market position, huge buyback program, leverage reduction, cash-cow operating business and super-low valuation, Micron is a very good stock for investors to own in a long term.
Western Digital is also suitable for long-term income investors
Western Digital (WDC) also experienced more than 30% decline in their share prices in the past three months. Western Digital is the world's largest maker of HDDs (hard disk drives). However, as the world has been moving from HDDs to SSDs (solid state drives), which is smaller, faster and more efficient than traditional HDDs, the company has loaded up on a huge amount of debt to acquire SanDisk in 2016 to become the leader in SSD global market.
Since then, it has strengthened the balance sheet, paying down $6.3 billion, 40% of the debt. In addition, Western Digital has returned cash to shareholders via both share buybacks and dividends. Although Western Digital generates a much lower return on capital than Micron, at 14%, investors are getting high dividend yield, at 5.4%. It has also spent more than $560 million in share buybacks and will repurchase an additional $1.5 billion in shares during fiscal 2019. In the future, Western Digital should focus on the niche market with high growth, including surveillance and high capacity enterprise market. With the valuation of only 5x EV/EBIT and a dividend yield of more than 5%, Western Digital is also a good stock to consider for long-term income investors.
Conclusion
Apart from Micron and Western Digital, investors might look deeper at this list to find out the suitable growing, profitable companies trading at cheap valuations for their own portfolios. A beaten-down market really creates opportunities for investors to accumulate stocks at much cheaper prices.
Disclosure: I/we have no positions in any stocks mentioned, and no plans to initiate any positions within the next 72 hours. I wrote this article myself, and it expresses my own opinions. I am not receiving compensation for it (other than from Seeking Alpha). I have no business relationship with any company whose stock is mentioned in this article.