DRAM contract prices to slide until 2Q19; Cascade and edge computing will save server DRAM
We visited major IT hardware (H/W) companies in Japan and Taiwan from November 26 to 30 to address the key topics of interest in the IT H/W sector. What we learned from our visits are as follows: 1) while DRAM contract prices are expected to decline until 2Q19, server DRAM capacity is expected to increase as Intel's (INTC) server CPU is upgraded to Cascade Lake, and 5G-driven demand for edge computing should spur demand for server DRAM for micro data centers, which will likely lead to a rebound of server DRAM prices; 2) the production volume of the new Apple (AAPL) iPhone is likely to be 68 million units in 2018 and 30 million units in 1Q19; due to the glitch with the LCD notch model, there is a possibility that the new LCD model to be released in 2H19 will not support the notch display, and the 2020 OLED model will be based on Y-Octa technology; and 3) multi-level ceramic capacitor (MLCC) contract prices are expected to continue rising until 2Q20, when new capacity is scheduled to come on-line.
Focus on the emergence of the "double terabyte" era
Smartphones are expected to come with 10GB DRAM, starting with the Samsung (OTC:SSNLF) Galaxy S10. The new iPhone and Galaxy Note 10, to be released in 2H19, are likely to support 1TB of storage. The memory content of hyperscale servers is expected to rise to 1TB from 600GB with the launch of Cascade Lake and Cooper Lake CPUs. The recent decline in memory prices should facilitate further growth in memory content.
Our picks are LGE, SEMCO, Samsung, Hynix, and Innotek, by order of preference
Until 1Q19, we prefer LG Electronics (OTC:LGEAF) the most in the Korean IT H/W sector, followed by Samsung Electro-Mechanics (OTC:SMSGF), Samsung Electronics, SK Hynix (OTC:HXSCF), and LG Innotek. We believe the semiconductor materials sector has great prospects, as DRAM price declines should boost wafer input. We present Hansol Chemical and DNF as our stocks of interest. On the flipside, our "top avoid" stocks are JDI for its escalating difficulties on the possibility of Apple sizing down its new LCD models, and Nissha and TPK due to the potential of decline in sales on Apple's adoption of Y-Octa technology in its 2020 models.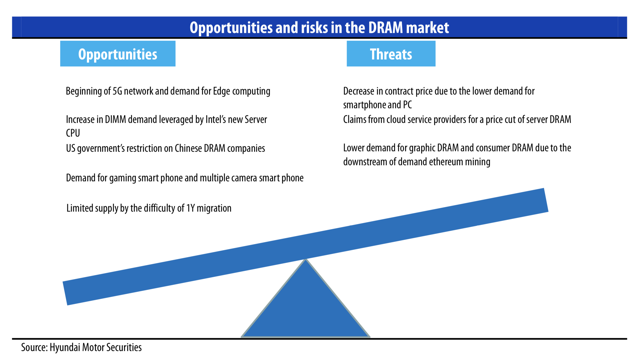 Key takeaways from visits to Asian IT H/W companies
Cascade and edge computing to rekindle server DRAM demand
We visited major IT H/W companies and research institutions such as DRAMeXchange, Stone Partners, and InnoResearch in Japan and Taiwan from November 26 to 30 to address issues such as: 1) the outlook of DRAM fixed prices; 2) the new iPhone's shipments until 1Q19 and what direction new models will take after 2019; and 3) MLCC supply-demand balance.
To make a long story short, we believe server and PC DRAM fixed prices, which have risen over 100% since 3Q16, will continue to decline through 2Q19; and mobile DRAM's price declines, which have been relatively moderate, will be limited to 2% per quarter. That said, we believe Intel's tight PC CPU supply will ease as wafer input is expected to increase after the Lunar New Year in 2019. From 2H19, memory content growth is expected, as Intel's Cascade Lake CPU is to succeed the predecessor Sky Lake CPU. Additionally, we see 5G networks creating edge computing demand, which will spark demand for server DRAM for micro data centers. Accordingly, there is a possibility that server DRAM prices will turn around from 3Q19.
Due to the sluggish sales of the iPhone XR and iPhone XS, iPhone production volume for 2018 is estimated at 68 million units, which is below the market's optimistic forecast by more than 30%. Production volume in 1Q19 will remain sluggish at 30 million units. As such, there are even rumors that Apple may remove the notch, which had a yield issue, from its 2H19 model. In particular, to save costs, it may use the Y-Octa technology in one of its OLED models in 2020. Apple is also likely to equip some of its 2H19 OLED models with triple cameras.
Despite the declines of retail MLCC prices, Japanese companies have recently raised the price of 0603-size 1㎌smartphones. In addition, demand for industrial MLCCs for data centers is picking up fast, and some models command a price tag of USD70-80 per piece. If Intel's server CPU performance is enhanced further, MLCC capacitance is expected to increase quite flexibly. The iPhone XS has a 2.9% higher capacity and 6.9% higher payload compared with the iPhone X. As such, the advancement of smartphones is positive for the MLCC market. We believe MLCC prices will continue to rise until 2Q20, when the new MLCC capacity is scheduled to come on-stream.
Our top picks in the Korean IT H/W sector until 1Q19 are LGE, which is expected to benefit from favorable seasonality, and SEMCO, as its ASP should continue to rise on the back of robust demand for automotive and industrial MLCCs. As for Samsung and Hynix, despite their attractive valuations, we advise a box trading strategy until we have more visibility as to where DRAM contract prices are heading. However, considering their robust earnings outlook from 2H19, bargain hunting at the current price level seems like a good idea. Our top picks are LGE, SEMCO, Samsung Electronics, SK Hynix and LG Innotek, in order of preference. Among small- and mid-cap stocks, we recommend Hansol Chemical and DNF, as their earnings are expected to increase on DRAM wafer input growth following the expansion of silicon wafer capacity. On the other hand, we would avoid JDI for its uncertain LCD model sales outlook in 2H19 due to slow sales of LCD notch models; we would also avoid Nissha and TPK for the prospect of a sales decrease on Apple's adoption of the Y-Octa technology into its 2020 models.
Intel and cloud operators are behind the drop in DRAM contract prices
Through this trip, we found that Samsung and Hynix had different opinions about the possibility of a DRAM contract price rebound in 3Q19. In early September, we forecasted a drop in DRAM fixed prices in 4Q18 and a 10% YoY decline in 2019. However, in October, the soaring prices of Intel's PC CPU suppressed PC demand, and as a result, PC DRAM prices fell more than 10% QoQ. Furthermore, as DRAM module prices have risen to represent more than 30% of server BOM cost, major cloud providers in North America are demanding to lower server DRAM prices. The slumping sales of the new iPhone are negative for demand, but mobile DRAM price declines have been limited to 2% QoQ because the new iPhone has 3/4GB DRAM capacity. First of all, Taiwan-based major memory semiconductor research institutions pointed out that major server companies' intention to reduce prices is stronger than expected, and that even if Cascade Lake is released in 3Q19, server DRAM's content growth may be slower than expected because Cascade Lake is an upgrade from Sky Lake. As cloud providers are cutting down on server costs through software upgrades, Taiwanese research institutions said memory semiconductor companies' demand for DRAM price reductions is unlikely to come through.
Of course, these research companies' clients have expanded greatly, now ranging from chipmakers to server, PC, smartphone manufacturers and cloud providers. Some think that research companies move as an advocate of cloud providers and magnify server DRAM price declines, thereby further fuelling declining server DRAM prices. What is important is that there is a clear gap between the prices of server DRAM that chipmakers feel and the figures that are announced by research companies. Since this temporary difference in perception toward prices will resolve over time, it is necessary to examine the supply and demand balance from a mid- to long-term perspective.
As mentioned above, the server for hyperscale data centers (e.g., AI server) is equipped with 600GB DIMM (dual in-line memory module). If it comes with 8TB PCIe NVMe SSD, its DIMM makes up over 30% of total server BOM cost (or 35% for several models). Alibaba's (BABA) data centers focus on increasing the speed of data processing by installing expensive CPUs and DIMMs regardless of price, whereas Baidu (BIDU) has installed AMD's CPU with a 300GB DIMM. Thus, each company has a different approach when it comes to data center installations. More recently, North American cloud operators have been focusing on increasing data processing speed by software upgrades rather than simply increasing DIMM capacity. However, concerns over a possible data blackout are also growing with Amazon's (AMZN) recent AWS outage. Given the importance of customer service and the astronomical costs of recall, there are clearly limitations to improving the speed of data processing with software upgrades. Although public cloud operators have already made massive investments in data centers over the past three years, we believe demand for server CPU, DIMM, and enterprise SSDs will continue given the increasing demand for edge computing by telcos in the 5G era and the emergence of new ecosystems such as RPA (robotic process automation).
Intel tries to realize high tech even in 14nm; DDR5 to materialize in 2020
Intel, which has over a 95% share of the server CPU market, is a very important company for data center companies worldwide. AMD, a late entrant, has seen its market share increase in recent years, but its products are still not comparable to Intel in terms of performance. Although Qualcomm (QCOM) has also tried to develop server CPU, it failed to achieve commercial success despite having spent massive amounts of money. Intel's dependence on x86 server products is increasing. In particular, Intel's Xeon series is still produced in the 14nm process, and the migration into the 10nm process will probably take place after 2020. Intel decided in August 2018 to release Cascade Lake AP and Cooper Lake SP. Cooper Lake will likely be 10nm, not 14nm, and is expected to be the bridge between Ice Lake and Cascade Lake, which is schedule for a 2020 release. After Cascade Lake SP in 2018, Intel plans to launch Cascade Lake AP and Cooper Lake in 2019 and Ice Lake SP in 2020.
Intel's new server CPU is likely to spur demand for server DIMM. Although Sky Lake officially supports 8Gb DDR4, Cascade is likely to support 16Gb. Of course, Samsung Electronics has kept up with server companies' demand by supplying 16Gb mono-die products. Cascade is an upgrade of Sky Lake, and its adoption may be slower than what DRAM companies expect. However, Cooper Lake will support an eight-channel per-socket memory subsystem, versus six DDR4 channels previously. Thus, it is bound to stimulate DIMM demand. Meanwhile, Cascade Lake AP, as a multi-chip package, supports DDR4 12 channels through two processors. The increase in the number of channels means better computing performance and DRAM memory content growth. The recent revival of Intel has affected the Intel supply chain. First of all, Ibiden (OTCPK:IBIDF) is likely to focus on FC-BGA for Intel, abandoning FC-CSP that it supplied to Samsung. We also found that Taiwanese PCB suppliers for Intel, such as Unimicron and Nanya PCB, were on the road to recovery.
Intel's growing demand for server CPU has a positive impact on server MLCC. For server MLCC, Haswell SP and Grantley (Broadwell SP Platform) use 1,800 MLCCs per unit (capacity 15,000uF); Purley, the platform for Skylake and Cascade Lake Line, uses 2,500 MLCCs per unit (25,000uF); and Whitley, the platform for 2020 Cooper Lake and Ice Lake, will likely require 3,500 MLCCs per unit (30,000uF). Since the change in Intel's server CPU roadmap will greatly contribute to the earnings growth of MLCC and FC-BGA companies, we need to pay attention to the affected supply chain.
5G and edge computing to stimulate demand for server DRAM
Starting with South Korea in December 2018, 5G mobile telecommunication is going to start globally. Although cloud operators have taken a pause in their investments of data centers, we are optimistic about the DRAM sector's mid- to long-term outlook because of the 5G and edge computing services. The advancement of telecom networks is expected to enhance server CPU performance and provide momentum for memory semiconductor investments. Data centers of major public cloud providers are currently located in most continents, with the exception of Africa. There are already 92 cities with data centers, and this will likely grow to 112 if 20 more data centers are built in 2019. At present, 36.6% of all data centers are located in North America, followed by Asia with 32.1%. More recently, Australia and New Zealand have actively promoted the installation of data centers by offering low electricity tariffs as an incentive; the countries have also begun to invest in underwater fiber optic cable. Data traffic and data center proximity may not be so important anymore because of the advancement of telecommunications networks, but in Africa and Latin America, where data centers are non-existent, data center investments could gain momentum in the future.
Public cloud operators spend about USD1 billion on data centers per city. Baidu usually uses AMD CPUs to save cost, but others mostly use Intel's CPU. For data centers, initial investment costs are for servers and coolers, as the network and lease costs are mostly booked as maintenance costs (for data centers are typically installed in telcos' IDC). Each server is worth about USD10,000-20,000, and usually, hundreds to tens of thousands of servers are installed in each data center. The recent request by cloud operators to reduce server DRAM prices is due to the increased cost burdens stemming from an increase in DRAM capacity per server to 500GB. However, server DRAM for data centers will likely experience the second phase of growth on the arrival of 5G and the release of Intel's new server CPU, and we expect server DRAM to be in tight supply again.
In 5G, there is a growing need for on-site data processing, as 5G is 20 times faster than LTE, and it is used in autonomous driving and RPA, which require real-time judgment and data processing. In the end, micro data centers need to be built in cell towers to be able to transmit and receive information with the cloud. As a result, we expect investments into edge servers and micro servers to increase considerably. For data center servers, Intel's Zeon CPU is used, whereas edge and micro servers use the Atom CPU. While data center servers have RDIMM of over 300GB, edge servers have 150GB RDIMM. While lower in density, edge servers are used in great numbers, thus they will likely fuel server DRAM demand greatly. DRAMeXchange expects server DRAM to account for 48% of total DRAM demand by 2025 on the back of robust demand for edge servers. Meanwhile, with the arrival of 5G services, major telcos in North America, Japan and China plan to scale up their investments in micro data centers for edge computing, starting in 2H19.
Broken JHICC-UMC partnership bodes well for the DRAM industry
Through our visits to Taiwanese companies and research institutes, we found that UMC, which had a technological partnership with Fujian Jinhua (JHICC), is no longer providing technology to the company. We believe this has to do with UMC's concerns that it might face regulations given that a large portion of its foundry clients are fabless North American companies. As the US government blocked semiconductor equipment supply to JHICC due to technology infringement, JHICC's entry into the DRAM market should be severely hampered. Currently, JHICC's DRAM production is limited to pilot production; unless North American equipment manufacturers start to supply front-end equipment to JHICC, the company will be unable to build a mass-production line. After the company visit, we believe there is a high probability that Hefei's Innotron will be the US government's next target. Many of Innotron's key engineers are from Taiwan's Inotera, Nanya Tech and (formerly) Elpida, which have either been bought by or have a technological alliance with Micron (MU). Even if Innotron manages to develop DRAM, it is unlikely to be free from Micron's patent claims. The US government's emphasis on intellectual property rights has been expected to hold back Chinese companies' DRAM market penetration in the mid to long term, but the US government's action is even faster than expected, which bodes well for Korean DRAM makers. At the least, it will help to reduce the valuation discount of the Korean DRAM industry.
Meanwhile, YMTC unveiled Xtacking, a new 3D NAND technology, in the US this August. Currently, it has revealed 32-layer MLC 64Gb, but it plans to unveil 64-layer TLC 256Gb before the end of 2018. Unlike other Chinese companies that are working on DRAM, YMTC is confident about patent issues. Above all else, production processes are different, and Spansion's intellectual property rights may provide the necessary arsenal to fight against potential patent claims. Thus, YMTC's entry into the NAND market is a strong possibility. DRAMeXchange expects YMTC's NAND market share to be 4.9% in 2021 and 7.2% in 2022 respectively, which we believe is an overly optimistic view considering YMTC's weak technology.
YMTC needs to secure controller IC technology to succeed in the oversupplied NAND market, where six players are competing. Even Toshiba Memory (OTCPK:TOSBF)), the second-largest company in the NAND space, has limited controller IC technology for enterprise SSD, thus the chances of YMTC acquiring the technology early on are quite slim. China's semiconductor fund is known to be injecting money into a number of controller IC companies. However, there is a possibility that YMTC will seek partnerships or M&As with controller IC companies such as Marvell (MRVL), Silicon Motion (SIMO) or Phison in order to become a more competitive controller IC player.
Among Korean companies, ADTech, which is highly competent in storage controller ICs such as SSD and UFS, merits our attention.
2019 DRAM market growth forecast adjusted to 7.8% YoY from 10.1% YoY
Oversupply concerns are mounting as tight Intel CPU supply has worked to erode PC DRAM prices. Server DRAM prices are also sliding, led by 32GB DRAM, and LTAs are becoming more short term, from three months to one month, especially for Chinese server companies such as Sugon and Inspur. However, top-tier companies such as HP (HPQ), Dell (DELL), Lenovo (OTCPK:LNVGY) and Huawei still have three-month LTAs. Interestingly, smartphone DRAM prices have fallen about 2%, which is in line with forecasts, despite sagging smartphone demand. DRAMeXchange also expects the price declines in 1Q and 2Q19 to be limited to 1-3%. We believe the main reason is that mobile DRAM saw limited price increases compared with sever and PC DRAM. However, PC DRAM has already become a niche market, making up just 14% of the total DRAM market. Thus, server DRAM prices are expected to determine the size of the entire DRAM market in 2019. It has to be noted that sharp DRAM price increases have been responsible for DRAM's rising share of smartphone and server production costs, and the recent price declines have a lot to do with this. Even if DRAM prices fall further in 1H19, they are unlikely to fall in 2H19 given the strong demand from servers and smartphones.
The DRAM market in 2018 is expected to grow 44.4% YoY to USD103.6 billion after withering QoQ in 4Q18. In 2019, it is likely to grow 7.8% YoY to USD111.6 billion. We lowered our estimate by 2.6% from our previous estimate made in September. We believe our new projection is realistic, since the DRAM market has likely contracted in 4Q18 and further price declines are unlikely given expected DRAM bit growth from 2H19. In particular, mobile DRAM's memory content could grow even faster than expected, as smartphone manufacturers will roll out gaming smartphones, smartphones with multiple cameras and smartphones with high storage capacity in an effort to overcome slowing demand. DRAMeXchange expects a 20% drop in ASP, but our forecast is 12%. The current situation of the DRAM industry resembles that of 1Q16, when the focus was on PC and mobile DRAM price declines, overlooking the swelling demand from data centers. Now, if we focus only on the temporary decline in demand from data centers and PCs and choose to ignore the greater trend of edge computing and 5G smartphones, we believe we may again face the upside risks of 1H16. Looking at the overall situation, we do not need to be overly pessimistic, as opportunities outweigh risks now and the stocks have already suffered severe corrections.
TB storage not confined to E-SSD; UFS to be available in TB from 2019
Unlike DRAM, NAND oversupply is expected to continue into 2019. However, we expect bit growth to be over 40%, as DRAM prices have fallen more than 25% YoY. In light of the steep price declines, Toshiba and Hynix may delay the ramp-up of their new NAND fabs, and as such, we expect NAND wafer input to increase at a moderate pace. Meanwhile, sharp price declines will likely boost memory content significantly, especially in key solutions. In particular, downside pressure on data centers' server DRAM prices will likely ease due to a sharp drop in SSD prices. Similarly, smartphone UFS is expected to expand, from the current 512GB to 1TB. There has been a rapid rise in the number YouTubers recently, who upload and share their individual videos on the platform. Since high-end cameras used for professional broadcasting are extremely expensive, these YouTubers normally shoot videos with their smartphone cameras. Typically, a one-hour FHD video consumes 2GB storage, so shooting 50 such videos means that they need at least 100GB storage. This indicates that we may be nearing an era of 1TB for smartphones. Indeed, the new iPhone Max and Samsung Galaxy Note10 to be released in 2H19 will support 1TB for some of their models. And the price of UFS 1TB is expected to be about USD140 in 3Q19, lower than the price of UFS 512GB in 3Q18.


2H18 iPhone production estimated at 68 million vs. 85 million units previously
Our visits to Japan and Taiwan confirmed that the sales of the new iPhone in 2H18 have been quite poor, except the iPhone XS Max. In particular, the sales volume of the iPhone XR, which is an LCD model, fell short of expectations due to an initial problem with the BLU yield and the rumor of a notch glitch. Foxconn (OTC:FXCOF) and Pegatron (OTC:PGTRF) are mass-producing the new iPhone, and Foxconn seems to be firing some production staff to cope with declining utilization rates at the Chinese plant. However, there are also rumors that production will increase on concerns that the US-Sino trade dispute will lead to tariffs on the iPhone starting in 1Q19. According to Taiwanese EMS companies, the new iPhone's production volumes in 4Q18 and 1Q19 are likely to be 52 million units and 30 million units respectively. As the Max model's volume is more than twice as big as the XS, the earnings of Apple and SDC may be better than expected.
That said, other companies in the Apple supply chain are in for more difficult times. The XR, in particular, with a USD749 price tag, is facing stiff price resistance, as it is much more expensive than Chinese smartphones with the same specifications. There are even rumors that Apple will not make a sequel to the XR altogether, or if it does, it will come without the notch. There are also rumors that all new models will come in OLED from 2019. However, it is risky to have all models in OLED given tepid smartphone demand, and LCD models will be maintained until the yields of LG Display and BOE rise to a certain degree. The most realistic scenario would be that Apple will roll out notchless LCD models or reduce the price of the XR model after making minor changes to H/W specifications.
Apple's OLED iPhone is equipped with add-on type TSP, unlike Samsung's OLED smartphones. Samsung has integrated TSP into display using the Y-Octa technology, which should help save costs by more than USD5 compared with the add-on type TSP. LG Display and BOE also appear to be trying to secure the same technology. Considering anemic smartphone demand and increasing costs (e.g., memory semiconductors, AP, cameras, etc.), efforts to save costs with other components will probably pick up further.
Apple is likely to apply the Y-Octa technology to one of its OLED models in 2020. In this case, the companies that supplied add-on type TSP - Zeon (OTC:ZEOOF), Nitto Denko (OTCPK:NDEKF), Nissha, GIS, TPK (OTC:TPKCF) - may suffer sales declines.
Galaxy S10 to come in three models, pricing migration underway
Next year will mark the 10th year since Samsung launched the Galaxy S series to compete with Apple. Apple's iPhone X, its 10th anniversary project, sold poorly due to initial yield issues, but we believe Samsung will try to make up for recent sluggish smartphone sales with its S10 series. However, it is unlikely that the S10 will sell more than 40 million units given the slowing demand for smartphones. The S10 is expected to be available in three models: 5.8-inch, 6.1-inch and 6.4-inch display. The 6.1-inch and 6.4-inch models are likely to be equipped with triple cameras and 10GB mobile DRAM. In the meantime, Galaxy Note10, to be released in 2H19, is expected to come with 12GB mobile DRAM with UFS 1TB. As smartphone demand is contracting, massive memory capacity could be a marketing perk. The fact that mobile DRAM and UFS prices are declining should help reduce cost burdens. Meanwhile, a foldable smartphone (Galaxy X), even if it is unveiled in 1H19, may be available in 2H19 as one of the Galaxy Note10 models. Also, beginning with the S10, the iris recognition feature will be removed, to be replaced by FOD (fingerprint on display), which uses Qualcomm's ultrasonic fingerprint sensor. The FOD module will be supplied by GIS and OFilm.
Meanwhile, Oppo, which has suffered from plummeting smartphone sales in 4Q18, is expected to slash the price of the new R19 next year, while keeping the H/W specifications intact. In 2015, the smartphone replacement cycle in China was 18 months, but it is now estimated to be 26 months. We expect to see an acceleration of "inch migration" (consumption pattern that buys bigger-screen TVs at lower prices) in the market for large-screen TVs, and similarly, "pricing migration" in the smartphone market. We believe Samsung's Galaxy S10 mass-market model targets such market demand. The pricing migration in the smartphone market is expected to cause pain to both smartphone makers and smartphone parts suppliers.
Industrial/automotive MLCCs and 0603-size 1uF to drive MLCC prices
We found that the MLCC prices of Taiwanese companies that make commodity MLCCs, such as Walsin, are on the decline. However, for MLCC makers in Taiwan, a 20-30% price decline would be normal, because they have been selling MLCCs through distribution channels at prices that are five times more expensive than the prices at which they originally bought the products. On the other hand, the MLCC prices of Murata (OTCPK:MRAAY), SEMCO and Taiyo Yuden (OTCPK:TYOYY) continue to rise even in 4Q18. Murata and Taiyo Yuden have recently raised the price of 0603-size 1μF for smartphones. Furthermore, demand for industrial MLCCs for data centers is rising rapidly, along with the MLCCs for electronic auto components. Some of the industrial MLCCs are sold at a high premium, at USD70-80 per piece. In particular, if Intel server CPU becomes more advanced, MLCC capacitance is expected to increase accordingly. MLCC capacitance and the number of MLCCs in the iPhone XS have increased by 2.9% and 6.9 respectively compared with the iPhone X, indicating that an advance of smartphones has a positive impact on the MLCC market.
Additionally, as the demand for electric cars grows, major MLCC makers are focusing more on automotive MLCCs, which could protract a tight supply situation of industrial and premium MLCCs. Meanwhile, new MLCC investments by Murata, SEMCO and Taiyo Yuden should be solely for automotive and industrial MLCCs, and their new capacity is expected to start full-fledged operation in 2Q20. Their automotive MLCCs should have limited impact on MLCC prices as a whole, but we believe the prices will continue to increase at least until end 2019.


DRAM wafer supply to go up, Hansol Chemical and DNF stocks of interest
After a visit to SUMCO (OTCPK:SUMCF), we have concluded that capacity expansion is gradually picking up. Although the ramp-up at some of the new NAND plants is likely to take longer than expected, Intel's logic IC and CIS demand is still strong, and most leading DRAM makers have locked up demand through LTAs. Thus, we believe the additional capacity to come on-line in 2019 will be fully digested. Samsung has upped its DRAM capacity with the Pyeongtaek plant, but the input of wafers has been delayed due to the 1Y yield issues. However, from 1Q19, we expect the DRAM wafer input volume at the Pyeongtaek plant to increase with an improvement in 1Y yield. In particular, declining DRAM contract prices are likely to spur memory content growth in servers and smartphones. As mentioned earlier, given the DRAM demand growth of Intel's Cascade server CPU and premium smartphones such as gaming smartphones in 2H19, there needs to be a meaningful increase in DRAM supply. DRAMeXchange forecasts DRAM supply bit growth in 2019 at 22.9% with a 20% price decline; it also assumes Samsung's DRAM supply bit growth at 24% and Hynix's at 24.8%. This is much higher than the projections made by Samsung and Hynix themselves.
Because of the burdens from excessively high DRAM profitability, both Samsung and Hynix will probably attempt to lower DRAM prices by increasing DRAM wafer input volume. We find the opinion of some that DRAM prices will plummet even without substantial DRAM wafer input and bit growth unbalanced. As such, interest in DRAM material makers should remain intact, given the prospect of DRAM wafer capacity increases from 2Q19. Indeed, semiconductor material companies have been enjoying quite stable earnings, unlike other IT parts manufacturers. We expect 2019 to witness a moderate decline in profitability and a rise in sales.
Most of all, memory semiconductor materials companies cut prices once a year, versus smartphone parts makers, which cut prices on a quarterly basis. With Samsung and Hynix enjoying high profitability in DRAM, they would not be too passionate about cutting the prices of semiconductor materials. Semiconductor materials companies have stable earnings, and they perform better in the stock market versus other IT parts and equipment companies. Among semiconductor material makers, we are interested in: 1) Hansol Chemical, as it is expected to see earnings growth for QLED TV and rechargeable battery materials, along with the sales of semiconductor cleaning fluids and precursors; and 2) DNF, for the robust sales outlook of its DRAM precursors and smartphone coating materials.
Korean IT H/W sector investment strategy
LGE is our favorite, followed by SEMCO, Samsung, Hynix and Innotek
IT H/W shares have been performing poorly due to: 1) the US-China trade dispute; 2) a decline in DRAM contract prices; and 3) sluggish new iPhone sales. In particular, SEMCO shares have been battered by short-selling despite an earnings surprise. However, we believe that the sector is still in a bullish market and the current corrections are temporary. Considering Intel's new server CPU and micro server relate to edge computing as well as memory content growth amid price declines, the growth of the memory semiconductor industry is a still valid story, and we expect DRAM contract prices to rebound or cease to slide any further from 3Q19. In particular, Samsung's operating profit is projected to be flat YoY in 2019 due to an earnings decline in 1H19, but in 2020, we forecast operating profit to increase 12.5% YoY, driven by server and mobile DRAM demand. Hynix is expected to post double-digit growth in operating profit in 2020. Considering that the supply of silicon wafers to Intel has increased, the supply shortage of PC CPU, which triggered DRAM price declines, should be resolved after the Lunar New Year. Given the likely recovery in demand in 2H19 and the large-scale memory semiconductor consumption cycle to be brought about by 5G and AI, Korean memory semiconductor companies appear to be severely undervalued. As of November 30, Samsung shares traded at 1.0x 2019F P/B and Hynix shares at 0.8x 2019F P/B. Above all else, share prices have priced in the lowering of DRAM prices. When the market sees that a further decline is unlikely, a re-evaluation of shares is in order, in our view.
LGE is expected to reduce business volatility by shifting focus toward B2B from B2C over the long term. However, until such changes are confirmed, we would recommend a trading approach based on seasonality. SEMCO's earnings should continue to improve at least until next year, as the new capacity built by major MLCC companies will come on-stream in 2Q20. As for LG Innotek, we would employ a box trading strategy in light of the launch of a new model by its strategic client, considering its large exposure to the North American strategic client.
Until the end of 1Q19, we recommend LGE first, followed by SEMCO, Samsung, Hynix and Innotek. However, if Intel's PC CPU supply shortage is resolved early, we may see a sharp rebound in Samsung and Hynix shares. Among overseas companies, we recommend Murata and SUMCO, because MLCC and wafer prices are expected to rise in 2019 despite the plunge in share prices. On the other hand, we would avoid JDI on account of its sluggish LCD sales outlook due to slow sales of iPhone XR, Nissha and TPK for the prospect of a sales decrease after Apple adopted Y-Octa TSP in its OLED model.
Samsung Electronics
Look toward Cascade Lake and edge computing
Investment highlights
We maintain a Buy call and our six-month-forward target price of KRW63,000 (the average of 9x 2019F EPS and 1.5x 2019F BPS) on Samsung Electronics. We expect Samsung's 4Q18 revenue and operating profit to miss our previous forecasts by 0.5% and 2.6% to stand at KRW66.3tn and KRW15.3tn respectively, as server and PC DRAM prices fell more sharply than expected. We trim our 2019 operating profit estimate by 0.6% to KRW63.4tn accordingly. The decline of PC DRAM contract prices was caused by Intel's tight PC CPU supply, as Intel concentrated its capacity mostly on server CPUs that have higher price premiums, which worked to significantly increase PC DRAM inventory. As for server DRAM, DRAM modules' percentage of costs in AI servers breached above 30%, which drove North American cloud providers to demand price reductions. That being said, we believe the price decline of mobile DRAM is milder than expected. We think DRAM contract prices will continue to decline until 2Q19, but from 2H19, DRAM contract prices are likely to rebound on the back of: 1) an increase in DRAM capacity for AI servers as Intel rolls out its new server CPU Cascade Lake; and 2) stronger demand for server DRAM for edge computing on the arrival of 5G services.
Major issues and earnings outlook
The steep decline DRAM contract prices in 4Q18 resulted in lower-than-expected 4Q18 results, and DRAM prices are expected to pick up from 3Q19 led by server DRAM. Against this backdrop, we believe 2019 revenue will increase 3.2% YoY to KRW258.8tn, and operating profit will be flat YoY at KRW63.8tn. Declining DRAM contract prices may lead to a YoY decline in 2019 operating profit, but we expect DRAM earnings to continue to grow on: 1) DRAM memory content growth led by gaming smartphones and triple-camera smartphones; and 2) server DRAM demand to come from the Cascade Lake CPU. We recommend a "buy low" strategy in light of the prospect of DRAM contract price increases in 3Q19.
LG Electronics
1Q to benefit from strong seasonality
Investment highlights
We maintain a Buy call and our six-month-forward target price of KRW105,000 (1.3x 2018F BPS). We revise down our 4Q18 sales and operating profit forecasts by 0.1% and 4.6% to KRW16.7tn and KRW518.3 billion respectively to reflect our downward earnings revisions to LG Innotek (011070.KS, Buy), a consolidated subsidiary. LGE's 2018 earnings can be characterized as: 1) strong sales of premium TVs; 2) the rise of healthcare devices; and 3) earnings recognition from ZKW after acquiring the company. The arrival of 5G and the era of hyperconnectivity could provide fresh opportunities for the smartphone business, as smartphones would work as a mobile server for everyone. For the smartphone business, we believe the company needs to choose and focus on areas that can create synergy with other divisions or subsidiaries.
In the meantime, the company's new growth catalyst healthcare solutions should continue to do well in 2019. In particular, the fine dust issue that is spreading globally is likely to buoy the sales of driers, Styler (clothing care system) and air purifiers not only domestically but in other countries as well. In the domestic market, in particular, LGE has a solid cash cow in devices that require continued maintenance: 1) water purifiers; 2) air purifiers; and 3) massage chairs, which is a rental model.
Higher memory chip prices work to raise the cost burdens of its smartphones. Thus, recent memory chip price falls bode well for the company's earnings. We believe the stock offers a great entry point now, as the stock has always performed well in 1Qs on strong seasonality.
Samsung Electro-Mechanics
Industrial/auto MLCCs promise great potential
Investment highlights
We maintain a Buy call and our six-month-forward target price of KRW200,000 (3.0x 12-month-forward BPS) on SEMCO. Despite MLCC price hikes, SEMCO's 4Q18 results are likely to make a soft landing, with sales and operating profit slipping just 2.3% and 6.8% QoQ to KRW2.31tn and KRW377.6 billion respectively on inventory adjustments of other parts. In 1Q20, we believe operating profit will return to growth QoQ on ASP hikes through product mix improvements (e.g., automotive and industrial MLCCs) and increasing sales of triple camera modules from the Galaxy S10. We expect SEMCO to focus on improving its profitability by increasing the supply of various camera modules (triple, quadruple, etc.) to its captive clients and Chinese smartphone makers. As for the ACI division, rigid-flex PCB demand from the US client will likely be weak, but FC-BGA sales coming from Intel should pick up. SEMCO will especially benefit from Japan's Ibiden shifting focus to Intel-related business at the expense of its Samsung-bound FC-CSP business. Although weak HDI sales will likely be offset by BGA sales, we are still neutral on the ACI business because the operation of the PLP line could add to depreciation cost burdens.
Major issues and earnings outlook
SEMCO is building an MLCC plant dedicated to car electronics in Tianjin, China, with a target to come on-line in 2Q20. Automotive MLCCs represent 5-6% of the company's total MLCC sales, and when the Tianjin plant comes on-stream, automotive MLCC's portion of sales should increase, driven by demand for EVs and connected cars. Additionally, industrial MLCC sales are likely to expand too, led by data centers and cell towers. There is little price resistance to industrial MLCCs, and the demand for industrial MLCCs looks set to rise considerably on the back of Intel's server CPU upgrades and demand from 5G cell towers and edge computing. We believe industrial MLCCs will grow to represent 15% of the company's total MLCC sales.
We recommend a buy-and-hold strategy, as car electronics parts companies' preference toward SEMCO products is growing fast amid the long-term upcycle of the MLCC industry.
Disclosure: I/we have no positions in any stocks mentioned, and no plans to initiate any positions within the next 72 hours. I wrote this article myself, and it expresses my own opinions. I am not receiving compensation for it (other than from Seeking Alpha). I have no business relationship with any company whose stock is mentioned in this article.
Additional disclosure: Hyundai Motor is a passive investor in our bank.