If lies are more comforting to you than facts, you need to get out of your comfort zone."

- DaShanne Stokes
Biotech seems to be off to a good start to begin 2019. After early losses on Thursday, the sector reversed and ended the day up one and half percent. The January effect seem to hit some oversold small caps on Monday, which helped names like Conatus Pharmaceuticals (CNAT) and Axsome Therapeutics (AXSM) rise by more than 20% on the day.
The market was closed on Tuesday. Wednesday, we saw double-digit moves from small-cap laggards like T2 Biosytems (TTOO), Leap Therapeutics (LPTX) and Zynerba Pharmaceuticals (ZYNE), to name a few.
Hopefully, this is a start of longer-term rally in this beaten-down sector. There are three reasons why I think the sector should have a good year in 2019.
Tax-Loss Selling Abates

With the coming of the New Year, one major driver of selling in the fourth quarter has abated. That is tax-loss selling. Given the deep losses the sector had in the second half of 2018, one can hardly blame some investors for at least trying to get a tax offset from the deep declines from myriad small-cap names in the sector. This is probably one reason the decline in the sector accelerated through most of December before a slight reprieve last week. Now that 2018 is over, so is this source of selling pressure.
M&A Activity Should Pick Up
Buyout activity was dormant throughout 2018, even as drug/biotech giants still have to replenish their pipelines. The only significant deal I can recall in the fourth quarter was Tesaro (TSRO) being acquired for just over $5 billion. However, cash at the ten largest pharmaceuticals companies increased $15 billion in the third quarter to $155 billion, and that cash flow has to be put somewhere.
Those funds are likely to find their way into new acquisitions. A good article came out this week. Based on a recent survey, R&D ROI dropped to just 1.9% at the twelve largest pharma players in 2018. This is the lowest on record and down from 10% in 2010. One of the easiest ways to increase ROI is to scoop up small- and mid-cap concerns where it is higher, especially after the fourth quarter's huge declines.
Another strategy is to buy growth by picking up a large, established player with multiple products on the market and a diverse pipeline. That is exactly what Bristol-Myers Squibb (BMY) did on Thursday morning when it bought Celgene (CELG) for $74 billion. The offer contained a significant premium and consisted of $50 a share in cash, one BMY share for every CELG share and potentially a $9 cash payment per share triggered by the achievement of future regulatory milestones.
I also expect a notable pickup in new collaboration deals with smaller developmental concerns by the bigger players in the industry. Gilead Sciences (GILD) did a major collaboration deal with Agenus (AGEN) late in December. I would look for more of these types of arrangements in coming months, which will greatly benefit the small biotech space.
Insiders Are Buying The Sector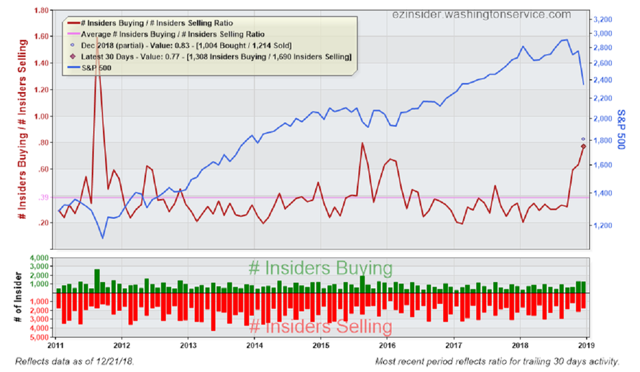 Insider buying in the market hit its highest level in eight years in December. Some of the biggest buying seemed to happening in the small biotech sector. Iovance Biotherapeutics (IOVA) saw beneficial owners and insiders buy over $12 million in new shares in December. Beneficial owners also bought over $15 million in new shares in Reata Pharmaceuticals (RETA) during the month, and the Medicines Company (MDCO) saw just under $8 million in insider buying last month as well. Those are just a handful of small biotech/biopharma names I saw large insider buying within. Quotient Limited (QTNT), Soleno Therapeutics (SLNO) and Esperion Therapeutics (ESPR) also have seen substantial insider purchases over the past 30 days.
This are not the only reasons I am optimistic about the biotech sector as 2019 commences, but they are some of the main ones.
The problem with wearing a facade is that sooner or later life shows up with a big pair of scissors."

- Craig D. Lounsbrough
Bret Jensen is the Founder of and authors articles for The Biotech Forum, Busted IPO Forum and The Insiders Forum.
Disclosure: I am/we are long AXSM,CELG, CNAT, ESPR,GILD,IOVA,LPTX,MDCO,QTNT,RETA,TTOO,ZYNE. I wrote this article myself, and it expresses my own opinions. I am not receiving compensation for it (other than from Seeking Alpha). I have no business relationship with any company whose stock is mentioned in this article.