Shares of Delta Air Lines (NYSE:DAL) fell 9 percent on Thursday following weaker revenue growth forecasts, grounding exchange-traded funds (ETFs) with heavy exposure, such as the US Global Jets ETF (NYSEARCA:JETS).
The news comes as the Dow Jones Industrial Average fell over 600 points on Thursday as shares of iPhone maker Apple (NASDAQ:AAPL) declined 10 percent on a weak first-quarter guidance.
Delta issued a warning to investors that its previous forecast of 3.5 percent unit revenues would fall short by half a percent when it reports earnings later this month. This caused shares of other airlines, such as American Airlines (NASDAQ:AAL), United Airlines and Southwest Airlines (NYSE:LUV) to fall in unison.
Meanwhile, JETS, the ETF with one of the largest percentage allocation towards Delta Air Lines at over 12 percent lost 4.35 percent on Thursday. JETS tracks the performance of the U.S. Global Jets Index and relies on a passive management strategy that invests in U.S. and international passenger airlines, aircraft manufacturers, airports, and terminal services companies across the globe.
Oil prices have fallen as of late, but with that drop comes cheaper fuel prices, resulting in airlines having to compete for market share by dropping their fare prices - a negative notion for investors.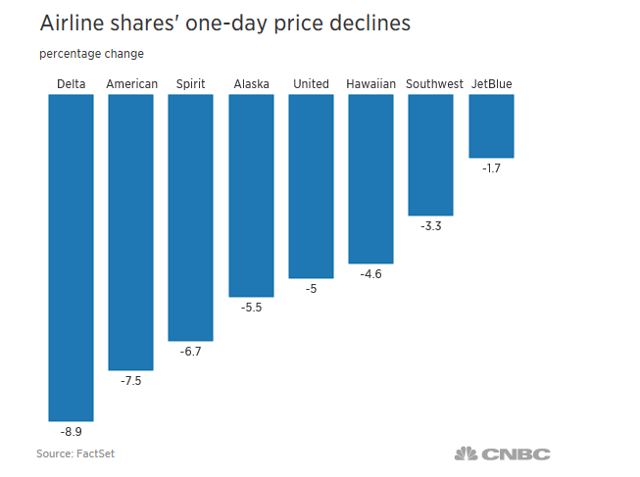 "This is exactly why investors are apprehensive about getting involved in the group in a declining fuel environment. In the past, the airlines have competed away gains from lower fuel as they reward customers with lower fares," said Helane Becker, airline analyst at Cowen & Co.. "With oil trending lower in recent months, investors are worried this time will not be different."
JETS also holds United Continental Holdings (NASDAQ:UAL), which dropped almost 5 percent. Its third-largest holding is America Airlines Group, which lost over 7 percent on Thursday.
Nonetheless, based on Yahoo performance numbers for the past year, JETS is up just under 5 percent.
Editor's Note: The summary bullets for this article were chosen by Seeking Alpha editors.