As a Celgene (NASDAQ:CELG) shareholder, I was happy to find the stock up for a change, after the stock fell about 38% last year (and from the peak of $145 in 2017, it has fallen about 55%).
The stock appreciated about 21% as of writing, as there was news that Bristol-Myers Squibb (NYSE:BMY) was acquiring Celgene for about $74 billion.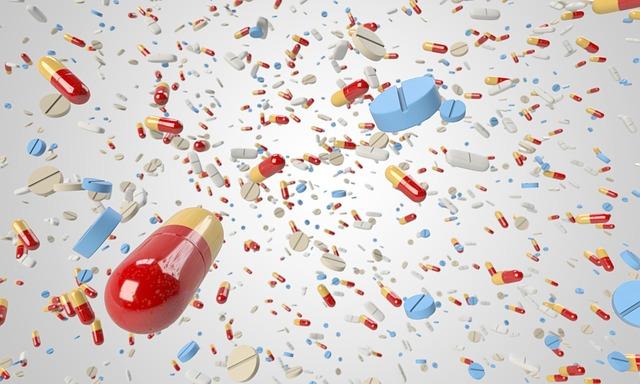 What's The Deal?
If the transaction closes, Celgene shareholders will get one BMY share and $50 in cash for each Celgene share. Celgene shareholders will also get one tradeable Contingent Value Right ("CVR") for each share of Celgene, which will entitle its holder to receive a one-time potential payment of $9 in cash upon FDA approval of all three of ozanimod (by December 31, 2020), liso-cel (JCAR017) (by December 31, 2020) and bb2121 (by March 31, 2021), in each case for a specified indication.
Based on the closing price of $52.43 BMY stock on January 2, 2019, the cash and stock consideration to be received by Celgene shareholders at closing is valued at $102.43 per Celgene share and one CVR. When completed, Bristol-Myers Squibb shareholders are expected to own about 69% of the company, and Celgene shareholders are expected to own roughly 31%.
However, in light of this news, BMY stock has been dragged down to under $45 per share as of writing. This would value the cash and stock consideration to be received by Celgene shareholders at under $95 per Celgene share and one CVR.
BMY is funding the cash portion of the acquisition with cash on hand and debt financing. It has obtained fully committed debt financing from Morgan Stanley Senior Funding, Inc. and MUFG Bank, Ltd. Following the close of the transaction, BMY expects that substantially all of the debt of the combined company will be pari passu.
At the end of Q3, BMY had $5.4 billion of cash and cash equivalents, and its debt-to-asset ratio was 0.59.
What Should Celgene Shareholders Do?
The news actually pushed Celgene stock meaningfully closer to its fair value, according to Thomson Reuters' mean 12-month target of $105. As of writing, Celgene is trading at $80.84. So, it doesn't make sense to sell at the current levels, as there's still about $14 (nearly 17%) of upside according to BMY's current stock price.
At the same time, there's a risk that if the deal breaks down, Celgene stock could come tumbling down.
If you bought Celgene in the $60s in December, you're now sitting on some nice gains, and no one will blame you for securing and booking the profit.
For those who have a longer-term investment horizon, it may be worthwhile to wait it out. If BMY combines with Celgene, it could be a good thing, as it merges the quality biotech and pharma companies to make a more diversified firm. Moreover, BMY also offers a stable dividend to give immediate returns.
The Combined Company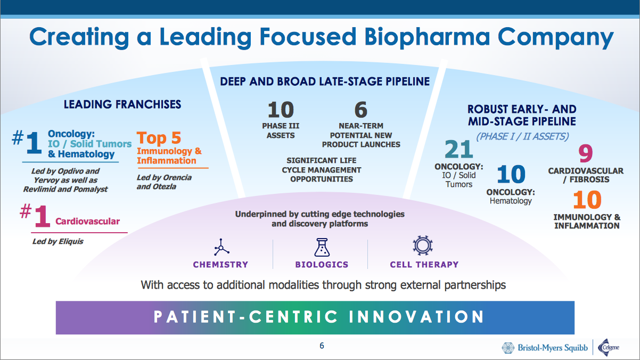 Source: BMY acquires CELG presentation (pdf) - Slide 6
If the deal goes through, Giovanni Caforio, the current CEO of BMY, will continue to be the CEO of the combined company, and 2 board members from Celgene will be added for a total of 13 members. If all goes well (i.e., approved by regulatory bodies and shareholders), the transaction is estimated to close in Q3 2019.
Here's a closer look at the two companies' combined portfolio: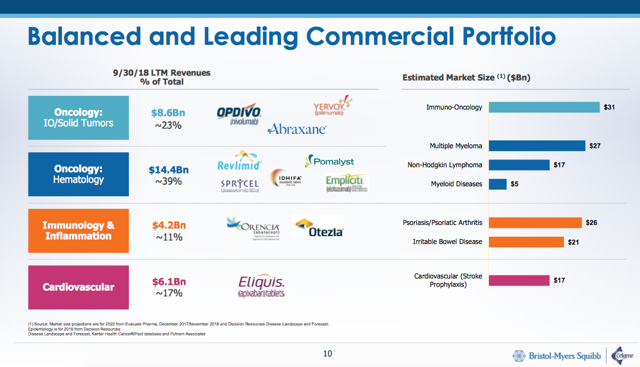 Source: BMY acquires CELG presentation - Slide 10
The combined pipeline of the two companies is promising with six near-term product launch opportunities, which have a potential for more than $15B in revenue.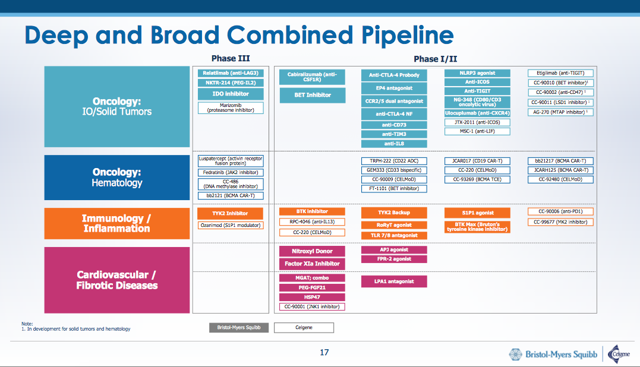 Source: BMY acquires CELG presentation - Slide 17
BMY estimates that the combined company had an operating margin of 36%. With estimated run rate cost synergies of about $2.5 billion, from a number of sources, to be achieved by the third full year, there's room for margin expansion.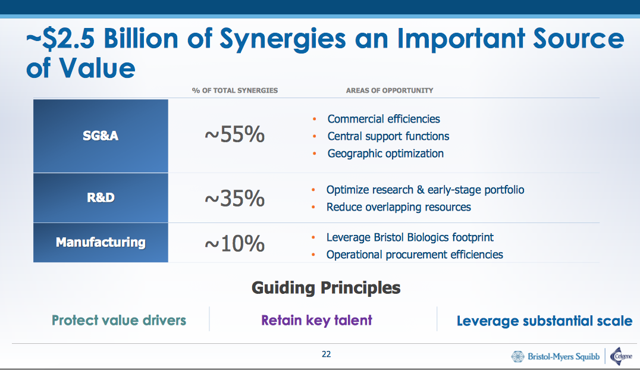 Source: BMY acquires CELG presentation - Slide 22
Investor Takeaway
I think BMY is getting a good deal here. It's paying a low multiple for Celgene, which has a higher margin and higher growth rate - BMY's recent net margin and consensus estimated growth rate are 6.5% and 11-12.8%, respectively, while Celgene's are 19.6% and 19.5-19.8%. BMY also has a stronger balance sheet than Celgene, as indicated by their S&P credit ratings of A+ and BBB+, respectively. So, assuming the deal goes through, I think BMY is a better buy here.
Disclaimer: This article consists of my opinions and is for educational purposes only. Please do your own research and due diligence and consult a financial advisor and or tax professional if necessary before making any investment decisions.