As we approach the end of 2018, I take a look at what I view as the top 5 tech trends for 2019. 5G has the potential to create a surge in several other tech areas and is rated as my number 1 tech trend for 2019.
The 2016 chart below gives McKinsey's view on where the big money in tech will flow in future years. My top 5 areas for 2019 feature in their top 6 as shown below.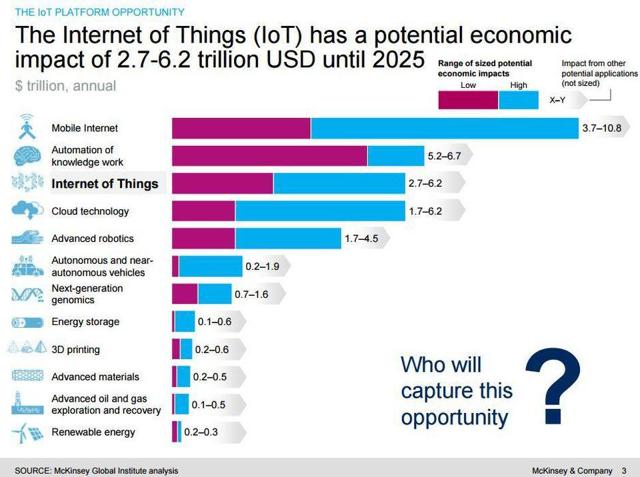 1) 5G
5G is coming, and it has the potential to change the world of communications as we know it. 5G is the latest trend in mobile phone networks. 5G stands for fifth-generation wireless cellular technology. Compared to 4G, 5G uses smaller and more antennas, operates on higher radio spectrum frequencies (4G networks use frequencies below 6 GHz, 5G uses 30-300 GHz range), is capable of connecting many more devices to the internet, reduces latency, and delivers much faster speeds than 4G.
5G is expected to be 20-100x faster than 4G, and it should be accessible using a 5G enabled device anywhere where there is network coverage similar to what happened with 3G and 4G. This is going to create an "always online" scenario.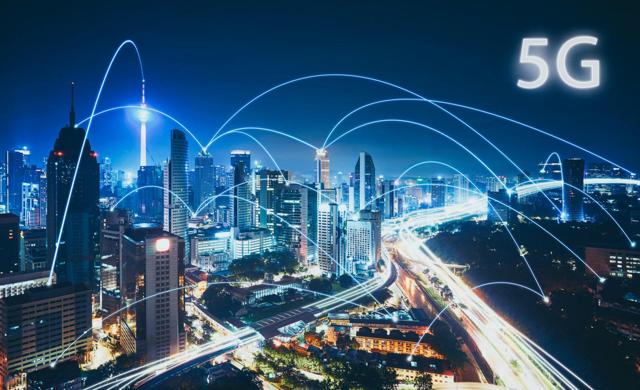 Don't get confused with home WiFi and enhanced 4G (or some questionable 5G offerings) as they run off different wireless parameters. 5G uses radio access networking the same way those wireless radios did back in the day, but at a much higher frequency.
5G will provide super-fast internet connections for homes and businesses, enabling ultra-high definition video, better video conferencing, virtual/augmented reality, improved gaming, and much more. Over time, 5G will supersede 4G across many countries - but only for devices that support it. As you consider your own smartphone purchases for 2019 and beyond, which network - 4G or 5G will have to be factored into which phone you eventually buy.
5G wireless should dominate during the 2020s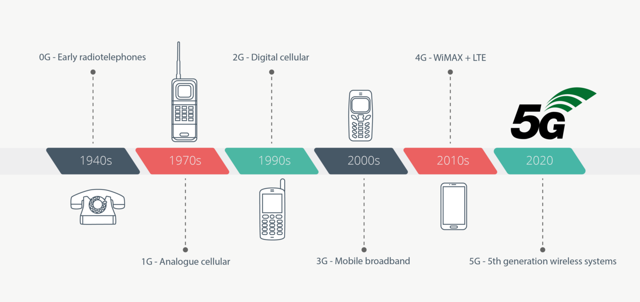 Companies to benefit from the 5G trend
The USA
AT&T (T)
In the USA, AT&T is launching their 5G rollout across 12 cities by the end of 2018 (including Atlanta, Charlotte, Dallas, Houston, Indianapolis, Jacksonville, Louisville, New Orleans, Oklahoma City, Raleigh, San Antonio, and Waco). Their merger with Time Warner will also add content to AT&T's offerings, making them the provider of the network and the entertainment we can watch.
Verizon Communications (NYSE:VZ)
Covering 98% of the United States and serving more than 150 million wireless customers, Verizon first trialed 5G residential applications in 11 cities in 2017 (including Atlanta, Dallas, Denver, Seattle, and Sacramento). Verizon estimates their initial 5G market opportunity in the US at 30 million households. In October 2018, Verizon launched 5G mmWave FWA in four US cities (Houston, Indianapolis, Los Angeles and Sacramento).
Ranked as the number three U.S. mobile carrier, the combined company is estimated to have over 126 million mobile customers. Partnering with Nokia (NYSE:NOK) as the 5G as the equipment suppliers, T-Mobile plans to start deploying 2019 with 30 cities named so far with further plans to cover two-thirds of the US by 2021, and 90% by 2024.
The Rest of the World
Vodafone Group (VOD)
Vodafone has announced that seven cities will become trial areas for Vodafone 5G in 2018. Vodafone is partnering with Huawei, Ericsson (NASDAQ:ERIC), Nokia, Qualcomm (NASDAQ:QCOM), and Intel (INTC) to research 5G technologies and prepare its networks to transition to the 5G standard.
Huawei [SHE: 002502]
Huawei has signed memorandums of understanding for selling 5G equipment to operators in Asia, and Europe and North America. Huawei promised that its first 5G phone will go on sale before the end of June 2019.
Nokia
Nokia provides industry leadership to help operators launch commercial 5G, notably in the infrastructure space. This includes supplying T-Mobile with its AirScale radio access platform along with cloud-connected hardware, software and acceleration services.
Ericsson
Ericsson is another leading 5G infrastructure provider along with Huawei and Nokia. Fierce Wireless report that as of March 2018 Ericsson has signed 38 operator agreements for 5G. The first very few 5G devices will likely be introduced towards the end of 2018. Ericsson estimates the number of subscriptions reaching one billion by the end of 2023.
Samsung Electronics (OTC:SSNLF)
Samsung will no doubt benefit by manufacturing the next generation of 5G enabled smartphones. Samsung is also aiming to control 20% of the global 5G equipment market. The Samsung Galaxy S10 is expected to be 5G enabled and out in 2019. You can read "Top five 5G phones to expect in 2019."
Apple (AAPL)
No doubt an Apple 5G enabled iPhone or iPad will have customers lining down the street just so they can say they were the first ones to purchase the historic item. An Apple Insider November 2018 report stated: "A source familiar with Apple's plans, Fast Company reports Apple intends to use Intel's 5G-capable 8161 modem in an iPhone slated for release in 2020. The handset will be Apple's first product to support the fast 5G standard." Late 2019 is also possible, as is another chip provider.
Qualcomm
Qualcomm generates the majority of its revenues from chips for smartphones and technology licensing. The company's Snapdragon X50 5G modem was chosen by 19 global operators for mobile 5G trials. Qualcomm is reportedly pushing up production of its 5G-capable chipsets in anticipation of the first major smartphone releases in 2019.
Skyworks Solutions (SWKS)
Skyworks' unifying platform will power revolutionary 5G applications. The company also provides radio frequency chips to smartphones and other enabled devices.
Intel
Intel is another 5G modem developer. Their 5G modem works in phones, autonomous vehicles, drones and smart city sensors.
MediaTek Inc. (OTCPK:MDTKF)
The new MediaTek 5G chip only supports Sub-6GHz, and not mmWave. This is a trade-off to reduce the power draining impact of 5G systems. You can read more here.
PLDT (PHI)/Smart
PLDT Inc.'s wireless unit Smart Communications has launched its first fifth generation (5G) cell sites located at the Makati Central Business District and Clark Freeport Zone in the Philippines. PLDT and Smart worked with technology partner Huawei for the 5G cell site in Makati, and with Ericsson for the one in Clark. The firing up of the sites would allow it to test the next-generation network for various solutions for autonomous vehicles, connected fleets and smart buildings and factories, among others. Rival network Globe Telecom Inc. (OTCPK:GTMEF) is targeting the rollout of 5G network by the second quarter of 2019.
Spark NZ - New Zealand (SPKKY)
Cisco has become the first of several collaborators working with Spark NZ to prepare and test the parameters for a 5G network in New Zealand. The telco trialed 5G in Wellington and Auckland earlier this year, achieving the highest speed of 18.23 gigabits per second, approximately 150 times faster than Spark's initial 4G trial.
The deployment of 5G is only the start of this digital evolution. Many big things are coming as new secondary and tertiary industries are going to come online as the communications revolution continues to unfold. 5G is going to take us from a world of connecting people via the internet, to a world of connecting everything to everything, thus making cities smarter, energy grids more efficient, medical services more accessible and transportation safer, even making ordering a pizza easier.
2) Autonomous Vehicles (

AVs

)
I have broken out autonomous vehicles [AVs] as a separate section despite them being included under the Internet of Things [IoTs]. There are currently 5 levels of autonomous vehicles. The highest level is level 5 which requires no human being in the vehicle and can operate safely in all conditions and terrain. Alphabet Google (NASDAQ:GOOG) (NASDAQ:GOOGL) (via their subsidiary Waymo) is leading the way having rolled out autonomous vehicles in Phoenix Arizona in November 2018. In Q2 2018, Waymo announced the purchase of 62,000 new Chrysler Pacifica minivans. General Motors (GM) plans a rollout of AVs in 2019, and Ford (F) plans their rollout for 2021.
The big goal here for most companies is to have robo-taxi (electric vehicle) fleets disrupting the taxi industry. Transport as a Service (TaaS) will start to grow in 2019 and will potentially be a huge growth area the next decade, provided the technology proves totally successful and legislative change follows.
Another key driver of AVs is safety. Given about 1.25 million people in the world die every year from car accidents, the potential for AVs to save lives and prevent accidents is enormous. The implications from this are very profound.
Waymo autonomous vehicles launched in Phoenix Arizona in November 2018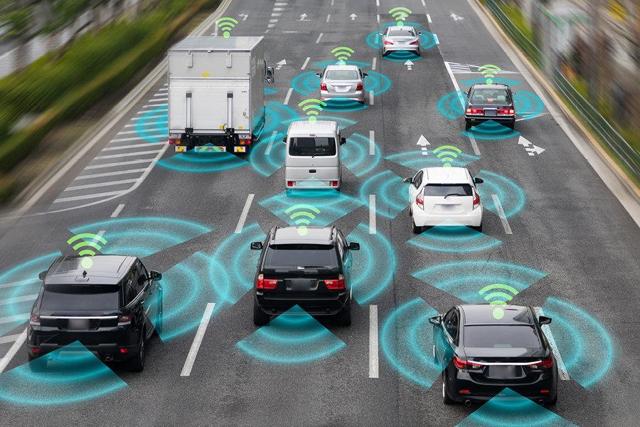 We are just at the very beginning of the autonomous vehicle boom.
Self-driving cars (including mobility as a service) can be a trillion-dollar industry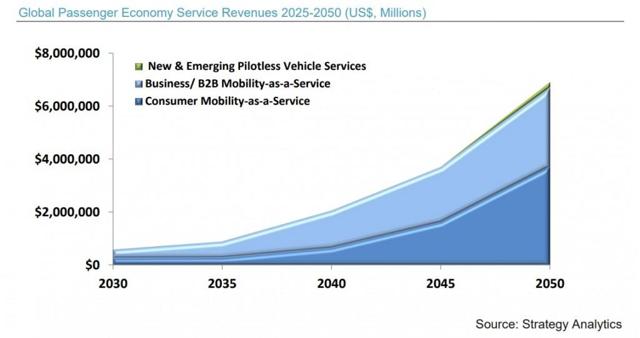 Source: Strategy Analytics
Intel/Waymo, Nvidia (NASDAQ:NVDA) and perhaps soon Tesla (NASDAQ:TSLA) (hardware 3) lead the pack when it comes to the onboard computer and software that operate autonomous vehicles. In late 2017, Nvidia introduced a computer for level 5 autonomous cars known as the Nvidia Drive PX Pegasus AI computer, which is the size of a number plate and uses less power than previous models.
The Nvidia Drive PX Pegasus AI computer - for level 5 autonomous vehicles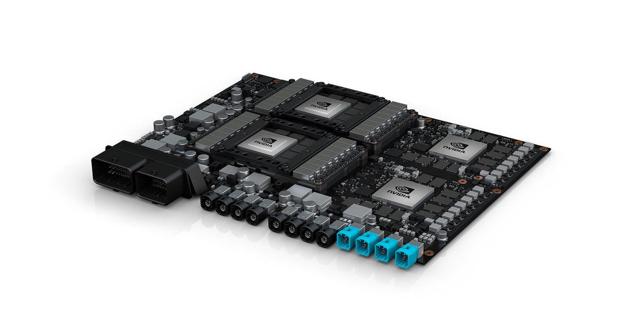 Companies to benefit from the autonomous vehicle trend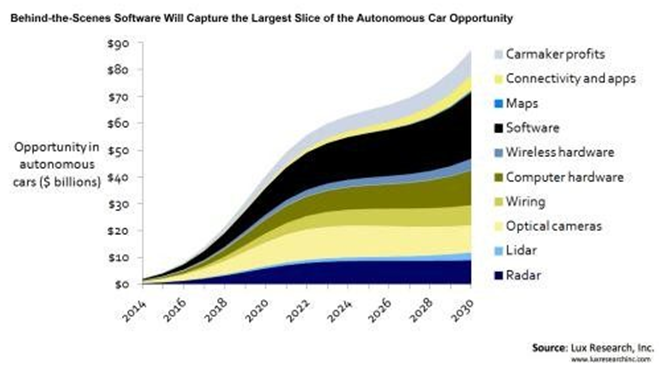 3) Artificial Intelligence ("machine learning")/ Data analytics
Artificial Intelligence
Artificial intelligence [AI] is the ability of a computer program or a machine to think and learn. Examples of AI are playing a game versus a computer (E.g. chess), computers successfully understanding human speech, chat bots, Facebook learning what you like, self-driving cars, and interpreting/analyzing complex data.
The Artificial Intelligence market is projected to hit $90 billion by 2025 - That is a 28-fold increase on 2016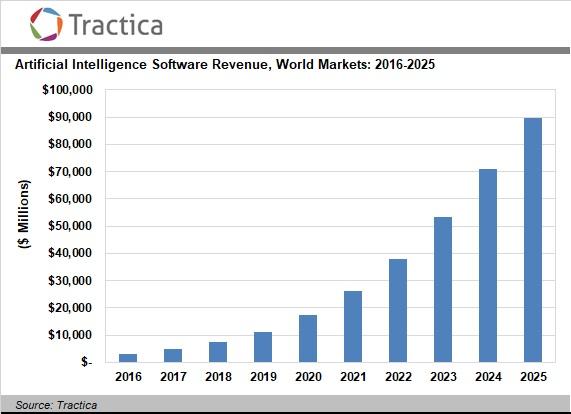 Data Analytics
In 2018, Forbes stated:
The amount of data we produce every day is truly mind-boggling. There are 2.5 quintillion bytes of data created each day at our current pace, but that pace is only accelerating with the growth of the Internet of Things [IoT]. Over the last two years alone 90 percent of the data in the world was generated.
Data analytics presents tremendous opportunities, helping us to grow our businesses, make our lives more efficient, as well as help worthwhile causes.
In healthcare organizations, data analytics are making a real difference to people's lives. Technology has helped both the public and private sector in coping with the increasing demands for society's healthcare needs, thanks to the digitization of patient information, remote monitoring, and more recently AI. To date, much data analytics discussion in healthcare has been dominated by identifying efficiencies and reducing costs.
Data analytics is also playing an integral part in the present digital revolution. The most important measure is to ensure that staff knows exactly how to use the data, meaning to get the right answer you need to ask the right question. With cloud computing, even the smallest business can couple big data technology with advanced data analytics. The power to uncover new operational and market insights, and untapped customer segments, will continue to grow.
Data analytics is also the key to companies being able to make good decisions about products, services, employees, strategy and more. Research is showing we are only analyzing ~1% of the data we create. As companies like Microsoft (MSFT), SAP SE (SAP), SAS, and Salesforce (CRM) show market leadership in the promotion of data being made into meaningful business analytics, we will see more digital leaders investing to analyze more of their data using AI. If this happens, that 1% figure could grow to 3 or 4% by 2020; when more than 40% of data science tasks will be automated.
Companies to benefit from the AI trend
Note: Many junior AI start-ups get taken over, making it hard to find quality AI juniors that are listed.
4) The Internet of Things [IOTs]
The Internet of Things [IOTs] is defined as "the interconnection via the internet of computing devices embedded in everyday objects, enabling them to send and receive data." Essentially, it is machines talking to other machines. This is the concept of connecting any device with an on and off switch to any other device via the internet.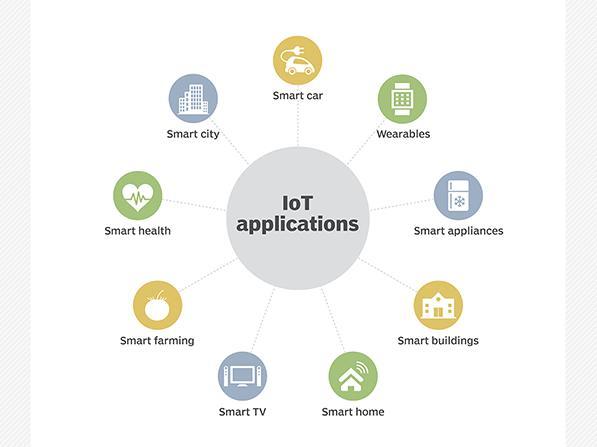 An example of machine to machine [M2M] communication is happening in the Amazon rain forest where M2M sensors have been placed on trees in protected areas. As soon as a tree has been felled or moved, law enforcement receives a message alerting them to the location.
On a wider scale, the IoTs could be applied to things like transportation networks, smart cities with autonomous vehicles, energy networks and efficiency, health services, or virtually any device that can be connected. In the future, we can use an app on our smartphone or personal device to do so many useful things such as: Turning on the washing machine remotely, turning on your dinner to have it ready for when you get home, or having access to your home security.
But it's not just the smart home and social interactivity that will use the IoTs, there are huge applications in industry and the office. To date, the potential of the internet of things has only just begun.
Forrester forecasts:
Feet management in transportation, security and surveillance applications in government, inventory and warehouse management applications in retail and industrial asset management in primary manufacturing will be the hottest areas for IoT growth.
The IoTs - Machines talking to machines at home, office, and industry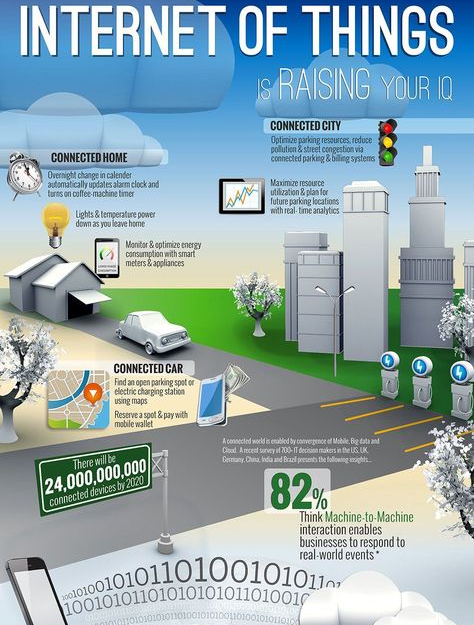 Quick facts
IHS forecasts that the IoT market will grow from an installed base of 15.4 billion devices in 2015 to 30.7 billion devices in 2020 and 75.4 billion in 2025 - A massive 5-fold increase in a decade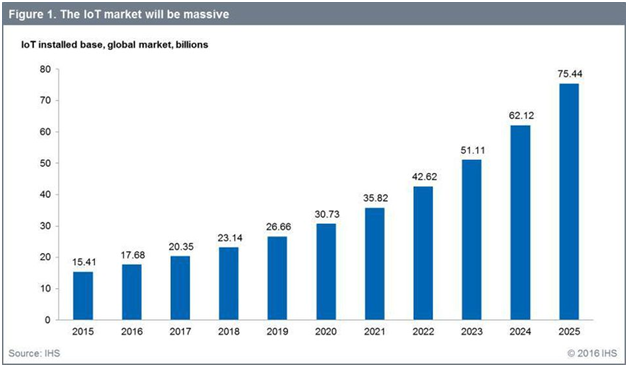 Companies to benefit from the IoTs trend
5) Data Storage and the Cloud
5G is going to accelerate the data storage ("cloud") trend.
When a person thinks about cloud storage, they will likely think about storing files (songs, videos, and applications) on a remote server to be retrieved from multiple devices any time he or she needs them. Cloud storage is essentially a system that allows you to store and retrieve data from the internet remotely. It's cheaper and more secure than traditional storage mediums, eventually eliminating the need for home and business to store on local hard drives. This is only one factor in making the globe more mobile.
Doubling in size every 2 years, the world's data growth is being driven by more internet users, more smartphones, more online video streaming, and more IoTs devices. Over the past 5 years, according to Cisco, data traffic has increased 18 times.
Global data center IP traffic growth forecast 2016 to 2021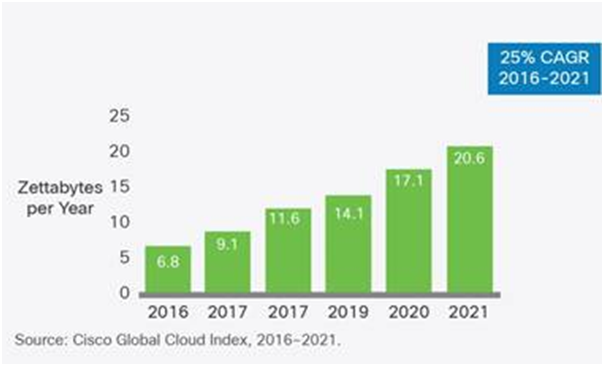 Source
With the full deployment of 5G communications on the way, the cloud storage data boom could open up many opportunities for investors. Most of the future growth is expected to come from the Asia Pacific region, mainly China. Regional neighbors are expected to benefit as China has been investing heavily in the region with technology.
Cloud computing is used to work on specified projects. Linked with cloud storage in that, you have to move data to the cloud before you can make use of cloud computing systems. Once stored to the cloud, you can process it and save it back. An example of cloud computing is "Software as a Service" [SAAS], where you input data on software and the data is transformed remotely through a software interface without your computer being involved. Another example is where members of a company can work in different locations on the same project by each accessing and then adding to a project separately from any global location with an internet connection.
As of 2017, the leaders in cloud data storage were Amazon via their Amazon Web Services division, Microsoft Azure, Google, IBM, and Oracle. Note Amazon and Microsoft dominate for now.
The major cloud data storage companies compared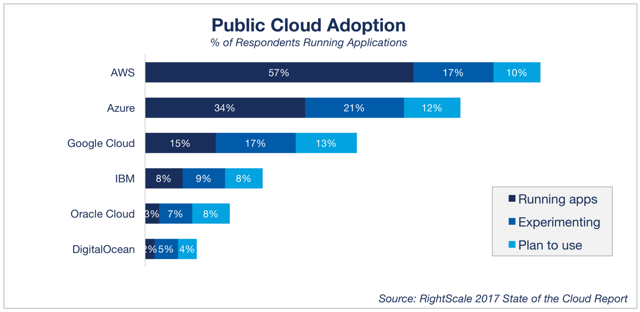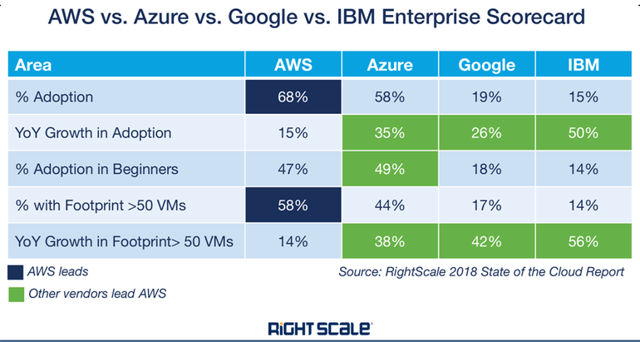 Companies to benefit from the data storage (cloud) trend
Further reading
Post Trend Investing publication edit: On December 6, The Financial Times reported:
"Waymo tests self-driving cars with an expert at the back. Waymo is introducing a small-scale ride-hailing service in the Phoenix area that will include a human behind the wheel in case the robotic vehicles malfunction. Although Waymo has been driving passengers without any humans behind the wheel in its free pilot program, it decided to be less daring with the new commercial service."
Conclusion
One thing that is certain about the future is change. And in the technology space, change can happen fast and have profound impacts on our society. The arrival now of 5G will act as a huge catalyst for change as it will make the internet run so much better than before. A household can have 20 or 30 connected internet devices all running at once with no problems, and high speed internet will gradually become ubiquitous.
Vehicle to internet communication for entertainment, navigation, traffic management, and fleet operation will become the norm. Data flow, data analysis, and data storage will experience huge growth. The IoTs can finally reach its full potential, and if matching forecasts the number of connected devices will rise 5-fold in the decade to 2025.
Autonomous vehicles (see post publication edit above) are already now operating on the streets in Phoenix. This should lead to a huge rise in the robo-taxi and transport as a service, mostly using electric vehicles. It is staggering to think this can go from zero to a 7 trillion dollar industry by 2050 or earlier.
Meanwhile, revenue from the artificial intelligence sector is forecast to increase 28-fold from 2016 to 2025, to reach US90b.
We will see all these changes gaining momentum in 2019 and growing more rapidly as we enter the 2020s. Smart investors should alert themselves to these 5 trends that will likely cause a huge disruption in several industries such as communication, transport, energy/health/people management.
For now, my top 3 stocks that have good exposure across many of these key tech trends include Alphabet Google, Nvidia, and Baidu (or Tencent). The chipmakers stand to do very well and some big names include Qualcomm, Intel, and Taiwan Semiconductor Manufacturing Co. Finally, the Artificial Intelligence ETFs and some tech ETFs also offer a broader exposure.
In future articles, I intend to write on some specific tech stocks that can be big winners from these tailwinds of change.
As usual, all comments are welcome.
Trend Investing
Thanks for reading the article. If you want to sign up for Trend Investing for my best investing ideas, latest trends, exclusive CEO interviews, chat room access to me, and to other sophisticated investors. You can benefit from the work I've done, especially in the electric vehicle and EV metals sector. You can learn more by reading "The Trend Investing Difference", "Subscriber Feedback On Trend Investing", or sign up here.
Latest Trend Investing articles:
Disclosure: I am/we are long GOOG, SAMSUNG ELECTRONICS (XLON:SMSN), BABA, MU, FB, NVDA. I wrote this article myself, and it expresses my own opinions. I am not receiving compensation for it (other than from Seeking Alpha). I have no business relationship with any company whose stock is mentioned in this article.
Additional disclosure: The information in this article is general in nature and should not be relied upon as personal financial advice.