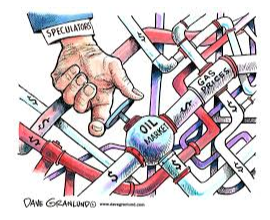 2018 was an interesting year, especially for oil prices. We saw unexpected and unusual vicissitudes as prices posted four-year highs and then almost crashed $30 in a span of two months. Oil entered a losing streak unprecedented in the last 34 years, and we witnessed a historical Santa Claus rally not seen since 2009.
Now, we enter a new year. With new hopes, fears, and expectations. A very pertinent and pressing question in the global financial community is, will oil prices rise in 2019? I think that it will not. You may take me as a perpetual bear, but the conditions are not very conducive for a sustainable, significant increase in prices.
Firstly, the overall sentiment is, if not bearish, but confused. Markets gave a mixed reaction after OPEC+ meeting in December, even though the results were described being on the "higher end of expectations" with OPEC agreeing to cut 800,000 bpd out of the total 1.2 mbpd proposed. However, Russia threw cold water on market's hope when its energy minister said that it will take "months to reach the desired" level of production cuts. One of the most important things to notice was that the baseline, against which the cuts were proposed, was October, wherein KSA and Russia produced record highs to quell fears in the wake of Iranian sanctions. Also, these proposed cuts will be reviewed in April 2019, which is the same time when US will reconsider its waivers granted to main buyers of Iranian oil.
How does this relate to the prices? Consider the following scenario: For instance, the production cuts result in an increase in prices, and the U.S. also refuses to extend the waivers. This will be a double-whammy resulting in another short-term price hike. We can expect yet another tweet from Trump criticizing higher prices, and resultantly, the possibility that the amount of production cuts might be reviewed and revised. For those who think that Khashoggi episode is history, think again. As I have mentioned before, this is a good bargaining ploy for U.S. to pressurize KSA on issues it wants to, and as we have seen, the latter will comply. Any of the two factors, waivers from U.S. or production cuts can upend the expected rally in prices.
Secondly, the cooperation between KSA and Russia, two of the three largest present oil producers, seems to waver a little. We saw how, before the December meeting, Russian President Putin showed his contentment with current oil prices (which was $60). Recently, Alexander Novak said that they have no plans to form a permanent alliance with OPEC - to "institutionalize" it; as the rumors were last few months back. The whole structure of market rebalancing depends upon the very cooperation of these two producers bearing the largest amounts of cut as well. Entering 2019 with this sentiment might not be a good sign.
Thirdly, the fear of a worldwide recession (the topic itself deserves a separate article) builds up as manifested by the US stock market sell-off triggering panic in bourses around the world. For those who look the fears into askance, there is enough evidence: U.S. has embarked on a monetary tightening program with the latest interest rate hike in December 2018. One of the most dependable and tested indicators prognosticating a global slowdown is U.S. treasury yield curve. Bad news - it just got inverted earlier December! An inverted yield curve suggests that long-term economic outlook is gloomy.
The trade war is only adding fuel to fire. China has stopped buying crude from U.S. notwithstanding the bilateral talks as both countries decided to put trade war on hold. However, this augurs badly for future negotiations. Concerns regarding Chinese economic health are also justified as China's manufacturing activity slowed down more than expected in the month of December.
Sell after every rally
Not once or twice but thrice I pointed that oil price will fall and then continue to fall all the way to 40s when traders were hoping to enjoy Christmas as they expected prices to rise. Here, in my article, when prices were at $80s and here when I concluded that they will fall in $40 - you will see a coherence of factors described. The same trend persists, and once again, I opine that prices will fall after rising, if that happens after production cuts go into effect in January. The band in which Brent ($60-70) and WTI ($50-60) traded has fallen to $50-60 and $40-50, respectively. It will be hard for prices to break the $60 and $50 levels. Even if they did, it will be for a short term, and prices will trace their way back.
Buying on dips will not prove a good strategy as nobody knows about the bottom - first, it was $60; then, $50; and now, $40. Whereas selling (before we hit the Summer Driving Season at least), once prices rise near the abovementioned levels, is rather a safe option to cash-in a few dollars.
Disclosure: I/we have no positions in any stocks mentioned, and no plans to initiate any positions within the next 72 hours. I wrote this article myself, and it expresses my own opinions. I am not receiving compensation for it (other than from Seeking Alpha). I have no business relationship with any company whose stock is mentioned in this article.