What an Exciting Couple of Months
Happy New Year everyone! I have been chomping at the bit to provide an update to our real portfolio. Exciting may or may not be the term you've used to describe Mr. Market's actions since September, but it's important to remember there is risk in an aging bull market. Although not the most fun to endure psychologically, corrections are actually healthy for the market.
It's also true that we do not truly know if the current market conditions will continue to deteriorate. However, I believe the last few months have provided long-term investors a better entry point to add to existing positions or initiate new ones. Additionally, those nearing retirement have the best opportunity since early 2016 to lock in higher yields for the dividend stocks they covet.
The Middle-Class Millennial's Portfolio Update
I've put my money where my mouth is by adding new positions to our portfolio! Although the current price of some of these investments are below what I personally paid, it allows me to build out a full position on further weakness. I think it's prudent to buy in partial allotments, either 1/4 or 1/3, to protect capital and prevent catching a falling knife all at once. The chart below displays changes made since September 1, 2018. A link is provided below for anyone that would like a copy.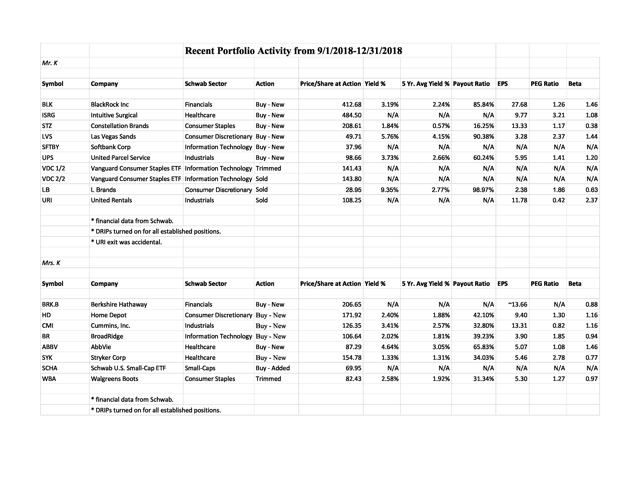 Recent Portfolio Activity from 9/1/2018-12/31/2018
As you can see above, it was a busier quarter than normal. Unless there is another selloff of similar proportions, which is possible if the dangerous "50/50 Cocktail" of raising rates too quickly and the failure of a breakthrough in the US/China trade war, I anticipate building more cash.
Let's start with my reasoning of trimming or completely exiting a few of our investments. When I opened a position in Walgreens (WBA), I went overweight due to the dramatic selloff caused by Amazon purchasing PillPack. Therefore, after the typical over-reaction dissipated, I trimmed the position that locked in some good gains. I also had a timely exit (lucky) in the Vanguard Consumer Staples ETF, (VDC), which I put to work in better investments with higher growth rates. I was holding some idle cash there until a pullback occurred.
I also sold two under-performing positions at a loss. I attempted a turnaround play in L Brands (LB) with some speculative money, but it did not work out. I closed my position after the quarterly report and dividend cut announcement. The dividend cut wasn't the final dagger, rather it was management continuing to adapt slowly to a changing industry. I was a bit surprised when I received an alert that I closed my position in United Rentals (URI). In one of my not so stellar moments, I was exploring the idea of swapping out URI for another position during the Industrial sector sell-off. It turns out that I did more than explore that idea, but it was my fault. Although I feel it would be a great construction play if we get some legislation passed in Congress, I am going to watch from the sidelines at this point. Lastly, the debt levels at these two companies are higher than I would like to see if we are heading to a recession.
I do not like to sell positions in our portfolio since it's primarily built for rising dividends (70-75%) and generating long-term wealth, but I do have some money allocated for higher risk. I took the spec money left over from L Brands and decided to open a position inLas Vegas Sands (LVS). I really like the upside potential due to the recent sell-off, Japanese gaming license positioning, and the US and China coming to a trade agreement. For full disclosure, I am keeping a close eye on this one since.
Now, it's time for the part of the article that I'm most excited about! The rest of the activity during the last quarter was spent initiating long-term positions in companies that I have a lot of confidence in. As I mentioned above, I do buy a 1/4 or 1/3 position so I can to phase into a new company. The recent selloff created several buying opportunities, especially in the Financials, Industrials, and Tech. Since the bulk of Mrs. K's money is in a Rollover IRA from a previous employer, I like to keep most of it in highly diversified ETF's. I only have so much time to research stocks, especially raising two kiddos and trying to build a business in a niche industry! Since our retirement plans are in a land far, far away I added to her Small-Cap exposure with (SCHA) since they over-perform over time.
I also added Berkshire (BRK.B) to her IRA, which is also my 2nd largest holding. Buffett and Munger get all the press, but the whole management team is top notch. I also established a new position in BlackRock (BLK), which is down approximately 25% this year. BlackRock's selloff was partially due to cutthroat pricing pressure in the financial services industry, but growth is expected to continue at a double digit rate. Further, I think they will continue to enhance a full-suite of value added products to prevent churn in AUM. Sticking with strong management as a thesis, I added Softbank (OTCPK:SFTBY) in my account since Masayoshi Son's track record is excellent. He doesn't have to hit on every investment for it to be highly profitable over time.
As an investor, I know you can relate to the feeling when a stock you wanted to buy soars out of your comfort zone. We have all experienced this, and it's incredibly difficult to be patient for a pullback. Healthcare is a sector that we were underweight. I was able to add Intuitive Surgical (ISRG), Stryker (SYK), and AbbVie (ABBV) to our portfolio on the pullback. I strongly believe in robotics and feel these adds will pay off in spades. ISRG is the 800 lb. gorilla in the robotic industry, best-of-breed, and I anticipate they will pay a dividend in the future. SYK is highly diversified, has an excellent M&A track record, and recently joined the Dividend Aristocrats. ABBV has increased risk due to the bulk of profits coming from Humira, but the pipeline is above average and the yield is much higher than its 5 year average.
What would you say is your weakest sector performance wise? Buffett's is tech. Mine seems to be consumer discretionary. I do not know why I struggle so much understanding the consumer. I chalk it up to a combination of being frugal, constantly evolving fashion trends, and each generation having a different priority of interests. Whatever the reason, I recognize my weakness and use "stealth" positions to top off that sector. Let me attempt to explain.
I also added United Parcel Service (UPS), Constellation Brands (STZ), and Home Depot (HD) to our portfolio. UPS is technically in the Industrial sector but it is one of the best companies in the world that delivers items from point A to point B. Although STZ is in the Consumer Staples sector, they have millions of loyal customers and recently expanded into the marijuana industry. Lastly, HD is in the correct sector, but also has significant exposure to the housing sector.
To wrap things up, the last two additions to our portfolio were Cummins (CMI) and Broadridge Financial Solutions (BR). I mentioned earlier about my mishap about United Rentals. Well, it wasn't a total loss since the other company was Cummins. They are in much better financial shape, make some of the best large vehicle powertrains in the world and are taking the shift to electric vehicles. BR has been leading the technology revolution for investor communications and broker-dealer services.
Investor Confidence: Shaken or Stirred?
This year has been a battleground for bulls and bears. It seems like the common theme has been each side taking control for a period of time, for momentum only to fizzle out to the next hot topic. No matter whether the topic be: the longest bull market in history, tax cuts, trade wars, the bulls out cash to inject in the market, late inning economic cycle, rate hikes, or the federal government shutdown. Enter volatility, and in its current state, the bears have driven the prices down substantially in some of the most well-known and most owned stocks.
The recent pullback gives newer investors the opportunity to reassess if their chosen risk tolerance is appropriate. Raging bull markets tend to lull even seasoned investors into embracing more risk, especially when combined with a low interest rate environment. Also, there are usually a couple times each year in which a >5% pullback occurs. Volatility is normal and should be expected in any market. The only time I can think of when volatility isn't really normal is coming out of the bottom of a bear market. Next year is shaping up to be interesting to say the least.
Charging Forward Into 2019
Times like this are why I preach having a portfolio strategy and watch-list of solid companies set with price targets you deem fairly valued. It is never comfortable to watch your portfolio drop in value, but having a strategy in place allows you to psychologically rationalize what's occurred with strong fundamental support. Additionally, it also helps take some emotion out of the equation by maintaining a watch-list of companies with a preset price target to alert you once a margin of safety is met.
Personally, I am entering 2019 with new goals and a solid plan in place. Currently, my Top 10 short list of candidates for investment in 2019 is Medtronic (MDT), Apple (AAPL), Alphabet (GOOGL), Boeing (BA), Raytheon (RTN), Berkshire (BRK.B), Aqua America (WTR), Ares Capital (ARCC), FedEx (FDX), and Walmart (WMT).
I would love to hear your feedback and any changes you've made as well. I always feel the comments section provides so much value for everyone and look forward to a healthy discussion. Happy New Year!
Disclosure: I am/we are long BLK, ISRG, STZ, LVS, SFTBY, UPS, BRK.B, HD, CMI, BR, ABBV, SYK, SCHA. I wrote this article myself, and it expresses my own opinions. I am not receiving compensation for it (other than from Seeking Alpha). I have no business relationship with any company whose stock is mentioned in this article.
Additional disclosure: I am also long other stocks, with the DRIP set on, not mentioned in this article.
Editor's Note: This article discusses one or more securities that do not trade on a major U.S. exchange. Please be aware of the risks associated with these stocks.