Main Thesis
The purpose of this article is to articulate why I believe the Schwab U.S. Dividend Equity ETF (SCHD) remains an attractive investment option at its current market price. While 2018 ended on a bit of a sour note, I remain committed to my dividend focus, despite rising interest rates. While this will undoubtedly pressure equities, investors need to remain committed to dividend payers, especially those that raise their dividends over time. This has proved to be a winning strategy in all types of markets, and I see no reason why 2019 will not prove this thesis true as well. Furthermore, SCHD is heavily weighted towards the Consumer Staples sector, which is often seen as a defensive play. This may be ideal for investors who anticipate further market volatility, especially in the short term. Finally, SCHD experienced dividend growth in 2018 and now offers investors a yield above 3%.
Background
First, a little about SCHD. The fund's stated goal is "to track as closely as possible, before fees and expenses, the total return of the Dow Jones U.S. Dividend 100 Index". The fund attempts to hold the same proportions of its stocks as its weightings in the index and is managed by Schwab. SCHD is currently trading at $46.73/share, and based on its four most recent dividend payments, yields 3.08% annually. I covered SCHD back in September and remained bullish on the fund, as I had been all year. Unfortunately, SCHD got caught up in the recent sell-off along with the rest of the market and is actually down over 10% since that time. Despite this negative move, I remain long SCHD in the new year, and I will explain why in detail below.
Strong Track Record
To start, I want to focus on the underlying index that SCHD tracks. Specifically, this is the Dow Jones U.S. Dividend 100 Index, which is designed to measure the performance of high yielding U.S. stocks that consistently pay dividends. The index also selects these companies based on financial strength relative to their peers. This objective is a clear reason why I favor SCHD because large U.S. companies with strong dividend histories are exactly the type of stocks I lean towards. And while this strategy may seem too conservative for some, consider that the index has actually outperformed the broader S&P 500 over the past 10 years, as illustrated in the graph below: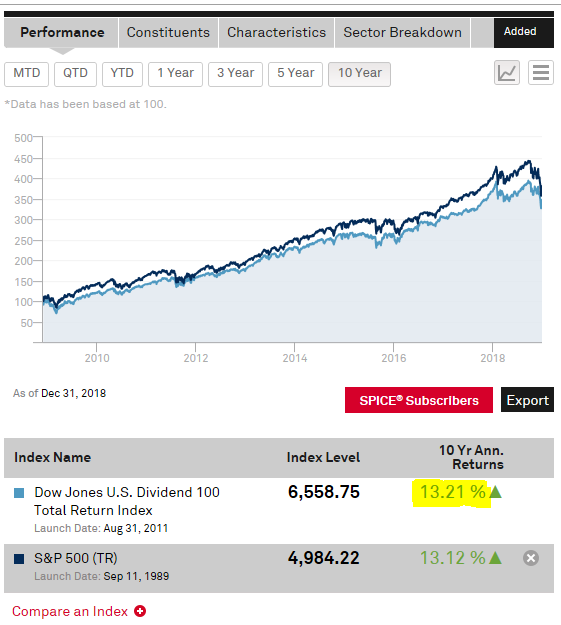 Source: S&P Global
As you can see, the divergence is small, but it is there, which helps confirm for me that this is a profitable strategy.
Furthermore, this performance of the underlying index has helped SCHD best other dividend funds over the long term. To illustrate, let us compare the 5-year performance of SCHD against other popular dividend funds which have either high yield or broad dividend objectives, such as the Vanguard High Dividend Yield ETF (VYM), iShares Core High Dividend ETF (HDV), WisdomTree Total Dividend ETF (DTD), and WisdomTree Equity Income ETF (DHS):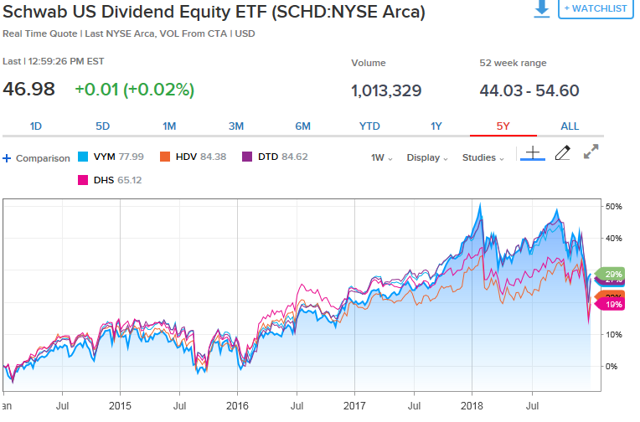 Source: CNBC
As you can see, SCHD leads the pack and has delivered a similar level of income during the mentioned time period.
My takeaway here is positive. SCHD has proven over time that it can best alternative dividend funds, and its index is a long-term winner as well. From a historical perspective, the fund looks like a great choice, and this helps support my belief this is the right option for 2019.
Consumer Staples - Offers Some Stability
While I have just laid out how SCHD has performed well in the long term, it is important to realize this is past performance and does not necessarily indicate the fund will be a good choice in the future. That said, I do believe SCHD has the right portfolio make-up to do well in our current economic climate. Specifically, I see the fund's exposure to the Consumer Staples sector as a positive, and this sector makes up almost a quarter of the portfolio, as illustrated in the chart below:

Source: Charles Schwab
While not a flashy or high growth sector, this is an area that investors want to be exposed to for some defensive positioning. This is because the sector is comprised of companies that manufacture, distribute, and sell products and services that are generally considered necessities and therefore, have demand during good times and bad. Specifically, this includes items such as food and beverages, tobacco, household goods, prescription drugs, and personal products. It also includes the retailers who sell these goods, such as Walmart Inc. (WMT) and CVS Health Corporation (CVS), which happen to make up roughly 8% of SCHD's portfolio.
With this in mind, it sheds light on why I believe SCHD is a good option right now. The market is currently quite volatile and has experienced a big drop recently. If investors are expecting, or simply want to prepare for, further volatile moves, going long a fund that is heavily weighted towards Consumer Staples should help smooth out the ride. For proof, consider how this sector has done in the last three months, relative to the broader market: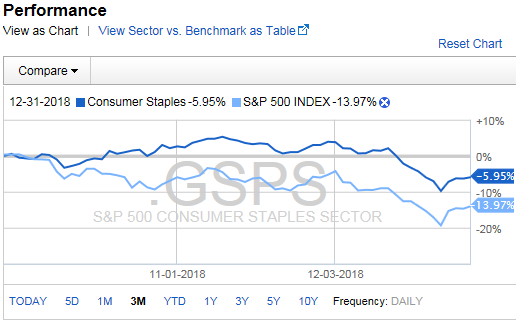 Source: Fidelity
As you can see, Consumer Staples still saw a marked drop, but it was well below the level experienced by the S&P 500. This gives me some confidence the sector is a good place to park capital when the market is trending south.
Info Tech - Not As Risky As It May Look
I now want to touch on the second largest sector by weighting, which is Information Technology (IT). This is a sector that is quite broad and could include high-flying stocks such as Amazon (AMZN) or Netflix (NFLX). Fortunately, SCHD holds the more established players in the IT space, and therefore I do not view its inclusion as greatly impacting the underlying risk in the fund. While the high growth stocks like AMZN and NFLX looked great during the boom times, they have also been some of the hardest hit in the recent market turmoil, as investors have begun selling off stocks with very high price to earnings (P/E) ratios.
Rather than holding the flashy stocks, SCHD owns established dividend payers in the IT space, such as Intel Corporation (INTC), 3M Corporation (MMM), and International Business Machines (IBM). In fact, these three companies make up almost 13% of SCHD, which is almost three-quarters of SCHD's total IT exposure. I view this as a positive because it allows the fund to benefit from a growing sector, but limits some of the risk that comes with investing in technology companies. To illustrate, I have compiled some relevant metrics on all three companies, including valuations, yields, and recent earnings figures:
| | | | | |
| --- | --- | --- | --- | --- |
| Company | YOY Revenue Growth (most recent quarter) | YOY Net Income Growth (most recent quarter) | Current P/E | Current Yield |
| INTC | 18.7% | 41.7% | 11 | 2.6% |
| MMM | Flat | 8.0% | 21 | 2.9% |
| IBM | (2.1%) | (1.2%) | 9 | 5.5% |
Source: Seeking Alpha Financial Disclosures
As you can see, the results vary, but the overall story is seemingly positive. Even IBM, which saw negative growth in both revenue and profit, still has decent overall performance. The company raised its dividend by 5% year over year, the stock trades at a cheap valuation, and there was still a tremendous amount of profit made.
My takeaway here is that while these holdings lack the flair or excitement of some of the more popular IT names, they are performing well, offering above-average yields, and trade at reasonable valuations. Those are the types of holdings I want in my dividend fund, and I believe this particular IT exposure is the right balance for SCHD.
Dividend Growth Should Continue
A final point on SCHD has to do with the fund's dividend. At over 3%, SCHD's yield is certainly not "high", but it remains above the risk-free Treasury rate. Therefore, it should continue to remain attractive to income-oriented investors. The dividend also grew in 2018, which helped push the yield higher, as illustrated in the chart below, comparing the year-over-year distributions:
| | | |
| --- | --- | --- |
| 2017 Distributions | 2018 Distributions | YOY Dividend Growth |
| $1.35/share | $1.44/share | 7% |
Source: Charles Schwab (with calculations made by author)
At 7%, the growth was decent and was almost identical to the growth experienced in 2017. While I am personally looking to add to funds with at least double-digit dividend growth as a benchmark, SCHD does show consistent, stable dividend growth over time, and that can be more attractive than large growth that is not sustainable.
As it stands, I am moderately optimistic on SCHD's dividend growth, as history suggests we will see a high single-digit increase again this year. Given that SCHD is comprised of large companies that have histories of increasing dividends modestly, I believe SCHD's yield will remain competitive throughout 2019 while acknowledging it is not the preferred method to find aggressive dividend growth.
Bottom-line
As we enter 2019, I remain committed to dividend investing as my long-term strategy. One of my preferred funds going forward is SCHD, as it has an attractive, modestly growing dividend yield, and strong underlying holdings. The exposure to the Consumer Staples sector should help prevent excessive volatility, and its IT heavy portfolio is made up of well-established, reasonably priced stocks, not the high-growth, high P/E counterparts in the sector. While the headwind of higher interest rates remains, there is a real likelihood the Fed will slow down the rate of increases this year, which is a bullish sign for dividend payers as a whole. Finally, SCHD tracks an index that has shown it can best the market, albeit slightly, over time. This tells me the fund offers a way to limit some downside risk, without sacrificing much in the way of future returns. Therefore, I remain long SCHD and continue to recommend investors consider initiating positions at this time.
Disclosure: I am/we are long SCHD, AMZN, DTD. I wrote this article myself, and it expresses my own opinions. I am not receiving compensation for it (other than from Seeking Alpha). I have no business relationship with any company whose stock is mentioned in this article.