Last week I explored several of my picks in the tech space as we grappled with the market downturn - and still grapple with it. A good portion of the commenters on my article asked where company "X" was or company "Y" and what I had thought of them. My reasoning for not seeing certain companies was two-fold: Either I did not see a reason to buy or even look into said companies right now or because it was on my list, but my list was extensive and fitting a dozen or more stocks into one article would be overwhelming.
Today I want to share more of my list and give you my analysis on them in the same manner as the first "Teck Wreck Picks."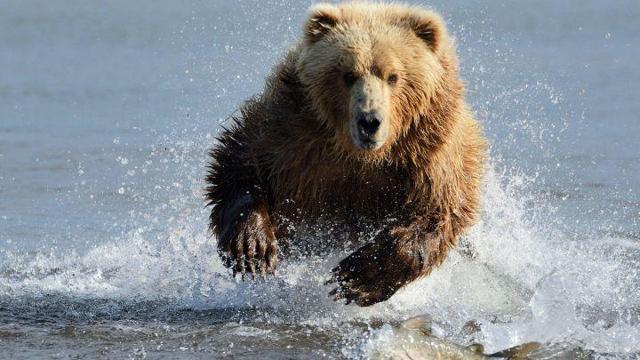 Micron
Many of you were curious where this one was in part 1, but I had a reason for it not being front and center. Most of my hesitation with Micron (MU) right now is the market is not done putting it through the wringer. The market is seeing negative sequential earnings, and it's only halfway through the ball game in this respect. The market won't start responding positively until it sees the earnings slide slow and begin making a bottom. The market will then tick upward ahead of a bullish earnings guidance acceleration, just like it did ahead of the actual sequential downward earnings this past summer.
Fundamentally, the company is the strongest it ever has been, and this inventory issue is transient and not a 2015-2016 desktop computer DRAM decline which was a slowing of demand in the end market. My thoughts on Micron can be summarized by my answer to the Marketplace Year-End Round Table for Tech:
It's not a downturn like the market thinks of semi downturns. The last downturn was because end demand for an entire category basically came to a halt (PC DRAM) while supply was still ramping. This time it's not a matter of end demand weakening materially and not a matter of drunken supply. Instead, it's an inter-vendor demand issue. After a huge rise in demand, now a few levers have fallen off (crypto mining for one), and there's excess inventory at the OEM level. That inventory is being worked through to the end user, but it softens demand back to the manufacturer. Until this inventory is worked through, there isn't a need for more bits being shipped. However, once inventory is cleared out, the end demand that was still there - "hidden" from the manufacturers - will cause a need to put product in the channel. At that point, after a year of capex cuts (controlled supply), there will be an imbalance the other way and demand will overtake supply. Look for this to happen in Q4 2019, if not slightly earlier.
As for the stock and the chart, there's a bit to walk through. First, you'll need to know my subscribers and I have been following a broadening descending wedge pattern since the summer when it first started forming.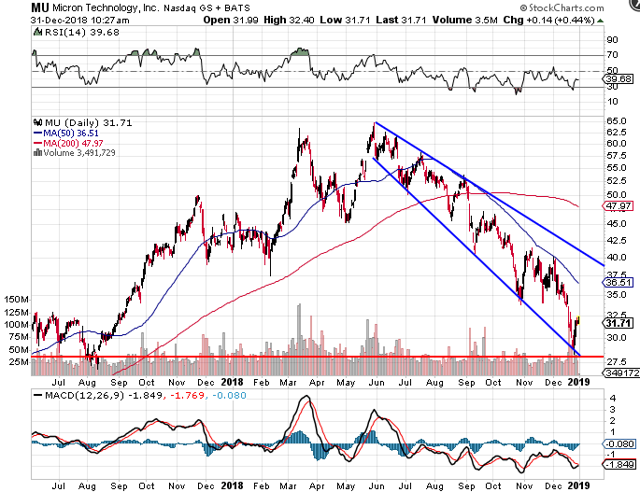 The upper line of the wedge ran into resistance at the 50-day moving average and hadn't challenged the top trendline since very late August. But the lower trendline has accurately prevailed in determining the lower-lows support levels.
Now, you're probably curious why I have a long red horizontal trend line painted across the chart ranging from the last touch in August 2017. This was the next gap the stock had its sights on and began filling it in the previous two weeks after earnings sent the stock through the descending triangle which started to form this past October. As you might guess, the descending triangle pattern is bearish in a continuation pattern category.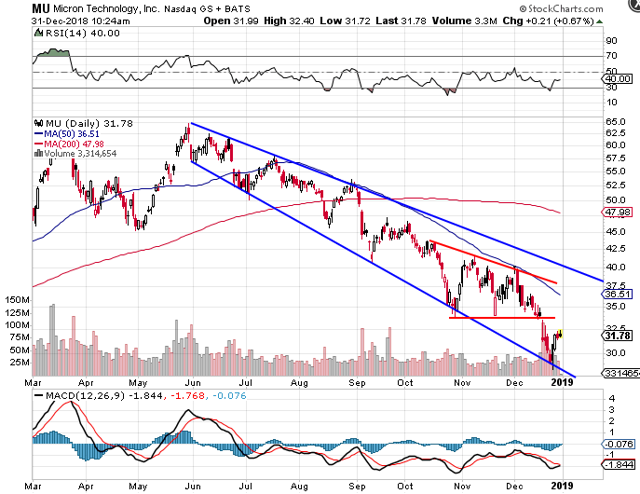 So where do I see the stock in the coming weeks? I expect it to recover to the $33.50-$34 area and test the support-now-turned-resistance of the bottom of the triangle trendline. From there I expect it to bounce back down and head to the high $20s - where it was only a week ago. This could take the next two-to-three weeks to play out. I'm looking for the gap to close and see how it responds to the support there. With a bounce there, I would begin accumulating. But a drop through support I would hold off and reevaluate the chart to find the next point on the descending wedge.
All of this said, Micron continues to be a long-term holding of mine and accumulating in the high-$20s is not a bad move. Later this year we will see a shift in the inventory issue and OEM buying resume. The market will get wind of this ahead of time and the stock will begin making improvements to the chart. Keep my indicators in mind for resistance and breakout points.
Intel
Over the past couple of months, Intel (INTC) has held up well considering where it was over late summer. Compared to the NASDAQ (QQQ) it's flat over the period since the markets began dropping.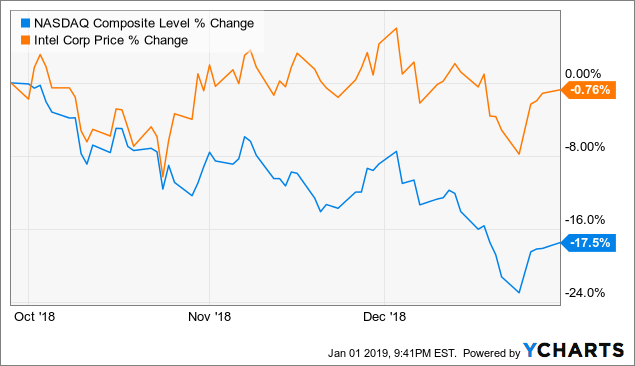 Fundamentally the company is operating steady, and with upside guidance for this quarter, the company is not facing a secular or transient decline like some others such as Texas Instruments (TXN). Additionally, the company is expecting year-over-year growth contrary to the nearly flat estimates ahead of last earnings for Q4.
Then there's the 2.5% dividend yield:

This keeps the name interesting, though the revenue growth in the previous year is nothing to shy away from. Granted the company expects an 11% growth for Q4 but a small beat (for Intel) of $500M on revenue will create a growth above 14%. I like the combination - oh and the low 26% payout ratio.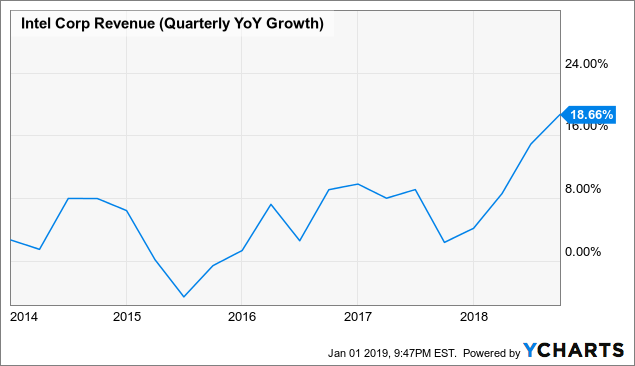 The market hasn't punished Intel nearly as much as some of the other names I've covered at this point between this article and the last, so I put this in the Broadcom (AVGO) and CyberArk (CYBR) bucket, making it a close third just barely behind CyberArk. As far as valuation, F.A.S.T. Graphs says it's below its typical P/E and should be accumulated based on its position below the blue and orange lines. Historically it has reverted to the blue "normal P/E" ratio over time.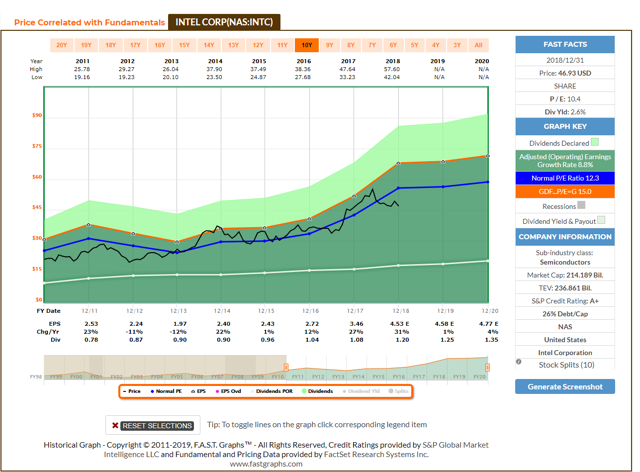 As for the chart, Intel is in a bit of a messy period, in a downtrend of sorts. However, recently the stock has found movement to a higher channel after breaking out of a lower bound one. Now the stock is contending with its 50-day moving average which has recently stopped falling (interestingly enough during the market's downturn).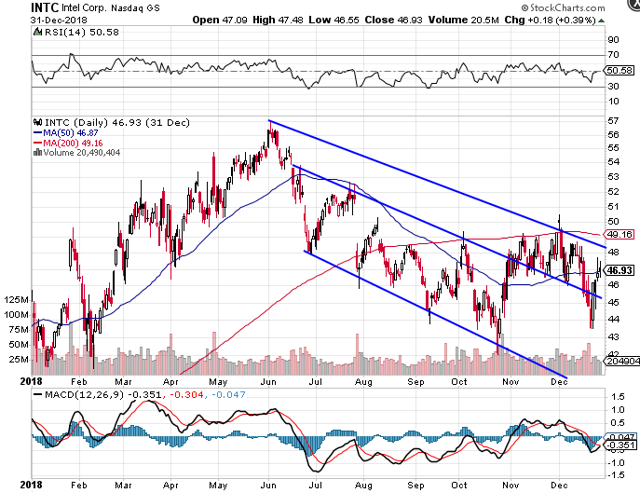 This isn't is a bad place to accumulate shares, but I'd watch closely in the next week or so if the 50DMA can be held. If it fails, it will likely test the bottom of the small upper channel, and if that fails the last low near $42. Anything down there on a valuation basis is worth grabbing, though the downtrend of the stock will still be intact. If you have a long-term outlook, however, then $42 will be a good place to start.
Microsoft
Microsoft (MSFT) has also been a decent name in the face of market turmoil though hasn't fared as well as other names. But if Microsoft looks to be operating and executing well, then this is what creates opportunity.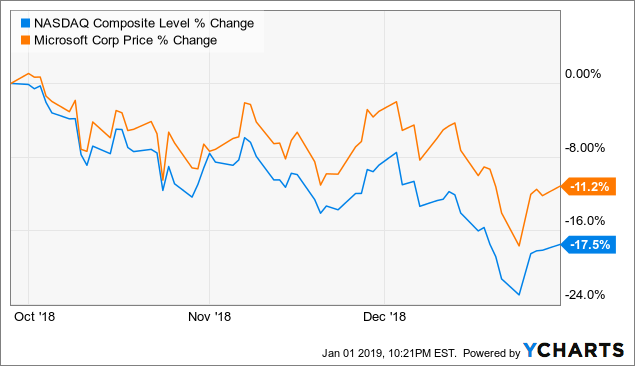 With low double-digit revenue growth set to continue for the remainder of the fiscal year, Microsoft remains in the secular trend for cloud growth and enterprise spending. With an expected 18.5% growth in Intelligent Cloud for the current quarter, it would show acceleration based on the year-ago growth rate of 15%. This is a bullish sign of the business and Microsoft's ability to execute, even as tech investments and spending appear to be weakening just based on semiconductors. But again, this reinforces the point end-demand is not slowing but semiconductor to OEM inventory is being worked through and will alleviate once it leans out.
There's not a whole lot to write home about with the current dividend but what catches my attention is the five-year growth rate of 12% and the growing dividend over the last 15 years. I'd have more of a reason to recommend jumping into it if the dividend was at least over 2%, but the dividend growth balances out my disappointment.

Looking at the chart, it appears the stock is in the middle stages of a descending broadening wedge pattern, similar to Micron. It's a little messy and still developing, but there are some things the stock has to contend with first, like the 200-day moving average. One of the few bullish signs I see other than an ultimate potential breakout of the wedge is the 50DMA has not crossed over the 200DMA - at least not yet - unlike most of the other stocks I've discussed in this and the last article.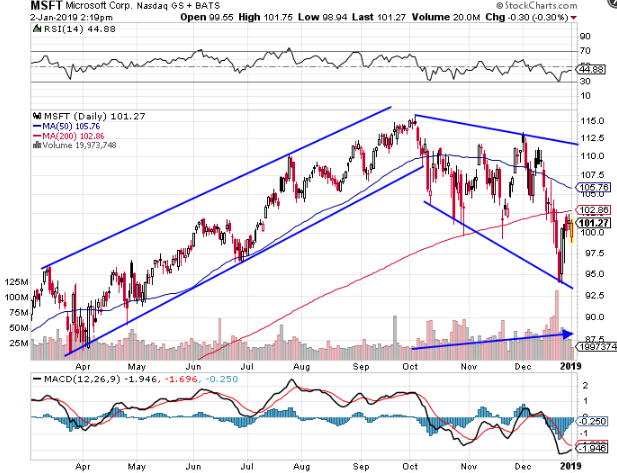 Microsoft has been relatively stable as other tech companies face headwinds. The company continues to see growth in its cloud and enterprise divisions and given it doesn't rely as heavily on retail products but instead subscription software, social media, enterprise sales, and ads it's more insulated from the whims of consumers like what Apple (AAPL) is facing (which I'll update at the end of this article).
Microsoft is an accumulate as you go type of holding, one you can work into a long-term holding portfolio (in this case years). The dividend growth is strong, and the company continues to find growth in a wide variety of areas. A stock price in the $90s is a good entry point.
Now if things do get worse throughout January, there are a few areas to keep an eye out for and subsequently hold off on purchases. The first area of support is the $84-$85 area. It tested this area back in February of last year and then again in March. The other area to keep an eye out for is the gap in the high $77 to low $79 area. Keep in mind this also would be a dividend yield of 2.4% - a little juicier than today's 1.8%. Should the stock get this low with the same growth, I would buy in bigger tranches.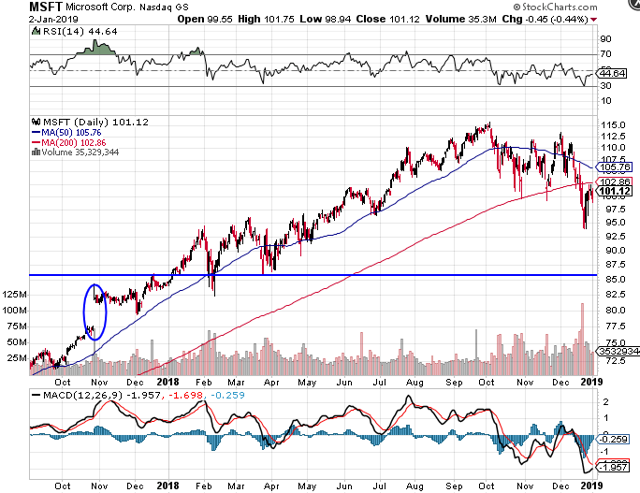 Facebook
Probably the most controversial of all my picks thus far is Facebook (FB). The difference between bears and me is the lack of growth is not coming from the negative PR - though PR of this nature is not welcomed for any business wishing to thrive - but rather its move to unexplored revenue areas as well as a forex headwind the likes of which it hasn't seen in a few years. It's this perfect storm combination contributing to poor sentiment, misfiring growth, and hesitant perception of managerial execution. The stock hasn't been this turmoiled since the months after the IPO when the market didn't think the company could figure out mobile. This recent scenario has added a few weights on top of it, but it's not too much different. The question then is the same question now: Can management get the job done?
With how far it has fallen after recovering from the initial Cambridge Analytica scandal, it seems to me the company is priced for premature maturity in terms of growth. Sure investments have risen, but they will eventually subside as a percentage of revenue as there isn't a need to hire 20,000 security analysts in a year, every year. This reprieve in human resources should coincide with a ramping of new ad inventory from new formats.
Turning to the chart, it's clear the stock has not reversed yet though it did attempt to do so by overcoming the 50DMA a couple of weeks ago. It was rejected and made a new low. What I find intriguing is ever since the stock gapped down 20% on earnings in July the downward trending channel has been matched with an upward trending MACD. This elongated bullish divergence is quite interesting and means sellers could exhaust soon and be the basis for a reversal.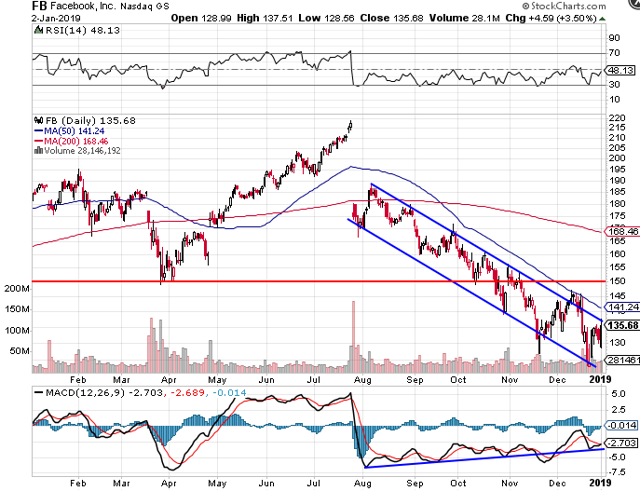 There's still time for the stock to tell us the direction it wants to go, whether that's further down to new recent lows or a break above the channel again with a clean break above the 50DMA. A break above the 50DMA would be the first step in a reversal which would then set it up for a test of the $150 resistance. From there the stock will enter a short-term bullish period which could evolve into turning the chart around. I'm willing to wait for earnings and next quarter's guidance before committing to anything. Facebook is still a falling knife until those things I just mentioned are taken care of.
Apple Update
With Apple preannouncing negative guidance the stock has headed lower. There are two questions now: 1) How long will this negative growth continue and when will it reverse? 2) Where's the next key technical support and what should we wait for?
The first question remains unseen this early in the story. Apple believes the China-US tariff war has caused a majority of growth to evaporate and if this is true then a resolution to the trade war would be the signal the company can resume its revenue growth. Until then Apple will struggle to keep its iPhone business stable if not growing.
The after-hours move on Wednesday is not a coincidence - the move to $146 was the support it bounced off of just in the last week. I don't have high hopes this support will hold this time around and expect the stock to break through to the downside.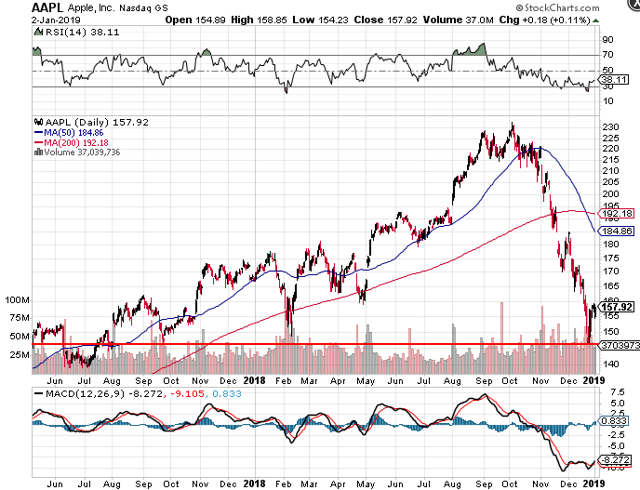 From there the question is where is the next stop? We have to go back quite a ways to find major support.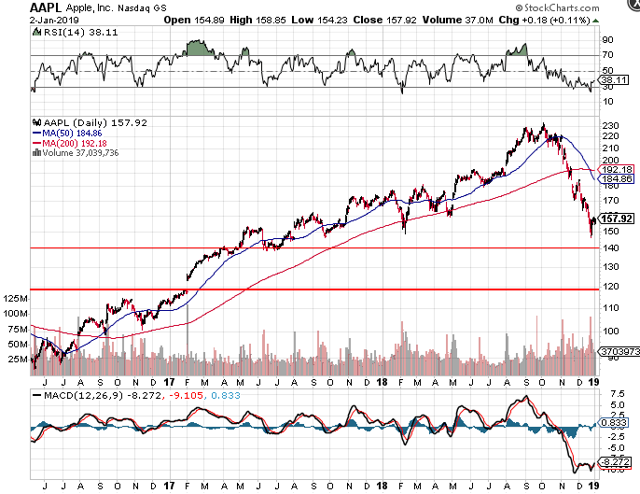 Aside from the decent support area at $140, the next area for something major to happen is the gap at $118. This would be quite a drop but not out of the realm of possibility. If the $140 area holds then the stock will trade sideways until positive trade war news emerges. If and when this happens the stock may find a floor and accumulation can start if it hasn't already. Though at this point I've gone from looking to pick up to waiting again. Better opportunities may lie ahead.
Overall Impact
With Apple announcing downbeat guidance, the entire tech industry may feel the pain, and this will delay some of my picks from the last two weeks. The idea is to remember this isn't a buy at once scenario but accumulate and dollar cost average slowly. The market is still in a downtrend and depending on how The Street reacts to Apple's troubles will determine if all the bad news is out and priced in or if we're only at the seventh inning stretch.
Make Cash With My Cache
Get alerted to my tech analysis by clicking the follow button at the top of this page next to my name. Subscribers to my Seeking Alpha service Tech Cache get the content you just read on a weekly basis. I discuss a variety of tech stocks and give subscribers my opinion and strategy as I formulate them. You also get real-time, chatroom access to ask me followup questions and hear ideas of other Tech Cache subscribers. Right now, you can try it risk-free with a 2-week free trial!
Disclosure: I am/we are long MU, INTC, FB. I wrote this article myself, and it expresses my own opinions. I am not receiving compensation for it (other than from Seeking Alpha). I have no business relationship with any company whose stock is mentioned in this article.