Ouch.
This was not a month to remember if you are concerned about the total value of your portfolio. The Dow, Nasdaq, and S&P 500 all finished down for the year, and the fourth quarter and the month of December was absolutely horrific. In fact, the S&P 500 was down 13.97% and the Nasdaq plunged 17.5% in the quarter, the worst quarter since Q4 2008.
This was also the worst year for stocks since 2008 with the S&P down 6.2%.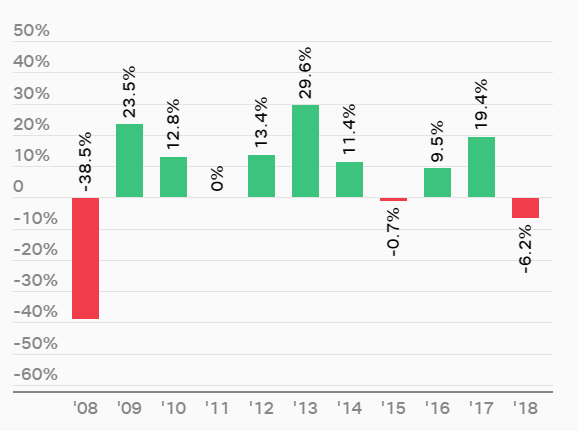 However, if you are like me, the overall value of your portfolio is just one measure that you look at when determining success or failure, and for me, it is not the most important. It is not an accident that the very first section of my monthly updates is the report on the month's dividends. And very recently I added the section "Forward-Looking Dividends", which is what I now finish my monthly updates with.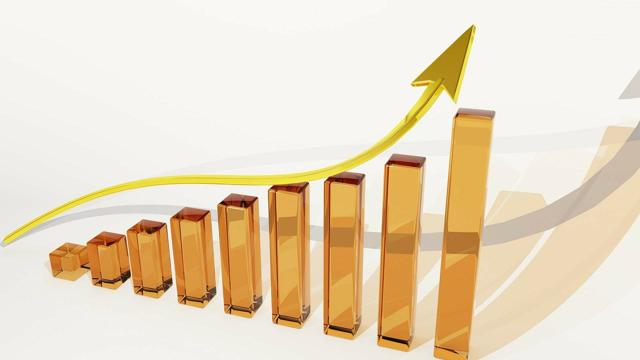 As a dividend growth investor, I am focusing on the growing income streams, not the swings in the market. Those happen. If I have done my homework correctly, then the income received via dividends will grow each and every year regardless of whether the S&P 500 is up 15% or down 26%.
Also notice that I set my goal, my main overarching goal, to be an amount of dividends that I will collect in a single year, not what the value of this portfolio will be in 10 years. Because I plan on spending my dividends 12, 15, 18 years hence, rather than selling shares of stock to fund my lifestyle.
All that being said, I will still report on the change in portfolio value for the month of December (avert your eyes if you are squeamish), but we will be focusing on the dividends collected, the dividend increases reported, and the dividends that I expect to collect in the future. Let's go.
December Dividends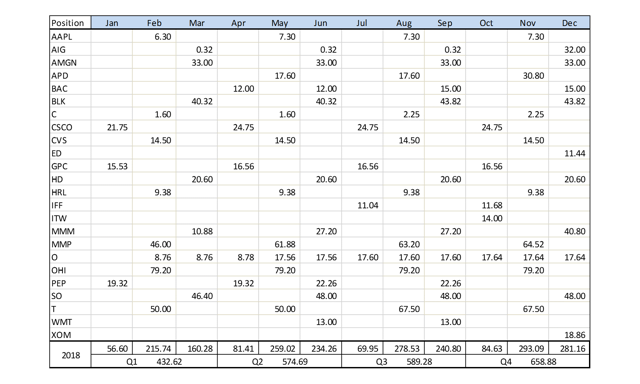 All graphs and charts created by author unless otherwise specified
Total dividends for the year were $2,255.47. As you can see below, November and December were the two highest months of the year, which bodes well for 2019.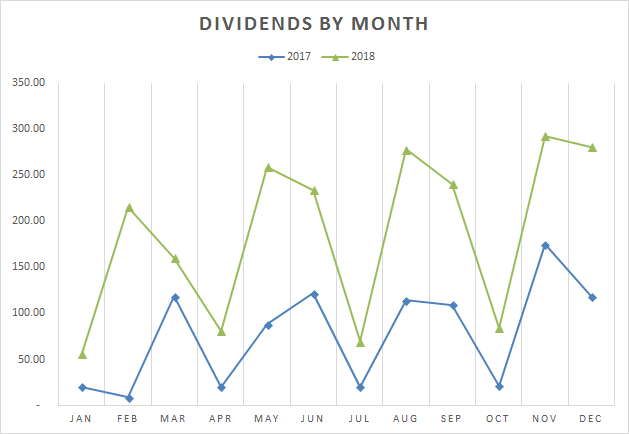 December Performance
OK, you might want to make sure there are no small children reading over your shoulder now.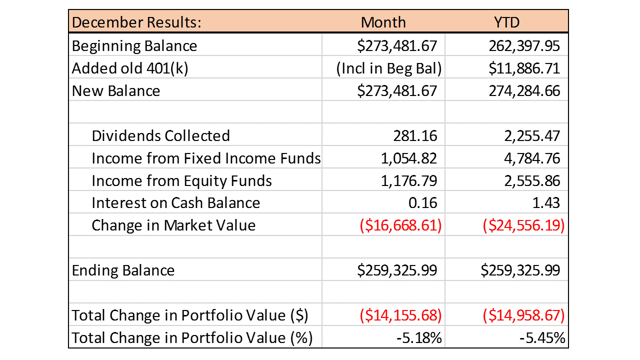 For the month, my portfolio lost $14,155.68 in value. This sounds just awful, but consider that last month the portfolio gained well over $4,000 in value. That is why it is wise for investors that are seeking dividend income to ignore the noise of these violent swings we've been seeing and concentrate on growing the streams of dividends into your coffers.
For the year, the portfolio was down 5.45%, which is really not that bad considering the S&P 500 was down 6.2%. In 2018, which was my first full year of tracking my performance, my portfolio was ahead of the S&P 500, which makes me quite proud.
Individual Stocks
Below are my positions and their respective yields for the month ending December 31, 2018.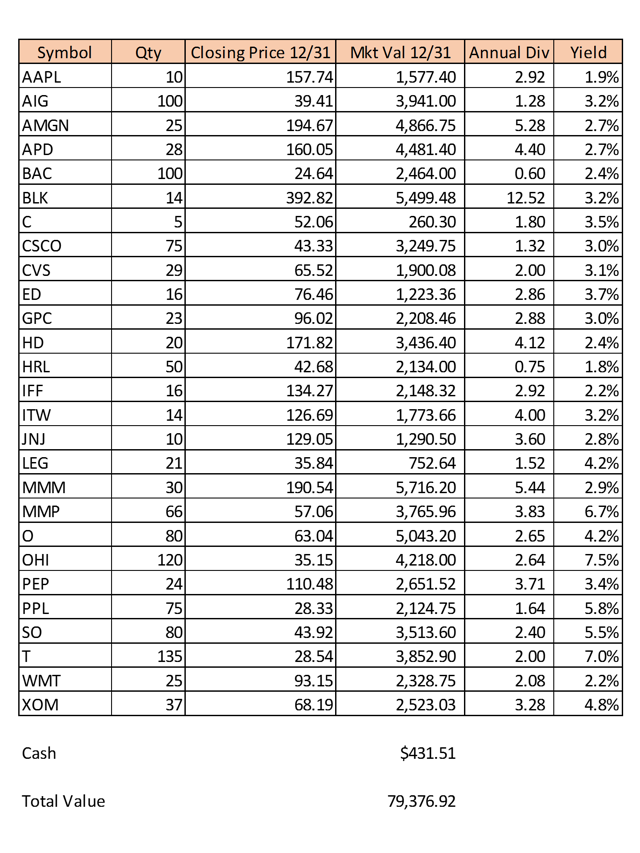 As a result of some of the stocks I added this month as well as the drop in the price of all of my positions, my portfolio yield now sits at 3.9%. Even Apple Inc. (AAPL) is trading at nearly a 2.0% yield and it almost surely will be later this morning (Thursday as I type this).
Projected Dividends
As this is the end of the year, I do not have anything to report here. Please see below the "Forward-Looking Dividends" section for my projected dividends for 2019.
Sector Diversification
| | |
| --- | --- |
| Consumer Discretionary | 8.1% |
| Consumer Staples | 9.0% |
| Energy | 8.0% |
| Financials | 15.4% |
| Health Care | 10.2% |
| Industrials | 9.5% |
| Materials | 8.4% |
| REIT | 11.7% |
| Technology | 6.1% |
| Telecom | 4.9% |
| Utilities | 8.7% |
| | 100% |
With the unwanted shares of American International Group Inc (AIG) still in my portfolio, my Financials exposure is artificially high. As soon as the shares get sold or called away from me that exposure will drop down to 10-11%, which is where I would like it to be. My Telecom and Technology sectors are still too low for my taste and I will try to change at least one of those in January.
Asset Allocation of the Portfolio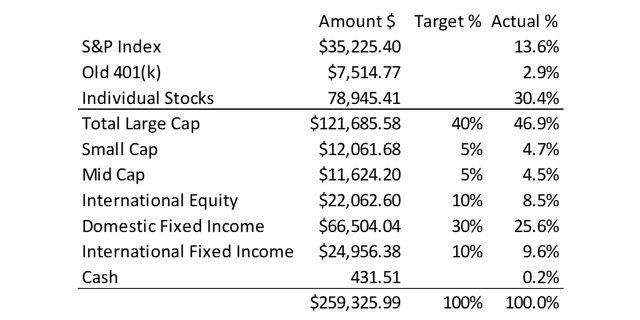 Unfortunately, this picture looks better than it did last month through no real effort on my part. Since my equities dropped so much, the fixed income funds are actually much closer to my targets than they were last month.
I do still plan on selling that mutual fund that my old 401(k) is still in, but with all of the mayhem and the holidays, it slipped my mind. I will try to remember to divest myself of that position here in January which will give me some nice cash to play with for the next few months, both for re-balancing the portfolio and for purchasing more and possibly new stocks.
Sales and Purchases in December
On December 13, with the cash I had built up in the account through dividends and fund distributions, I purchased 21 shares of Leggett & Platt Inc. (LEG) for $37.10 per share. In hindsight, I wish I had waited a week or two, but I think in the long run I will be pleased I own this stock and may add more in the near future since, as of right now, it is a very small position.
Then, on December 17, I sold off $1,200+ of my S&P 500 Index fund and finally added one of the dividend royalties that I've been wanting to add to this portfolio for a while. Not long after the whole asbestos kerfuffle was reported on again, I added 10 shares of Johnson & Johnson (JNJ) for $127.92 per share.
Also with just funds that had accumulated in my account from all of the end of the year distributions (mostly), I added to my shares of Exxon Mobil Corp. (XOM). On December 27, I purchased 14 more shares at $66.30, well below my initial purchase price of $82, so that was some nice averaging down.
As far as my covered call strategy with my shares of AIG, the worst scenario envisioned happened, which you might have guessed with the entire market getting hammered in December. I am still trying to decide if I should sell a covered call at a strike at which I would rather not sell the stock or simply hold the 100 shares and sell another covered call after the price comes up a dollar or so. In about $1.00, I could sell a $42 covered call and be happy, but right now, it's at least $0.60-0.80 too low.
Forward-Looking Dividend
Here's my favorite section.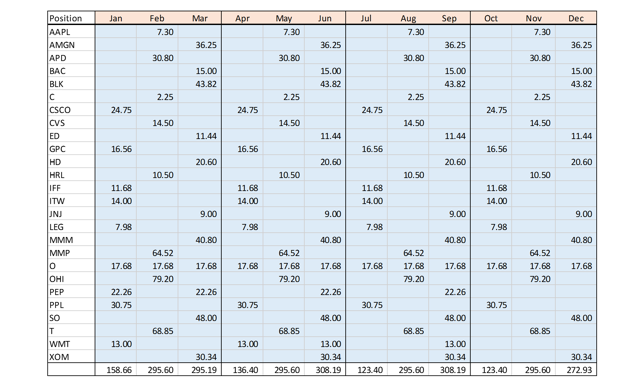 It is my sincere hope that by the next time AIG pays a dividend, I will no longer own the stock. The next time the stock goes ex-dividend is around mid-March; so, hopefully, by then, I will have $4,200-4,300 cash instead of the stock. As such, I removed AIG from the above list completely.
I did add the JNJ and LEG, added to my XOM, and received a few dividend increases. Amgen Inc. (AMGN) increased their dividend 9.8% from $1.32 per quarter to $1.45. Realty Income Corp. (O) increased their dividend for the millionth time (slight exaggeration) and AT&T Inc. (T) gave us another penny per share increase. All of these events added $132.72 annually to my future retirement income and are detailed below.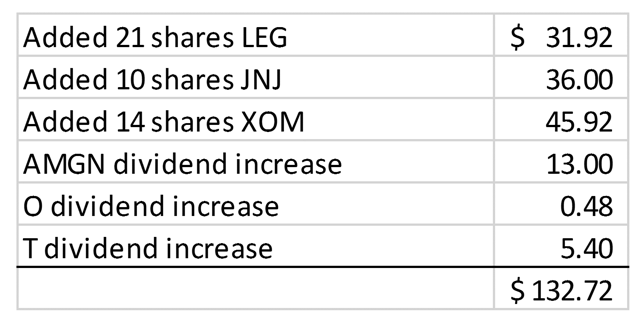 This brings my total projected dividend income for the next 12 months up to $2,908.76 which is far more pleasant to think about than losing 5% of my portfolio's value in a single month. And here is the chart for December, which looks more and more interesting each month. Hopefully, next month, it will pop over the $3,000 top line.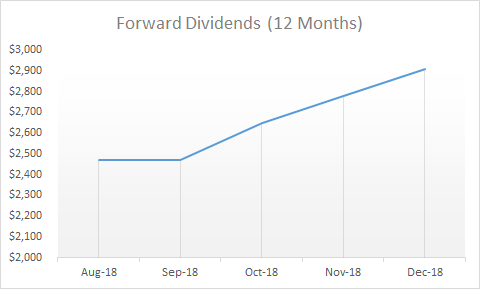 Final Thoughts
It was a very bad month as far as portfolio value but not too shabby if one only concentrates on the future income stream I am creating for myself.
This coming quarter my dividend income should exceed $750. And realistically with as yet unannounced dividend increases and more stocks not yet purchased, my dividend income for 2019 will far exceed $3,000 and might get close to $4,000. Probably more likely will come in around $3,500 but that's exciting to think about.
I have two things that I need to make happen pretty soon. I need to sell another covered call on my AIG shares and generate another $80-100 or so in cash, and I need to sell off the mutual fund that came with my old rollover.
With those funds, I will aim to purchase at least one stock per month, and I will also attempt to do some re-balancing of my asset classes. My fixed income investments are still far below target, and I'd like to slowly bring those back up to within shouting distance of the targets.
And that is it. All in all, it was a pretty good year. I am happy I beat, albeit barely, the S&P 500, and I look forward to a new year with new milestones reached and easily surpassed.
Best of luck to all of you this new year. I hope my progress this year has in some small way inspired you to build your own dividend growth portfolio and would love to hear about your achievements in the comments section. Cheers!
Disclosure: I am/we are long AAPL, AIG, AMGN, APD, BAC, BLK, C, CSCO, CVS, ED, GPC, HD, HRL, IFF, ITW, JNJ, LEG, MMM, MMP, O, OHI, PEP, PPL, SO, T, WMT, XOM. I wrote this article myself, and it expresses my own opinions. I am not receiving compensation for it (other than from Seeking Alpha). I have no business relationship with any company whose stock is mentioned in this article.