Investment Thesis
Dollarama (OTC:DLMAF) (TSX:DOL) delivered mid-single digit growth rates in its top and bottom lines in its Q3 fiscal 2019. However, its same stores sales and traffic growth rates are decelerating in the past few quarters. Looking forward, we believe a slowdown in the Canadian economy in 2019 and competitive retail environment will continue to limit its SSSG and SSTG. Although its shares have declined considerably in the past 3 months, we think investors should wait on the sideline until there are more signs of reacceleration.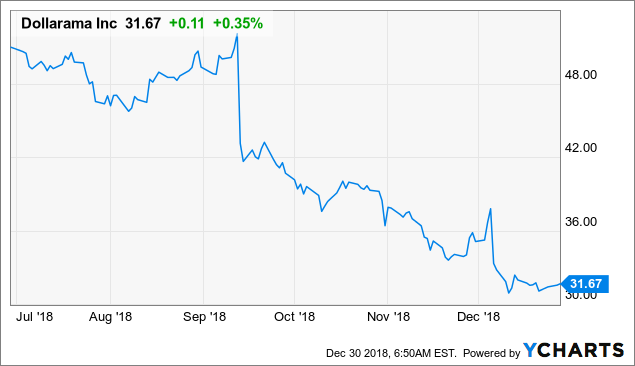 Source: YCharts
Recent Developments: Q3 Fiscal 2019 Highlights
In its Q3 fiscal 2019, Dollarama saw another quarter of top and bottom lines growth. However, its total sales only increased by 6.6% year over year to C$864.3 million. Similarly, its operating income only increased by 3% to C$195 million. Its diluted net earnings per share also improved to C$0.41 per share from C$0.38 per share in its Q3 fiscal 2018 (or a growth rate of 7.9%).
Same-store sales and traffic growth rates decelerating
Dollarama continues to experience a decline in its SSTG in its Q3 fiscal 2019. As can be seen from the chart below, its SSTG declined by 0.9% in the past quarter. This was the third consecutive quarter of SSTG decline. Similarly, its SSSG rate has been on a declining trend in the past few years. As can be seen from the chart below, its SSSG of 3.1% in Q3 fiscal 2019 was lower than the rate of 4.6% in Q3 fiscal 2018.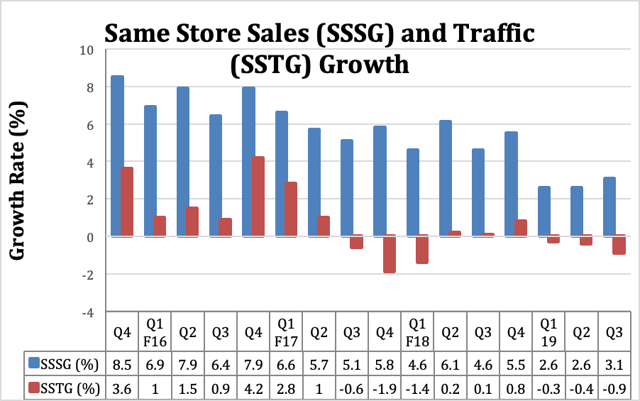 Source: Created by author; Company Reports
Reasons why we think investors should remain on the sidelines
Competitive retail environment will continue
In the past, Dollarama has done a good job making modest adjustments to various products while maintaining a compelling value proposition. However, in the past two conference calls, management mentioned that the current retail environment is quite competitive. Management feels that it is necessary to keep many of its items at C$1 per item is important for its customers. They believe this will differentiate the company with many of their competitors who are offering C$1.25 or more per item. Hence, we believe it will be quite difficult to increase its revenue and same-store sales in the near-term.
Store cannibalization
Dollarama opened 32 net new stores in the first 9 months of its fiscal 2019. This number is lower than the 40 net new stores opened last year. Nevertheless, Dollarama still plans to open 60 to 70 new stores in its fiscal 2019 and in future years. The company plans to grow its store count to 1,700 by 2027. Although we view this as ambitious and it should contribute to its total revenue growth, there are many places where there are already several Dollarama stores within several hundred meters away from each other. We believe management will need to be careful selecting the right area to open a new store. Otherwise, Dollarama will run into the risk of store cannibalization.
Economic growth in Canada expect to moderate in 2019
The retail industry depends on economic conditions in Canada. Although Canada has enjoyed strong GDP and household consumption growth rates in 2017 and 2018, this growth rate will likely slow down in 2019 and 2020 due to trade tensions and crude price weakness. In fact, RBC Economics is projecting that household consumption rate to moderate to 1.6% in 2019 from 2.2% in 2018 (see table below). Similarly, real GDP growth rate is expected to drop to 1.7% in 2019 from 2.0% in 2018. We believe it will be a challenge for Dollarama to grow its same-store sales at the same pace as previous years.
| | | | | |
| --- | --- | --- | --- | --- |
| | 2017 | 2018F | 2019F | 2020F |
| Household Consumption Growth (%) | 3.6 | 2.2 | 1.6 | 1.4 |
| Real GDP Growth (%) | 3.0 | 2.0 | 1.7 | 1.8 |
Source: RBC Economics
But Dollarama is still a well-managed company
Despite slower same-store sales growth rate, Dollarama is a well-managed company. Even though the company faces with wage pressure (primarily due to minimum wage increase), it still continues to offset the challenge by improving its operating efficiency. In fact, the company's selling, general, and administrative expenses as a percentage of total revenue declined to 14% in Q3 fiscal 2019 from 14.5% in Q3 fiscal 2018. As can be seen from the chart below, the company has an excellent track record of improving its SG&A expenses as a percentage of total revenue from about 21% in its fiscal 2010 to 14% in its Q3 fiscal 2018. Although management did not disclose any detail of how they execute their initiatives to drive operating efficiency in the quarter, it was likely a combination of optimization of labor scheduling, reduction in waste management costs, and installation of LED lighting in new and renovated stores (based on previous conference call information). Nevertheless, we think it will be challenging to improve this ratio further. In the latest conference call, management expects its SG&A as a percentage of total revenue to rise in Q4 due to the impact of minimum wage increase. Hence, management has revised its fiscal 2019 guidance. They now expect its SG&A as a percentage of total revenue to be in the rage of 14.5% ~ 15.0% (it was 14.5% in fiscal 2018).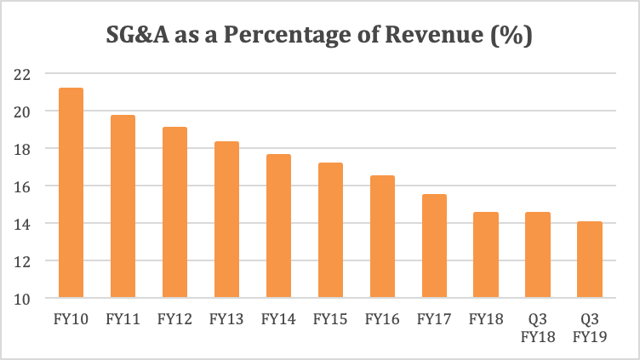 Source: Created by author; Company Reports
Dollarama: Slightly undervalued
Dollarama currently trades at a forward P/E ratio of 18.68x. Although this is significantly below its 5-year forward P/E ratio of 22.31x, we feel we need to discount its valuation by about 2 multiples from its 5-year average due to its slower SSSG. Hence, we view its current valuation as only slightly undervalued.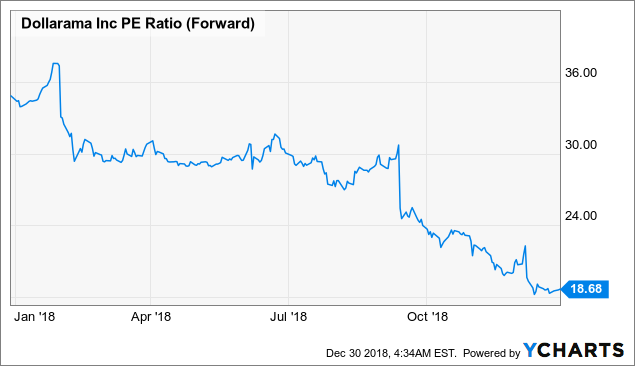 Source: YCharts
Dividend
As the chart below shows, Dollarama has increased its dividend every year since it started paying its dividend back in 2011. Its quarterly dividend of C$0.04 per share represents a dividend yield of 0.49% annually. Its dividend is safe as the company's dividend payout ratio is only about 13.4% of its free cash flow in the past 12-months.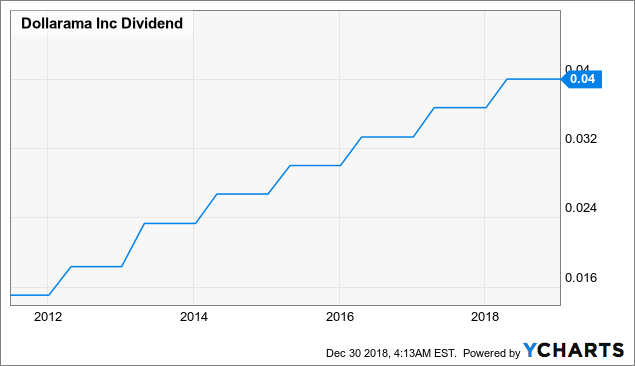 Source: YCharts
Share buyback program will reduce its shares by 10%
Dollarama generates excessive free cash flow every year. In fact, the company generates about C$381 million in the past 12-months. In addition, it also has a healthy balance sheet with a net debt to EBITDA ratio of 2.1x. Hence, the company has the bullet to fund its share buyback program. In fact, the company has recently received approval from the Toronto Stock Exchange to increase its share buybacks from 16.4 million shares to about 30.1 million shares. If fully executed, it will reduce its total shares outstanding by about 10%. We believe this will help support its share price.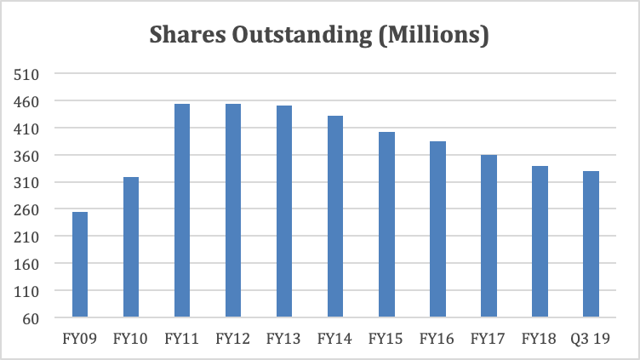 Source: Created by author; Company Reports
Risks and Challenges
Dollarama faces several risks. These risks include (1) foreign exchange risk as most of its products are imported from overseas; (2) competition from e-commerce retailers and other brick-and-mortar retailers; (3) rising minimum wages; (4) adverse weather condition such as the ice storm in April 2019 that negatively impacted its same-store sales and same-store traffics.
Investor Takeaway
Dollarama is a well-managed company. However, we believe the company still needs to overcome several of its near-term challenges in order to regain growth momentum. Even though its shares are slightly undervalued, investors may want to wait on the sideline until more signs of a reacceleration of its growth is present.
Note: This is not financial advice and that all financial investments carry risks. Investors are expected to seek financial advice from professionals before making any investment.
Disclosure: I/we have no positions in any stocks mentioned, and no plans to initiate any positions within the next 72 hours. I wrote this article myself, and it expresses my own opinions. I am not receiving compensation for it (other than from Seeking Alpha). I have no business relationship with any company whose stock is mentioned in this article.
Editor's Note: This article discusses one or more securities that do not trade on a major U.S. exchange. Please be aware of the risks associated with these stocks.