For my Top Pick in 2019 instead of a particular stock, I decided to choose a theme. That theme being the secular growth in worldwide production, transport, and usage of natural gas. In order to best capture this theme, I further decided to go with a mini portfolio of different stocks. This portfolio has a number of interesting characteristics, among them a dividend over 8% and solid growth prospects. Growth that should last not just a year, but rather for a decade or more. This growth is driven by a combination of improved technology-fracking, highly specialized ships, new uses - and a desire to utilize energy which is less polluting. Indeed, according to this article, demand is so strong that a shortage of capital assets currently exists which these companies can benefit by providing to a clean energy-hungry market.
Without further ado, the companies I chose which most benefit from the worldwide secular growth in natural gas production, usage, and especially transport are: Golar LNG (GLNG), ArchRock (AROC), Teekay LNG Partners (TGP), Energy Transfer (ET), and three preferred equities: Dynagas LNG Partners Series B (DLNG.PB), Gaslog Partners Series B (GLOP.PB), and once again Teekay LNG Partners only this time their Series B preferred (TGP.PB).

Source: Data Powered by Intrinio.com
I have previously written a piece on:
With Seeking Alpha assistance, each of the links above should be active with articles everyone can access for at least the next week.
Each of these companies is interesting because while heavily involved in natural gas transport and in many cases, actually formed as Master Limited Partnerships, none issue a K-1 (TGP switched to 1099 as of January 1st). Instead, US investors get their dividends and capital gains reported on a normal 1099. In this way, there is high dividend capture, 8%+, with minimal reporting hassle. The other characteristic I found key was high dividend coverage. Dividend coverage by Distributable Cash Flow ranges from 1.7-5x in this group with the overall average being a quite high 3.6x. This ensures these dividends, my primary focus, continue to be paid out while also providing excess capital which can be allocated to asset growth, debt paydown, stock buybacks, and/or dividend increases to also help support the stock's price. Last but not least, I find each of these stocks currently quite cheap in their own right, with prices at less than 5x cash flow on average, and the three preferred issues trading well below their $25 par values.
Macro:
What is driving these opportunities, however, is the long-term (secular) growth in worldwide natural gas production, usage, and especially transport. Australia, the Middle East, Russia, and increasingly North America are the primary areas of production, while Asia seems to have an unquenchable thirst propelled both by its growth into the first world, and a desire to skip the polluting nature of coal, oil and other energy sources to the whatever extent possible.

Source: Bloomberg LNG Outlook, and Statista
That's not to say each of these continents aren't themselves switching from coal to natural gas, indeed the growth in the natural gas-fired electricity, fertilizer, and chemical plants, as well as other high natural gas consumption drivers in the US, has been significant.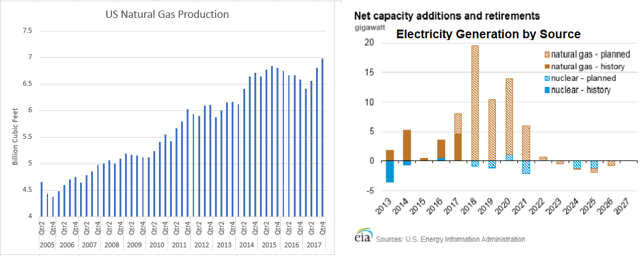 Source: US EIA
However when you combine this increased production in one area (e.g. the US) and usage in another far-off region (e.g. China) it creates both a primary driver - natural gas volume - and a secondary driver - tons miles to delivery- which combine in effect to result in even higher need for transportation assets: pipelines, compressors to move product down those pipelines, liquefaction plants both on land and sea (FLNG ships), oceangoing LNG transportation carriers, regasification units on land and sea (FSPO ships), and in many cases new usage forms of the gas in its liquid form. For example, many don't realize that not only did the volume of US natural gas exported double in the first half of 2018, but it is scheduled to double again in 2019: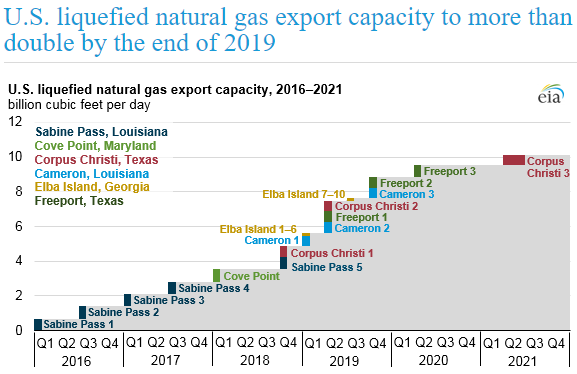 Source: US Energy Information Administration (US EIA)
Many in the North America and Europe also don't realize China is leading the way in some aspects of LNG usage, including having produced over 96,000 new LNG powered trucks in just 2017 alone. Indeed even LNG forward China isn't keeping up with infrastructure demand, leading some Chinese import firms to temporarily utilize "Gas Pipelines on Wheels (fleets of LNG transport trucks)" in order to get product to customers.
But natural gas imports aren't just up in China, according to Energy Insights last year they grew 15% in South Korea, 21% in India, 72% in Pakistan (albeit off a relatively small 5 billion cubic meter base), and 12% in Taiwan. Nor is the increased demand only being supplied by America. Australia has seen Gorgon train 3 (T3, new liquefaction facilities are frequently referred to as trains or with just the capital letter T), Wheatstone T1 and T2, Prelude, and the Ichthys liquefaction plant all come online in the last year and a half. Russia saw Yamal T1 and T2 come online early, requesting corresponding early delivery of LNG carriers from Teekay LNG and Dynagas LNG in the process. FLNG ships in third world countries such as Malaysia (Petronas) and Cameroon are supplying liquefaction services for their gas production exports. Indeed, as each of these multi-billion-dollar facilities come online, it is clear overall global growth in natural gas production, usage and transportation is going nowhere but up. In particular, the highest growth route for LNG transportation is commonly considered US to Asia, a long haul which bodes very well for international LNG shipping demand:
This is why I see a positive high growth environment for a lot of companies in this sector. I want a piece of the entire natural gas cycle from production, downpipes via compressors, to liquefaction plants, LNG transport ships, FPSO regasification units, to the consumer. There's not one company which benefits from this secular trend, there's a plethora of them, each with their own particular attractive aspects and risks. The good news, they are all currently cheap.
Individual Stocks:

Source: Data Powered by Intrinio.com
I organized the list above from those more growth oriented (Type: Growth), to dividend and growth stocks (DGI), to those primarily held for income production (Income). However, in doing so, they generally are also organized from those with more risk (GLNG) to those with the least amount of risk (TGP.PB), with my own explicit subjective opinion on risk contained in the second to last column (e.g. A- to C+).
Energy demand is notoriously inelastic. In the case of LNG, it is also growing and underpinned by multi-billion-dollar plants that are likely to keep running regardless of conditions. Indeed, many would argue even a global recession is unlikely to do more than slow down the growth rate. Prices would fall, but not volume, and all I really care about is there are more MMBTU of natural gas being moved from here to there. As long as that happens, this collection of stocks should continue to do quite well.
Conclusion:
In combination, this sector bet/mini portfolio represents 27% of the Cash Flow Kingdom portfolio. They are positions which I either initiated or added to in the swoon which occurred during Christmas week 2018. Over the year I plan to follow and periodically update readers about this mini portfolio's progress, as well as come out with additional specific individual articles detailing each name. As a group, I think this mini portfolio underpriced, with each name attractive in its own right, as well as benefiting from the tailwind of secular natural gas transportation growth. As such I think the portfolio offers significant dividend payout (8.2% yield), reasonable dividend growth, and even price growth over the next year, and potentially the next decade.
While the public portfolio's progress will be followed assuming I invested $10,000 in each security on 12/30/2018, I would also note each reader can and should change their allocation according to their own personal goals and risk profile. Those seeking more growth can overweight the names towards the top of the list. Those seeking less risk and more yield can overweight the preferred towards the bottom of the list.
Click the Follow Button for more
Get coverage on other dividend plays such as:
Archrock - A 7% yielding DGI stock with almost 3x coverage last quarter. The dividend is expected to continue to grow by about 10-15% per year.
Capital Product Partners - A 15% tax advantage yield with no K-1!
Ladder Capital (LADR) - A 8.8% dividend which benefits from interest rate increases.
Disclosure: I am/we are long GLNG, TGP, AROC, ET, DLNG.PB, GLOP.PB, TGP.PB. I wrote this article myself, and it expresses my own opinions. I am not receiving compensation for it (other than from Seeking Alpha). I have no business relationship with any company whose stock is mentioned in this article.
Additional disclosure: The article discusses a risky investment in the volatile natural gas logistics sector. I do not know your goals, risk tolerance, or particular situation; therefore, I cannot recommend any specific investment to you. Please do your own additional due diligence.