Looking for multiple investing ideas? This article will discuss five ways to profit from DCP Midstream (DCP), a well-capitalized, diversified midstream firm with very attractive common and preferred high yield vehicles.
Profile:
DCP Midstream, LP, together with its subsidiaries, owns, operates, acquires, and develops a portfolio of midstream energy assets in the US.
It operates in two segments, Gathering and Processing, and Logistics and Marketing. The G & P segment is involved in gathering, compressing, treating, and processing natural gas; producing and fractionating natural gas liquids, and recovering condensate. The Logistics and Marketing segment engages in transporting, trading, marketing, and storing natural gas and NGLs, fractionating NGLs, and wholesale propane logistics. It owns and operates 60 plants and 62,000 miles of natural gas and NGLs pipelines, with operations in 17 states.
DCP has two joint owners of its GP interests - Phillips 66 (PSX) and Enbridge (ENB) - they also own 36.1% of the common LP units, with the 61.9% balance owned by public unitholders: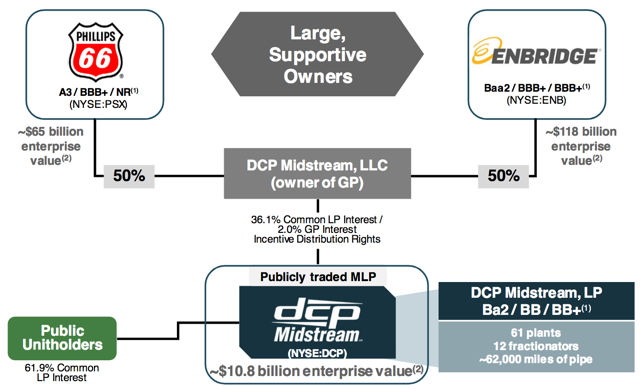 (Source: DCP site)
Management has made great progress in expanding and diversifying the company's operations over the past eight years. Logistics & Marketing now contributes 45% of EBITDA, vs. just 10% back in 2010: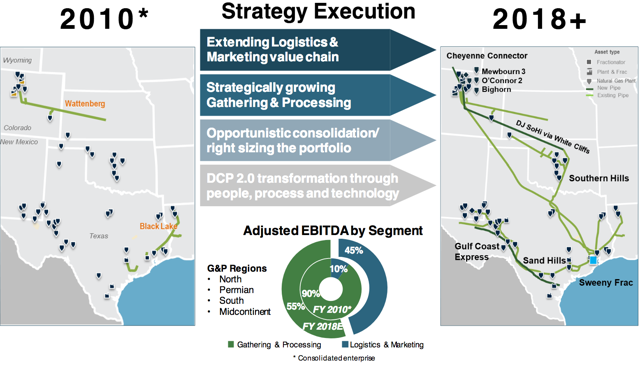 (Source: DCP site)
Performance:
Like many energy-related firms, DCP got caught up in the Q3-Q4 pullback from the crude oil price decline and has underperformed the market. However, it's now receiving much more support in these first few days of 2019. Three days doesn't prove a whole lot, but it looks like investors are taking a fresh look at some energy-related stocks in early 2019.

Analysts Price Targets, Upgrades and Estimates:
We can't really blame the analysts - they've given DCP several Buy and Outperform ratings over the past three months:

(source:finviz)
DCP also has received multiple upward earnings estimate revisions from analysts over the past month, although the average 2019 estimate is a bit lower now.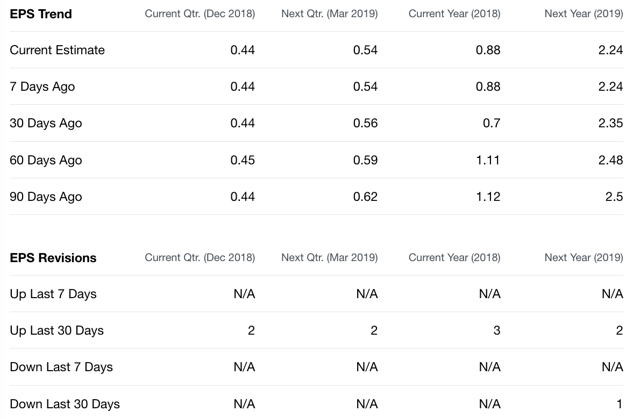 (Source: yahoofinance)
With its price decline, DCP's common units are 17.5% below analysts' lowest price target and 33.55% below the average $42.21 price target.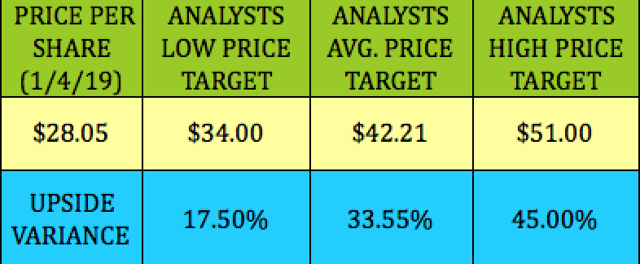 Insider Buying:
One insider took the analysts' advice and ponied up $65K to buy 2,500 units last week, at $26.10. So far, that was a smart move - he's up nearly 7.5% in a week.

(Source: finviz)
Options:
But what if you think those analyst price targets are a bunch of malarkey? Here are a few ways to hedge your bet and goose your yield on DCP's common units, on a short-term basis.
The February $30.00 call strike pays $.80, similar to DCP's $.78 quarterly payout, which allows you to "double your dividend" (yes, we know it's called a distribution, but "double dividend" is a catchier marketing phrase).
Our Covered Calls Table can give you more details on this and more than 35 other yield-enhancing trades, all of which are updated throughout the trading day.

What if you're even more skeptical about DCP's price trend, but you'd still like to earn a few shekels in the meantime, while Mr. Market gets himself situated?
You could try selling cash secured puts below DCP's common unit price. The February $25.00 put strike pays $.50, less than DCP's $.78 quarterly payout, but it gives you a much lower breakeven, of $24.50, which is just 1.3% above DCP's 52-week low.
Our Cash Secured Puts Table can give you more details on this and more than 35 other yield-enhancing trades, all of which are updated throughout the trading day.

Common Distributions:
At $28.05, DCP yields a hefty 11.12%, with 1.11X trailing coverage. It pays in a Feb/May/Aug/Nov. cycle, and unitholders receive a K-1 at tax time.

Although DCP's trailing coverage has averaged 1.11X, it surged to 1.35X in Q3 '18, thanks to record earnings.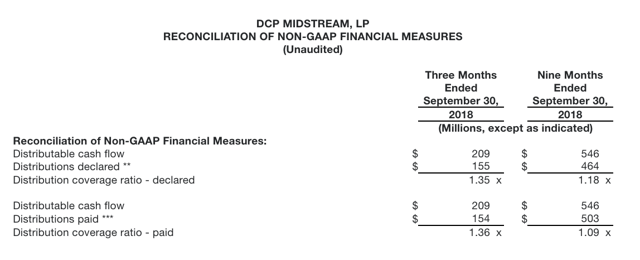 (Source: DCP site)
That 1.36X is quite an improvement over Q4 '17, when coverage was only .91X.

Management says that Q4 2018 won't be quite as strong as Q3 due to some timing issues "to materialize via higher maintenance capital, lower distributions from our JVs, as well as increased ethane rejection, and continued wide basis differentials for gas and the Conway NGL prices".
But they also said that, "we expect to exceed our guidance for both 2018 adjusted EBITDA and DCF." (Source: Q3 '18 call)
Preferred Distributions:
If you're looking for a more conservative income play, check out DCP's two preferred issues, DCP Midstream LP 7.875% Series B Fixed/Float Cumulative Redeemable Perpetual Preferred Units (DCP.PB) and DCP Midstream LP, 7.95% Series C Fixed/Float Cumulative Redeemable Perpetual Preferred Units (DCP.PC).
Obviously, brevity doesn't reign supreme when it comes to naming preferred stocks. In fact, you'll even be hard-pressed to find two financial sites that use the same ticker for them. Tickers can vary from DCP-A to DCP.PA to DCP/A, etc.
Like the DCP common units, the two preferred units also got discounted in the pullback, but to a much lesser extent. The B units are down ~12% since the September market highs, and the C units are down ~15% from their October '18 IPO, but they're both up so far in 2019.
They have very similar current yields - 9.05% for DCP.PB and 8.99% for DCP.PC. They pay in different schedules though, with DCP.PB paying in a March/June/Sept/Dec. schedule, and DCP.PC paying in a Jan/April/July/Oct. schedule.
These are both cumulative shares, meaning that DCP must pay you for any skipped distributions before paying common distributions. In addition, they rank senior to the common units in a liquidation scenario.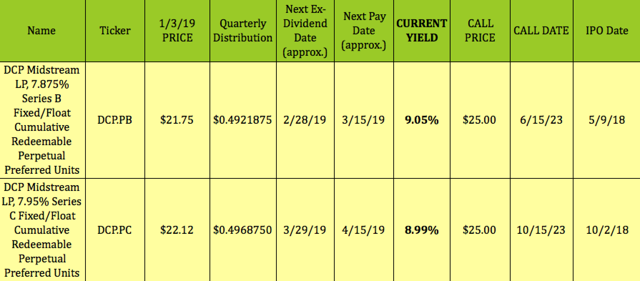 They also both have a floating rate feature, which offers you some protection against rising interest rates. After their call dates, both units' distributions will be based on the current three-month LIBOR rate, plus a float factor of 4.92% for the B units and 4.88% for the C units.
The current three-month LIBOR rate is 2.81%, up considerably over the past year. At this level, the future total rates for these two units would actually be lower, ~7.7%, than their current yields.
However, since they're selling at a discount, the equivalent yields would be 8.7% to 8.9%, much closer to their current yields:

But what if the three-month LIBOR rates go much higher? Here's how these yields would look in a 5% three-month LIBOR environment. They would have an equivalent yields o 1f1.17% to 11.40%, much higher than their current yields.

Another consideration is the potential for DCP to redeem these units on or after their call dates in 2023. Due to their currently being priced at a discount below their $25.00 call value, there would be price gains of $2.88 - $3.25/unit if they were to be redeemed.
The annualized yield to call date is 12.51% for the DCP.PB units and 11.64% for DCP.PC units.

DCP's preferred coverage has been strong so far in 2018, at 6.27X based on net income, and a bodacious 17.55X, based on DCF. The coverage should continue to be strong for full-year 2018, as management says that they expect to beat their DCF guidance.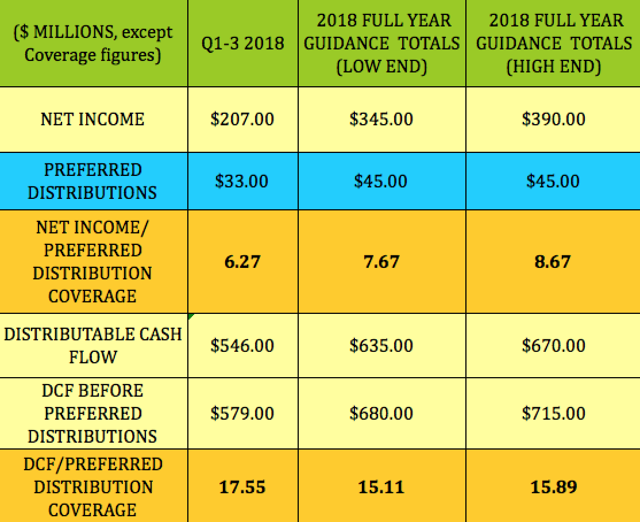 Earnings:
DCP once again reported good earnings growth in Q3 '18, with revenue up 34%, EBITDA up nearly 12%, and DCF rising 11.76%.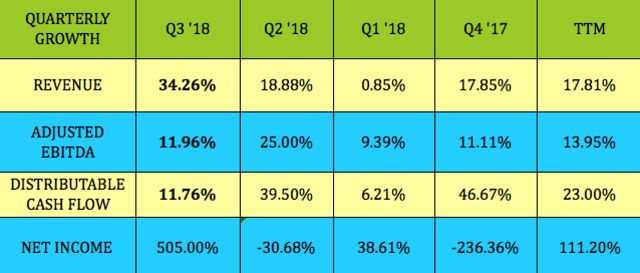 Revenues, EBITDA and DCF all hit company records in Q3 '18. Management commented on the Q3 '18 call: "Our strong earnings underpinned by increasing volumes across our entire footprint, as we saw an approximately 35% increase in NGLs throughput volumes year-over-year, and a roughly 10% increase in our gathering and processing points."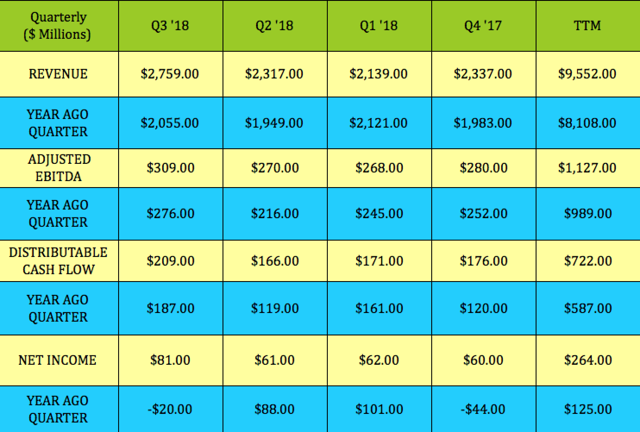 Risks:
One of the biggest risks to DCP's operations has been removed - Colorado proposition 112, which would have would effectively prohibited future energy production on a substantial amount of state and private lands, was defeated at the polls.
Commodity prices - Management has a hedging program in place to mitigate the effects of price swings. They had a total of 79% of the gross margin fee-based and hedged for 2018, which just about reached their total goal of 80%. 2019 is 20% hedged so far.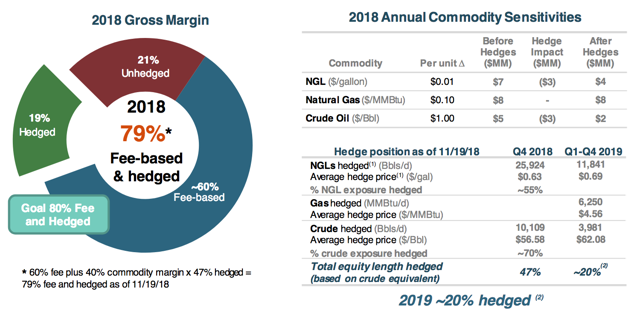 (Source: DCP site)
LIBOR vs. SOFR - The Fed is moving to replace LIBOR with another rate, called the Secured Overnight Financing Rate, or SOFR. "SOFR comprises a broad universe of overnight Treasury repo trade activity, making it a benchmark for all seasons, impervious to future structural shifts in market preferences between bilateral repo versus tri-party repo. It is based firmly on transaction data drawn from multiple and diverse sources. This transition could create some uncertainty for LIBOR-related vehicles, but we wonder if the powers that be would be so daft as to endanger all of the thousands of mortgages and LIBOR-related vehicles that currently exist. We're betting that the transition will be handled prudently, without disruption.
Growth Projects:
In early December 2018, management announced that the newly expanded capacity of the Sand Hills natural gas liquids pipeline was placed in service Dec. 1, 2018. This most recent expansion of 45,000 barrels per day (bpd) brought the pipeline's total capacity to 485,000 bpd.
Management has multiple growth projects in the works which are expected to come online in 2019, such as O'Connor 2 and Bighorn as well as multiple residual gas and NGL pipeline expansions. These projects should ramp up DCP's earnings in 2019. Another positive factor here is that DCP's management borrowed a page from one of our favorite long term holdings, Enterprise Products Partners LP (EPD) - they partially self fund some of their growth projects.
The October '18 DCP.PC preferred issuance brought in $110M, which they're using to self-fund some growth projects. Management said that they'll continue to look at that market, so we may see some additional preferred offerings down the road.
DCP also uses technology, via its DCP 2.0 program, to aid the efficiency of its operations. It was able to expand its Sand Hills and Southern Hills capacity with minimal funding. "Like the Sand Hills effort, the (Southern Hills) 15,000 plus barrel per day capacity growth required very little capital to produce very significant future cash flows." (source: Q3 '18 call)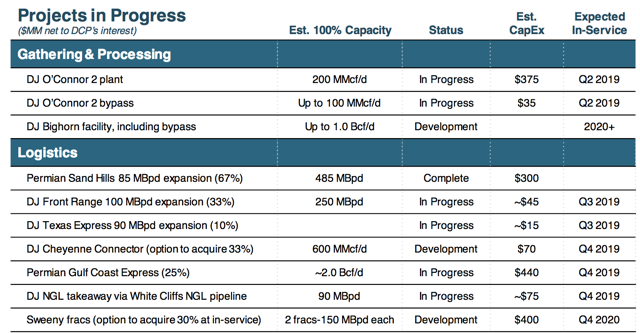 (source:DCP site)
Tailwinds:
You've probably heard about the capacity constraints in Permian basin. Management expanded on this theme on the Q3 '18 call:
"Producers can flex their production capacity very, very quickly, they can ramp it up very quickly but building long-haul pipelines, fractionators, gas processing plants takes much, much more time and we're seeing that right now where we have a period of time where midstream capacity for an industry as a whole is pretty tight and producers can move quicker."
"When you're in a place like this, it means you have very high utilization on your assets and that's what you're seeing in our numbers today, there's a reason why our marketing and logistics business is doing so great. Why you're seeing growth in the Gathering and Processing side of the house, why we're beating overall DCF numbers to the Street by close to 25% because the assets are running really well and they're pretty full."
Valuations:
DCP's common yield is a bit higher than peer averages while its price/DCF is lower. Its price/book of .56, however, is much lower, and is one of the lowest price/book valuations we've seen in the high-yield space.

Financials:
Not as sporty in the financial metrics - with ROA, ROE, current ratio, interest coverage, and operating margin all lower than peer averages. debt/equity is much lower though.

Debt and Liquidity:
As of 9/30/18, DCP had over $1.2B available on its bank facility. The debt maturities look well laddered into the future - management will refinance $525M in 2019. In November 2018, Moody's changed the rating outlook for DCP Midstream LP and DCP Midstream Operating LP to positive from stable. Moody's also affirmed the ratings at DCP, including the Ba2 Corporate Family Rating.

(Source: DCP site)
Summary:
We rate the DCP common and preferred units a buy, based upon their good distribution coverage and on the company's continuing growth in 2019.
Disclaimer: This article was written for informational purposes only, and is not intended as personal investment advice. Please practice due diligence before investing in any investment vehicle mentioned in this article.
All tables furnished by DoubleDividendStocks.com, unless otherwise noted.
CLARIFICATION: We have two investing services. Our legacy service, DoubleDividendStocks.com, has focused on selling options on dividend stocks since 2009.
Our Marketplace service, Hidden Dividend Stocks Plus, focuses on undercovered, undervalued income vehicles, and special high yield situations.
We scour the US and world markets to find solid income opportunities with dividend yields ranging from 5% to 10%-plus, backed by strong earnings.
We publish exclusive articles each week with investing ideas for the HDS+ site that you won't see anywhere else.
Disclosure: I am/we are long DCP.PC, DCP. I wrote this article myself, and it expresses my own opinions. I am not receiving compensation for it (other than from Seeking Alpha). I have no business relationship with any company whose stock is mentioned in this article.