2018 was very much the year of cash (BIL) (SHV) (SHY).
Short-term US debt ETFs were the biggest draws of new money this year, with two BlackRock short-term Treasury ETFs roughly doubling their assets.

Out of 15 major asset classes ranging from stocks (SPY, DIA, QQQ, IWM) to bonds (AGG, BND, LQD, HYG, JNK, AWF), from REITs (VNQ, SCHH, IYR, XLRE, RWR, ICF) to Gold (GLD) and Commodities (DBC, GSG), only one asset (class) finished higher in 2018: Cash.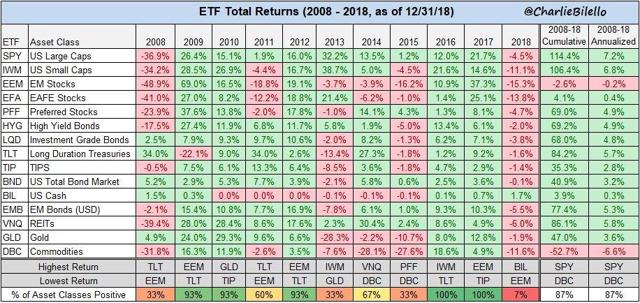 1-month US Treasury ("UST") yields rose 116 bps vs. a rise of only 29 bps for the UST 10-year yields.
At year-end, we already witnessed a partially inverted yield curve, as the UST 6-month yield was (still is) higher than the UST 3-year yield.
This inversion at the short-end of the curve is happening for first time since 2007.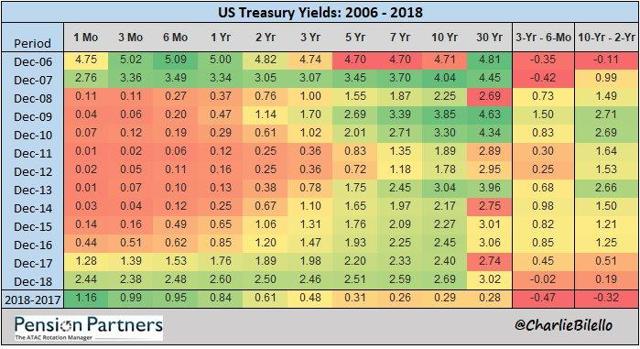 Many believe that there's little on the horizon (of the bond market) to justify or trigger higher yields.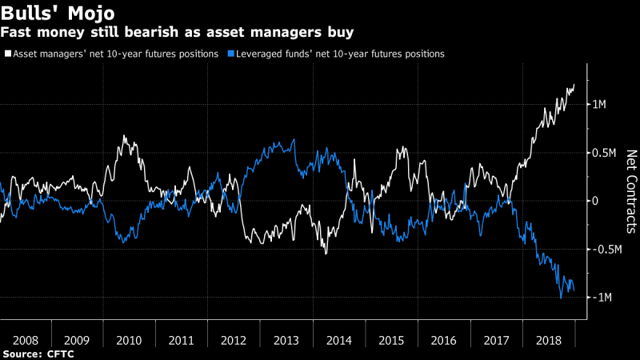 Due to significant headwinds to growth, UST yields seem like they "can't" move materially higher.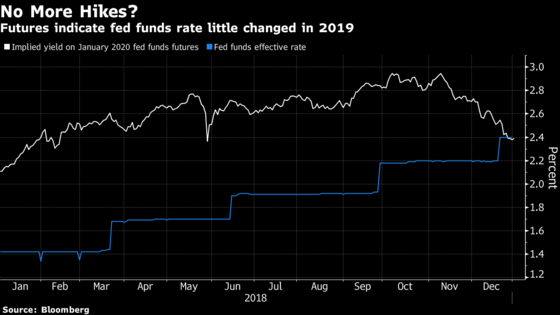 Five-year inflation expectations have fallen much faster than Treasury yields, with breakevens falling to the lowest relative to 5-year Treasury yields since 2009. This shows how US yields can rise much more than inflation expectations as the Fed normalizes monetary policy.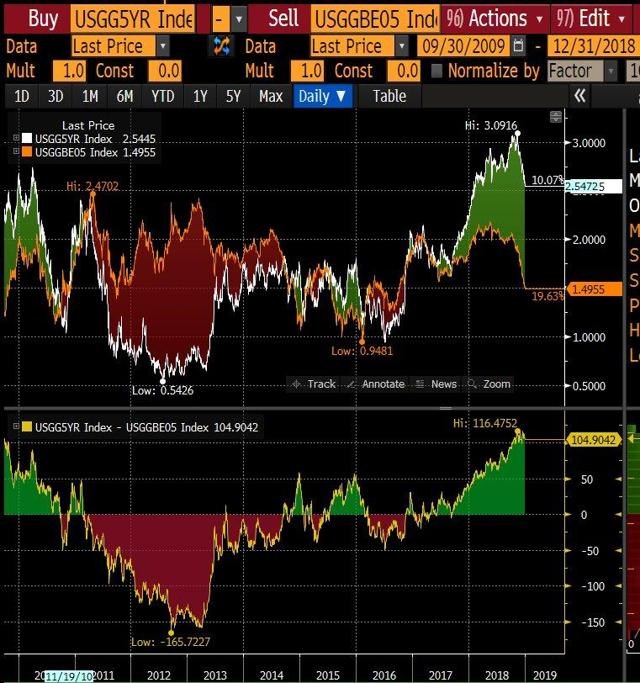 The gap between 3-month T-bill and 10-year Treasury yields has collapsed in the past few weeks and is now at a new post-crisis low.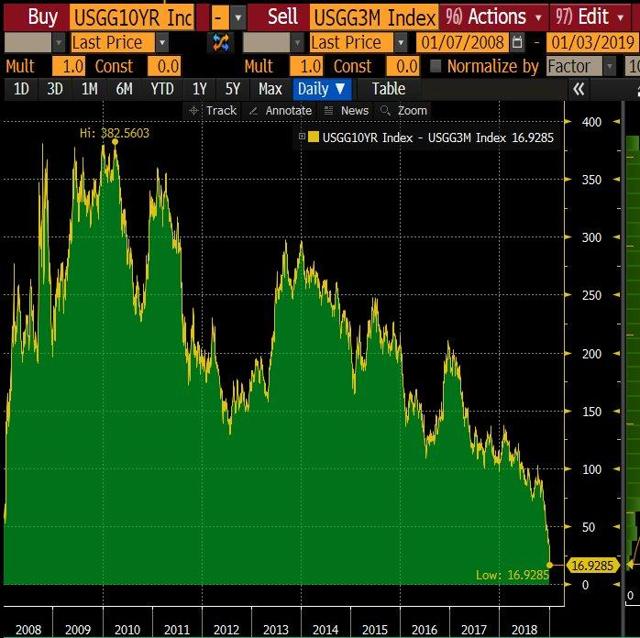 Treasury yields fell further on the heels of the negative US manufacturing data, and are now at the lowest in almost a year.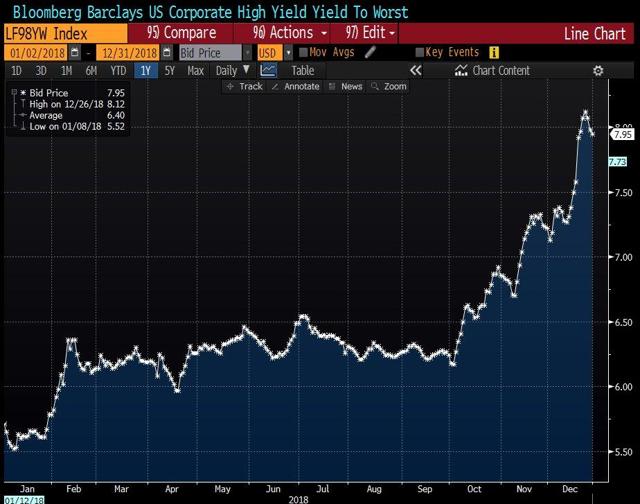 Yesterday there was a record one-day inflow of $1.1 billion into the $9.9 billion iShares 20+ Year Treasury Bond ETF (TLT).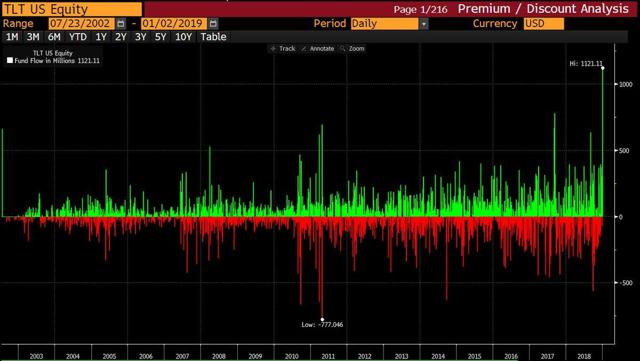 Same goes to the iShares 7-10 Year Treasury Bond ETF (IEF) that enjoyed from a $1.7 billion inflow yesterday; the fund's biggest one-day flow since 2014.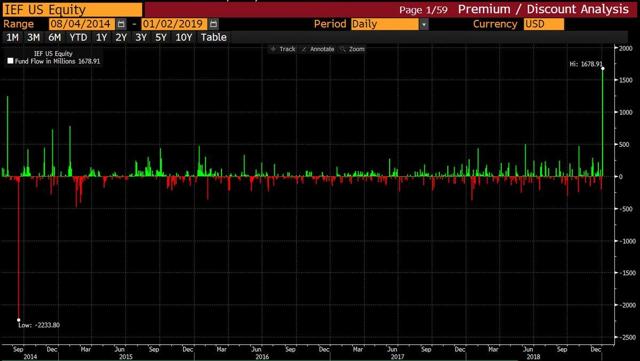 On the other hand, HY funds - especially leverage loans (BKLN, SRLN, FTSL, SNLN) - continue to see major outflows.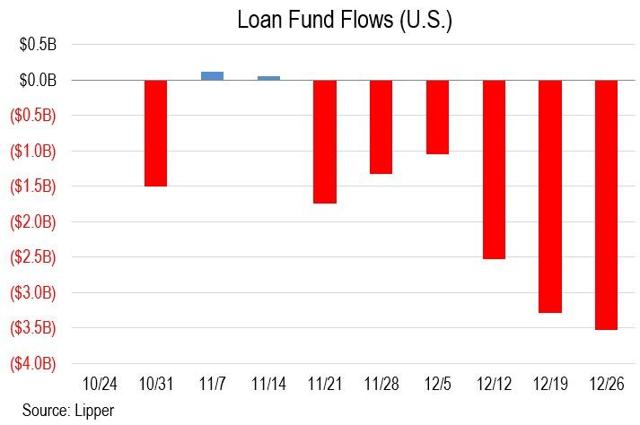 The biggest pain trade this year may potentially be much higher, i.e. >3.5%, 10-year Treasury yields. It seems like that's the one scenario that many investors have all-but ruled out.
The Wheel of FORTUNE is one of the most comprehensive services, covering all asset classes: common stocks, preferred shares, bonds, options, currencies, commodities, CEFs, etc.
Take advantage of our one-week only special offer: 10% discount introductory fee, two-week free trial, full access to our monthly review (where all trades since launch are), trading alerts (such as this one), 19-part "Getting Ready For 2019" series (where all 11 sectors plus 8 segments are covered). and our brand new model portfolio (measuring our performance against the S&P500).
Make your move now! Nothing to lose, Plenty to gain!!!
Disclosure: I/we have no positions in any stocks mentioned, and no plans to initiate any positions within the next 72 hours. I wrote this article myself, and it expresses my own opinions. I am not receiving compensation for it (other than from Seeking Alpha). I have no business relationship with any company whose stock is mentioned in this article.