December is officially over, which puts an end to 2018. I hope everyone is having a good month and spending time with their family and friends over the holidays. Maybe even taking some time off work to relax around the new year as well. The end of the year is always exciting for investors to see what their final numbers are and to set a benchmark for their new goals in the upcoming year.
The end of the year post is usually one of the favorite posts to write by dividend investors. Since it is quarter and year ending, tons of companies tend to pay out as well as a bunch of the mutual funds. Usually we end up seeing tons of dividends being collected, big gains, and many milestones broken. I am happy to announce the results of my best dividend month yet, as well as a new record year! See below for details.
Dividends
December dividends add up to $156.48, which represents a 22.3% increase from last year where I made $128. This is the first time I have broken the $150 mark in a single month! I hope to see this number at least a few times next year and hopefully strive for the $200 mark. Here are some charts to show comparison and progress, but you can always see the full dividend income breakdown here.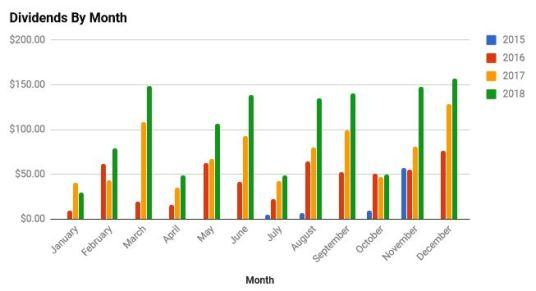 One of the main reasons for this growth is the addition of new capital and introducing SO into my portfolio. The other areas of growth came from increasing my position in D and doubling my position in O. Lastly, and everyone's favorite kind of growth - organic growth. This is the growth due to dividend increases and dividend reinvestment.
Quarter Updates
2017 Q4 Dividends: $255.76
2018 Q4 Dividends: $353.50
YoY% Gain: 38.2%
I mainly use my own spreadsheets to analyze a lot of my data. The quarter results are my favorite to look at and analyze because they seem to give a better representation of how things are going. For example, if one company changes its payout month, it looks like there is a loss one month and huge growth the next month when it finally pays. The quarter comparison results capture these types of circumstances. Ideally, the dividend growth rate should be increasing from quarter to quarter granted no dividend cuts or major selloffs.
The last metric that all dividend and passive income investors look at is what was the total collected in the year. I set out to achieve my goal of reaching $1,000 for the first time. I was able to achieve that by last month, so anything collected in December just increases the record and sets a new benchmark to beat next year.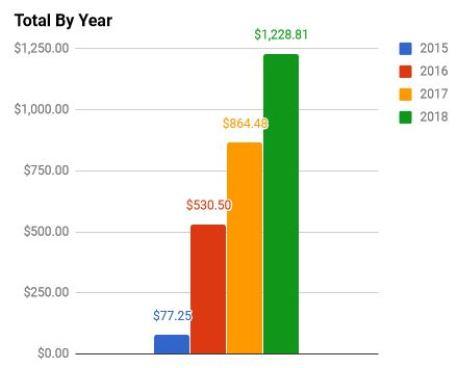 This year's final dividend counts are in, and my portfolio produced $1,228.81 in passive dividend income! This represents a 42.14% increase from last year's $864.48. Breaking a few milestones this month. I am very excited to see these results. What a great way to end the year. Hope everyone ended 2018 on a positive note and that 2019 brings just as many good things!
How did your portfolio perform in December? Did anyone break any records or post huge gains? Did you accomplish your goals? What big accomplishments have you had this year? Your comments are always welcome below.
Editor's Note: The summary bullets for this article were chosen by Seeking Alpha editors.