Investment Thesis
Entegris (ENTG) is a small company delivering critical solutions to the semiconductor space which has recently recorded a significant pullback. With a market capitalization of under $5 billion and the Fourth Industrial Revolution just at its beginning, I believe the company is set to reap the benefits far in the future.
Corporate profile
Entegris is a leading global developer, manufacturer and supplier of microcontamination control products, specialty chemicals and advanced materials to the semiconductor manufacturing sector. The company has globally diversified operations across three continents and more than ten countries. Entegris operates three business segments - Specialty Chemicals and Engineered Materials, Microcontamination Control, and Advanced Materials Handling – which (in 2017) accounted for 36, 33 and 31 percent of total revenues. Based on the numbers in the company's latest 10-K filing and latest quarterly earnings call presentation, Microcontamination Control has been the fastest growing and also most profitable segment (with 18 percent two-year revenue CAGR and 29.4 percent segment profit margin), followed by AMH and SCEM.
Source: Entegris 2018 Q3 financial results presentation
Historical milestones
Even though the company's operations have not substantially expanded up until recently with a new wave of acquisitions, Entegris has a long operating history. Founded in 1966 as Fluoroware, the company had not begun trading on the Nasdaq exchange until the turn of the millennium. After the IPO, the company kicked-off a period of rapid organic expansion and inorganic growth, with new manufacturing facilities openings and several successful acquisitions and integrations of small chemical and materials companies.
Solid financials
Over the past few years, Entegris has developed a solid financial foundation. The company has a balanced capital structure consisting of a fair amount of debt (with a long-term debt to total capital ratio at 34 percent) helping it to drive return on equity and discounting the cost of capital. The company's operating profit margin has gradually risen to over 17 percent and shows no signs of slowing down. Entegris also has solid capital and R&D expenditures which in relative terms account for approximately half of the annual revenue percentage of Alphabet (NASDAQ:GOOGL) (NASDAQ:GOOG) - with R&D spending to annual revenues currently at 15 percent.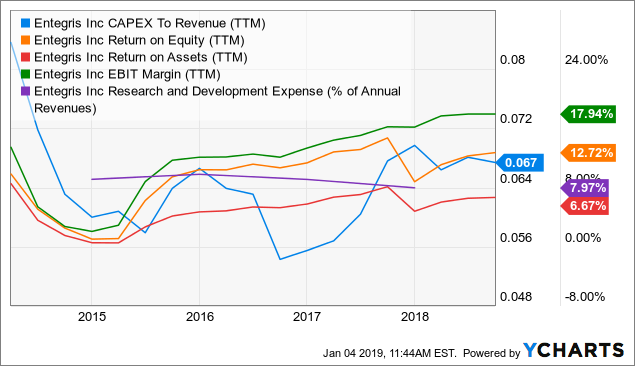 Expanding production facilities in Asia
As Asia is one of the fastest-growing geography segments in terms of sales growth, the company has been lately focusing on the expansion of local production facilities. Recently, the company has extended production capacity in its manufacturing plant in Malaysia by 30 percent in order to meet customer demands in the next decade.
A bet on the Fourth Industrial Revolution
One major strength of the company's business model is its position with respect to the Fourth Industrial Revolution. The Fourth Industrial Revolution, a term first introduced by Klaus Schwab, the Executive Chairman of the World Economic Forum, encompasses a broad range of exponential changes in the way we live, work and relate to one another due to the adoption of cyber-physical systems, the Internet of Things and the Internet of Systems. Looking at the company's specialized products and services portfolio, Entegris seems to be a perfect bet on the new era as its extensive experience and established relationships with the semiconductor space enable it to meet the increased demand from various AI, IoT, VR, Big Data and cloud computing companies.
Valuation
Plugging-in Entegris' financial statements' figures into my DCF template, the company's shares seem to be severely undervalued. Under the perpetuity growth method with a terminal growth rate of 2 percent, constant 15 percent annual revenue growth over the next five years and 15 percent EBIT margin growing by 1 percent each year, fair value of the stock comes at US$40.8. Under the EBITDA multiple approach of a discounted cash flow model, the intrinsic value per share value of the company stands roughly at US$45 if we assume that the appropriate exit EV/EBITDA multiple in five years' time is around 10x.

Source: Author's own Excel model
From a different perspective working with operating earnings multiples, Entegris' shares seem to be currently more or less fairly valued. Using the Fast Graphs forecasting calculator with a default 16 percent adjusted operating earnings growth rate assumption, the company's intrinsic value by the end of December FY2023 is forecasted to reach US$56.7, which implies a total annualized rate of return upside potential of more than 15 percent.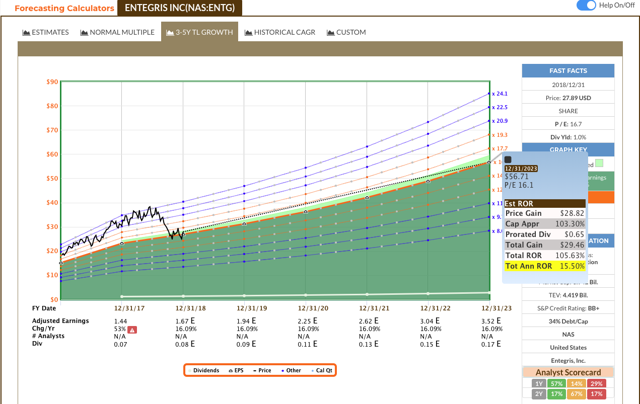 Source: F.A.S.T. Graphs
Lastly, in light of revenue variation of Peter Lynch's popular earnings line for the projection of intrinsic per share values of the company, Entegris' shares appear to provide a lot of room for appreciation as well. According to my model, assuming 15 percent annual revenue growth, 2 percent annual equity dilution factor, a price-to-sales ratio of around 2x, the company's share price by the end of 2021 could fluctuate around US$37. This scenario suggests an average potential annualized rate of return of approximately 10 percent in the following years.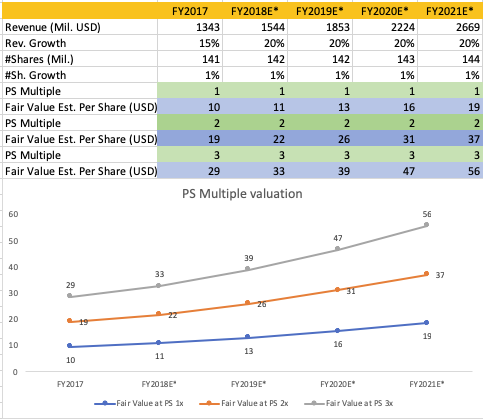 Source: Author's own Excel model
Key Risks
Negative worldwide economic conditions may adversely impact the company's financial conditions and demand for its products.
The company is dependent on a limited source of suppliers which could in case of supply outages cause substantial damage to the company's financial condition.
Top ten customers account for approximately half of the company's total net revenues and therefore the company's financial results may significantly worsen if it loses one of its key customers.
If the company fails to innovate and develop new products, its competitive position may significantly deteriorate.
If the company loses any of its key employees and fails to attract new talent, its operations may suffer.
The company is subject to various international laws and regulations which can change and put pressure on the company's financial results.
If the company fails to manage its debt and make timely interest and principal repayments, its financial condition may suffer.
The company might become a subject to information technology system failures or external data breaches which could negatively impact its business reputation.
The bottom line
To sum up, Entegris is an outstanding company which is well-positioned to leverage opportunities arising from the Fourth Industrial Revolution. The company has strong financial statements with a manageable level of debt. From a valuation perspective, Entegris' shares currently seem to trade with a more than 10 percent discount on an annual return basis. Lastly, the company has a longstanding history of successful organic and inorganic growth and new expansion plans in place. Therefore, the company is very likely to weather well any kind of short-term headwinds and emerge as a long run top semiconductor supplying player.
Disclaimer: Please note that this article has an informative purpose, expresses its author's opinion, and does not constitute investment recommendation or advice. The author does not know individual investor's circumstances, portfolio constraints, etc. Readers are expected to do their own analysis prior to making any investment decisions.
Disclosure: I/we have no positions in any stocks mentioned, and no plans to initiate any positions within the next 72 hours. I wrote this article myself, and it expresses my own opinions. I am not receiving compensation for it (other than from Seeking Alpha). I have no business relationship with any company whose stock is mentioned in this article.