ISM's manufacturing index fell to 54.1 in December, its lowest level since November 2016. Economists polled by Refinitiv expected the index to slip to 57.9 in December, down from 59.3 in November.
The ISM Manufacturing Index is based on surveys of more than 300 manufacturing firms by the Institute for Supply Management (ISM). The ISM Manufacturing Index monitors employment, production, inventories, new orders and supplier deliveries. The ISM Manufacturing Index is one of the first investor news announcements released each month and can greatly influence the tone of investor and business confidence.
Largest one-month plunge in ISM Manufacturing since Lehman's failure 2008.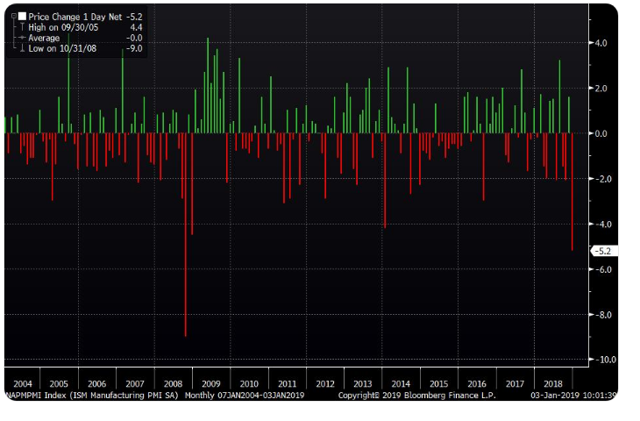 Please watch video below to learn more about:
Implications of the steep December ISM index decline.
What the ISM index is, and why it is a leading indicator for health of the economy (DIA), (SPY), (QQQ)
What manufacturing firms are saying that is hurting their growth
Delta Airline's reduced revenue forecast and how this may signal a slowdown in the making
Disclosure: I/we have no positions in any stocks mentioned, and no plans to initiate any positions within the next 72 hours. I wrote this article myself, and it expresses my own opinions. I am not receiving compensation for it (other than from Seeking Alpha). I have no business relationship with any company whose stock is mentioned in this article.