Dear readers and subscribers,
To begin with, I would like to thank you for your ongoing interest in my research articles. The fourth quarter of 2018 surpassed third quarter by a large margin and was so far the most productive one in terms of new ideas. I received a vast amount of feedback which helps me staying encouraged to provide you with what I believe are the best investment ideas from the world of publicly-traded companies I came across. The fourth quarter was also critical from the model portfolio perspective as I decided to liquidate the portfolio due to several economic and market indicators pointing out that there might be a better opportunity to re-enter the equity markets at some time later this year. In the meantime, my plan is to identify and research great companies that could come out stronger from the bear climate and outperform the markets in the long run.
Q4/2018 summary statistics
To the numbers: As measured by Interactive Brokers Group, the time-weighted return of my model research portfolio reached -43.7 percent in the fourth quarter of this year. To put this into perspective, the S&P 500 index lost approximately 13.5 percent over the same period. As the portfolio's risk-return characteristics are significantly skewed in favor of maximum capital appreciation over the long term and financial leverage is employed, the portfolio is significantly riskier than the benchmark - in Q4, the downside deviation of the index reached 1.13 percent whereas the downside deviation of the portfolio totaled 2.88 percent. The equity curve and precise portfolio risk statistics since its inception are captured in the outputs below: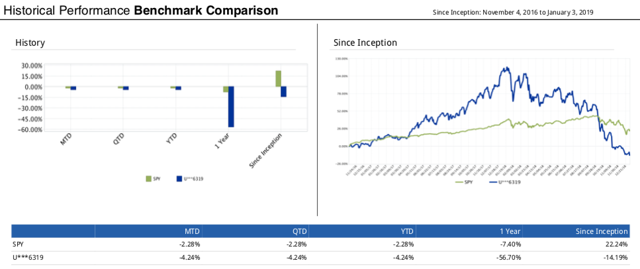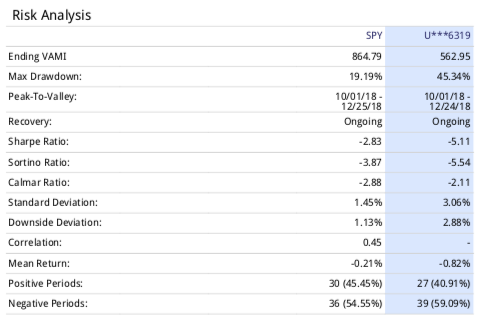 Source: Interactive Brokers Client's custom quarterly report
Selected Q4 new ideas:
Proofpoint (NASDAQ:PFPT) – a fast-growing cybersecurity company with superior revenue growth rate and attractive price-sales multiple valuation
T. Rowe Price (NASDAQ:TROW) – a leading global investment management company with exceptional fundamentals, consistent results and expansion plans beyond core business
Five Below (NASDAQ:FIVE) – a rapidly expanding U.S. discount store at just one fourth of its store base target and outstanding new store economics metrics
Q1/2019 outlook
In the first quarter of 2019, I would like to do more research on selected growth-at-a-reasonable-price opportunities I see in the market and present them here on Seeking Alpha.
That's all for this quarter, thanks for reading! Should you have any feedback regarding the structure of performance reviews or anything else, feel free to share your thoughts, either via private message or in the comment section below.
Seize the day & stay aware of the market situation!
Best,
David
Disclosure: I/we have no positions in any stocks mentioned, and no plans to initiate any positions within the next 72 hours. I wrote this article myself, and it expresses my own opinions. I am not receiving compensation for it (other than from Seeking Alpha). I have no business relationship with any company whose stock is mentioned in this article.