The fourth quarter of 2018 was rough for investors. Between the beginning October and the end of December stocks in general lost about 15% of their value. That move wiped out all of the gains they had enjoyed in the first three quarters and left the S&P 500 lower by just about 6% on the year.
Down years on Wall Street haven't been that common. Since 1977, the broad stock market (measured by the S&P 500) has suffered annual losses only eight times. Going back further, we see that negative annual returns are even less common. Since 1928, the S&P 500 (or its equivalent) has been down on a year-over-year basis 25 times, including last year. But, negative returns are mostly a short-term phenomenon.
Instances where the market has lost value two years in a row on a calendar year basis are even more rare. We haven't seen two down years in a row in nearly two decades. The period between 2000 and 2002 was the last time this happened. In the last 90 years there have been only four occasions when this took place, including the 2000 to 2002 period. In each instance, the market came roaring back. The three-year periods following every multi-year decline saw the market spring back more than 50%. Not one of those periods of decline ever held for very long.
So, it is almost cliché to say the declines on Wall Street are always temporary, and the advances are always permanent. But, annual stock market declines shouldn't be viewed as some sort of predictor of impending gains just because that may have happened in the past. Lower stock prices are less important as a predictor of future prices, than they are an invitation to gauge them against historical valuations. Lower prices change the investment equation in only one way. They can make an investment that was reasonable to buy yesterday more compelling to buy today. The analogy here is the relative attractiveness of the blue suit you thought about buying at Macy's last week that you can buy today for less money. The suit hasn't changed, only its price has.
That's the situation we find ourselves in currently. If nothing has changed in the long-term fundamental picture, then nothing has changed the fundamental reason for owning stocks. This is especially meaningful for the investor with a long investment time horizon. Declines such as we experienced over the last few months, while scary and painful, are actually a gift.
They are a gift because valuations have come down. While prices themselves may not be a reliable predictor of future returns, valuations typically are. Lower valuations tend to be a very good indicator of future returns.
And, using the Validea Market Valuation tool reveals that (as of this writing) the broad stock market is undervalued by about 12%, based on historical norms. Stock valuations have been lower than they are currently only 15.5% of the time between 2005 and 2018 using the TTM median P/E of all stocks.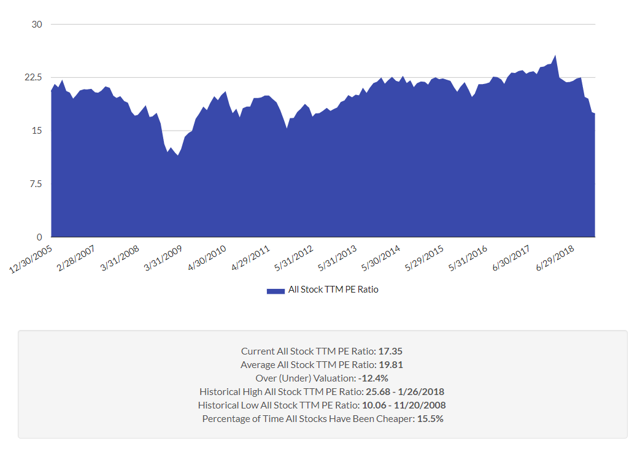 So, for investors looking at saving for the long haul, the current environment may well present an opportunity to take advantage of a post-holiday sale on Wall Street.
To find some of those opportunities we turn to our quantitative models. Since 2003 I've been tracking concentrated portfolios utilizing the stock selection strategies of successful investors. One of those models is based on the research of James O'Shaughnessy, author of What Works on Wall Street. O'Shaughnessy tested simple fundamentally-based multi-factor strategies over multiple decades in an attempt to uncover those variables that are most predictive and have the best long term performance in isolation and when combined together. Using the O'Shaughnessy-based model we've identified the five top scoring stock using the Cornerstone Value and Cornerstone Growth models.
The Cornerstone Value approach looks for large cap value stocks with strong free cash flow per share, along with a few other metrics, and then sorts by dividend yield to select the highest yield names. The top five are Ford (F), AT&T (T), IBM (IBM), Exxon Mobile (XOM) and General Motors (GM).
The Cornerstone Growth approach looks for smaller firms with earnings persistence, reasonable valuations and then sort by relative strength (i.e. rewarding companies whose stocks have strong price momentum). The top scoring stocks currently in the database are BlueLinx Holdings (BXC), CBIZ (CBZ), TJX Companies (TJX), Dollar General (DG) and Malibu Boats (MBUU).


Disclosure: I am/we are long F, T, IBM, XOM, GM, TJX, MBUU. I wrote this article myself, and it expresses my own opinions. I am not receiving compensation for it (other than from Seeking Alpha). I have no business relationship with any company whose stock is mentioned in this article.
Editor's Note: This article covers one or more microcap stocks. Please be aware of the risks associated with these stocks.