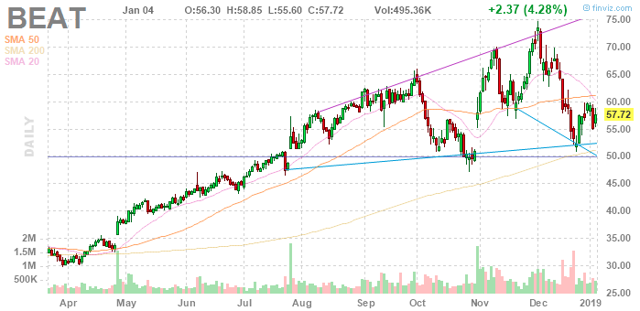 BioTelemetry (BEAT) is a top acquisition target going into the new year. The company is the leading wireless medical device provider expanding on a booming niche, the mobile cardiac telemetry market. General cardiac monitoring is projected to exceed $30 billion within three years. At a market cap under $2 billion, BioTel would undoubtedly be a propitious acquisition target for companies higher on the food chain. Whether a buyout is in the stars or not, long-term exposure in BioTel will pay off in spades.

Source: BioTel investor presentation
The development of wireless mobile healthcare monitoring has only begun to revolutionize the world of modern medicine. Mobile Cardiac Telemetry (MCT) has been a game changer in the field of remote cardiac services (NYSE:RCS). These devices are able to detect abnormalities in heart activity and relay information to healthcare professionals in real time. This modality has proven infinitely more effective in detection and treatment of cardiac arrhythmias than any other to date.
Managerial Efficiency
BioTel management is headed by twenty-year healthcare veteran Joseph Capper. Since his arrival in 2010, the company has achieved over 30% annualized return (nearly 1000% overall share price growth). Alongside Mr. Capper is a seasoned team of execs each with over two decades of experience at healthcare entities including Johnson&Johnson (JNJ) and the NIH.
This team excels in strategic M&A. They have made multiple acquisitions in recent years, including the purchase of second leading wireless medical company LifeWatch last year. The two companies shared a common business structure and similar hardware and software product offering, through which BioTel was able to expand and optimize every aspect of their operations.
Mr. Capper estimates current market penetration at 25% of the RCS and 50% of the MCT markets, respectively. Near-term earnings will continue thriving as BioTel continues dominating a growing remote cardiac market, but long-term prosperity will come with expansion into new markets.
New Markets Offer More
In terms of market size, RCS is relatively small compared to remote monitoring of chronic conditions. With sufficient capital BioTel has the means to expand their technology into untapped chronic markets and begin wide-scale distribution.
I can tell you there is tremendous demand for [wireless medical monitoring] in areas including diabetes, hypertension, CHS, and respiratory sleep. There is a lot of different opportunities here. So our challenge would be not to go too crazy out of the gain and collect a bunch of assets that are unrelated and can't market them in a coherent fashion.....obviously the opportunities that present themselves are larger than what we could currently fund with cash on hand.
There is no question whether BioTel will find success in new spaces. The only uncertainty is how quickly the capital to do so will be attained. The operational history of the company should instill confidence in their ability to generate cash flows internally, and there is clear propriety for interested buyers who can bankroll. More on that later.
In June, BioTel's Care division received an FDA nod on its cellular-enabled telemetric glucometer which has the same real-time transmission and cloud storage capabilities as the MCT devices. The device is the first of its kind to be approved by the FDA, further underlining the capabilities of BioTel management.
With a foot in the door of the chronic disease monitoring market, Mr. Capper sees a sizable boost to revenues from the chronic market (perhaps one that exceeds the MCT segment) within 2-3 years. This may seem overly ambitious, but consider the market size and limited/non-existent telemetric monitoring options of chronic diseases (and management's tendencies to exceed their own expectations).
These are just really big markets. The cardiac monitoring space is large, but nowhere near as large as chronic [monitoring]. As you know, $0.80 on every $1 spent in healthcare is being spent on the chronic market. So, as we start to wade into those, we are seeing just tremendous opportunities for growth.

- Joseph Capper, CEO
Operational Success
Last earnings season, BioTel posted its 25th straight quarter of sustained year-over-year revenue growth and double digit patient base growth. Management also achieved record EBITDA for the quarter and raised FY2018 guidance for the second straight quarter. Gross profit margin peaked at 62.7% and ongoing guidance above 60% was given.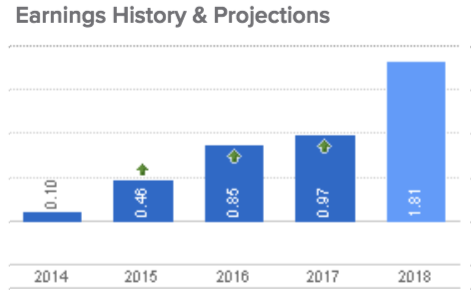 Source: CNBC.com
Consistently high SG&A has been a primary concern voiced by investors and analysts in the past. This is a concern that fails to hold water after surface level research.
First consider costs associated with the robust sales growth posted by management for over eight years. Then remember that BioTel has made nearly a dozen acquisitions in the last five years.
Variable costs like selling expenses logically rise linearly with sales, and new fixed costs come into play on the buying side of M&A.
Comps are limited by the fact that most companies in the RCS space are private. Moreover, the majority of RCS players are big medtech fish for which RCS encompass a relatively small portion of total revenues.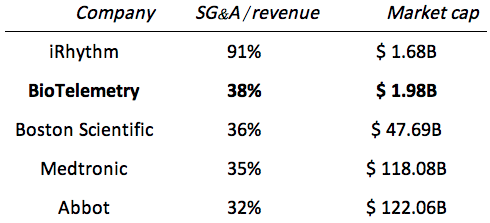 Source: author using respective 10-K's
Clearly, high SG&A comes with the industry rather than being a sign of operational inefficiency. BioTel SG&A is actually impressively low relative to the industry even when the majority of companies used in comparison are large caps. Management has kept it at a level comparable to remote medical giants Medtronic (MDT) and Abbot (ABT) in spite of completing eight acquisitions in five years.
Long-term debt upwards of $200 million and limited FCF growth are the only perceivable financial red flags that remain. The debt was taken on with the acquisition of LifeWatch, which has in turn limited FCF growth as of late. Now that the LifeWatch integration is nearly complete we are already seeing an uptake in FCF, which increased over 300% to $27 million last quarter. I expect managerial punctuality to be extended in eliminating this debt within the next two years.
Plausible Acquisition Target
Companies seek to acquire others down the food chain to gain entrance into new markets, eliminate competition, or simply as strategic investments. Acquisition targets tend to hold significance in a particular industry niche, with a distribution network in need of financing for large-scale growth. BioTel fits this profile to a T, which can be expanded to include historical operational success and solid capital structure.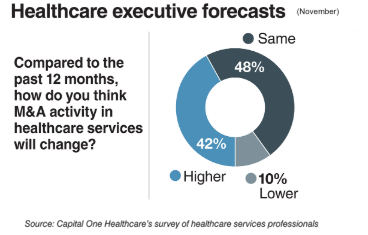 If an acquisition occurs, don't be surprised to see one of the FAANG giants in the headline. The BioTel product line would be a tremendous start in satisfying the healthcare hankerings of Apple (AAPL) and Amazon (AMZN).
Apple has already expressed interest in the ePatch, one of BioTel's proprietary medical devices. The two tech companies are working together with Stanford Medicine in the Apple Heart Study, a clinical trial open to anyone with an iPhone and an Apple Watch. Participants in the study first have their heart rhythms monitored for irregularities by their watch, then by an ePatch if any irregularities are detected via the watch.
Apple COO Jeff Williams commented that the study is a "breakthrough" in the field of healthcare "in that it's a virtual clinical trial". The novelty of the trial extends in that it is open to the public and completed entirely at home. You can sign up here.
It's conceivable that Apple would be interested in acquiring the leader in ECT and telemetric medical data collection. Tim Cook has indicated that "healthcare is big in Apple's future". The focus for Apple is clearly cardiac and glucose monitoring and healthcare data collection, as indicated by preliminary healthcare moves made by the Silicon Valley giant.
The idea of an acquisition by Amazon is equally conceivable. The modern conglomerate has expressed interest in supplying medical professionals and is currently licensed to sell medical devices in 47 states. With BioTel under its umbrella, Amazon would secure a distribution network of over 30,000 physicians (roughly 4% of physicians or >90% of cardiologists in the US), 200 global patents, and a sales team which generates $3.2 million per professional annually. Surely BioTel would satisfy a chunk of Amazon's cravings for healthcare market share.
Medtronic is another potential buyer considering their past interests. The world's largest medical device provider failed in a past ECT venture when they acquired Corventis. The peel-and-stick ECT assets acquired by Medtronic failed to make any real presence in the RCS market. With a few billion in FCF Medtronic has the enough cash to burn for an acquisition of ECT certainty like BioTel.
The Bottom Line
Smart money is on BioTel to be the next big thing in medtech space, whether as a subsidiary of a tech giant or as a standalone enterprise. I'm betting on the former but rating BioTel a Strong Buy either way.
BioTel dominates the RCS market and is making moves into more profitable areas. Beginning with diabetes monitoring, management will soon roll out best-in-class telemetric technology for a number of chronic conditions. There are substantial revenue implications if BioTel finds a fraction of the success they've found in RCS.
The consistent managerial success exhibited in the last decade by BioTel speaks for itself. There is no free lunch on Wall Street, but there are safe bets. BioTelemetry is one of 2019's safest bets.
Risk
As a reminder, you should always conduct your own research before making investment decisions. This should be done by evaluating all available information, conducting field and online research, and arriving at your own conclusions. It is also important to define your investment risk before initiating exposure. There is inherent risk in capital markets, especially in historically volatile sectors such as Healthcare. Discernible risk factors must be identified and properly factored into one's investment decisions.
There are two clear-cut risk factors to BioTel operations: new competition and failure to expand into new markets. The current state of MCT competition is limited to three or four entities with a significantly smaller market presence than BioTel. Competition is liable to grow in such a profitable niche. BioTel has the means to fend off major competitive risk, but there are no guarantees. If an Amazon or an Apple opted to acquire a competitor like iRhythm (IRTC) or Medicomp, for example, a major market share loss would likely ensue.
Through my research I've concluded that BioTel is a low-risk, high-reward investment opportunity.
Disclosure: I/we have no positions in any stocks mentioned, but may initiate a long position in BEAT over the next 72 hours. I wrote this article myself, and it expresses my own opinions. I am not receiving compensation for it (other than from Seeking Alpha). I have no business relationship with any company whose stock is mentioned in this article.