We are presenting our 2019 market outlook in four parts:
I. 2018 Market Review and Economic Outlook
III. Currency and Commodity Forecasts
IV. Equity Market Strategy for 2019 (below)
Equity Market Outlook
Higher interest rates in the U.S. and less accommodative monetary policies from major central banks will reduce liquidity on financial markets. The result will be higher volatility on equity markets in 2019. The slow, grinding, low volatility equity uptrend that characterized 2017 seems definitively finished. Global economic growth is likely to become less synchronized and more fragmented. Country allocation will be critical. Successfully navigating financial markets in 2019 will take greater skill than just continuing to invest in index fund products. In sum, no investment style works forever, and we believe the return to active security selection will be the key to running a successful portfolio in 2019.
Investors' expectations for returns need to come down in 2019. Global risk asset returns have far outpaced economic growth and long-term averages since the Financial Crisis. The tailwind provided by Central Banks is dissipating. Trade and geopolitics will be a sideshow again in 2019 (nice reason for the media to explain falling equity prices). In reality, we know that liquidity moves markets. When the Fed recognizes (hopefully sooner than later) that raising rates and withdrawing liquidity will tank the stock market and plunge the economy into recession, we can hope for a durable up-cycle (even if the October 2018 highs prove to be a bull market top).
We present our preferred equity investment themes below.
Value over Growth. Cyclical growth companies have blown away all other investment styles in recent years. The gig is up, in case you missed the Q4 2018 wake-up call. For 2019, we prefer less-cyclical companies that deliver consistent earnings growth. This does not necessarily imply a sector bias, as some tech companies may also fit the bill.
Looking at the ratio of the Russell Growth to Russell Value Index, we can see just how exaggerated the growth trade has gotten. For U.S. equity allocations, we are turning decidedly negative on growth for 2019. We already warned back in our December 6 commentary to avoid high PEG growth stocks (the Nasdaq fell over -15% since publication). Moreover, the indexes are now dominated by growth stocks, which have doubled or tripled the performance of traditional value stocks over the past years. This implies that passive index investing - taking on exposure to high PEG growth stocks - is not the path to take in 2019.
Bill Cara is arguing that not all companies are trading at extreme valuations. A glass half-full approach suggests that valuations could simply be higher than average and consistent with the strong global economy. The top 20 U.S. companies (average market cap = $364 billion) have a P/E of 24.2 and a Forward P/E of 16.8.
| | | | | |
| --- | --- | --- | --- | --- |
| | | MktCap | P/E | Fwd P/E |
| 1 | | 760.68 | 12.86 | 10.67 |
| 2 | | 732.50 | 89.96 | 54.72 |
| 3 | | 245.91 | 10.60 | 8.51 |
| 4 | | 215.55 | 17.19 | 13.19 |
| 5 | | 389.35 | 18.16 | 18.06 |
| 6 | | 732.78 | 25.85 | 22.32 |
| 7 | | 217.65 | 10.77 | 10.14 |
| 8 | | 356.31 | 23.91 | 14.79 |
| 9 | | 329.81 | 11.26 | 9.64 |
| 10 | | 209.40 | 30.37 | 21.44 |
| 11 | | 810.51 | 24.16 | 20.11 |
| 12 | | 256.99 | 17.87 | 13.93 |
| 13 | | 238.73 | 22.70 | 19.50 |
| 14 | | 211.99 | 14.03 | 7.87 |
| 15 | | 242.12 | 21.33 | 16.82 |
| 16 | | 297.03 | 33.48 | 21.29 |
| 17 | | 235.91 | 14.71 | 11.70 |
| 18 | | 221.79 | 12.07 | 8.91 |
| 19 | | 270.15 | 55.51 | 19.42 |
| 20 | | 303.51 | 17.04 | 13.34 |
| | | 363.93 | 24.19 | 16.82 |
If AMZN is removed, the rest have an average P/E of 20.7 and Forward P/E 14.8. That is not extreme. Of course, it all depends on the accuracy of earnings forecasts and a continuation of healthy economic conditions. If the U.S. economy begins slowing to the degree we expect, all bets are off.
From a fundamentals perspective, we expect positive, yet decelerating, revenue and earnings growth. Historically, earnings recessions tend to start up to 12 months after the yield curve inverts. Clearly, it is not time to panic. Consumer-oriented companies (XRT) will serve as a leading indicator to a broader earnings recession.
As for sector allocation, we continue to favor late-cycle plays, notably Energy and Basic Materials. Our September 28 commentary summarizes our argument for Energy stocks. Oil Exploration & Production stocks (XOP) are likely experiencing what we saw with all risk assets in February 2009. While we got into the XOP and various oil names too early in 2018, those who bought the S&P 500 in December 2008 are not complaining today.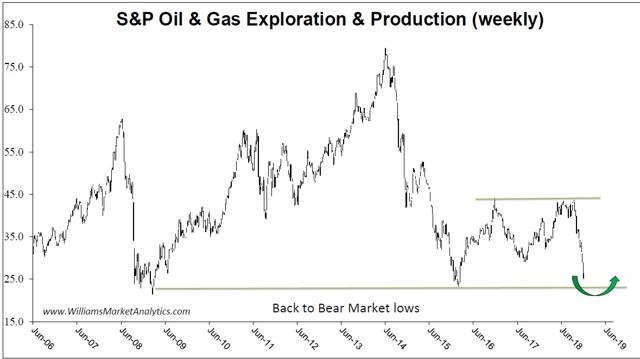 Source: EODHistoricalData.com
The Energy and Basic Materials sectors are the only areas of the U.S. market that we are taking a buy-and-hold approach to at this stage. While all Natural Resource funds are down big in the fourth quarter, there is nothing to do except forget about the investment and wait. Our Natural Resources selection has done well vis-à-vis the North America Natural Resources Index and especially well relative to active managers who tried to time a bottom in Energy stocks, exited on price weakness, and then will buy back after prices rise.
In terms of global equity allocation, we are bullish on several Asian and Latin American markets. Our main interest in Emerging Markets is due to their underperformance during the stock cycle which began in 2009.
Big picture, Emerging Markets (EEM) have suffered, in relative terms, one of their worst periods. The chart below shows the MSCI Emerging Markets Index relative to the S&P 500. We are talking -65% underperformance versus the S&P 500 since 2011. In the 1990s bull market, the S&P 500 blow away EM. In the Tech Bubble burst and 2002-2007 bull market, it was EM stocks that dominated. During the Fed Bubble (2011-2018), U.S. stocks again blew away EM stocks. We guess that this pattern will continue over the next cycle, this time again in favour of EM stocks.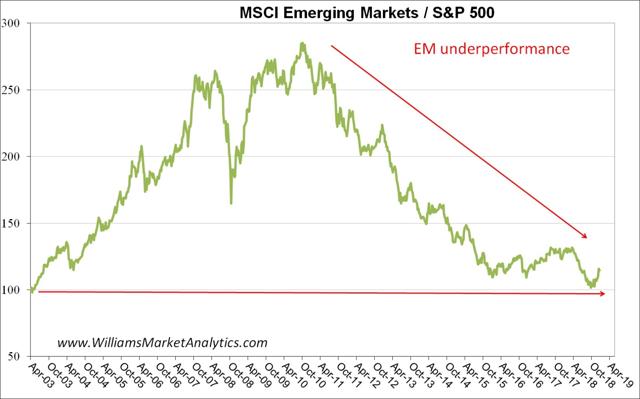 Source: EODHistoricalData.com
In addition to being underowned relative to U.S. equities, Emerging Markets will not have to deal directly with the fallout of years of inappropriate monetary policy in developed nations. The potential headwinds for EM trade in 2019 will be a prolonging of the trade wars, slowing growth in China, and dollar strength.
The Emerging Markets we will specifically look to overweight in 2019 are Brazil, Colombia, the Southeast Asian markets, China, and Turkey.
As mentioned in Part 2 of this series, Jair Bolsonaro, the new Brazilian president, has brought some relief to Brazilian financial assets. Brazilian equities have already begun outperforming world equities on the prospects of reform.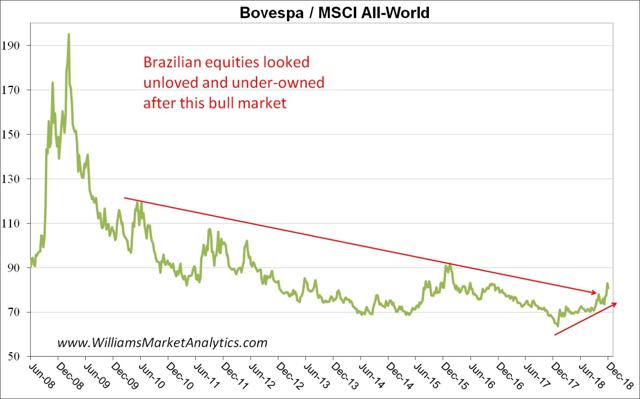 Source: EODHistoricalData.com
The Bovespa is trading at a forward P/E 13.27x, at the low end of its historical range. For dollar-based investors, using the MSCI Brazil tracker (EWZ) gives additional exposure to the Real, which we also like.
Colombia is another Latin American market trading at attractive valuations (11.89x forward earnings) and has been decorrelated from the QE-juiced U.S., European, and Japanese markets.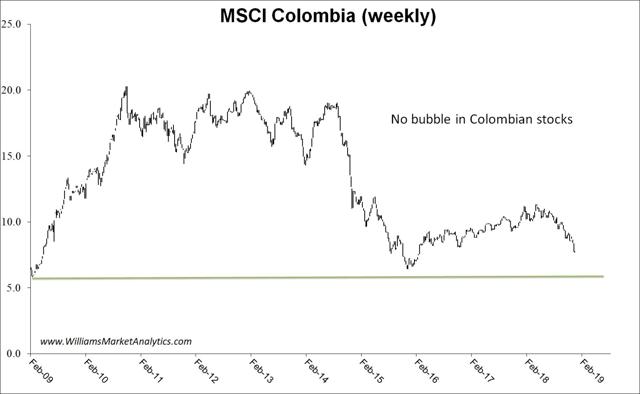 Source: EODHistoricalData.com
The Asian trade will be impacted by numerous factors in 2019. Global trade plays an important role in these export-oriented economies. A resolution to the trade war will help Asian stocks more than US stocks. Next, Fed rate hikes impact parts of Asia as much as the U.S. Many Asian central banks (such as the Hong Kong Monetary Authority) are forced to raise rates along with the Fed, even if their economies are not needing tighter policy. If the Fed ends rate hikes here, it can only be positive for Asian stocks. A third factor which will impact Asian stocks is oil prices. High oil prices are both a drag on consumption and reduce dollar liquidity in Asian markets. Unless oil prices get back above $80/barrel, however, we don't see oil prices as a major headwind for Asian stocks.
Indonesia is on our country allocation list for 2019. Jakarta trades at 16.53x forward earnings and may be getting a bit pricey relative to other EM markets. We won't hold Indonesia if a lower low is put in on the Jakarta Index during 2019. We invest in Indonesia via the EIDO tracker and are expecting underlying currency returns to boost performance as the rupiah appreciates back towards its 20-year mean. Indeed, looking at a chart of EIDO, one sees that Indonesian stocks in dollar terms are currently -30% below 2013 highs!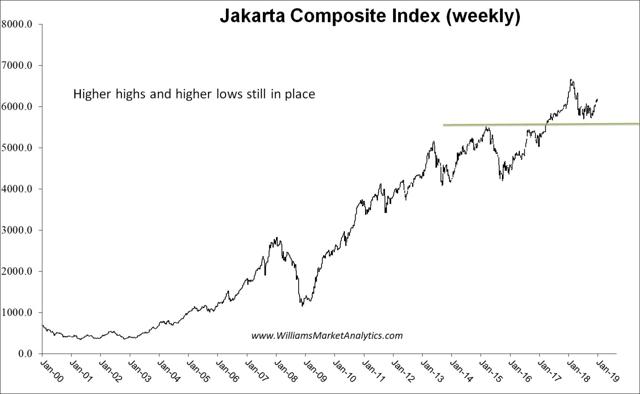 Source: EODHistoricalData.com
Singapore trades at an even more attractive multiple of 12.50x forward earnings. The nation's stock market has not run up with U.S. stocks, so we like the decorrelation potential going forward. We use the EWS tracker, which gives underlying exposure to Singapore dollars. Singapore is one of the strongest nations in terms of trade balance and national debt, so we would not worry about exposure to SGD.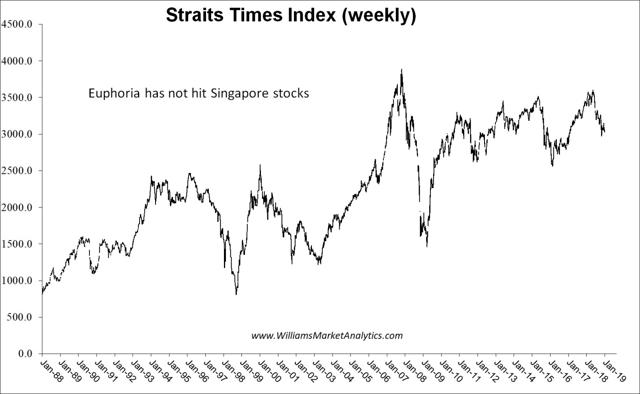 Source: EODHistoricalData.com
Malaysia is a bit more expensive at 16.63x forward earnings. We like diversifying into another Asian nation, and especially the exposure to the ringgit, as explained in the Currency section. We use EWM to get exposure to both Malaysian stocks and the ringgit.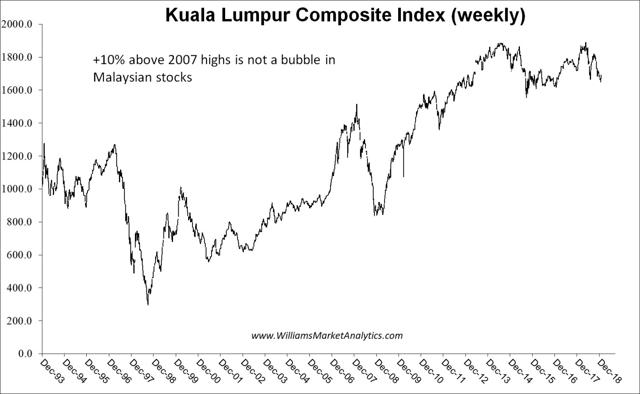 Source: EODHistoricalData.com
The Philippines is in the same situation as Indonesia. The index trades at a bit more expensive ratio (17.58x), but we will stay long the Philippines index, provided it does not make lower lows. Again, it is the underlying currency, the Philippines Peso, that is of interest to us. We use the EPHE tracker to get exposure to both Philippines stocks and the peso. To give readers an idea of the magnitude of the currency return-to-the-mean trade, EPHE (Philippines stocks in dollar terms) is over -20% below its 2013 highs.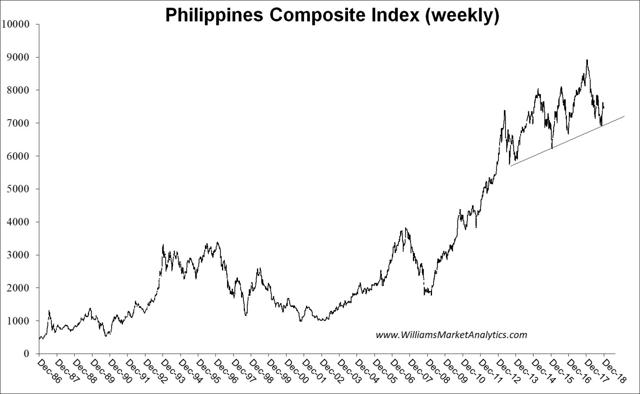 Source: EODHistoricalData.com
While China's mainland stock market is looking ugly, we know that it's a "no-brainer" to get invested in the world's next economic superpower at bargain prices. The China A-shares index (CSI 300) is only trading at 10.71x forward earnings. While we won't jump in with both feet yet, we have a soft target around the 2014 lows. Perhaps the time to resolve the trade war and we'll get down to this rising trend line on the index. We use ASHR to get exposure to Chinese A-shares stocks.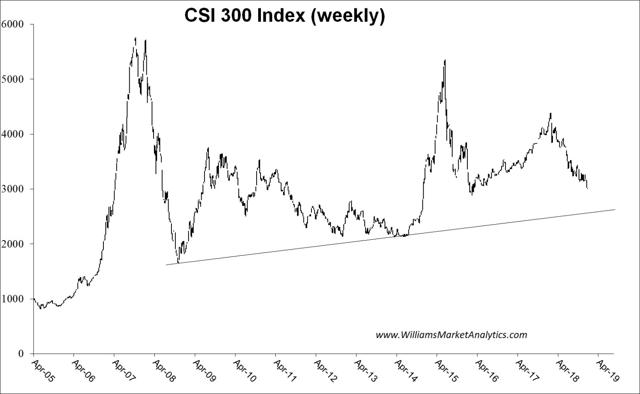 Source: EODHistoricalData.com
We picked up Turkish shares during the crisis in Turkey last August. So far, this has been a good trade for us. Turkish stocks (in dollar terms) remain at crisis levels, 25% off the panic lows of August. At 6.59x forward earnings, it is probably the cheapest country worth owning at this time. The local currency index below came down sharply in 2018 but remains in a long-term uptrend. Indeed, Turkey is another currency play, as the lira is still -30% below its 2018 high from January. We use the TUR tracker (which pays a nice dividend) to get exposure to Turkish stocks and the lira.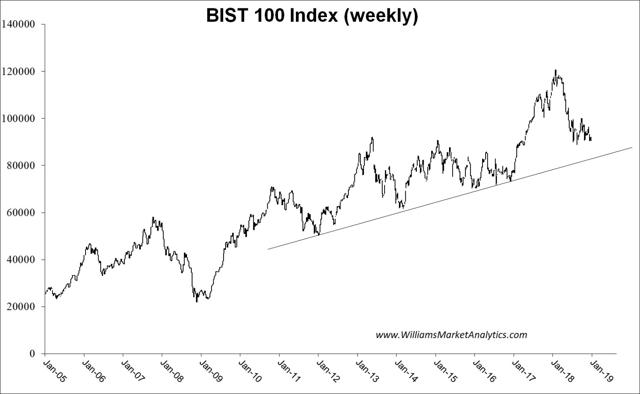 Source: EODHistoricalData.com
Final Thoughts For 2019
We believe that 2019 will be a year of transition. The bull market in the U.S. will likely continue to form a top below 2018 highs, the euphoria for growth stocks will fade as value regains importance as an investment criterion and U.S. equity markets surrender relative outperformance to non-U.S. equity market.
The new year will also be challenging (or rather frustrating) for those who have gotten too comfortable sitting in passive index fund products. A focus on downside protection will be required, including relying on a manager selecting the best companies and not blindly following capitalization-weighted equity indexes lower in the name of "cost savings". Our focus in 2019 will be on high-quality earnings (while not overpaying for that quality) and solid balance sheets, while avoiding firms that begin seeing EPS and revenue revisions revised down.
Active investors will need to start thinking like nimble day traders. Volatility is back. The roller-coaster gets bigger in 2019. Extreme volatility comparable to the Great Depression 1930s, where five times over ten years the broad market in the U.S. rallied about 100%+ before crashing. The reasons today might be attributed to the impact of mass media on market sentiment, to the use of inverse and leveraged ETFs, to computer algorithms, or even to the Fed and other central banks. But there will be important geopolitical narratives to consider, like (i) the crude oil rebalancing programs of OPEC and Russia, (ii) explosive conflicts in the Middle East, (iii) Brexit, and (iv) possible impeachment and removal from office of Trump and the end of his tariffs/trade wars. We may finally be in a time of socio-political and economic instability where gold becomes a portfolio staple.
At WMA, our strategies will adhere to the thinking laid out in this commentary. Our macro DGR Strategy will be focusing on non-U.S. equities with greater attention to downside protection. The DGR may opportunistically short U.S. indexes on rallies that peter out. We really like our Top Picks portfolio going into 2019. Top Picks will be avoiding U.S. index component stocks and focusing rather on value-oriented companies (notably in the Energy space) along with foreign companies with strong fundamentals. We update our fundamental scores weekly for Top Picks and run our trading models daily. Being attentive to both improving/deteriorating companies fundamentals as well as possible inflection points in stock price trends will be necessary in order to outperform in 2019. Finally, we remain patiently invested in the fundamentally strongest Energy companies and miners in our Natural Resources portfolio. The bull market peak in broad equity indexes appears to be coinciding with the bear market trough for the Energy sector.
Disclosure: I/we have no positions in any stocks mentioned, and no plans to initiate any positions within the next 72 hours. I wrote this article myself, and it expresses my own opinions. I am not receiving compensation for it (other than from Seeking Alpha). I have no business relationship with any company whose stock is mentioned in this article.