Aeglea Biotherapeutics (AGLE) is a microcap orphan disease targeted company with a single lead product candidate that just started phase 3 study in ARG1 deficiency disease. The company recently reported positive data from a phase 1/2 study. ARG1-D is an ultrarare pediatric disease with an unmet medical need. Given the pediatric angle, the morbid and fatal nature of the disease, the unmet need and strong phase 1/2 results, AGLE seems to present an interesting investing opportunity. So we ran AGLE through the IOMachine, our four-factor test for investability in early stage biotech, and we found the following results.
Catalyst
There is no real near term catalyst. Data from the phase 3 PEACE study will be released in late 2021. However, INDs from its other pipeline candidates, publication of phase 1/2 data etc could be minor catalysts before the main event two years down the line.
Previous trial data
AGLE reported interim clinical data from its phase 1/2 study in October. ARG1-D results in excessive arginine in blood plasma because arginase, an enzyme that removes arginine by converting it to urea and ornithine in the presence of water, is depleted in the body due to a genetic problem. Excess Arginine can cause a number of symptoms including "spasticity, impaired mobility, and developmental delay, typically presenting in early childhood," some of which can be fatal.
AGLE's pegzilarginase, a pegylated, cobalt-substituted human arginase 1, was able to effectively and sustainably lower plasma arginine levels. Below is an excerpt from the company's presentation at the 2018 American Society of Human Genetics (ASHG) Conference.
Methods: Data are from an ongoing Phase 1/2 clinical trial and Phase 2 Open Label Extension study of intravenously (IV) administered pegzilarginase in patients with ARG1-D. In addition to evaluations of safety, pharmacokinetics and effects on plasma arginine and related guanidino compounds (GCS), clinical outcomes assessments were incorporated at baseline and follow-up, including 6-minute walk test (6MWT), Berg Balance Scale (BBS), and Gross Motor Function Measure (GMFM-66). Safety assessments include physical examinations, laboratory tests, anti-drug antibody (ADA) evaluations and ECGs.

Results: All enrolled patients had disease manifestations including hyperargininemia, neuromotor, and neurocognitive deficits. IV pegzilarginase, added to standard disease management, rapidly lowered plasma arginine into the normal range in all patients and was well tolerated except for a single infusion associated reaction in one patient. This infusion reaction was managed with dose interruption, medication, and a slower infusion rate without further adverse events. Sustained reductions in arginine, GCs, and improvements in several clinical tests of neuromotor function were observed in the first two patients during repeat‑dose treatment. Dietary protein intake also increased in these two patients.

Discussion: These data from the Phase 1/2 clinical trial and Phase 2 Open Label Extension study demonstrated the first evidence of clinically relevant treatment effects in neuromotor function with pegzilarginase beyond what can be achieved with standard disease management. Pegzilarginase produced marked and sustained reduction of plasma arginine and GCs in patients with ARG1-D. Additional insights are expected from recently enrolled adult and pediatric patients, as well as from longer term dosing in previously enrolled patients.
As we can see here, the trial measured not just the reduction of plasma arginine, but also clinical outcomes like 6-minute walk test (6MWT), Berg Balance Scale (BBS), and Gross Motor Function Measure (GMFM-66). Pegzilarginase was generally well-tolerated, and it was able to rapidly bring down plasma arginine to normal levels after just 8 weeks of repeat doses. These patients (4/6) also had clinically meaningful improvements in mobility and/or adaptive behavior. Most importantly, Pegzilarginase was able to do all this at a level never before seen with standard treatment. Also note that since the drug is human derived, there's less chance of allergic reactions to it. In the study, only one patient had a injection site reaction which was managed by treatment modification.
Execution
The company has about $81.7mn in cash per the latest corporate presentation. This provides a cash runway until mid-2020, so we are probably looking at either some debt or dilution before we can see phase 3 results.
AGLE received a Rare pediatric disease designation in October, which means that if the drug is approved then the company will receive a pediatric review voucher that can be sold to a third party for a considerable amount of money.
Here's a snapshot of the insider buy/sell at AGLE:

Source
and a look at fund ownership: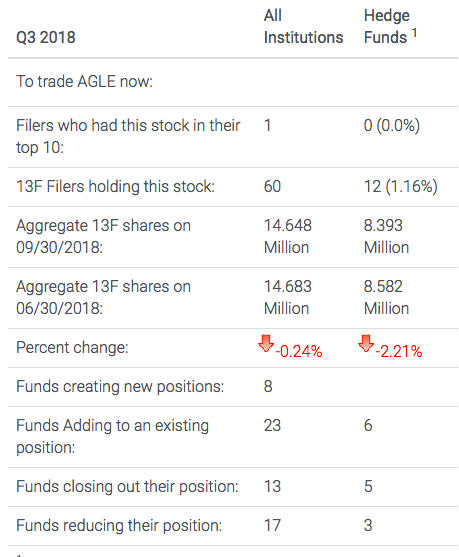 As we can see, there's been some recent purchases and institutional ownership is also decent for such a small and early stage company.
Competition and market potential
Since this is an ultraorphan disease with no currently approved therapies, there is no competition from existing products. There are some steroids that are currently in use, and some other medications, but none of them present serious competition.
Another aspect here is that ARG1 deficiency is often mitigated by ARG2, hence patients tend to have a longer lifespan than other urea cycle disorder patients.
Calithera (CALA) is developing its own arginase inhibitor, although its lead indication is in oncology, whereas with AGLE, oncology is in early stage preclinical pipeline.
Erytech, a French company with an ADR, is in early preclinical stages developing a treatment for ARG1-D.
So, basically, in this lead indication, AGLE is years ahead of competition. However, that cannot be said of the rest of its early stage pipeline.
The company has claimed to have identified 170 patients out of the total 600 patients globally. One assumes that the identified patients are mostly in the US/EU area. If there are 200 patients in the developed world, then we can envisage a market potential of between $100mn to $200mn based on a per patient cost of $500,000-$1mn for this ultrarare pediatric disease.
Opinion
We have no particular opinion on AGLE. There are two risks associated here. First is that this is a really rare disease and the market potential is not huge. True, once approved, the drug can potentially address other urea cycle disorders or other indications - even oncologic ones - where arginase deficiency takes a part. However, that is many years away.
The other risk is almost certain dilution before phase 3 results are declared - which is always a risk in such early stage investments.
Given these investment-risks and the long term catalyst, we prefer to sit on the sidelines until we see the effects of the dilution sometime in late 2019 or so. Other than that, the company does appear interesting, and we may take a position after dilution.
Disclosure: I/we have no positions in any stocks mentioned, and no plans to initiate any positions within the next 72 hours. I wrote this article myself, and it expresses my own opinions. I am not receiving compensation for it (other than from Seeking Alpha). I have no business relationship with any company whose stock is mentioned in this article.
Editor's Note: This article covers one or more microcap stocks. Please be aware of the risks associated with these stocks.