Earthstone Energy, Inc. (NASDAQ:ESTE) is an independent upstream oil and gas company operating out of the Midland Basin and Eagle Ford. Among the seven C-suite members, the average years of professional experience is about 34 years - maintaining the core goal of sustaining strong internal IRRs, achieving positive free cash flow, and, ultimately, growth for shareholders.
Under existing operating conditions, management believes they are generating exceptional returns on existing drilling and well production. The company has rapidly expanded production capacity in the last several quarters and generated approximately $160 million in net sales in the trailing-twelve-month period: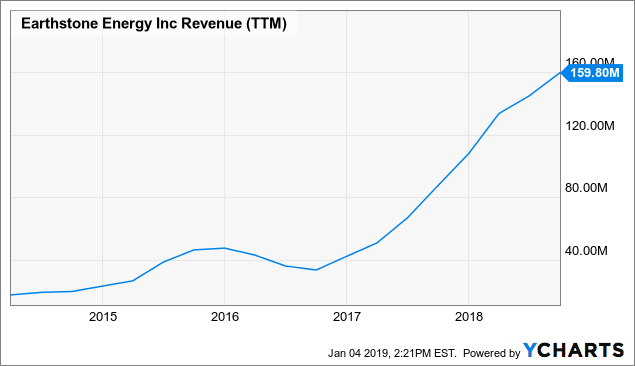 In third quarter, sales exceeded analyst consensus by $4 million, and operating margins showed incremental improvement, partially attributed to lease operating expenses declining relative to production. Management qualified it as the best quarter in the company's history, which appears right, given the record-breaking $34 million in EBITDA generation. So far, tight cost controls have provided exceptionally strong operating margins, resulting in similar if not better performance than industry peers: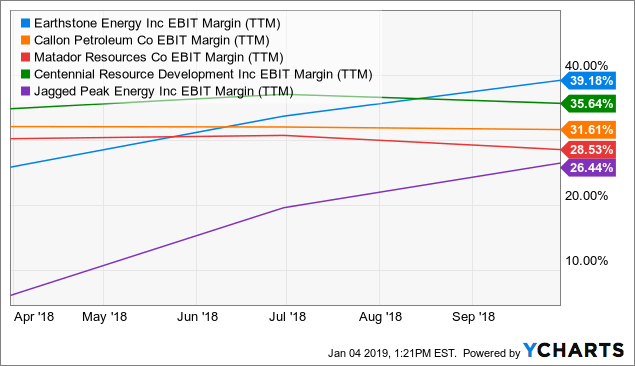 President Robert Anderson stated in the latest Q3 conference call that their recent trade transactions have allowed them to replace non-operating wells for currently operating ones, which will lead to a continued reduction in LOEs. This transition will help maintain their solid margin profile. So far, the company has generated approximately $120 million in Q3 TTM EBITDA. With the assumption of continuous production growth, EBITDA should track solidly higher in the coming years.
Hedging Update
ESTE indicates that they maintain solid economics on many of their well locations even with crude oil at $40/bbl. WTI remains comfortably above that level based on rig activity and production finally ratcheting back from marginal producers. During the last 4 years, crude has only traded below $40 for a few short months. Conversely, if crude oil prices recover to $60/bbl, well IRRs dramatically improve.
According to its latest slide-deck released a few days ago, management has increased its hedges to approximately 8.3bbl/d at $63. This program will significantly benefit economic production and cash flow carrying through all of 2019. They have also layered modest hedging activity for 2020 at $66, and these can be liquidated if their expectations change for commodity markets. Some gas production has also been hedged near spot levels.
Executive Compensation
Across the entire team, total cash salary is just over $1.7 million based on the latest proxy statement. There were also a few millions of restricted equity options afforded. Overall, the cost of management through SG&A and equity compensation is small when compared to $120 million in EBITDA and ~$120 million in operating cash flow. Given EBITDA will continue to expand and may rise beyond $200 million, a base-case among sell-side analysts, investors are paying little for solid performance in a volatile environment.
Leverage Analysis
In short, the company really doesn't have any leverage. In hindsight, the recently canceled Sabalo acquisition would have been complicated amid low oil prices and weak financing conditions. Preferreds and debt issuance would have leveraged up the balance sheet, and the financing would have come in at an expensive rate. Additionally, there could have been some integration risk.
Instead, however, we are looking at the standalone business. Comparing $120 million in Q3 annualized EBITDA to $35 million in gross debt gives the company a debt/EBITDA of 0.3x. Even using the most aggressive definition on leverage, comparing liabilities to assets gives us a very modest 17%. Unsurprisingly, the business maintains an inexpensive revolving credit facility of 3.9%. The amount outstanding is $35 million, while the remaining availability is $190 million, which could be used on additional bolt-on acreage trades or smaller acquisitions to push growth.
Valuation
At $5.20, ESTE's market cap stands at $354 million. Cash on hand will be needed for working capital and capital expenditures, so it will not be used, but the debt should be added. Using today's run rate puts the company at approximately 3.2x EV/EBITDA. If the company can trend towards $200 million in EBITDA, there is significant upside without re-rating:

At a 3x multiple, the stock should be priced at ~$8/share.
The company has also begun to limit its burn rate. Over the last three quarters, cumulative free cash flow losses were only $24 million, which is annualized to $32 million. LTM capex spend was budgeted at $140 million. If the company has sustained production growth and doesn't have large capex increases, it will be on the path to positive free cash flow within a year or two. Positive free cash flow would be considered attractive among investors and industry competitors that often run wide and long-lasting cash flow deficits.
Larger competitors in the Permian may find ESTE as an interesting acquisition target too. While each executive has their own experience, Robert Anderson had an exceptional tenure with GeoResources, running as COO, and helped grow the business from a few hundred million dollars only to later have it sold for nearly $1 billion in early 2012. Between proper development and the strategic sale, the company's market cap grew nearly 2-fold in a short time.
Bottom Line
Earthstone Energy is a growing and highly cost-efficient E&P operator. For 2019, it maintains a healthy hedge book which will support EBITDA stability and cash flow in today's price environment. With minimal debt and an attractive valuation of 3x EBITDA trending towards 2x EBITDA, the company appears undervalued by itself and relative to shale industry peers. With the prospect of recovering oil prices in the year ahead and the possibility of positive free cash flow, investor sentiment should improve from here. Thank you for reading and please comment below.
Disclosure: I am/we are long ESTE. I wrote this article myself, and it expresses my own opinions. I am not receiving compensation for it (other than from Seeking Alpha). I have no business relationship with any company whose stock is mentioned in this article.