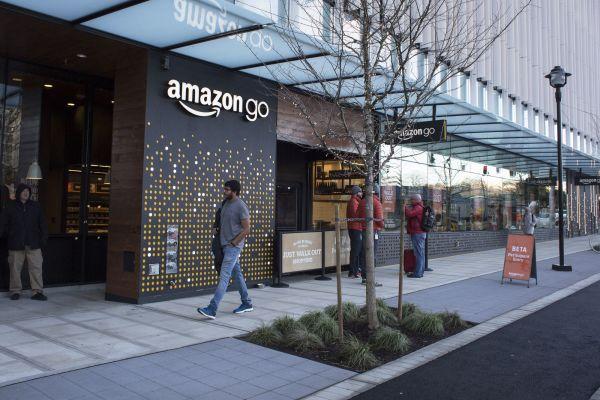 Source: CNBC
Legend has it that Alexander the Great wept when he discovered there were no more worlds for him to conquer. While the time may come when Amazon (AMZN) CEO Jeff Bezos may feel the same, it is not yet, even though he recently alluded to a time when the company would likely fail and eventually go bankrupt, when talking to some employees at a recent company event.
So, are his competitors nipping at the fringes of his empire, which could result in it imploding as it's taken over, or does Bezos and Amazon still have a lot of aggressive expansion plans that will continue to put competitors on the defensive and responding to his strategy, rather than going on defense to defend the mighty Amazon empire?
In this article, we'll look at what Amazon and Bezos are doing to maintain their competitive edge, and how the company is ramping up its move into physical stores in order to maintain growth and potentially take market share away from a number of competitors it hasn't directly competed with in the past.
Is Amazon in any danger of failing in the near future?
In an "all-hands" in mid-November 2018, Amazon employees expressed concerns over two major topics. One was the bankruptcies of Sears (OTCPK:SHLDQ) and other retailers, and the other was the potential consequences of increased scrutiny from several governments in different parts of the world.
Along with the U.S., major economies like the EU and Japan have either launched an investigation or are considering opening up investigations concerning potential antitrust violations. The EU has already initiated a probe of the use of merchant data by Amazon.
While the large size of Amazon does make it a political target because of how soundly the company has trounced its competitors, from a traditional meaning of antitrust in the U.S. it would be hard to make a case against the company. It would even be harder to do so on the global level.
For example, eMarketer reported Amazon will account for about 48 percent of e-commerce sales in the U.S. for 2018, up 5 percent from 2017. That total will come in at about $252.1 billion in the U.S. for the year, up 29 percent from 2017.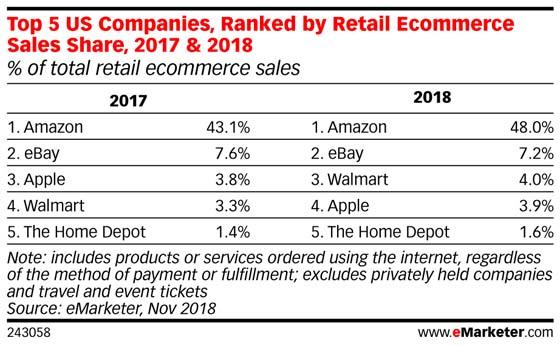 Source: eMarketer
At a glance, that could appear ominous for Amazon as it continues to grow online market share, but in reality, it only accounts for 9.8 percent of total retail sales in the U.S., and when including global retail sales, it doesn't even reach 1 percent of overall sales, according to Jeff Wilke, Amazon's CEO of the worldwide consumer division.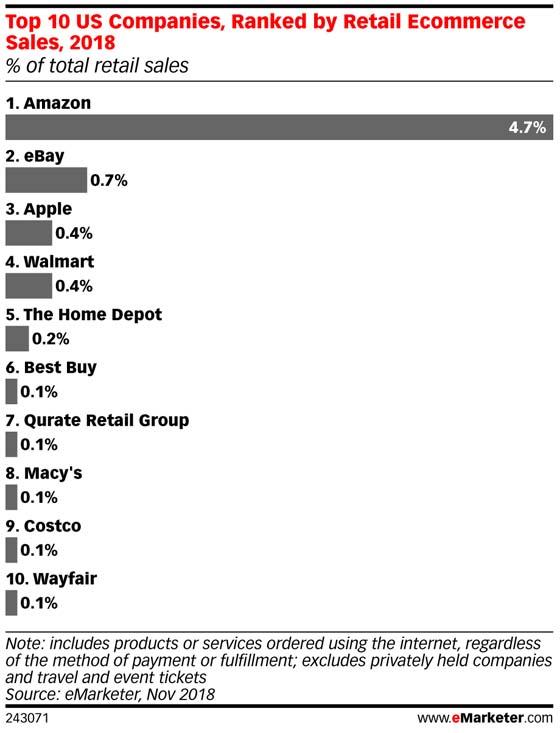 Source: eMarketer
As for the company's AWS cloud business, it has a market-leading 34 percent share in the U.S., but that's far from monopoly territory that would trigger antitrust action. This is why merchant data and privacy are scrutinized more than its market share.
As for the performance of Amazon, Bezos noted that it "is not too big to fail. In fact, I predict one day Amazon will fail. Amazon will go bankrupt. If you look at large companies, their lifespans tend to be 30-plus years, not a hundred-plus years."
That's actually an accurate statement he made. When you look at the Dow or S&P 500, many companies from the past no longer even exist. And that isn't primarily from mergers - the majority of them disappeared as a result of bankruptcies.
He went on to say the longevity of the company will be determined by employees making an effort to "obsess over customers" and not to focus inwardly. "If we start to focus on ourselves, instead of focusing on our customers, that will be the beginning of the end. We have to try and delay that day for as long as possible."
While the internal concern is real, the fact at this time is Amazon is not in danger of failure from a competitive or antitrust point of view. Even if there are lawsuits filed or judgments on the company attempted, I think as it stands today, it would be extremely difficult to prove any type of monopoly or antitrust case. As mentioned earlier, the exception to my thesis is in areas like data, where the company could be fined and have to change some of its practices. I don't see that as a meaningful threat for now.
Expanding its physical stores
Whole Foods
When thinking of Amazon's strategy to build out a presence via physical stores, it needs to be broken into a couple of categories: larger and smaller stores. The reason for that is they will serve different purposes for the company, even though there may be some overlap in relationship to storage lockers located within some of the stores.
Concerning the larger stores, that's obviously referring to Whole Foods. There's been some recent buzz in the media from an article in the Wall Street Journal that reported Amazon is going to expand the number of Whole Foods stores in the U.S. as well as their size.
As always with Amazon, there are a large number of moving parts with most of its initiatives. With Whole Foods you have the increase in margins and earnings from its product line, storage capacity, entry into the physical retail market, food delivery growth in some markets, and enhancing its Amazon Prime service, to name a few.
There's no doubt in my mind Amazon is upping the ante with its competitors, forcing them to remain on the defensive and respond to what it's doing. It will require a lot of spending on the part of Walmart (WMT) and Kroger (KR), in particular, to compete with Amazon. That's specifically true with Prime Now, which offers a two-hour delivery service in the markets it's offered.
As for the size of the new stores, they're estimated to be about 45,000 square feet. To give you an idea of what that is, the old Walmart stores were about 50,000 square feet, so the new Whole Foods stores - if reports are accurate - will be a little smaller than that.
Jay Jacobowitz, president and founder of Retail Insights, said this to WholeFoods Magazine: "While the original Whole Foods Markets catered to natural, organic and foodie customers, Amazon's goal is to make delivering food quickly to a larger percentage of U.S. households feasible. The reportedly larger, 45,000-square-foot model, compared to the 30,000-square-foot '365' store model, will likely accommodate pickup and delivery space separate from the retail areas."
Beyond revenue growth from increased grocery sales, Amazon should continue its prior practice of opening kiosks in the new Whole Foods stores, where it trains workers to promote and explain the growing number of Amazon devices. It has also had kiosks that don't include trained staff at some locations.
Whole Foods has also been part of Amazon's growing locker footprint, where customers are able to pick up order when it's convenient for them. There are already over 2,800 lockers in the U.S., and that number will continue to grow.
As for Prime, many of Amazon's customers say they frequent Whole Foods as a result of the discount perk they get by being Prime subscribers. That's important to me, because since Amazon Prime has taken off, it hasn't yet been tested by a recession. How many subscribers will cancel has yet to be determined. I think this is one reason, among several, why the company continues to shore up the benefits of being a member of Amazon Prime.
One final thing concerning Whole Foods is the expected change in product mix that is likely to come. If that happens, it would change the customer base of the store, probably expanding it to a wider audience, but losing some of the margin and earnings performance of the stores that came from organic products alone. That could be offset by scale.
Amazon could also decide to compete solely on service in the early stages to see if it can maintain its margins at the stores.
AmazonGo
In September 2018, Bloomberg, citing people familiar with matter, asserted Amazon was getting close to aggressively accelerating its AmazonGo strategy, saying by 2021 it could have as many as 3,000 stores opened.
The going has been slow for AmazonGo, as the company has worked on tweaking the stores to get the best results, as well as determine the overall costs of opening each outlet, which is reportedly fairly high, costing over $1 million each, according to Bloomberg. That means in order to reach 3,000 stores, it would have to pay out over $3 billion over the next three years.
Based upon the initial few stores the company has opened, it appears it is deciding on a meal-on-the-run concept, a convenience store model, or possibly a combination of the two. Since Amazon has said it has no interest in doing what has already been done, I'm thinking it's going to be a combination of the two, or possibly, depending on the location and market of the store, each of them.
One could argue that the differentiator would be the cashierless experience, but since that, over time, could be copied by its competitors, it's likely it'll offer more than a quick transaction alone as the impetus behind the stores.
The rapid rollout of the stores, if that is how it plays out, would mean once again competitors would have to scramble to figure out how to compete. In the near term that would favor Amazon, and even after a period of time, it's questionable if they will be able to match the efficiency of Amazon. After all, after many years, retail heavyweight Walmart is still struggling to gain e-commerce share from Amazon.
Offering prepared foods would be a good decision, as it would allow the company to become profitable quicker with AmazonGo because of the wider margins that come with that service. It would also presumably lower initial costs, because the number of cameras and sensors needed to provide a grocery-focused store would be reduced. That assumes it would be only a prepared food store. If it is grocery-focused or a combination of the two, upfront costs would still be high.
If Bezos believes he has a winning concept, the reality is, based upon historical evidence, he won't mind paying out what is needed to quickly roll out the stores.
As with almost all of Amazon's businesses, providing convenience and as seamless process as possible to its customers is the chief differentiator. With the AmazonGo project about to take off, it's obvious the company has found what it likes and has made a decision on the direction to take with AmazonGo.
The concept looks very good for Amazon, even if its upfront costs are high. According to analysts from RBC Capital Markets, AmazonGo stores bring in approximately 50 percent more revenue than the traditional convenience store does. RBC estimates AmazonGo stores will each generate on average about $1.5 million per year, resulting in about $4.5 billion in revenue if the company does roll out 3,000 stores by the end of 2021.
Another thing to take into consideration will be if the stores are placed in close proximity in targeted markets, in order to lower costs. How much of an impact that will make will depend on the makeup of the stores being opened. Prepared food would probably be the most impacted on the positive side, because the company could centralize its food production in one place and deliver to nearby stores.
Also of interest is a report from Reuters in early December 2018 that said the company is looking to place AmazonGo stores in airports. The main purpose in that, in my view, would be for branding rather than generating a lot of revenue.
Two other types of physical stores Amazon has been getting into are physical book stores and Amazon 4-Star retail stores. I'm not going to cover those in this article, but they are something that should be watched by investors - especially the 4-Star stores, as they have the potential to take off quickly as well. I think the physical book stores are going to be much more modest in impact on the performance of the company.
Conclusion
So far, Amazon has been primarily targeting more affluent customers with its physical store strategy. With that market alone, it has enormous growth potential. If the company decides to expand to lower-income markets, the sky is the limit on the revenue side, although margin and earnings would likely come under pressure some.
Amazon perma bull DA Davidson recently suggested the company would get a lot of benefit from adding gas stations to its physical store strategy. DA Davidson said it would "provide the company thousands of commercial locations to advance its delivery efforts." Included in the idea was the value it would add to Amazon Locker's pickup locations, or including AmazonGo as part of the stores. Analyst Tom Forte said the revenue stream would be significant as well, citing Costco Wholesale generating about 10 percent of its revenue from gasoline sales.
The total number of convenience stores in the U.S. are 155,000, and 122,500 of them sell gasoline, according to NACS data at the end of 2017. Total sales not including gasoline at the stores is almost $250 billion.
I have no idea if Amazon is thinking in these terms, or if it's thinking of competing against the dollar stores in the future. The point is that in the physical store segment, there are enormous opportunities for a company if it's able to differentiate in some way from its competitors.
One of the major moats Amazon has is the fact it can look at different market sectors and build new businesses around them that stand out against competitors and, most of the time, provide better services. Bezos has stated that differentiation is the key. Offering "a me-too product" won't work, he recently said.
The reason why Bezos is going into the physical retail space so aggressively is because there are obviously glaring inefficiencies Amazon can exploit and improve upon for consumers. It is already proving it can identify and improve on Whole Foods, and I have no doubt its rollout of AmazonGo and other initiatives is going to generate a lot more revenue and earnings for the company.
This is specifically true with its current emphasis on targeting affluent consumers looking for an improved and faster shopping experience. In the third quarter, physical stores accounted for 7.5 percent of Amazon's revenue. That number is going to continue to increase, even as its e-commerce revenue increases. That means extraordinary growth in the years ahead, and a growing number of ways to improve the stickiness of Amazon Prime. The day may come when Amazon fails, but based upon its current performance and expansion into physical retail, that day is a long way off.
Disclosure: I/we have no positions in any stocks mentioned, and no plans to initiate any positions within the next 72 hours. I wrote this article myself, and it expresses my own opinions. I am not receiving compensation for it (other than from Seeking Alpha). I have no business relationship with any company whose stock is mentioned in this article.