Without a doubt, one of the worst-performing closed-end funds that I follow over the past three months is the BlackRock Energy & Resources Trust (BGR). The name of this fund should be an indication of why it has performed so poorly as the fund invests in the energy industry, which has taken a real beating as oil prices have plummeted since October. This has resulted in this fund's distribution yield rising to 8.29%.
The unfortunate thing though is that this weakness may continue, particularly if the economy slows down in 2019. There are a few unique factors about this fund that may help it buffer any weakness in the market though and those factors could make it a decent way for investors to maintain an energy allocation in their portfolios and generate a high distribution yield while they are at it.
Oil Price Performance
As anyone reading this is no doubt aware, oil prices declined by 37.23% in the fourth quarter of 2018.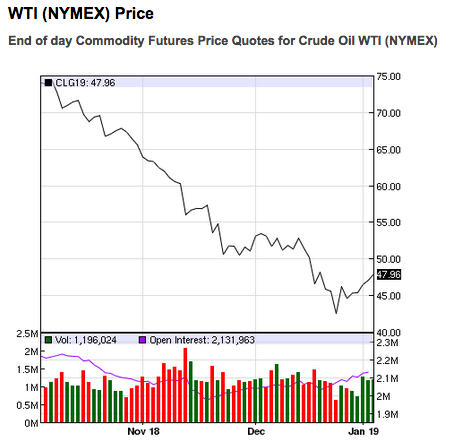 Source: Nasdaq
One of the reasons for this is the pullback in everything that occurred over the same period. This was simply due to investors pulling their money out of risk assets en masse due both to rising interest rates and growing fears of a recession.
There are a few factors that are contributing to this steep recent decline in oil prices in addition to this, though. One of these is that the major center of the recent production growth in the United States, the Permian Basin in West Texas, does not have sufficient pipeline capacity to take all of the produced oil to market. I discussed this in a recent article. The result of this is to reduce the price of WTI crude since the market has to take into account the added costs of getting the produced crude to market (alternative methods of transportation are more expensive than pipelines). This is the same problem that Alberta has been suffering from that ultimately forced the province to order its oil producers to reduce their production.
We also saw oil prices negatively impacted by record production in the United States, which resulted in fears that the world would find itself oversupplied with oil. While the recent OPEC agreement appears to have softened these fears somewhat, this could be a very real concern should the global economy weaken in 2019 and the United States not cut its shale production (which is possible as long as WTI remains under $50/barrel).
Impact On The Fund
The BlackRock Energy & Resources Trust has been negatively impacted from this due to its heavy investments in some of the world's largest energy companies. Here are the ten largest holdings of the fund and their weightings:

Source: Fund Website
The fund's two largest holdings, Royal Dutch Shell (RDS.A) (NYSE:RDS.B) and Exxon Mobil (XOM), account for an enormous 23.93% of the fund. These are also two of the largest energy companies in the world so they will naturally be affected by a decline in oil prices.
While the fund as a whole is heavily exposed to energy companies, which is exactly what we would expect, it does have very outsized exposure to only a handful of companies. As I have mentioned in several past articles, I dislike seeing any single asset have greater than a 5% weighting in a fund. This is because that is about the level where an asset begins to expose the fund to idiosyncratic risk. Idiosyncratic risk is company-specific risk so what this means is that if some event occurs that causes the stock price of a heavily-weighted company to decline independently of the market then it may drag the fund as a whole down with it.
As we can see here, there are four such companies in the fund and while all four of these are among the largest and most well-capitalized energy companies in the Western world, this is still a risk that investors should be aware of.
Earlier in this article, I mentioned that the fund takes certain measures to help it more comfortably ride out weakness in the energy markets. The way in which it does this is by writing covered call options against the assets in its portfolio. The writing of covered calls is generally a safe options strategy as the worst thing that can happen is that the fund will be forced to sell shares of a stock that it already owns at the strike price of the option.
As it will not need to go out onto the market to buy the shares at a potentially higher price than the strike price of the option, there is no risk of potentially infinite losses. This does, however, cap the potential gains in a good market. That does not appear to be a problem in today's market, though. In exchange for this, the fund receives an upfront premium that will either boost total return when the option is not exercised or help to offset losses in a declining market. Currently, the fund has these options written against 33.91% of its portfolio. This is a figure that normally varies between 30%-40%, which represents a good compromise between improving current returns and providing upside potential.
Distribution
One thing to notice is that all of the companies in the fund's top ten holdings pay out a dividend. In addition, several of these, including Royal Dutch Shell, Exxon Mobil, BP (NYSE:BP), and Total (NYSE:TOT), boasts a relatively high yield. As a result of this, we may expect BGR to boast a fairly solid distribution yield. This is indeed the case, as the fund yields 8.29% as of the time of writing. While this is higher than what many things in the market do, it is not nearly as high as what some other energy funds yield, particularly those funds focusing on MLPs. For example, the First Trust Energy Income & Growth Fund (FEN), which I discussed in a recent article, yields 11.96% at the time of writing.
One thing about the fund's distribution that may worry some investors is that a high percentage of the total distributions are classified as return of capital:

Source: Fidelity Investments
The reason why return of capital can be worrying to investors is because it represents a distribution in excess of income. Thus, the usual assumption is that a fund regularly making return of capital distributions is essentially returning an investor's own money back to them and thus depleting its net asset value. There are, however, other things that can cause a distribution to be classified as return of capital. For example, distributions from master limited partnerships are normally classified in this way.
In addition, if a fund receives premiums from selling call options against its portfolio holdings, as this one does, and distributes that money to investors, that is also considered return of capital. The most important thing is whether or not the return of capital distributions are destructive to net asset value. This does not appear to be the case here: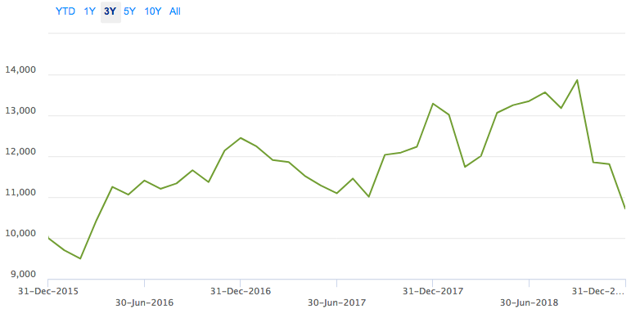 Source: Fund Web Page
Therefore, there is little need for investors to worry about the characterizations of the distributions as return of capital and should instead simply enjoy the tax benefits.
Valuation
As is always the case, it is critical for us to ensure that we do not overpay for any asset in our portfolio. This is because overpaying for an asset is a surefire way to ensure that we receive suboptimal returns from that asset. In the case of a closed-end fund like BGR, the usual method to value it is to use net asset value, which is the value of all of the fund's assets less any outstanding debt. In other words, it is the amount that we would expect to receive if the fund were completely liquidated.
Ideally, we want to purchase shares of the fund when they are trading at a price that is less than net asset value as this essentially means that we are acquiring the underlying assets at a price that is less than net asset value. As of the time of writing, BGR has a net asset value of $12.55 per share. As the fund is currently selling for $11.24 per share, it is trading at a very attractive discount of 10.44% to net asset value. This is a good price to purchase the fund.
Conclusion
Overall, the performance of BGR is likely to be influenced by oil prices and if we continue to see weakness here, which seems likely as the United States has a very real chance of falling into a recession in 2019 or 2020, then the fund as a whole will likely deliver disappointing performance. However, the presence of so many dividend-paying stocks in the portfolio along with the writing of covered calls should still help the fund provide a reasonable source of income while we wait for oil prices to improve.
In addition, these premiums from covered calls should help the fund's total performance exceed that of the energy sector as a whole. These factors make the BlackRock Energy & Resources Trust a reasonable way to maintain exposure to the energy industry in your portfolio.
At Energy Profits in Dividends, we seek to generate a 7%+ income yield by investing in a portfolio of energy stocks while minimizing our risk of principal loss. By subscribing, you will get access to our best ideas earlier than they are released to the general public (and many of them are not released at all) as well as far more in-depth research than we make available to everybody. We are currently offering a two-week free trial for the service, so check us out!
Disclosure: I am/we are long FEN. I wrote this article myself, and it expresses my own opinions. I am not receiving compensation for it (other than from Seeking Alpha). I have no business relationship with any company whose stock is mentioned in this article.