Editor's note: Seeking Alpha is proud to welcome Aran Ali as a new contributor. It's easy to become a Seeking Alpha contributor and earn money for your best investment ideas. Active contributors also get free access to the SA PRO archive. Click here to find out more »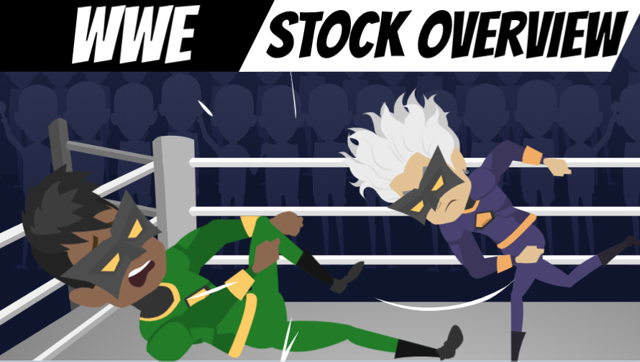 World Wrestling Entertainment, Inc. (NYSE:WWE) has had a massive run-up on its stock in the last few years. In this article I discuss why the growth of the company is very limited given its niche audience and sparse content selection. Because of this, the upside of the company is capped and the company is a hold or very soft buy, in my opinion.
I will first go over the growth story in detail to gauge an understanding of the business fundamentals as well as the "why" in regard to its tremendous stock price appreciation to date. And then explain why I think growth and investment returns on this stock are capped and limited for the foreseeable future. Let's begin...
Every stock tells a story and sometimes the script changes, in the case of World Wrestling Entertainment we saw them in the middle of a fundamental macro change in entertainment, media and content. And has benefited immensely. What are we talking about exactly here? Well understanding historically that the TV industry as a whole was largely controlled by big cable companies. The middle men that connected the audience to the content provider acting as guards at the gate and to have any chance of showing up on their lucrative TV slot times guess what? You had to pay a substantial amount of money. For example up until recent, the traditional model had pay about half of its revenue to cable companies. And for most of WWE's history as a publicly traded company that was an unfortunate but acceptable reality.
Their stock price and business model were both predicable but ultimately lack luster and flat lined. It went public in 1999 and from then to 2016 the stock was down -25%; talk about patience not paying off. But then things changed, taking a page out of Netflix's playbook they decided to provide their content directly to the audience. They believed they had enough of a committed audience that interest would be sparked. And they were right! The transformation resulted in 1.8 Million subscribers. By bypassing cable companies and directly connecting with the consumer, we saw a company whose revenue jumped to all time high's. And, since January 2017, that has resulted in a near 300% return on their stock.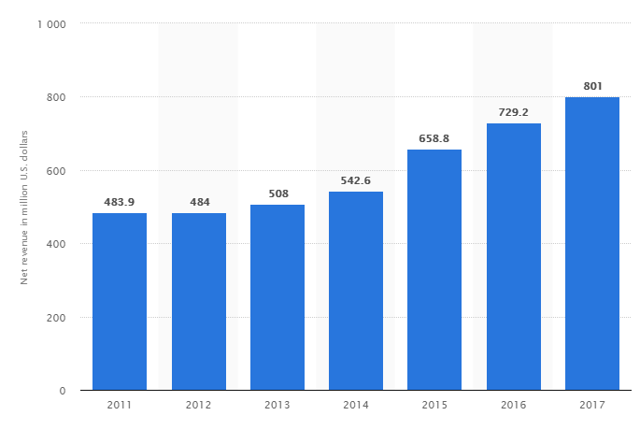 Source: Net Revenue (in millions)
In Q3 2018, revenues increased 9% to $142.1 million largely due to the continued growth of Network that yielded a 9% increase in average paid subscribers to more than 1.66 million (note paid subscribers not subscribers total).
The company has 3 revenue segments: media, live events and consumer products. It's media that has all the attention. The other two parts have stabilized whilst media has reinvigorated the company. Here are the sales growth in the three segments from 2016 to 2017:
| | |
| --- | --- |
| Live Events | +5.00% |
| Consumer Goods | +5.00% |
| Media | +10.00% |
Comparing 2016 to 2018 and the figures show more drastically the growth the company has experienced. In particular, in Q2 2018 Media revenue jumped to 202.6 Million compared to a 121.9 Million. This speaks out to the substantial improvements and strategic initiatives the company has taken.
A 66% jump and, in fact, we are without Q4 2018 data yet and still the combined media revenue in 2018 is larger than the 2016 media revenue - even without a whole quarter of sales!
2018 media revenue (Q1 to 3 combined) = $478.1 Million
2016 media revenue (Q1 to 4 combined) = $476.9 Million
Here is our video version of this article: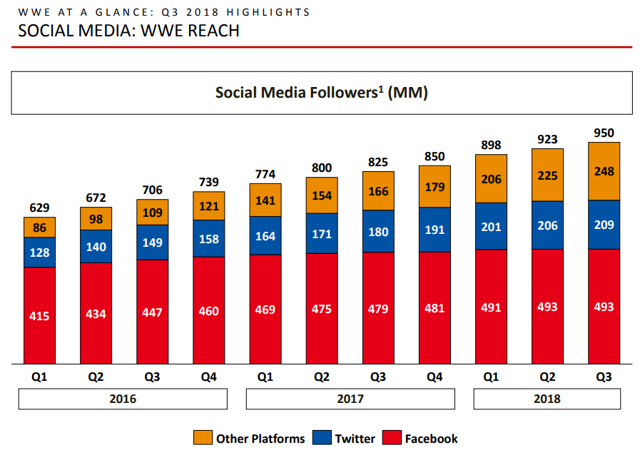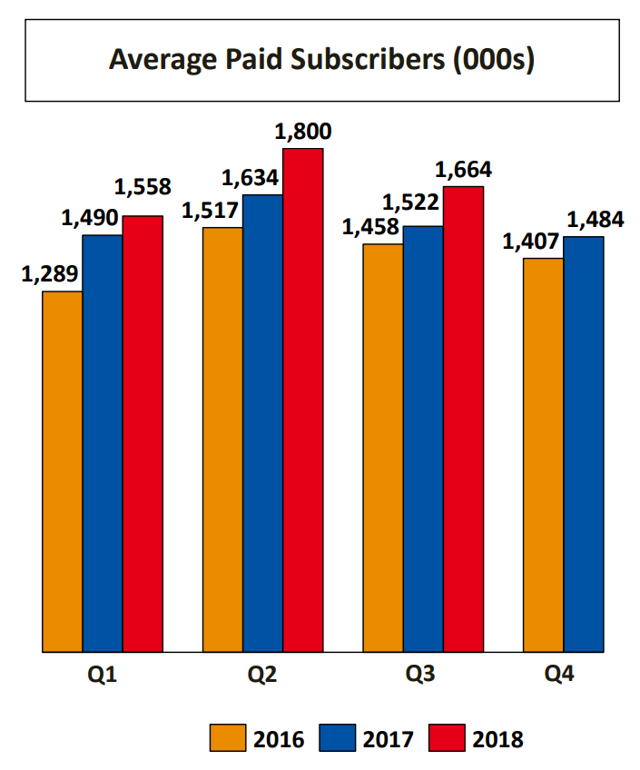 Source: WWE's Growing Social Media Outreach
As you can see, the company has gone through a number of initiatives to clear the clutter and have a more direct relationship with the consumer. And that is either through direct content or a larger social media presence. This can be expected to continue with the loyal fan base it holds. But, the reality is the growth on this stock has been due to a fundamental change in the business model rather than the business itself.
Meaning it is still the wacky, fake wrestling that has a devoted fan base. But also one that typically has a hate it or love it relationship. In my experience, people either adore it or every now and then say to themselves, "wow, I didn't know they still had that on."
It changed how it collects sales and pays for costs in an attractive manner. But it may also be said that the growth and change is currently priced in to the stock. 300% increases usually suggest so. It doesn't have the platform to grow exponentially the way Disney (NYSE:DIS), Netflix (NASDAQ:NFLX) and other content creators due because they don't have a variety of content. Let's take a look at the two.
| | |
| --- | --- |
| WWE | Netflix |
| 1.66 million paid subscribers | 137.1 million paid subscribers |
| $5.6 Billion Market Cap | $116.3 Billion Market Cap |
| 2017 Revenue: $800 Million | 2017 Revenue $11.69 Billion |
| 5 year average sales growth: 13.1% | 5 year average sales growth: 44.69% |
In other words, WWE has 1.2% of the subscribers Netflix has, but 4.8% of the market value, their sales growth is also lackluster compared to Netflix.
There's something for everyone on the other aforementioned businesses that is Netflix and Disney, the ability to attract a wide array of audiences based on age, genre of content as well as the ability to appeal to different geographical markets where consumers have distinct preferences is something WWE cannot emulate.
So unless large portions of the rest of the world suddenly become avid viewers, it will always have a very niche, specific business with somewhat of a glass roof over its head. Which reiterates my viewpoint that as content creators and entertainers they have limited growth and limited upside on their stock. In fact, it can be said that the wild ride is for the most part done with and anyone considering investing now is somewhat late to the party.
However, paid subscribers are growing and that is something that should be applauded. Paid subscribers and the media business segment are the figures one needs to look at most closely if you have interest in this stock as they are the ones that will fuel the company for years to come.
To conclude, I think WWE has some growth in its engine, especially outside of domestic markets where things are less saturated. However, one must consider the run-up on the stock, which has made it riskier. Most Wall Street analysts have recommended a buy/hold with an upside ranging from 15-25%. I'd say that's a fair valuation.
But don't buy into the noise and euphoria associated with the stock. I hope this article has shed some light on revising the stock from a more fundamental stand point.
Disclosure: I/we have no positions in any stocks mentioned, and no plans to initiate any positions within the next 72 hours. I wrote this article myself, and it expresses my own opinions. I am not receiving compensation for it. I have no business relationship with any company whose stock is mentioned in this article.