Some reprieve for Tencent (OTCPK:TCEHY) (OTCPK:TCTZF) investors - Chinese authorities have resumed game approvals - a key development going forward for the company.
The background story is as follows: China's efforts to combat gaming addiction combined with reshuffling of its various regulators culminated in a nine-month-long freeze on new video game approvals which started this year, wiping off close to $200bn off Tencent's market value since its peak in January this year.
Fast forward to the final week of 2018, where China approved 80 new video games. Although the titles did not include any from Tencent's stable, the uplifting news should bring about good cheer for the stock going into 2019.
After all, Tencent is heavily reliant on video games for its revenue. As seen from the chart below (sourced from Business Insider), out of all public companies, Tencent makes the most from its gaming segment. In fact, Tencent's gaming revenue is almost double that of second-placed Sony (NYSE:SNE).
Tencent's gaming segment (from both online games and PC games) makes up about 64% of the company's overall revenue, according to the Q1 2018 financial data released by the company.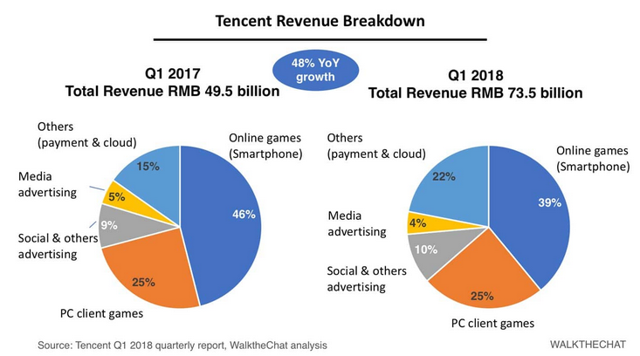 Now the picture becomes clearer with regards to Tencent's reliance on gaming revenues. The freezing of game approvals in China was therefore an immense body blow to the company - to the extent that it was forced to cut its marketing budget for video games. The company also went through a bout of restructuring; its first in six years.
Given the negative operating environment Tencent suddenly found itself in this year, shareholders promptly punished the company by selling the stock. The Tencent ADR stock currently trades about 35% below its 52-week high, as seen from the chart below. However, with the recent easing of regulatory pressure, I believe the share price will convincingly turn the corner in 2019.
Chart: Tencent ADR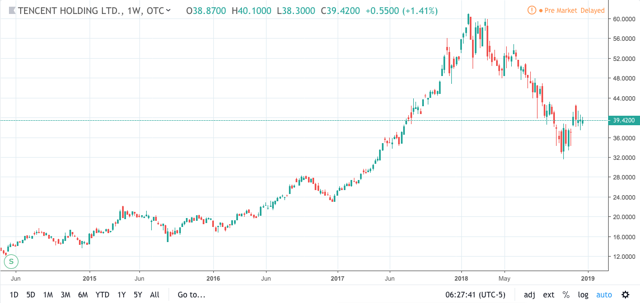 Going into 2019, I strongly believe the company should see its fair share of game approvals from the authorities. Approval to introduce desktop versions for two of the world's hottest games - PlayerUnknown's Battlegrounds and Fortnite - would be a good start. This will help boost investor sentiment surrounding Tencent's gaming revenues.
The rest of the company's divisions are not at all worrisome - I wrote in "Tencent: Enormous Potential, Multiple Growth Drivers" that aside from games, the company is able to leverage on growth drivers including social media, cloud computing, and advertising for its revenue growth. In the Q2 results released in August, Tencent reported that the monthly average user base of WeChat was 1.05 billion, a healthy increase of 9.9% YoY. A growing social media base supports Tencent's massive ecosystem of games and value-added services, such as the purchase of online stickers or avatars.
In the Q3 results released in November, Tencent's advertising revenue grew by a whopping 47%, which shows the synergies the company's various departments have with one another. Its powerful social media presence enhances the attention received by its games. Tencent's growing user base is an advertiser's dream, and it subsequently helps to rake in advertising dollars.
Tencent also dominates the Chinese mobile payments market, which grew to ~$17bn in 2017, according to figures from iResearch. In fact, this market is growing so fast that the People's Bank of China has had to step in to prevent Chinese retailers from rejecting customers who want to pay for goods using physical cash.
In essence, buyers of Tencent are essentially putting their money into a stock that has seen its gross revenue and net income grow by a CAGR of ~30% from FY14 to FY17, and which can boast of a robust profit margin of ~30%. These are impressive statistics, even by Tech standards.

Source: Bloomberg
On a more macro level, trade tensions between US and China appear to be cooling. Of course, this may turn around very quickly, given Trump's notorious temperament, but signs going into 2019 are positive. US has postponed trade tariffs on China for at least 90 days, and Trump spoke of "big progress" on a trade deal with China in the final week of 2018. All in all, a more amicable relationship between both global giants should help stoke risk-on flames in the equity markets, thus giving a boost to Chinese equities, which are down about 25% (based on the Shanghai Composite) on a year-to-date basis.
The risk-reward is heavily tilted for a 2019 recovery in the world's biggest gaming giant. Tencent is well-positioned to ride a huge secular trend - a rapidly growing global gaming market. China surpassed US as the world's largest gaming market in terms of revenue in 2015, accounting for ~$25B out of the total global gaming revenue of $100B. This year, the global gaming market is expected to grow to $115B. With regulatory pressures and red-tape easing in China, this could be the boost Tencent badly needed to restart its stuttering gaming engine.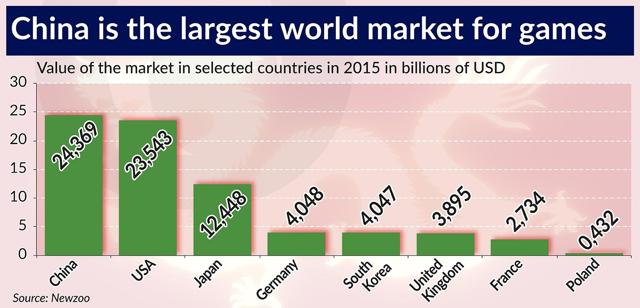 Disclosure: I/we have no positions in any stocks mentioned, and no plans to initiate any positions within the next 72 hours. I wrote this article myself, and it expresses my own opinions. I am not receiving compensation for it (other than from Seeking Alpha). I have no business relationship with any company whose stock is mentioned in this article.