2018 has been a difficult year for investors, as increases in interest rates and quantitative tightening policies of the Federal Reserve have created headwinds for asset prices around the world. I've navigated this investment environment by focusing on the most oversold and cheap assets I can find. I believe they are positioned to reap the greatest rewards when the central bank switches to a more accommodating stance toward monetary policy. This has focused my investments towards the precious metals stocks and to a lesser extent emerging market bond funds. The low prices in the precious metals investments can best be visually represented by the TSX-Venture exchange, which we will review below.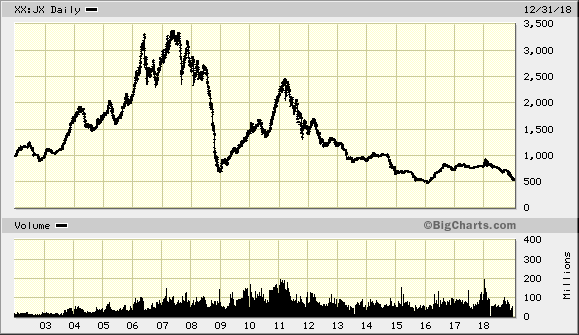 Fear and uncertainty about global trade and economic growth have caused markets around the world to significantly decline in price. Sentiment towards equities has become the most negative since the 2016 election. The dollar and the U.S. stock markets had been the prime benefactors of this situation, showing strength in 2018 while many other markets declined. Now that the U.S. markets have begun to decline in price along with the rest of world assets, the dollar will begin to lose some appeal as investors around the world begin to anticipate the end of the Federal Reserve's monetary tightening cycle and the extreme valuation differences between U.S. assets and emerging market assets will begin to revert towards their historic mean. As the anticipated interest rate hikes are replaced by anticipated rate cuts, interest-sensitive sectors (particularly emerging market bonds and precious metals) stand to benefit.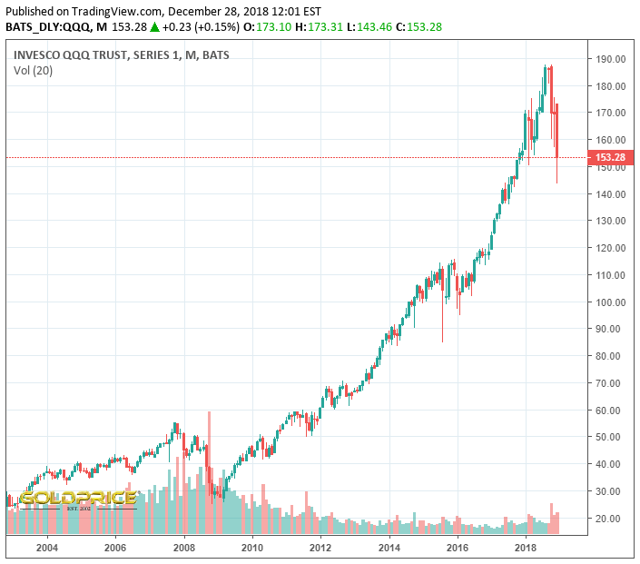 The chart above represents the Nasdaq. Despite the recent decline, it is still very overvalued. While I don't expect it to drop straight back to the prices of last decade, it will likely be a very long time before significant price increases occur in this index. While this market struggles to maintain its all-time peak in price, I believe there are other markets that provide a better risk and reward opportunity at this time, particularly emerging market bonds and precious metals mining stocks. Charts below represent funds of emerging market bonds and gold mining stocks. They appear to be beginning up-trends that could last through 2019 and are much better positioned to benefit from an interest rate/tapering pause than U.S. stocks.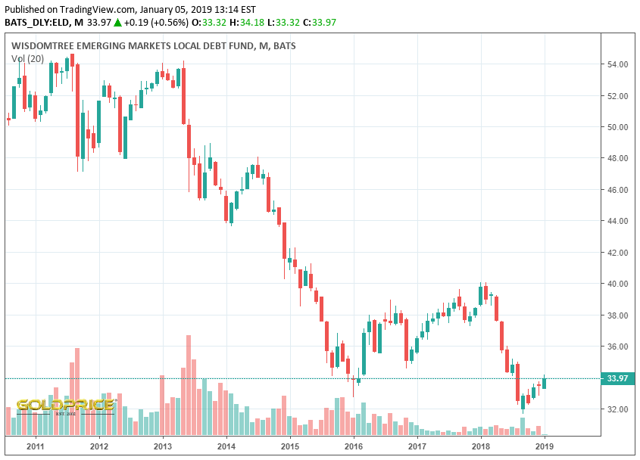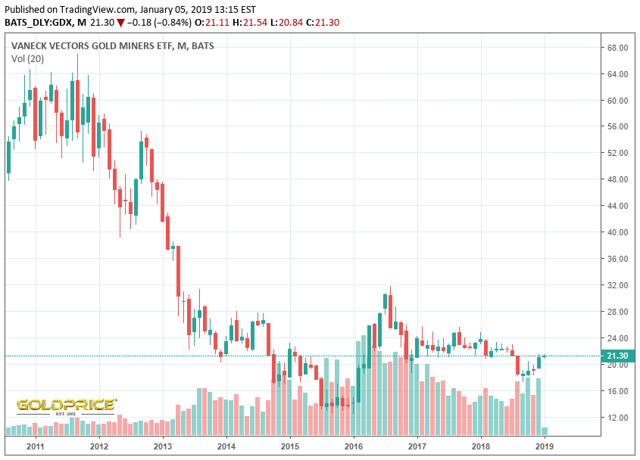 The dollar, as seen below, will continue its gradual global decline from our valuation peak following WWII. The trend is gradually lower with occasional multi-year up-trends. It appears we are ready for the next leg down, as interest in dollars is likely peaking as people have sold assets worldwide during 2018 and fled into the safety of the dollar. The lower high in price, in the face of massive demand, is an ominous sign for the future exchange value of the dollar. The continued deterioration in the US debt situation and pension and healthcare funding issues will also likely weigh on the dollar.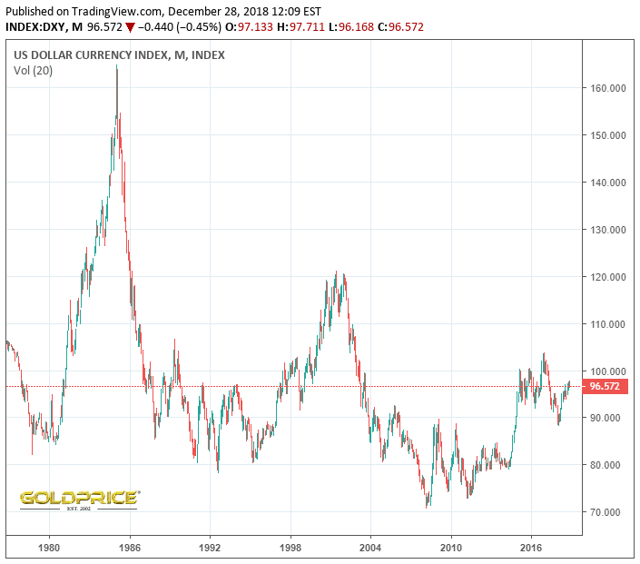 A number of other positive factors exist in the precious metals sector, including heavy insider investment/accumulation and all-time record outflows in GDX and other exchange-traded funds. As the insiders build their positions and the public hits record lows in their investment interest, a bottom is formed in the market. Another positive indicator is the gold/silver ratio; peaks in this ratio mark some of the best times to become an investor in the precious metals sectors, while troughs indicate the best time to sell. Recently, we hit a 20-year high in this indicator around 85 ounces of silver to equal 1 ounce of gold.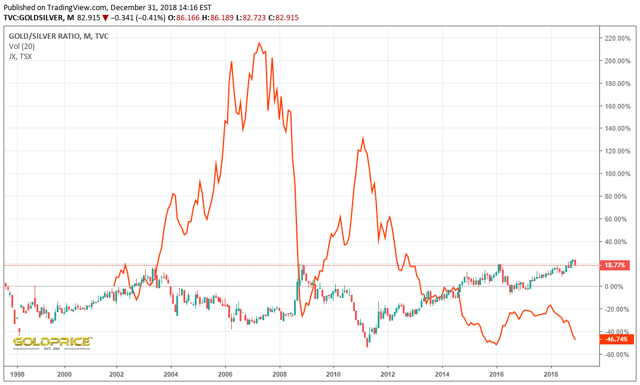 The above chart includes the TSX-V along with the gold/silver ratio. They are negatively correlated with the peaks in the gold/silver ratio occurring with the lows in the TSX-V. We've recently hit a 20-year high in the gold/silver ratio, and the TSX-V is at prices seen at the low of 2016 (right before the index more than doubled in 6 months) and at the bottom of the last financial crisis in 2009, and again in 2003. It appears like one of the best times ever to be invested in precious metals and mining stocks.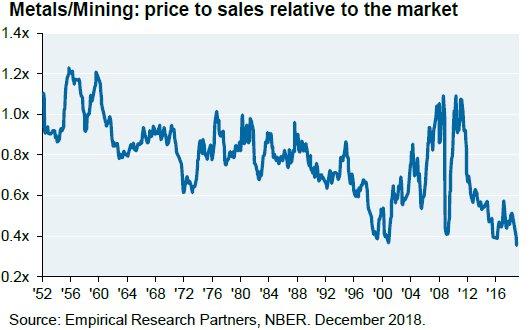 As noted in the chart above, Metals/Mining: price to sales relative to the market is at its all-time low. This ratio indicates we are in a rare period of extreme pessimism, even more, negative than the lows last experienced in 2000, 2009, and 2016. At each of these other occasions, the ratio reversed towards its mean and significant gains were made in the metals/mining stocks.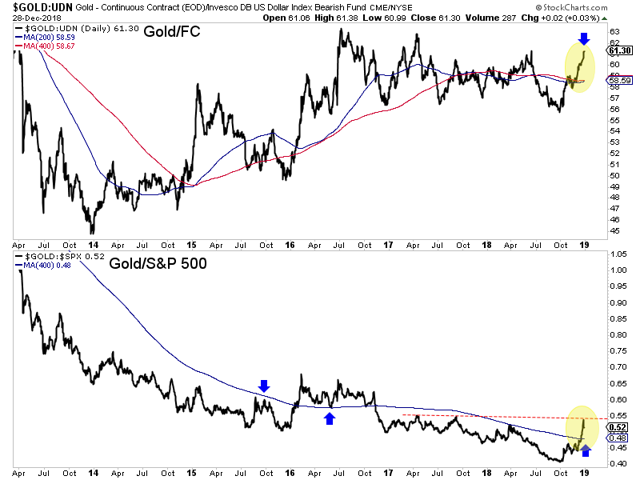 As we can see in the charts above, recent strength in the gold price relative to other asset classes around the world is indicating a change is underway in the global financial system. As gold rises in value relative to foreign currencies and US equities, technical investment indicators suggest it will become a more sought-after investment. We would look for this outperformance of gold relative to other asset classes as a confirmation that other gold-related equities will similarly perform well in 2019.
In conclusion, I believe precious metals stocks and emerging market bonds will perform well in the coming year (GDX) (ELD). Sentiment towards equity investments in general and precious metals, in particular, have reached rare negative extremes as measured by the gold/silver ratio and other indicators. Fundamental valuations are among the best ever as measured by the price to sales ratios. Insiders are buying heavily while less experienced investors are dumping their positions at a record pace. Finally, the technical indicators are demonstrating that gold is beginning to outperform other asset classes. We have the rare lollapalooza moment when everything seems to be aligning for precious metals stocks and emerging market bonds to outperform in 2019.
Disclosure: I am/we are long ELD. I wrote this article myself, and it expresses my own opinions. I am not receiving compensation for it (other than from Seeking Alpha). I have no business relationship with any company whose stock is mentioned in this article.
Additional disclosure: Long Various Precious Metals Mining Stocks and Funds, Primarily TSX-V listed micro-caps.