We warned on Nvidia (NVDA). We warned that it was the prototypical bubble with everyone ready to pony up 15X sales.
This has led to the stock to be valued at close to 15 times sales. Investors buying here will definitely make zero dollars over the next decade, although shorter-term movements are much harder to predict. The last time investors were ready to pony up 8X sales (half as much as today) was in late 2000 and the stock was found meandering at the same level 8 years later.
The stock then took a dive, the pace of which has even surprised most of the bears.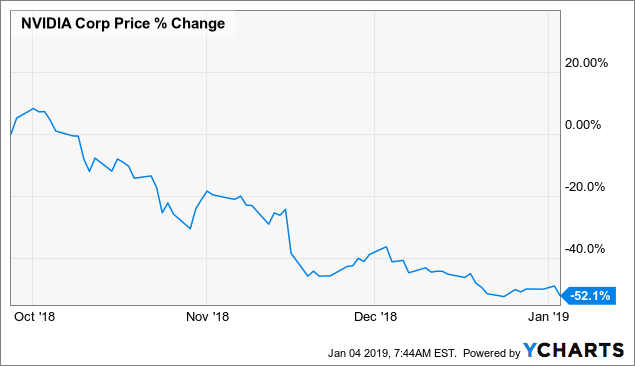 Why we think the stock is likely bottoming
The key driver for any stock over shorter time frames is sentiment. Investors have been absolutely shell-shocked with the deceleration of sales growth. You can see the bubble in NVDA's stock price has tracked the revenue growth in a solid fashion.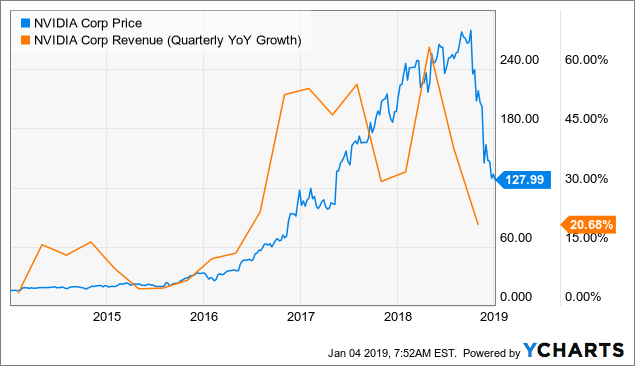 The slowdown in the revenue growth has been made worse by an extremely strong US dollar. As we see below, NVDA gets significant sales from overseas.

Source: NVDA 10-Q
While NVDA does use currency hedges, they only mitigate part of the impact of the appreciating US dollar. As such continuing downgrades of earnings estimates have come from projections of a stronger US dollar persisting over the medium term. We think this is going to change and the US dollar is making a significant top. Our rationale here is that currencies follow interest rates and the huge market selloff has likely made the case for the Federal Reserve to pause and reassess the market. Hence this likely gives the first catalyst to NVDA, where the US dollar switches from a headwind to a tailwind to forward earnings.
The second reason is that on shorter time frames NVDA is likely to impress investors with its gaming and data center revenues. Let's not forget that gaming did a solid performance last quarter and the shortfall came entirely from the crypto bust.
Investors are also likely to focus on the fact that NVDA has now become "cheap." NVDA has shown remarkable growth in revenues over the past 5 years and the forward P/E ratio has moved to the lower end of where it has been.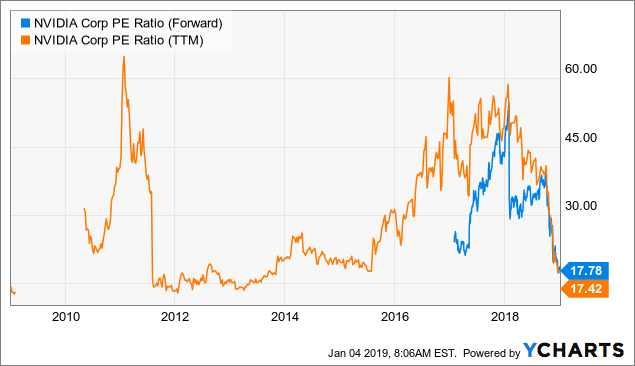 This alongside the buybacks from NVDA likely put a floor on the stock.
Legendary selloffs create legendary rallies
Selloffs feed on themselves and get progressively worse. The current sentiment on technology is one of the worst we have seen. NVDA's own selloff is a testament to that. Below we show NVDA in relation to its 200-day moving average and the 3-month rate of change. We use 3 months (66 days) as that represents a time frame that we think best influences investor psyche.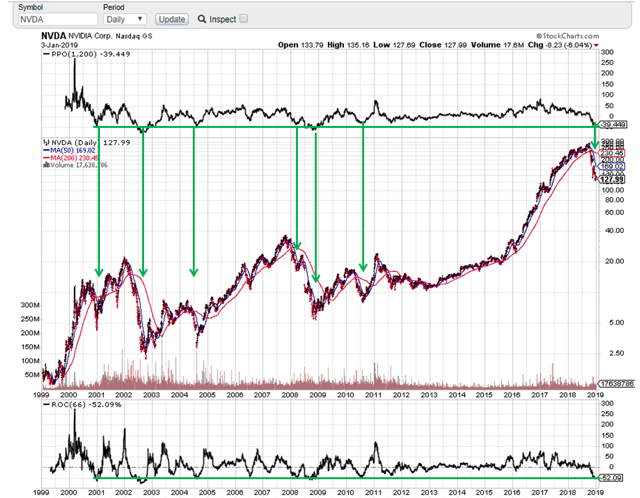 Source: Stockcharts.com
Both of these are at levels seen just 6 times over the past 2 decades. We would note that these levels of capitulation have marked major bottoms for the stock over the past 2 decades. Even during the 2008-2009 selloff we got a 28% rally off the lows before the stock completely collapsed. The one notable failure was the technology bubble burst during 2000-2002. NVDA was trading at a much higher P/E ratio at the time, but even then, it does remind us that no trade or signal is foolproof.
Bounce first, collapse later
While we do wax poetically on NVDA's positives going into the next few months, there is no "refixing" of this bubble.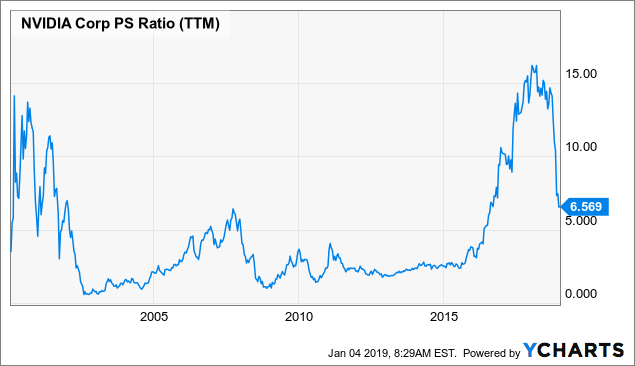 While the average investor is going to look at the P/E ratio and see the "bargain" (and we agree over shorter time frames), institutions know that the only reason NVDA appears "cheap" is because it has unsustainable margins. We warned earlier at 15X sales and while we think we get a rip-roaring rally here, the longer-term multiple will be closer to 1X-2X sales. Another 50% selloff from these levels, over the next 2 years would not surprise us one bit before this stock can be rebought with a longer-term time frame.
Conclusion: Buy now, but do not forever hold your piece
Our unique thought process on NVDA gives us an interesting trade idea. We are playing this through a ratio call spread.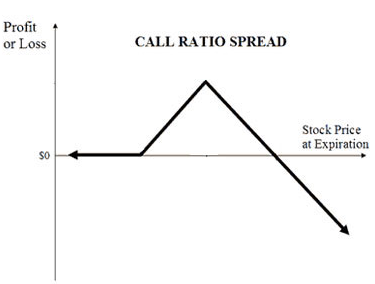 Essentially, we want to bet on a rebound, but we don't think the rally will get too far.
Buy To Open 1X NVDA $150 calls March 2019.
Sell to Open 2X NVDA $165 calls March 2019.
This is a virtually costless entry, albeit with a risk of getting short if NVDA flies past $180 by March expiration. In our experience, ratio spreads can be closed out when the stock reached the higher strike price ($165 in this case) in almost all cases with profit (the deep in the money calls more than offset the two at the money calls). The biggest risk would be if another company decided to buy NVDA at over $180 a share.
For more analysis such as this, please consider subscribing to our marketplace service Wheel of Fortune, a comprehensive service, covering all asset classes: common stocks, preferred shares, bonds, options, currencies, commodities, CEFs and ETFs.
Take advantage of our one-week only special offer: 10% discount introductory fee, two-week free trial, full access to our monthly review (where all trades since launch are), trading alerts, 19-part "Getting Ready For 2019" series (where all 11 sectors plus 8 segments are covered), and our brand new model portfolio (measuring our performance against the S&P 500).
Make your move now! Nothing to lose, plenty to gain!!
Disclaimer: Please note that this is not financial advice. It may seem like it, sound like it, but surprisingly, it is not. Investors are expected to do their own due diligence and consult with a professional who knows their objectives and constraints.
Disclosure: I/we have no positions in any stocks mentioned, and no plans to initiate any positions within the next 72 hours. I wrote this article myself, and it expresses my own opinions. I am not receiving compensation for it (other than from Seeking Alpha). I have no business relationship with any company whose stock is mentioned in this article.
Additional disclosure: We have ratio calls spreads on NVDA. Current delta makes us net long the stock.