Back in November 2018, I wrote about how Borr Drilling (OTCPK:BDRLF) was putting its rigs to work in its conquest of becoming a leading jack-up provider. Recently, the company published its fleet status report which contained new contracts - an information to watch not only for those interested in Borr Drilling, but also for those who care about other companies with significant jack-up presence like Ensco (ESV), Rowan (RDC), Seadrill (SDRL), Noble Corp. (NE). Slowly but surely Borr Drilling is becoming a major force on the jack-up side of the market. Without further ado, let's get straight to the news:
Jack-up Odin (2013) got a new contract from an undisclosed operator in Mexico. The rig will work from March 2019 to November 2019. Bassoe Offshore estimates that the dayrate is $90,000.
Jack-up Frigg (2013) will work for Total (TOT) from January 2019 to March 2019 in Nigeria and then proceed to work for Shell (NYSE:RDS.A) (NYSE:RDS.B) from April 2019 to October 2019. Bassoe Offshore estimates that the dayrate is $60,000.
Jack-up C20051 (1982) got additional work from Total in the Netherlands which will keep the rig busy from January 2019 to February 2019.
Semi-sub MSS1 (1979) got additional work in UK from March 2019 to April 2019 (it's a slot in the current contract with TAQA which ends in November 2019).
Borr Drilling stated that it is in advanced negotiations for jack-up Prospector 5 (2014). The rig might work from late 1Q2019 to 1Q2020 in the North Sea.
Borr Drilling stated that it is in advanced negotiations for jack-up C20051. The rig might work from 2Q2019 to 4Q2019 in the North Sea.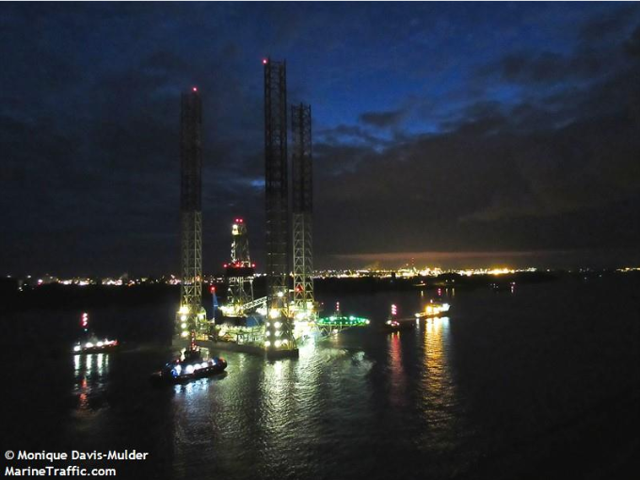 C20051
This is a good start for Borr Drilling in 2019. The company's share price has been under pressure for the last few months together with all other drillers' shares, but the underlying business is working in the right direction. Still, there are plenty of things to accomplish.
Currently, Borr Drilling has eight premium jack-ups available for work. Two more rigs will be added to the fleet this year: jack-up Njord in January 2019 and jack-up Hild in October 2019. Seven more newbuild jack-ups will be delivered in 2020. It remains to be seen how much damage the Brent oil (BNO) slide from $85 to $50 did to shallow water contract activity, but I am cautiously optimistic, especially given the ongoing oil price rebound. I expect to see Brent oil at $70 per barrel sometime this year, which makes me optimistic on drillers' stocks after the major downside moves of late 2018.
Currently, Bassoe Offshore values Borr Drilling's fleet at $2.3 billion-$2.6 billion, a figure that is likely to rise in case the company continues to put its rigs to work (which is highly likely, in my opinion). With long-term debt just below $1 billion and market capitalization of less than $1.5 billion, Borr Drilling is trading at roughly its current fleet value (without newbuilds). To me, Borr Drilling shares look like a value for those investors who are comfortable with OTC stocks and are willing to wait some time for the bull thesis to unfold.
Disclosure: I/we have no positions in any stocks mentioned, but may initiate a long position in ESV,NE,SDRL,RDC over the next 72 hours. I wrote this article myself, and it expresses my own opinions. I am not receiving compensation for it (other than from Seeking Alpha). I have no business relationship with any company whose stock is mentioned in this article.
Additional disclosure: I may trade any of the above-mentioned stocks.