Welcome to our Cannabis Industry Analysis where we analyze the latest and hottest topics in the industry to help you stay ahead of the curve.
Introduction
2018 was a busy year for new cannabis listings, especially the U.S. companies that chose to come to Canada for the CSE. However, most of the new listings have underperformed with many of them trading below their initial listing prices. We will discuss some of the winners and losers and why the new listings have not lived up to investor expectations so far in 2018.
(All prices as of December 31, 2018)
New U.S. Listings
2018 saw many U.S. cannabis stocks coming to Canada to list on the CSE for obvious reasons. Due to restrictions in the U.S., these companies are unable to list on major U.S. exchanges. They were attracted to Canada due to CSE's easy listing requirements and the red-hot financing market for cannabis stocks. 2018's most prominent listings include MedMen (OTCQB:MMNFF), Green Thumb (OTCQX:GTBIF), Charlotte's Web (OTCQX:CWBHF), Trulieve (OTCPK:TCNNF), Curaleaf (OTCPK:LDVTF), Acreage (OTC:ACRZF), Cresco Labs (OTCPK:CRLBF), Harvest Health (OTC:HTHHF), and MJardin (OTC:MJARF).
One of the key observations for these 2018 listings was that most of them have performed poorly and are trading below their initial listing prices. The more recent listings were the worst performers largely due to the fact that the cannabis market was embroiled in a brutal sell-off that affected them particularly hard. However, there are still winners and a number of stocks have delivered strong returns for early investors. Timing was everything and most of the winners are listings from earlier in the year that was able to benefit from the sector rally that lasted between August and October 2018.

The biggest winners are Green Thumb, Charlotte's Web, and Trulieve. All of these stocks were listed earlier in the year between June and September, before the huge rally that began in August when Constellation (STZ) invested $4 billion in Canopy (CGC). We have discussed the huge run-up in the share prices of Green Thumb and Trulieve during the rally as investors bought everything cannabis-related. However, the recent sell-off has also affected these high-flying stocks hard as valuations dropped across the board. Charlotte's Web has been one of the most consistent performers in the cannabis industry and its stock has seen less volatility.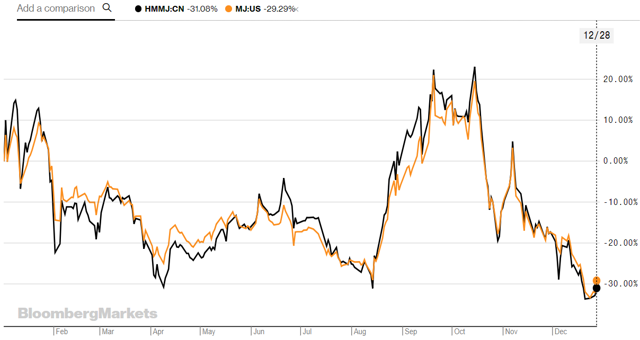 The biggest losers are MJardin, Curaleaf, MedMen. MJardin and Curaleaf were both recent listings that were hurt by aggressive pricing during the RTO financing round. In this case, the biggest losers were investors that bought into private rounds at the peak of the cannabis rally and had to suffer significant losses shortly after the stock hit the public markets. Besides timing and aggressive pricing, MedMen shows what not to do in terms of corporate finance and executive compensation. The two co-founders put in extravagant compensation packages for themselves and we discussed in length how its recent $10.5 million executive payout was disappointing as the stock is trading 27% below its RTO price despite the huge rally it participated fully.
Canadian LPs Seek U.S. Listings
2018 also marked a busy year for new cannabis listings. Many Canadian producers chose to list on the U.S. exchanges including:
Despite the positive reaction when Canopy initially announced its intention to list on the NYSE, the following few listings by Aurora and Aphria have not resulted in any positive uplift to their share prices. As we have stated before, a U.S. listing by itself should not result in any share price movement in the short-term but there will be long-term implications such as greater liquidity, easier short selling, and better access to institutional investors. We will be watching closely what happens after HEXO and CannTrust's listing.
Conclusion
We believe 2019 will become another busy year for new cannabis listings on the CSE as more and more U.S. companies come to the capital markets. The recent volatility might have delayed some of the listings but the cannabis market has demonstrated resilience throughout the last few years. From 2015 and 2018, the market has experienced a few boom and bust cycles and each time the market returned stronger and more disciplined. The U.S. cannabis market is highly fragmented and there remain many potential candidates for their initial public listings. However, before the market returns to more normal conditions we will likely see fewer companies raising money. On the other hand, we expect a number of Canadian companies to seek U.S. listings but that's not a guarantee of positive share price movements. Overall, investors have more and more selections when it comes to cannabis stocks and that's ultimately a positive development for the industry's long-term viability.
Disclosure: I/we have no positions in any stocks mentioned, and no plans to initiate any positions within the next 72 hours. I wrote this article myself, and it expresses my own opinions. I am not receiving compensation for it (other than from Seeking Alpha). I have no business relationship with any company whose stock is mentioned in this article.
Editor's Note: This article discusses one or more securities that do not trade on a major U.S. exchange. Please be aware of the risks associated with these stocks.