Investor Takeaway
Exposure to financials has been outright disappointing for investors throughout 2018. While both the iShares MSCI Europe Financials Sector Index ETF (EUFN) and the Financial Select Sector SPDR ETF (XLF) finished the year in negative territory, U.S. financials held on a bit stronger compared to their Eurozone counterparts.
There are multiple reasons for the poor performance of EUFN. Whether it be from a hard-Brexit scenario or the troubled state of Deutsche Bank (DB), an upside premise is complicated to construct. Uncertainty in the United Kingdom and Germany imply a bearish outlook for EUFN.
ETF Analysis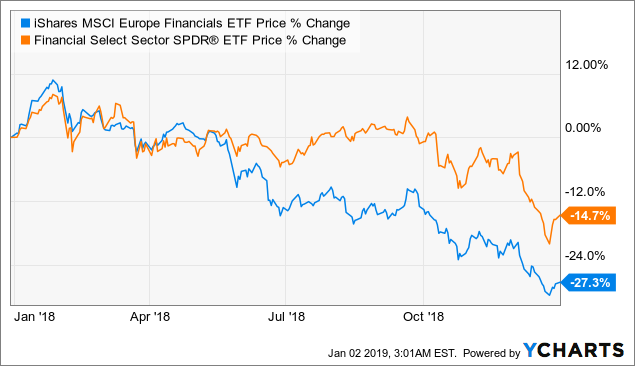 2018 was a rough year for financials in both the U.S. and Europe. EUFN declined 27.3% while XLF was down 14.7% as indicated above. The downside can be attributed to numerous factors. These include the bilateral trade dispute between the U.S. and China, unwinding of the Fed's balance sheet, the slowdown in global growth, and Brexit uncertainty. We will concentrate on Brexit and the state of Deutsche Bank.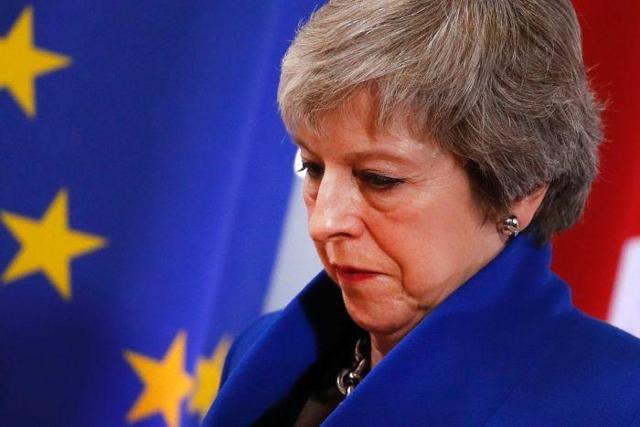 via Australian Broadcasting Corporation
HSBC (NYSE:HSBC) was the top holding for EUFN as of December 31st, at 11.1%, according to iShares.
Structuring for EUFN suggests that HSBC will stay unaffected by the Brexit deal in March of this year. Whether a hard or soft Brexit, the issue at hand is much larger than an idiosyncratic component in the ETF.
The Prime Minister of the U.K., Theresa May, has a lot on her plate. Division in the House of Commons has heated up among Brexiteers and those in favor of the common market. A hard Brexit scenario seems on the table, and the clock keeps ticking for May and her cabinet. Political uncertainty has paved the way to market uncertainty.
Andrea Leadsom, leader of the House of Commons and longtime Brexit advocate, has urged members of parliament, in short MPs, to back up Theresa May's proposal despite the division within the House of Commons. She stated the following:
Her deal takes back control of our borders, our money and our laws. It provides greater trading opportunities for our fishermen and farmers, ends free movement, makes immigration fair to the whole world as well as to our own people, and ultimately gets us out of the single market and customs union.
via Daily Mail
The populist rhetoric displayed by Leadsom indicates a sense of urgency for the conservatives in the U.K. Exiting the European single market might seem as the plausible way out for Brexiteers, but without a doubt it will be costly, considering these negotiations are with the European Commission. On the other side of the pendulum, Labour party member and MP Chi Onwurah stated the following regarding May's proposition to the House of Commons.
But it is hard to have faith in May's motives when she has chosen to deliberately run down the clock, causing further cost and chaos. She hopes MPs will quietly vote for her deal, blinded by the oncoming "no-deal" headlights. But in reality her deal won't withstand the internal contradictions of the Conservative party which cannot support a permanent customs union even though it is essential for our economy.
via The Guardian
Onwurah isn't happy with Theresa May's approach to the matter. She is an MP from Newcastle, a net exporter to the EU, which has a lot to lose from a hard-Brexit scenario. Her argument: the United Kingdom and the European Union are intertwined. Proposals to replace existing business partnerships with EU member states with new ones is wishful thinking.
Investors of EUFN should be mindful with their capital allocation decisions. With the Brexit clock winding down and restless headbutts in the House of Commons, bearish sentiment should continue to build up in Q1 2019.
United Kingdom financials make up 29.35% of EUFN with 18 different positions, as of December 31st, 2018. From those 18 positions, the equity positions below make up 22.38% of EUFN.
HSBC Holdings PLC 11.10%
Lloyds Banking Group PLC (NYSE:LYG) 3.18%
Prudential PLC (NYSE:PUK) 3.13%
Barclays PLC (NYSE:BCS) 2.22%
Standard Chartered PLC (OTCPK:SCBFF) 1.48%
Aviva PLC (OTCPK:AIVAF) 1.27%
Deutsche Bank, Germany's largest lender, has been on mainstream media frequently in the near past. Speculations for a possible state-sponsored aid package along with a possible merger with long-time rival Commerzbank (OTCPK:CRZBY) have been in the air.
Albeit, the bank's chairman Paul Achleitner has insisted that there is no base for financial aid from the government nor a merger. In an interview with Frankfurter Allgemeine Sonntagszeitung, a German newspaper, he dismissed speculations on the distressed bank.
Let's look at the facts: Deutsche Bank has a very strong capital basis compared to its competitors...
via Reuters
With such a troubled performance for its common equity, it would be unreasonable for investors to reciprocate the viewpoint of Achleitner.
In early December, Finance Minister of Germany Olaf Scholz and CEO of Deutsche Bank Christian Sewing bounced around the idea of financial aid by the government. The conversation also included a potential for changing legal aspects in order to make a hypothetical merger less costly, according to an article published by Bloomberg.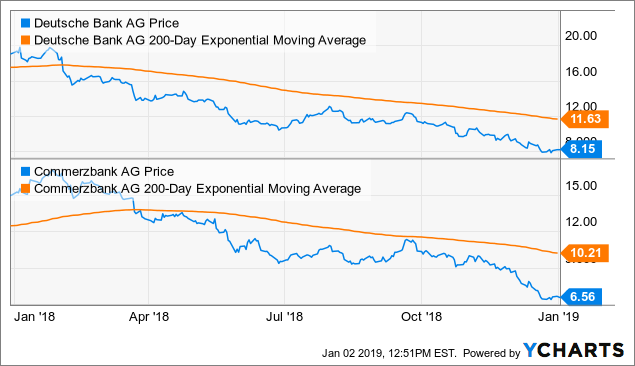 200-EMA readings for both Deutsche Bank and Commerzbank support the downside case. Deutsche Bank didn't even come close enough to test resistance after breaking support in Q1 2018. Commerzbank doesn't display that good of a picture either.
On the merger speculation, Commerzbank was not the first candidate for a merger. If we look back to February of 2018, chief of BNP Paribas (OTCQX:BNPQF), Jean-Laurent Bonnafe, stated the following at the annual meeting when asked a question regarding if they were analyzing Deutsche Bank.
In the foreseeable future, the group has no intention to carry out large-sized operations, because it is not possible...
via Reuters
With an acquisition by BNP Paribas already well off the table, Deutsche Bank will have to figure out a way to go through tough times. The issue with a possible merger with Commerzbank in the future is that the two would be one problematic lender. I'm speculating that the German government will not let Deutsche Bank go under, and rather go through with a merger at some point in the future.
More recently, UBS (NYSE:UBS) Chairman Axel Weber also dismissed the idea of merging with any bank in the region.
There is a lot of talk in Europe and the United States about mergers but nothing happens. These are all simulation games.
via Reuters
Deutsche Bank doesn't pose much risk individually for EUFN investors. Nevertheless, Germany's largest lender going through unpleasant times could spread to the German financial system.
German financials made up 11.66% of EUFN composition as of December 31st, 2018. The six positions are below:
Allianz (OTCPK:ALIZF) 5.82%
Muencheser Rueckversicherungs-Gese 2.21%
Deutsche Boerse (OTCPK:DBOEY) AG 1.57%
Deutsche Bank AG 1.06%
Hannover Rueck 0.55%
Commerzbank AG 0.45%
Conclusion
There is a precise division in the House of Commons despite final Brexit talks for the United Kingdom to leave the European Union in March. Political uncertainty is leading to market uncertainty. 29.35% of EUFN exposure is in U.K. financials.
Legal structure in Germany appropriating towards less costly merger propositions doesn't make the apparent problem go away. Deutsche Bank and Commerzbank are problematic German lenders.
41.01% exposure in EUFN is made up of U.K. and Germany financials. Hence, EUFN is not a reasonable allocation destination for investors.
Disclosure: I/we have no positions in any stocks mentioned, and no plans to initiate any positions within the next 72 hours. I wrote this article myself, and it expresses my own opinions. I am not receiving compensation for it (other than from Seeking Alpha). I have no business relationship with any company whose stock is mentioned in this article.