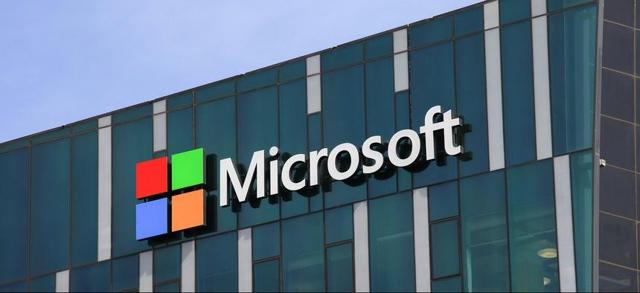 (Source: Nextgov)
Investment Thesis
2018 has certainly been a year to remember for Microsoft Corporation (NASDAQ:MSFT). For one, the company's stock returned a gain of nearly 19% for its investors, easily outpacing the S&P 500 as well as many of its peers. Microsoft also saw a record year for both revenues and earnings and managed to close out the year as the world's most valuable company, a title it hadn't held since 2003.
I expect 2019 to be a continuation of the company's success in 2018; in this piece, I explain the forces behind Microsoft's resurgence, and why its combination of superior diversification and execution, triple-A credit rating, and lack of regulatory overhang make MSFT a top pick for 2019. I will also measure MSFT's performance against its peers and evaluate the company's stock from a technical perspective to determine where it could head from here, as well as highlight some potential risks in Microsoft and its stock.
Investment Highlights
Satya's Successful Transition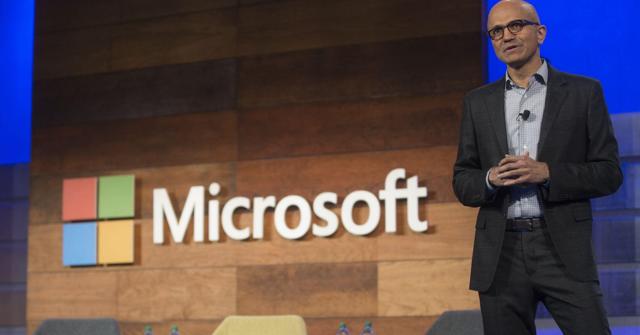 (Source: CNBC)
Since taking over as CEO of Microsoft in 2014, Satya Nadella has been at the forefront of Microsoft's transformation and modernization from traditional software sales to a company focused on Software as a Service (SaaS). This transition has revitalized Microsoft's business model and investor perception around the company; by making the shift to a subscription-based recurring revenue business model, Microsoft's revenue base has become less cyclical, more sticky, and more stable and predictable. According to analysts from Credit Suisse, recurring revenue streams now account for roughly 30% of Microsoft's total revenues and could reach more than 50% in four years' time, as well as over 65% by as early as fiscal 2025.
The second of Nadella's major accomplishments at Microsoft has been his spearheading of the company's advances into cloud-based services through the acceleration of Azure. As of a few years ago, Microsoft had been a relative laggard in the cloud, especially considering the leadership position of Amazon's (AMZN) AWS. Now, however, Microsoft has established itself as a strong second in the cloud space, as well as the faster-growing of the two cloud providers.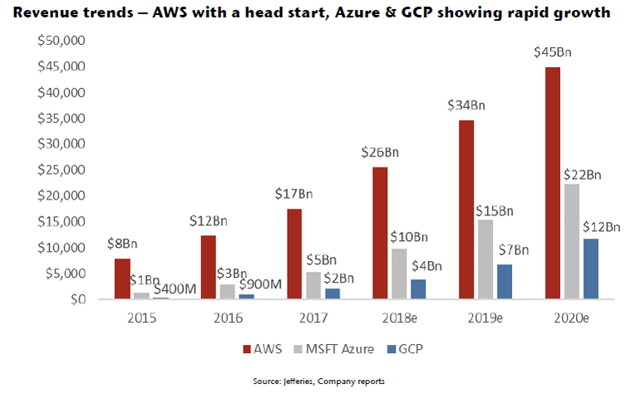 (Source: Jefferies, Company reports)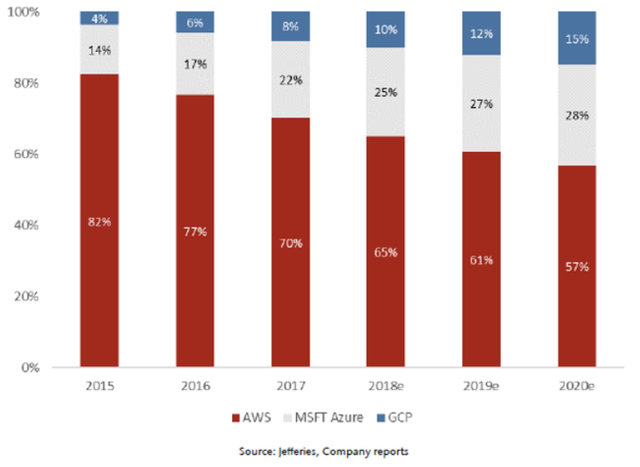 (Source: Jefferies, Company reports)
I see Microsoft's cloud business as having one particular advantage over Amazon, in that the company acts as more of a collaborative partner with its customers, as opposed to a competitor in the case of Amazon. It would make sense that Microsoft's cloud proposition would be considered the more attractive of the two since most companies would prefer to partner with the cloud provider that isn't also attempting to supplant their businesses. As Nadella himself has stated in the company's most recent earnings call:
Our cloud platforms and tools enable our customers to build tech intensity, while ensuring we're addressing their tough questions around trust, both trust in technology and trust that they have a partner whose business model is aligned to their success. No customer wants to be dependent on a provider that sells them technology on one end and competes with them on the other. Getting this equation right is key to their success going forward. Microsoft is uniquely positioned to help.
All in all, Microsoft's transition to a recurring revenue business model and its acceleration into cloud-based services have been Satya Nadella's premier accomplishments since taking the helm. The former has helped to create a more consistent and predictable revenue base, while the latter has served as the driving force of Microsoft's growth and rejuvenation over the last few years. Together, these shifts have fundamentally changed the company's direction for the better and reestablished Microsoft as a leader in the technology space.
A Diversified Business Model, Firing On All Cylinders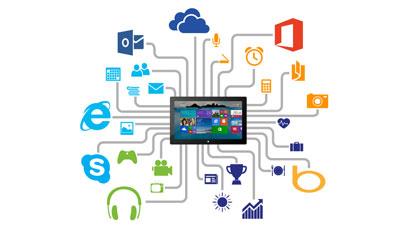 (Source: Axiom Software Solutions)
Microsoft's business consists of three main segments:
Productivity and Business Processes - Consists of products and services pertaining to productivity, communication, and information services, across a wide range of devices and platforms. Comprised of:
Office Commercial - Microsoft Office 365 subscriptions and licensing (Office, Exchange, SharePoint, Skype for Business, Microsoft Teams, etc.)
Office Consumer - Microsoft Office 365 subscriptions and licensing, as well as Office Consumer Services (Skype, Outlook.com, OneDrive, etc.)
LinkedIn - Talent Solutions, Marketing Solutions, and Premium Subscriptions
Microsoft Dynamics business solutions - Dynamics ERP, Dynamics CRM, and Dynamics 365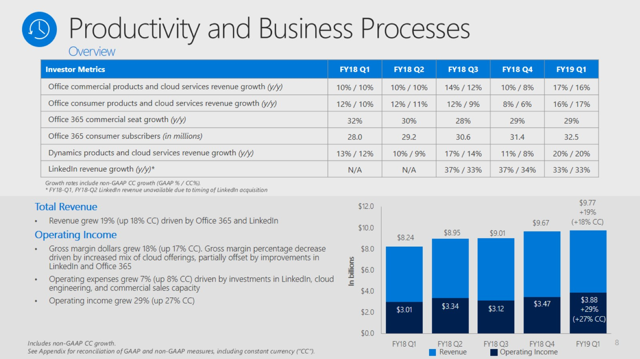 (Source: Microsoft First Quarter Fiscal Year 2019 Results)
Intelligent Cloud - Consists of the company's public, private, and hybrid server products and cloud services, used to support the functions of businesses and organizations. Comprised of:
Server products and cloud services - Microsoft SQL Server, Windows Server, Visual Studio, System Center, and Microsoft Azure
Enterprise Services - Premier Support Services and Microsoft Consulting Services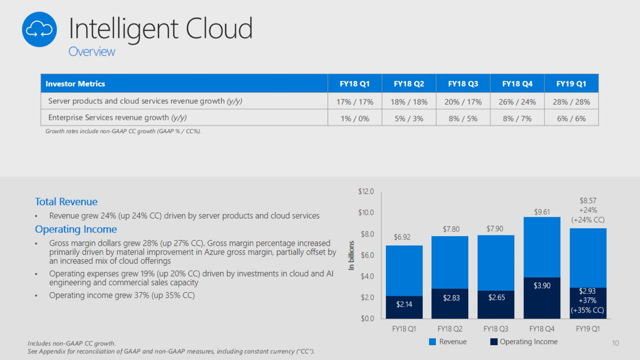 (Source: Microsoft First Quarter Fiscal Year 2019 Results)
More Personal Computing - Consists of products and services geared towards the interests of end users, developers, and IT professionals. Comprised of:
Windows - Windows licensing, Windows Commercial, patent licensing, Windows IoT, and MSN advertising
Devices - Microsoft Surface, PC accessories, etc.
Gaming - Xbox hardware, Xbox software and services (Xbox Live transactions, subscriptions, and advertising), video games, and third-party video game royalties
Search - Bing search engine, Microsoft Edge, etc.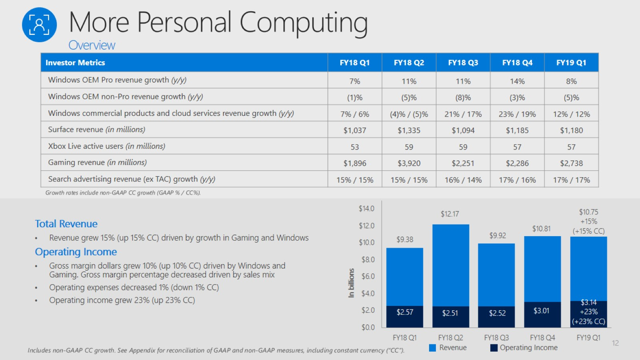 (Source: Microsoft First Quarter Fiscal Year 2019 Results)
As one can see, Microsoft is embedded into an incredibly wide range of technology-related sectors, thanks to the company's scale and diversification. What's also notable is that each of the company's three segments is of similar sizes, and growing at similar rates. In the company's latest quarter, total revenues came in at $29.084B, with YOY growth of 18% (after constant currency revisions); Productivity and Business Processes made up 33.6% of those revenues, Intelligent Cloud came in at 29.46%, and More Personal Computing composed 36.95%. The three segments also featured similar double-digit YOY growth rates, with growth of 18%, 24%, and 15%, respectively.

(Source: Microsoft FY19Q1 Earnings Release)

(Source: Microsoft FY19Q1 Earnings Release)
Many of the company's divisions also grew at high double-digit growth rates, with several standouts including LinkedIn (33%), Dynamics 365 (49%), Azure (76%), and Gaming (45%), among many others.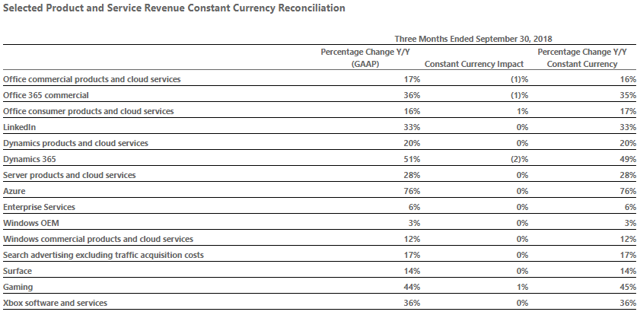 (Source: Microsoft FY19Q1 Earnings Release)
Microsoft's breadth and diversification across the field of technology make it a standout in the sector and means that the company can continue to grow without overdependence on one specific product or service. And the fact that several of the company's divisions are growing at such high rates is a testament to its high quality of execution.
Triple-A Credit Rating
Microsoft is one of just two companies in the United States that holds a triple-A credit rating, with the other being Johnson & Johnson (JNJ). To put this into perspective, this means that an investment in Microsoft's debt is regarded as safer and more creditworthy than that of the US government.
Having a AAA rating enables Microsoft to borrow larger sums of money at lower costs. It also provides the company with a better competitive advantage, since it can more easily finance new business opportunities due to having superior access to credit. For example, when Microsoft agreed to a $26.2B deal to acquire LinkedIn in 2016, the large majority of the payment for the deal was financed through a $20B debt offering.
Looking at the company's balance sheet, it should be noted that Microsoft has been accumulating plenty of debt over the last ten years, and its debt-to-equity ratio has also risen significantly; these two metrics, on their own, appear to contradict the basis of the company's AAA rating. However, the company has also built up a massive cash hoard over that same period, one that more than offsets its debt. In the company's most recent quarter, it reported total cash and short-term investments of $135.88B. This cash position provides Microsoft with the luxury of being able to pay off all of its long-term debt if it wanted to, while still having plenty left over for expenditures, acquisitions, or shareholder returns. It also gives the company a significant advantage with regards to liquidity, another feature that is looked highly upon by credit rating agencies. Overall, Microsoft's cash reserves far outweigh the company's long-term debt, contributing greatly to its pristine credit rating.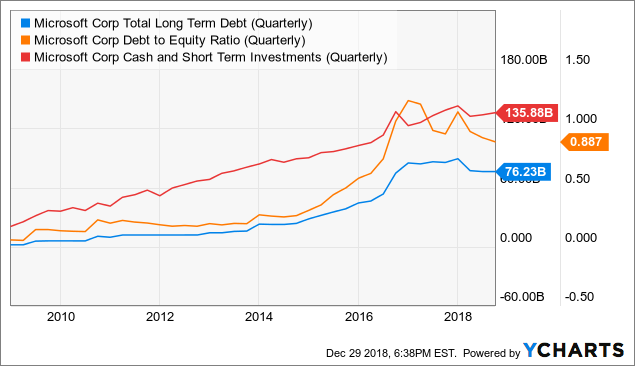 Microsoft's leadership and diversification across the technology sector also play a major role in its strong standing, while the company's transition to recurring revenues further helps to secure it. Even after the announcement of Microsoft's acquisition of LinkedIn in 2016, S&P chose to affirm the company's AAA rating, noting that the acquisition would add to an already-diversified portfolio of technology products and services:
Our rating affirmation on Microsoft Corp. reflects our view that the company's acquisition of LinkedIn Corp. adds to its diversified product portfolio to include a high-growth professional social networking company, despite LinkedIn's relatively small revenue base, at about 4% of Microsoft's total revenues...Our stable outlook reflects our belief that Microsoft will remain committed to maintaining high credit quality by sustaining its net cash position. The company has a diverse software and hardware product portfolio and a long track record of maintaining leadership in its Office and Windows operating systems, leading to significant free operating cash flow to meet its acquisition and shareholder return needs. The company's long history of making investment and acquisition decisions in a fiscally prudent manner is a positive factor in determining its credit quality, and we expect that to continue.
A more recent note from Moody's, also affirming Microsoft's credit rating, echoes similar sentiments:
In addition to exceptionally strong liquidity, Microsoft maintains a long track record of steady financial performance, strong and growing recurring revenue and cash flow as it continues to transition to a subscription model, a very diversified customer base in terms of geography, customer and end market and strong barriers to entry. With its substantial financial strength, including EBITDA margins in excess of 40% and free cash flow generation in excess of $20 billion annually, the company is well positioned to address the challenges related to technology evolution and substitution through acquisitions and internal investments.
In an environment where monetary policy is tightening and rising corporate debt is increasingly becoming a concern, Microsoft's triple-A credit rating provides a high-quality safe haven for investors.
Lack of Regulatory Overhang
Without much publicity or fanfare, Microsoft has quietly managed to claim the mantle of the world's largest publicly traded company. Below is a chart comparing Microsoft's market capitalization over the last year with those of its mega-cap tech peers, Apple (AAPL), Amazon, Facebook (FB), and Alphabet/Google (GOOG) (GOOGL):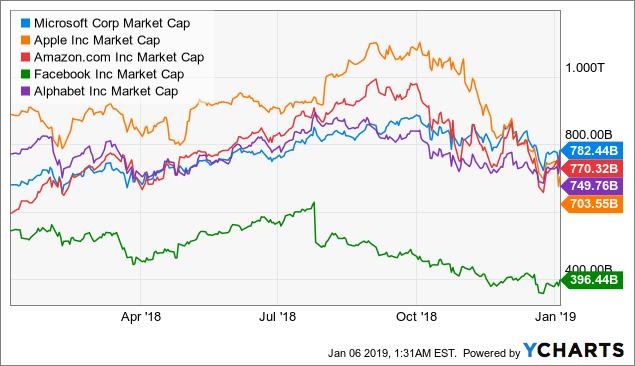 Microsoft had started out 2018 at a distant third in the ranking, yet by the end of the year, the company had established itself as the leader of the pack. And while Microsoft's diversification and consistent execution have been significant factors in its ascent, I also attribute much of the company's success to a notable lack of regulatory overhang versus its fellow tech peers.
I'll put it to you this way: when politicians and regulators around the world discuss American technology companies they want to regulate or tax, the big names that usually come out are Amazon, Facebook, Google, and to a lesser extent Apple. But no one ever mentions Microsoft.
A desire or interest in wanting to regulate Microsoft is also seemingly absent: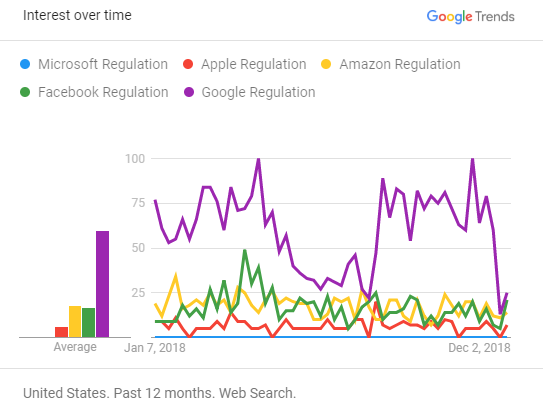 (Source: Google Trends)
The company lacks the data privacy issues currently being faced by Facebook and Google. It doesn't have the political baggage of Amazon, which often finds itself on the end of attacks from both sides of the political spectrum, Democrat and Republican. Finally, Microsoft is also more insulated from the negative impacts of a trade war than Apple, due to its superior diversification and relative lack of presence in China.
Having less of a regulatory overhang enables Microsoft to devote more of its resources and brainpower to the performance of the business. It also engenders a sense of stability and an increased degree of certainty in the company and its direction, a coveted feature among the investing community. I believe that Microsoft's lack of regulatory issues has been and will remain a key factor in its outperformance, allowing the stock to retain old investors while attracting new ones who seek growth without the uncertainty of the company's peers.
Price Action and Technical Analysis
Looking at MSFT's price action in 2018, the stock had managed to outperform most of its major peers to the upside for much of the year, with AMZN being the only notable exception: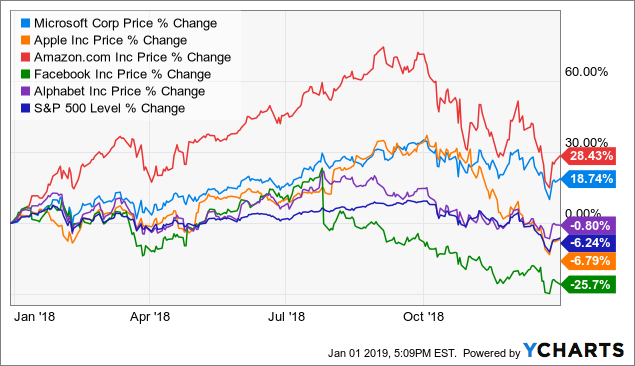 However, the real outperformance for MSFT in 2018 came to the downside, as the stock was far more insulated from market declines than its peers after the S&P's peak on September 20th. I'll also add that MSFT had reliably outperformed the S&P for the entirety of 2018, both on the upside and the downside.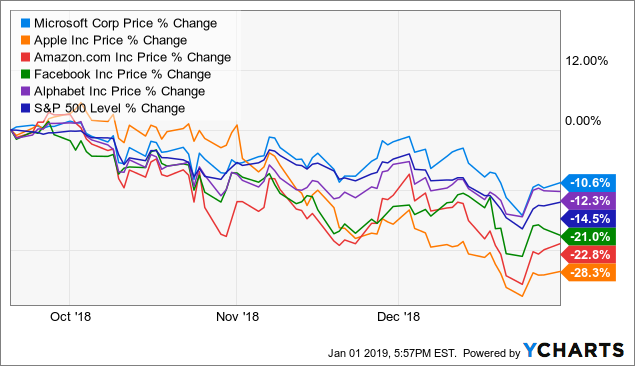 I attribute Microsoft's outperformance to many of the issues discussed previously, primarily its superior execution and lack of regulatory overhang. The company's outsized dividend in relation to its peers (with the exception of Apple) may have also played a factor to the downside, though I doubt most investors in Microsoft are buying the stock purely for the dividend.
On a technical basis, MSFT has been trading within the bounds of a three-pronged channel since 2015 and has recently bounced off of trendline support at the bottom bound.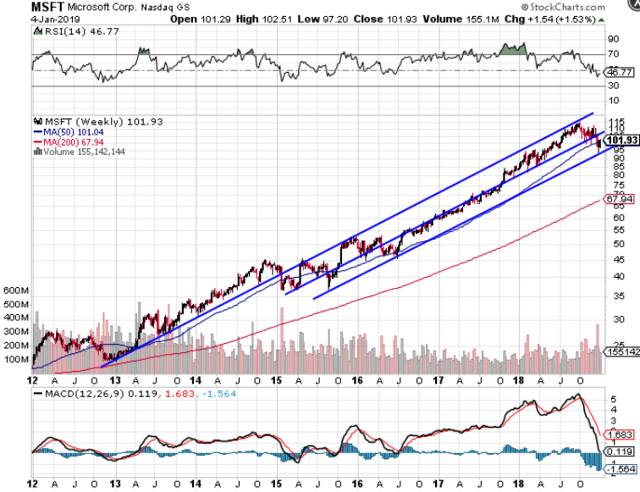 (Source: Stockcharts.com)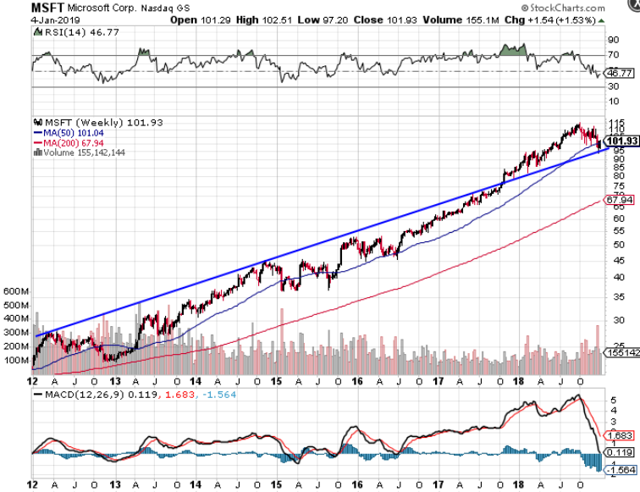 (Source: Stockcharts.com)
This channel has existed within the bounds of a much longer-term channel that has lasted since 2009, from the depths of the Great Recession: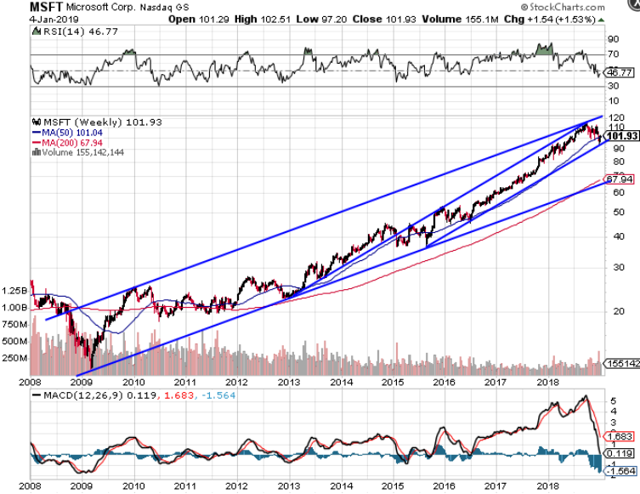 (Source: Stockcharts.com)
By examining the long-term and near-term charts, what's clear to me is that $95 is an extremely important level for the stock to maintain since it represents both the trendline support of its multi-year channel, as well as the neckline of a potential head & shoulders pattern. There is also the risk of the 200-day moving average serving as technical resistance, possibly leading to the second shoulder of a head & shoulders.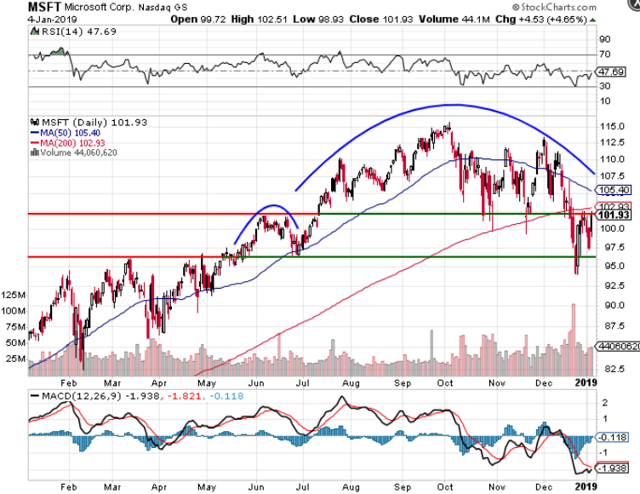 (Source: Stockcharts.com)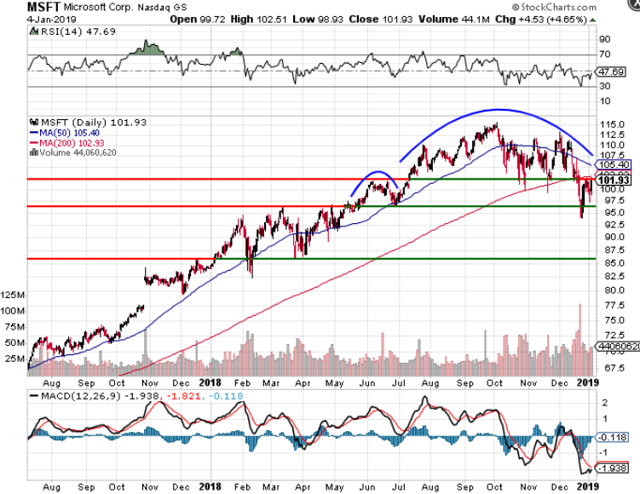 (Source: Stockcharts.com)
I would like to think that the underlying company's fundamentals are strong enough to outweigh the near-term technical stress. However, while I believe that MSFT will continue to outperform both its peers and the S&P, there remains the risk of a decisive break below $95 in the event that the stock is brought down along with the broader market, which would lead to further declines until the next level of technical support at $85. Conversely, a break above resistance at the 200-day moving average would likely see the stock reach its previous peak of $115.
Risks
Potential For Credit Risk
I had remarked earlier on how Microsoft's strong cash position provided the company with the flexibility to pay off all of its long-term debt, and still, have plenty left over for the advancement of the business or for shareholder returns. While this is certainly true, it is also the case that the company's debt load somewhat limits its ability to focus on shareholder returns or invest further in its business. If the company were to place an excessive focus on acquisitions or shareholder returns without paying off its debt or building up its cash position, such a move could possibly jeopardize Microsoft's credit, and lead to a downgrade in its credit rating. In discussing what factors could contribute to a hypothetical cut in Microsoft's credit rating, Moody's had this to say:
The long term rating could be downgraded if there is an erosion in Microsoft's' core business model, and if profitability or cash flow generation weaken. In addition, the ratings could face downward pressure if Microsoft commences aggressive shareholder returns or if the company undertakes additional large, debt funded acquisitions such that Moody's expects adjusted gross leverage to continue to rise without a substantial increase in cash balances.
At the moment this is of little concern; Microsoft remains an AAA-rated company, with strong liquidity, vast diversification, and a history of profitability and fiscal responsibility. However, it remains a risk to consider as long as Microsoft retains the debt levels that it currently has.
Expensive Valuation
In relation to the company's major peers (with the exception of Amazon), Microsoft does seem to be trading at somewhat of a premium valuation. Its stock currently holds a P/E of just over 24 times earnings, as well as a PEG ratio of 1.76.
Valuation Metrics of the Big 5 Technology Companies
Company
P/E Ratio
PEG Ratio
Microsoft
24.34
1.78
Apple
12.21
0.94
Amazon.com
96.97
2.81
Facebook
18.62
1.04
Alphabet/Google
26.47
1.59
In my view, MSFT's higher valuation is justified, and largely reflects the company's superior execution and relative degree of stability in its business. If growth in the business were to slow down or decline materially, however, that could lead to underperformance in the stock, exacerbated by the possibility of multiple contractions. Most of Microsoft's peers already trade at low multiples, meaning that they are somewhat more protected from further contraction in their valuations.
Conclusion
Due to its diversification, top-notch execution, and strong balance sheet, I believe MSFT offers quality exposure to high-growth tech, without the volatility and regulatory overhang faced by many of its mega-cap peers. At the moment, where Microsoft's stock goes largely depends on the direction of the overall market, though I expect continued outperformance against at least the S&P 500, if not the majority of the company's peers. And while there are some risks present in the company, namely its high debt levels and expensive valuation, they remain risks that the company has control over, due to the growth of its business and its large cash position.
As Warren Buffett said, "It's far better to buy a wonderful company at a fair price than a fair company at a wonderful price." I view Microsoft as befitting of Buffett's quote, and the company's stock as a top pick for 2019.