What's really going on with the Chinese economy? Can't it grow at 6% forever? Probably not. The economic theory of convergence states that, in general, poorer countries experience a higher rate of growth because their initial rate of diminishing returns on capital is far less than that in developed countries. At some point, however, the pace of growth will naturally start to slow as the developing countries' diminishing returns on capital begin to align with those of developed countries. Other Asian economies (Taiwan and South Korea) already experienced this development. It appears it is now starting to occur in China, where the pace of growth in retail sales, industrial production, and GDP is grinding lower. It also means that the newly announced infrastructure spending initiative won't deliver as planned.
We're getting closer to a Brexit vote, which does not look good. According to the Financial Times, Parliament will vote against the May-negotiated deal, despite her upcoming lobbying efforts. The rising appeal of a no-deal Brexit among UK conservatives is probably contributing (emphasis added):
Given the choice between a no-deal exit, Mrs. May's deal or remaining in the European Union, 57 percent preferred no agreement, 23 percent preferred Mrs. May's compromise deal and 15 percent opted to remain in the European Union.

"What's really noteworthy is how pro-no-deal they are, and how unconvinced by their own government's argument that it would be very, very difficult to manage and economically damaging," said the study's leader, Tim Bale of Queen Mary University of London. "They seem to believe that actually, it will be a good thing for the economy."
This is a very concerning development. While predictions of immediate doom and chaos are probably overstated, it's inconceivable (yes, I know what that word means) that there will be no negative developments. The UK economy is already responding negatively. Growth is grinding lower...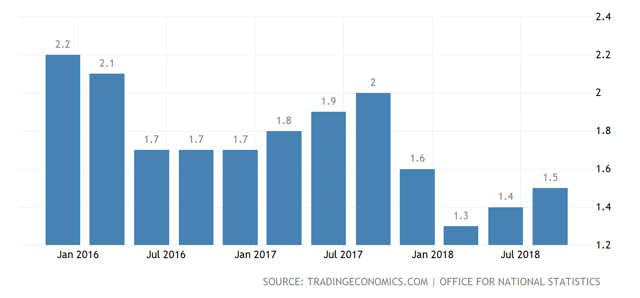 ... with an average growth rate of 1.45% over the last four quarters. And Brexit uncertainty is draining UK business sentiment to its second-lowest level since 2009.
The oil chart is downright ugly:
On an absolute basis, prices dropped from $76.9 to $42.36; a 45% decline since the beginning of October. Prices have tried to find a bottom several times: in late October at the 200-day EMA, in mid-November in the mid-$50s, and in December at the upper-$40s/lower $50s level. The good news for oil traders is that while momentum is negative, it is rising and prices have moved through the 10-day EMA. However, there's been a great deal of technical damage over the last quarter, making a prolonged rally very difficult.
Let's turn to today's performance table: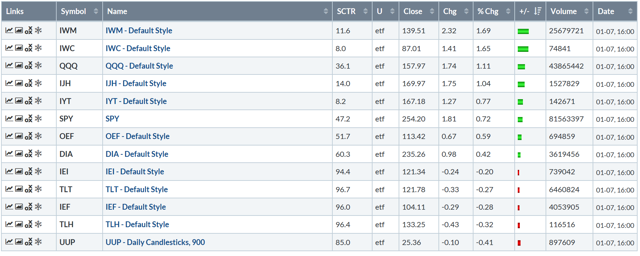 This is the table bulls want to see. The best performers were the IWM and IWC, which means risk appetite was back today. The QQQ was up over 1%, allowing the index to recoup some of the Apple-caused (AAPL) losses from last week. The mid-caps were the 4th best performer, adding to today's positive risk-appetite. The long end of the curve sold off a touch, reversing recent gains.
On the charts, we're now looking for bullish developments in all time frames. We're starting to see that happen.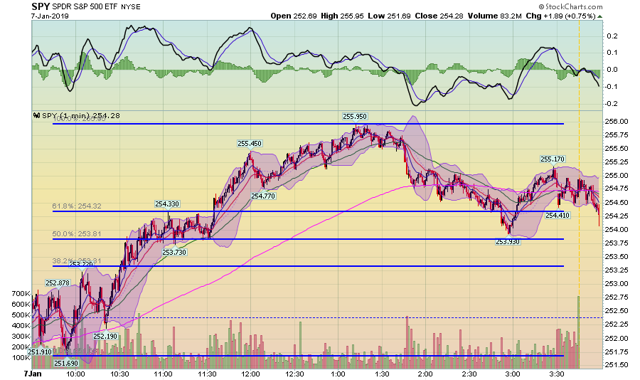 Today, there were two AM rallies: one that lasted until mid-morning and then another that lasted until right after lunch. Prices sold off into the close, but this is more a "taking some short-term gains off the table" scenario. Prices naturally coalesced around a key Fib level.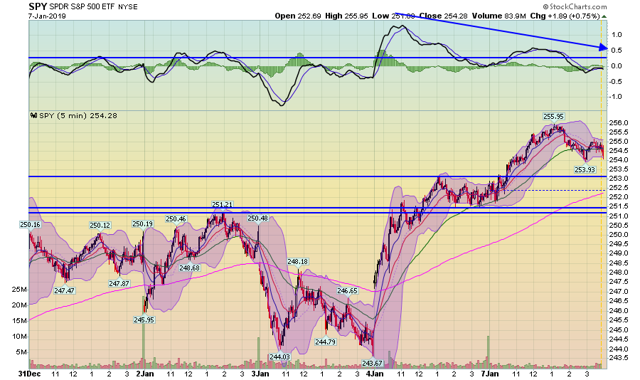 Prices have now moved through two key technical levels: 251 and right above 253. They are using the shorter-term EMAs for technical support. The MACD has moved back to the 0, which we could consider a "reset," adding upward room for tomorrow.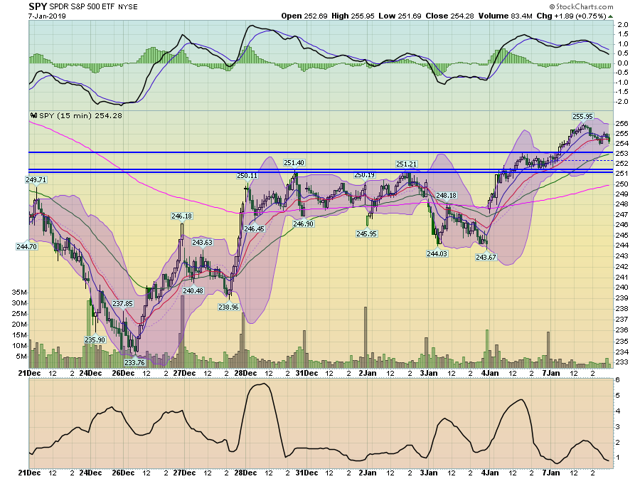 There is solid progress on the 2-week chart. Prices consolidated between the mid-$240s and lower $250s over the holidays. Now they have advanced through key technical levels and are sitting near 2-week highs. Notice that the price pattern shows a clear give and take at work, allowing traders to take profits with new players than taking positions.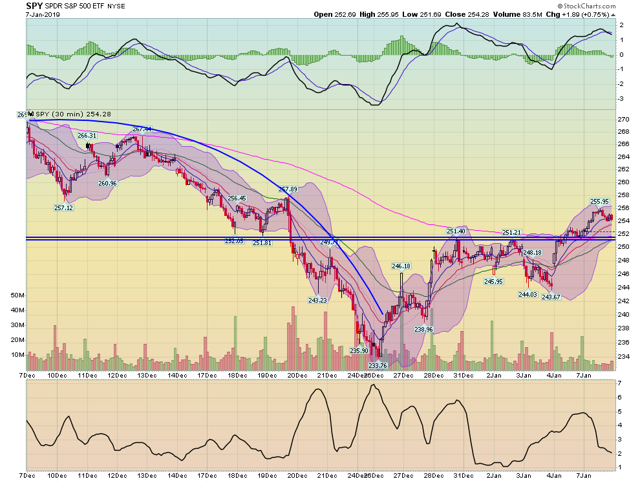 Prices are nearing the 50% retracement level on the 30-day chart. They are also right above the 200-day EMA and are using the shorter EMAs for support. These are all bullish developments.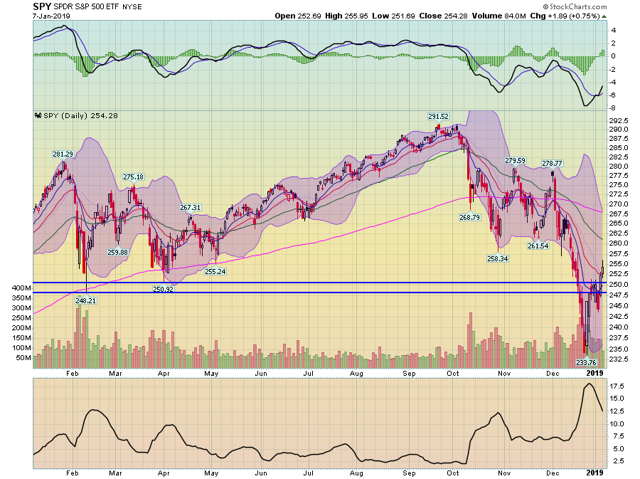 Prices have now moved through the 10- and 20-day EMA on the daily chart. They have also advanced through key February levels.
Right now, the market is moving higher in a disciplined manner. Let's hope this keeps up for a few days.
Disclosure: I/we have no positions in any stocks mentioned, and no plans to initiate any positions within the next 72 hours. I wrote this article myself, and it expresses my own opinions. I am not receiving compensation for it (other than from Seeking Alpha). I have no business relationship with any company whose stock is mentioned in this article.