As if it wasn't enough that the Dividend Growth 50 beat the market in total return in 2018, our real-money portfolio also had its best year ever on the income-growing front.
How does a 9.87% raise sound? Pretty darn good, if you ask me - and rounding it up to 10% sounds even better!
Not even the horrific performance of General Electric (GE) - which continued to bring bad things to life by announcing a 92% dividend cut as a follow-up to last year's 50% decrease - could keep the DG50 from having a very happy 4th birthday.
The leader on the income-growth list might surprise some people, as it was none other than Kinder Morgan (KMI). After gaining infamy in Dividend Growth Investing circles by slashing its payout 75% a few years ago, KMI so far has followed through on its more recent promise to get back to raising dividends aggressively. As a result, the DG50's position in the oil/gas pipeline company saw a nearly 50% year-over-year income rise.
Four other holdings also generated income growth of at least 20%: Visa (V), Starbucks (SBUX), AFLAC (AFL) and Baxter (BAX).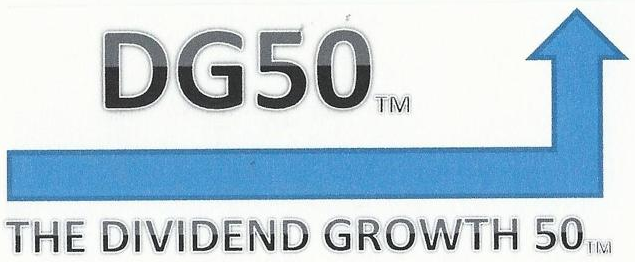 In Part 1, my annual Dividend Growth 50 total-return report, I showed how the portfolio posted a 1.1% year-over-year gain in total return even as the overall market suffered a loss. I also looked back at the genesis of the project, and how I came to invest more than $25,000 of my own money in this collection of stocks that had been selected in 2014 by 10 fellow Seeking Alpha contributors.
This article will deal entirely with income - which is what the DG50 is mostly about, anyway. Here is a position-by-position look at the portfolio's income growth from 2017 to 2018, listed in order of performance: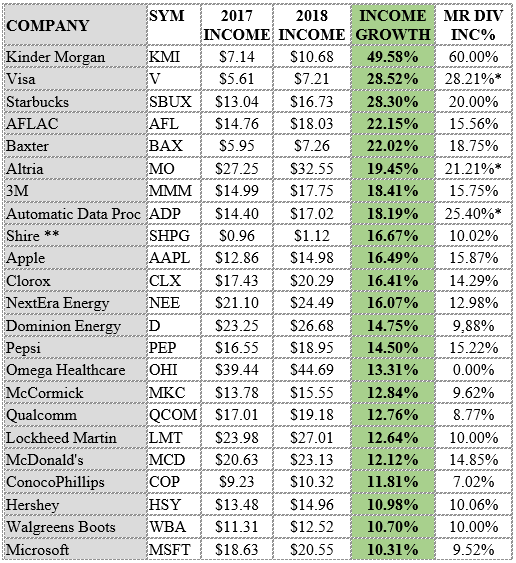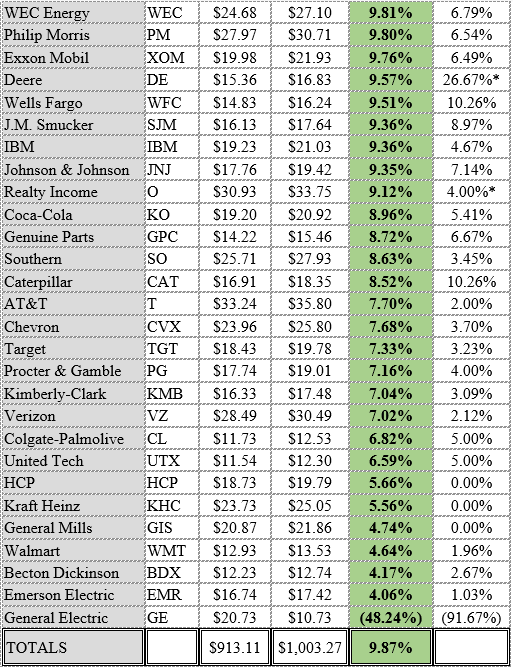 TABLE NOTES:
MR DIV INC% (the last column) is Most Recent Dividend Increase Percentage. Numbers represent the most recently announced increase by each company. While most figures show raises made in 2018, a few are for payouts that don't begin until the first quarter of 2019.
* - Visa, Altria (MO), Automatic Data Processing (ADP), Deere (DE) and Realty Income (O) each had multiple dividend increases in 2017. The MR DIV INC% column reflects each company's total of announced increases during the year.
** - Shire (SHPG) became the portfolio's 51st holding in 2016, having bought a Baxter spin-off. Shire only pays two dividends per year.
Important: Income Growth vs. Dividend Growth
As always, all dividends were reinvested into the same stocks - a process commonly called "dripping." This makes income growth for the DG50 different from the general concept of dividend growth.
For example, the DG50 held 13.228 shares of Coca-Cola (KO) on Dec. 31, 2017; a year later, the share total was 13.688 thanks to dividend reinvestment. So even though the company raised its payment to shareholders by only 5.4%, the combination of dripping and the divvy hike increased the actual cash Coke paid into the portfolio's income stream by nearly 9% year-over-year. Ka-Ching!
Facts and Observations
It is important to note that 2018 was the first year after passage of major U.S. tax-cut legislation, and many corporations used their windfalls to boost dividends. Though future raises might be less generous, most increases that have been announced for the period extending into 2019 have been strong, so I expect another fine year of dividend growth for the DG50.
In addition to Kinder Morgan, other positions that had outstanding income growth in 2018 after some mediocre (or worse) recent years included AFLAC, Clorox (CLX), Philip Morris (PM), Caterpillar (CAT) and Deere.
Deere figures to show even better in 2019, having raised its dividend twice in the last 10 months -- by a total of 27% -- after having frozen it for the previous 15 quarters.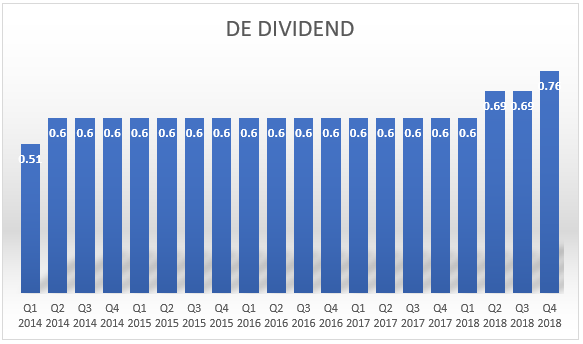 Omega Healthcare (OHI), which had raised its dividend every quarter since 2012, has now made the same .66 payout for four consecutive quarters as it has been "focusing on strategic re-positioning activities," according to CEO Taylor Pickett. He nonetheless did not see any danger of a dividend cut, and he foresaw a return to future growth.
Despite the freeze, the OHI position in the DG50 grew its income 13% -- quite a demonstration of the power of dividend reinvestment, especially for a high-yielding company like Omega.
That made the health-care REIT one of 23 positions to exhibit double-digit income growth. The others come from a variety of sectors: Altria, Clorox, Pepsi (PEP), McCormick (MKC), Hershey (HSY) and Walgreens Boots (WBA) in consumer staples; Visa, ADP, Apple (AAPL), Qualcomm (QCOM) and Microsoft (MSFT) in technology; Starbucks and McDonald's (MCD) in consumer discretionary; KMI and ConocoPhillips (COP) in energy; Baxter and Shire in health care; 3M (MMM) and Lockheed Martin (LMT) in industrials; NextEra (NEE) and Dominion (D) in utilities; and AFLAC in financials.
Starbucks initiated its dividend in 2010 and has been boosting it big-time all decade. The company has been one of the DG50's top three income growers every year of the portfolio's existence.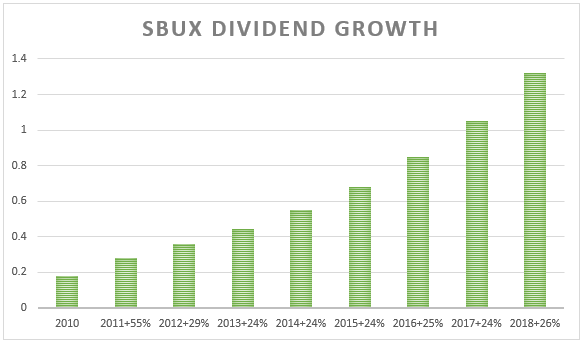 On the downside, dividend freezes by HCP (HCP), Kraft Heinz (KHC) and General Mills (GIS) kept those former high-fliers down in 2018. And companies such as Verizon (VZ), Walmart (WMT), Becton Dickinson (BDX) and Emerson Electric (EMR) continued recent patterns of tiny dividend growth.
GE has had three major dividend cuts in the last decade -- including two in the last year alone -- and also has seen its price drop like a broken elevator, making it the ultimate nightmare for DGI practitioners.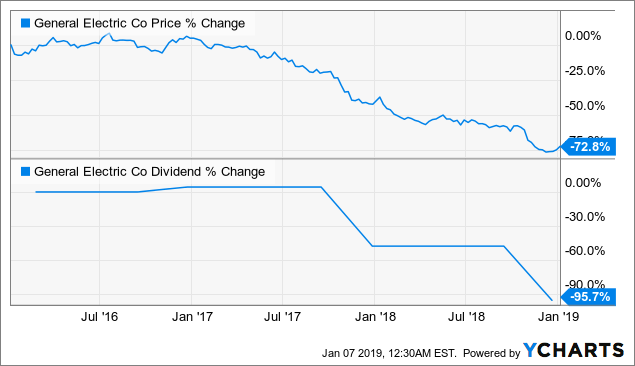 The good news is that a well-constructed, diversified portfolio can overcome a laggard like GE.
The other good news is that although DG50 rules do not allow any selling, you and I don't face those kinds of rules. I sold my GE stake in my personal portfolio several years back, and I replaced it with consistent dividend-growing blue chips.
Remember, the purpose of the DG50 is not to encourage anybody to replicate its holdings or even its strategy; it is to foster discussion of investing concepts and to present companies that might be worthy of further research.
For Comparison's Sake
On the same day I funded the DG50 (Dec. 16, 2014), I also bought small stakes in Vanguard S&P 500 ETF (VOO), Vanguard Dividend Appreciation ETF (VIG) and Vanguard Dividend Growth Fund (VDIGX) to serve as benchmarks.
Interestingly, while the DG50 grew income faster than both the dividend ETF and dividend fund, the overall index fund actually had the best income gain of them all.

To get a look at the DG50 within the universe of all publicly traded companies, I had it analyzed by Simply Safe Dividends. According to SSD, the portfolio's overall yield is 3.2%, its beta is 0.74, and the vast majority of components have either "very safe" or "safe" dividends.
Conclusion
These are nervous times for many investors, as the market has been influenced tremendously by factors such as Fed rate hikes, the Trump trade wars, oil-industry woes, increased corporate debt, and a partial government shutdown. One day, the market surges; the next two days, it plummets.
One thing -- perhaps the main thing -- I like about DGI is that dividends don't react to "noise" by going on wild roller-coaster rides. Carefully selected, well-researched, high-quality, dividend-growing companies simply keep raising their payouts to shareholders year after year after year.
Sure, over time there can be cases such as GE and KMI. Certainly, even strong companies might not be able to raise their dividends some years. While serving as annoying reminders that no investing strategy is perfect, however, those examples are outliers in a successful portfolio like the Dividend Growth 50.
Since its inception four short years ago, the portfolio has achieved a 38% rise in its income stream; as a bonus, it has enjoyed competitive total return. The DG50 just keeps doing its job, and keeps having one happy birthday after another.
Disclosure: I am/we are long ALL DG50 COMPANIES. I wrote this article myself, and it expresses my own opinions. I am not receiving compensation for it (other than from Seeking Alpha). I have no business relationship with any company whose stock is mentioned in this article.