Background
Goldman Sachs (GS) has raised my interest of late as the company has begun trading below tangible book value by billions of dollars. For a company that provides indispensable services to its clients around the world, including investment banking, institutional client services, investment and lending and investment management, this seems strange.
Part of the reason for a more than 30% drop in the share price can be attributed to the criminal charges filed by the Malaysian government against Goldman Sachs. The Malaysian government is seeking damages in excess of the $2.7 billion which Goldman Sachs has earmarked for payment to the government.
Business Fundamentals
Goldman Sachs has posted strong numbers in all of its business divisions, with pre-tax earnings reaching record levels in all but one of its business divisions.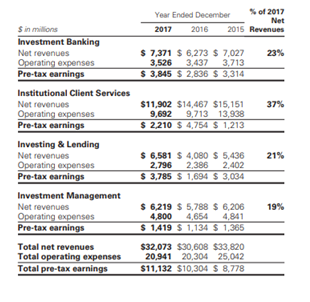 Source 1: Annual Report
One of the most favorable trends that I associate with the sustainability of Goldman Sachs' earnings is the industry consolidation that is taking place. There are a number of fundamental reasons that this is taking place in each of its business divisions. Firstly, in the investment banking sector, clients are becoming increasingly demanding and require larger financial transactions than they have ever required. On the investment management side, more complex transactions are allowing companies such as Goldman Sachs to consolidate their leadership in the financial world as they have a reputation for excellence.
With regards to institutional client services and investment management, tighter spreads with the widespread usage of technology have made it a more difficult business. Revenues from market-making activities are down by more than 20% in the last two years. The main reason for this is that fixed income and market-making activities are becoming more commoditized than ever before, meaning that it is unlikely that Goldman Sachs is going to earn the kind of spreads that it did in the past. While this secular trend is generally negative for the larger investment banks, the upside is that the fact that Goldman Sachs is likely to retain a significant share of the market means that even if margins continue to dip even further in the future, Goldman Sachs will still retain a significant amount of the profits in the industry.
Let us not discount the fact that the Goldman Sachs brand still carries very significant clout. Goldman Sachs is the go-to investment bank when it comes to making financial transactions and the industry's gold standard. Goldman Sachs has been one of the best-managed investment banks and shown an ability to make money regardless of the economic cycle. This makes it highly likely that Goldman will be the most significant beneficiary of the continued consolidation.
Goldman Sachs has also indicated that it is keen to move into retail banking and diversify its business even further. Its Marcus savings accounts have already attracted billions of dollars in consumer deposits and its growing deposit base is a cheaper source of capital for the company than the traditional lines of credit. Goldman doesn't have costs of building and maintaining branches or paying tellers and managers, so it can afford to pay a higher rate on deposits than its larger competitors. And so far it's working. Deposits at Marcus climbed at an annual pace of 63% in the first quarter, which is exceptional.
Valuation
Goldman Sachs trades at an extremely cheap valuation presently. The company is trading at just 90% of its book value and has a forward price to earnings ratio of just 7. This is a massive discount to the broader market which trades at an earnings multiple closer to 25.
However, these metrics alone are not enough to warrant an investment in the company. Firstly, Goldman Sachs is not going to be wound up and liquidated; so the fact that the company trades below book is relatively insignificant - what actually matters is the company's earnings power and return on equity.
Let us start with the company's earnings power. Goldman Sachs is currently generating around $11 billion in pre-tax earnings annually, but the firm has a market capitalization of just $65 billion. The company is committed to returning capital to shareholders and is planning to buy back around $5 billion in stock, in addition to paying around $1.3 billion in dividends. For continuing shareholders, the recent decline in price doesn't pose much of a threat as long as the company can continue to maintain its current levels of income - in fact, it will be accretive to earnings per share. Clearly, the bank is also very well-capitalized, having faced almost no objections from the Fed for its capital allocation plans in the last number of years.
Secondly, Goldman Sachs is currently earning around 10% on equity. Traditionally, investment banks have provided their employees with handsome and competitive pay packages, but shareholder returns have been sub-par. Goldman Sachs is committed to reversing this trend and the firm is targeting double-digit returns on equity as it continues to diversify its operations. If Goldman is able to achieve this, it would be a great accomplishment for an investment bank - however, this looks like a lofty goal to sustain.
Risks
It is worth mentioning that buying the equity of an investment bank is never risk-free. These companies are usually highly leveraged and the slightest downturn in the financial markets can place severe pressure on a company's balance sheet. Goldman Sachs itself got into severe trouble in the last financial crisis and needed $5 billion in capital from Warren Buffett in addition to $2.5 billion of fresh equity capital to remain afloat.
While business conditions are currently trending positively, it cannot be ruled out that Goldman Sachs may face financial difficulties again, if another recession were to come along.
Takeaways
Goldman Sachs is trading for a reasonable valuation and it is clear that the business has improved significantly in the last number of years. I believe that shares are still not cheap enough to warrant an investment given the risks associated with investment banking. If Goldman Sachs continues to drop further, though, the shares might be worth taking a look at.
Disclosure: I/we have no positions in any stocks mentioned, and no plans to initiate any positions within the next 72 hours. I wrote this article myself, and it expresses my own opinions. I am not receiving compensation for it (other than from Seeking Alpha). I have no business relationship with any company whose stock is mentioned in this article.