Prognosticating inflation is becoming a vital investment criterion for making the right asset allocations in 2019 and likely beyond. The theme I've held since the 4th quarter of 2018 has been that we could very well see 0% inflation in 2019.
I left this chart of the 5-year forward inflation expectations from an article I penned on November 4th, titled "Why Inflation Is Going Down."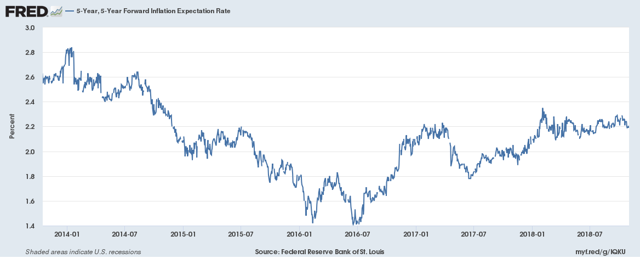 Here is how the same chart looks today, roughly 2 months later: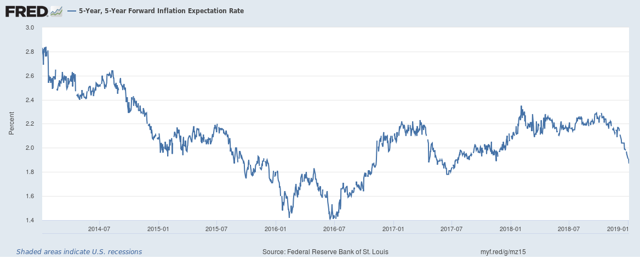 Inflation expectations from that point on have collapsed.
A lower inflation rate means that the real rates of return on anything that bears interest should prove to be a real rate of return.
So much so that I recommended looking at the 20+ year bond ETF (TLT) back on November 26th, when it was at $115.14 a share. Today, it trades at $123.54.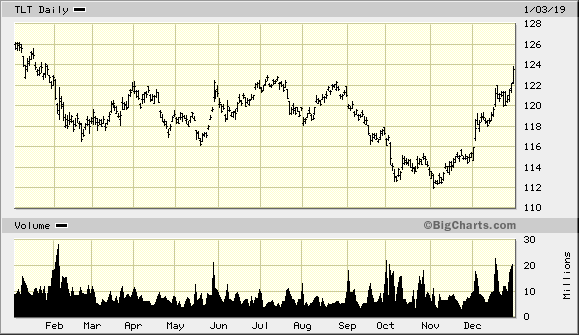 A lot has changed since I wrote that article, as the sentiment toward my observation that inflation was going down has really picked up.
A lower inflation rate in 2019 should prove very positive for longer-dated and safe, higher-yielding securities like TLT.
It should also prove positive for real GDP growth and real wage growth. Living standards will improve, and that is the real dividend that will have been earned from the pro-growth policy of the past 2 years. Much of this is a result of improvement in gross domestic investment spending, which has resulted in stronger productivity or output per hour worked.
These are all very positive things.
As the market has been anticipating lower inflation, the bond yields on 2-, 3- and 5-year Treasuries have collapsed below that of the Fed funds rate.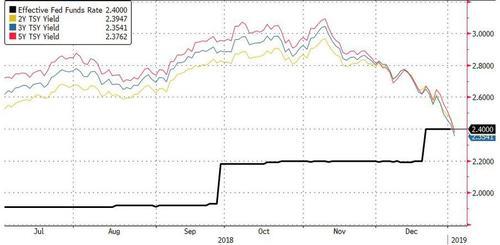 Chart Source: ZeroHedge
These yields are declining, as they are chasing inflation lower knowing that their real rate of return will still be good.
Watch The 2-Year Treasury Yield
I will share the 3 times in the past 30 years when the difference in the Fed funds rate got to be more than 1% of the 2-year treasury.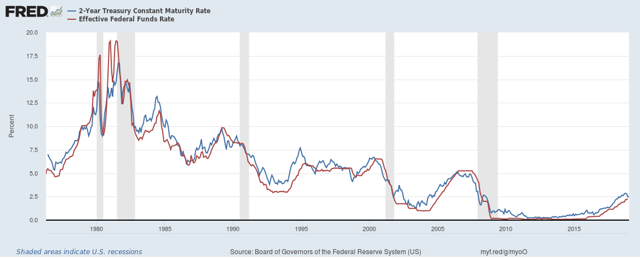 As you can see from this longer-term chart above showing the 2-year treasury yield compared to the Fed funds rate, the 2-year treasury yield was lower than the Fed funds rate in the late 1980s, and was followed by both a recession and lower interest rates. It again happened in the early 2000s and in 2007/2008, all resulting in lower rates and a recession.
Here is a better chart showing the Fed funds rate - the 2-year Treasury yield: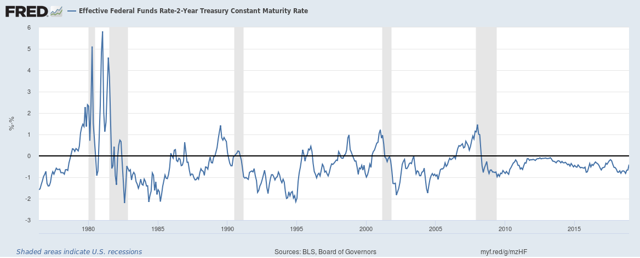 Recently, the 2-year Treasury yield went as low as 2.38%, 2 basis points below the Fed funds rate of 2.40%. Today, it traded at 2.54%, so it had a rebound. Regardless of the recent rebound, the yield drop on the 2-year Treasury is quite telling.
With the Fed intent on raising rates in 2019, having a forecasted Fed funds rate of 2.90% for 2019, even as inflation heads lower, we could very well have a case where we could see the 2-year Treasury yielding as much as 1% below that of the Fed funds rate.
Observing the 3 times this has occurred in the past, I'll highlight what happened to interest rates post such an event.
Focusing on the yield difference at its peak:
July 89' - 1.42% (The Fed funds rate over the 2-year Treasury rate.)
January 01' - 1.22%
January 08' - 1.46%
In each of these instances, what followed was a large leg down in interest rates. A recession followed as well. The economy slowed and demand for loans slowed, which is what triggered the lower interest rates.
| Month/Year | Fed Funds Rate | Month/Year | Fed Funds Rate | Time Difference | Drop in Fed Funds Rate |
| --- | --- | --- | --- | --- | --- |
| July 89' | 9.24% | Dec 92' | 2.92% | 3 Yr 5 Mth | 6.32% |
| January 01' | 5.98% | July 03' | 1.01% | 2 Yr 7 Mth | 4.97% |
| January 08' | 3.94% | Dec 08' | 0.16% | 11 Mth | 3.78% |
| Est. January 20' | Est. 2.90% | Est. January 21' | Est. 0.00% | Est. 1 Yr | Est. 2.9% |
The leg down in interest rates is unquestionable, and the 2-year treasury yielding 1% below that of the Fed funds rate was the omen.
As we are seeing lower and lower interest rates, the interest rate decline in these episodes is less and less.
I am of the opinion that sometime in 2020 or 2021 the latest, we will be at a 0% Fed funds rate again. I'm not aware of anybody else who is predicting 0% Fed funds rates in 2020 or 2021.
I'm going to estimate that by January 2020, a year from now, the rate of inflation will be closer to 1% or less, and there is a possibility that the 2-year treasury will be yielding 1% more than the Fed funds rate. What will follow from that is another leg down in interest rates. The reason for this is net credit growth will be very low.
As of now, the Federal Reserve estimates PCE inflation to be 1.9% in 2019. So this is not a consensus view.
Conclusion
Your 2019 investing bias should lean toward one that expects lower inflation and higher real rates of return. Real wage growth should be strong in the first half of 2019, and that should benefit the economy overall.
These positives may prove to be good for stocks, as confidence can remain strong. Who's not liking the price at the pump?
Lower CPI data will justify the lower interest rates on the 2-year Treasury.
So long as the Fed maintains its bias to raise interest rates - and I believe it will - there is a good possibility for this scenario of the 2-year Treasury bond yielding 1% less than the Fed funds rate foretelling a big drop in interest rates and a recession sometime in 2020 or 2021.
Disclosure: I/we have no positions in any stocks mentioned, and no plans to initiate any positions within the next 72 hours. I wrote this article myself, and it expresses my own opinions. I am not receiving compensation for it (other than from Seeking Alpha). I have no business relationship with any company whose stock is mentioned in this article.