Fundamental Developments - Silver Looking Frisky
The price of gold went up four bucks, and the price of silver rose 32 cents. Silver has been going up in gold terms since the middle of last week when the gold-silver ratio peaked at just under 87. It closed this week at just under 82 (a lower ratio means silver is more valuable).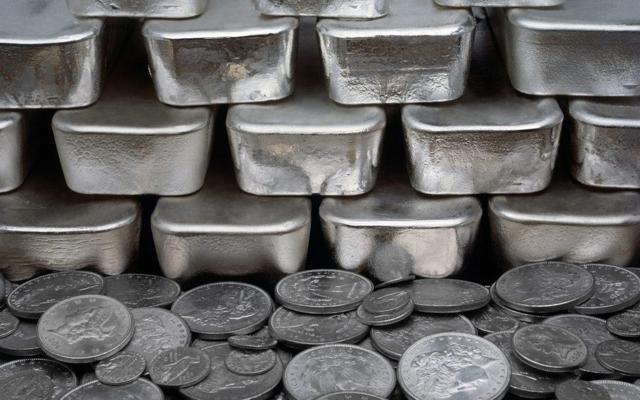 Silver: more valuable since last week, both in absolute and relative terms. Just avoid dropping it on your toes - it's still just as heavy as it always was. [PT]
87 is quite an extreme level. So it's natural for there to be a move back down. But is this move durable, and likely to continue? We will look at that when we discuss silver's supply and demand charts. Let's look at that picture. But, first, here is the chart of the prices of gold and silver.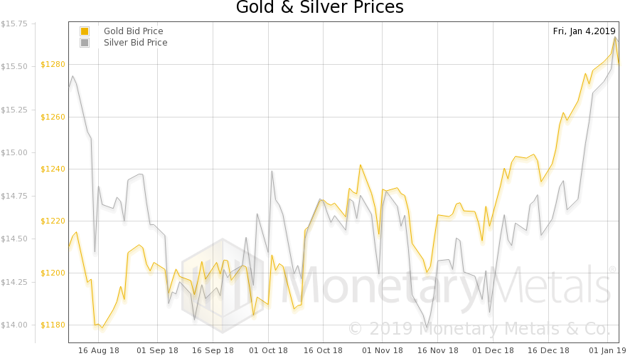 Gold and silver priced in USD
Next, this is a graph of the gold price measured in silver, otherwise known as the gold to silver ratio (see here for an explanation of bid and offer prices for the ratio). It fell sharply again this week.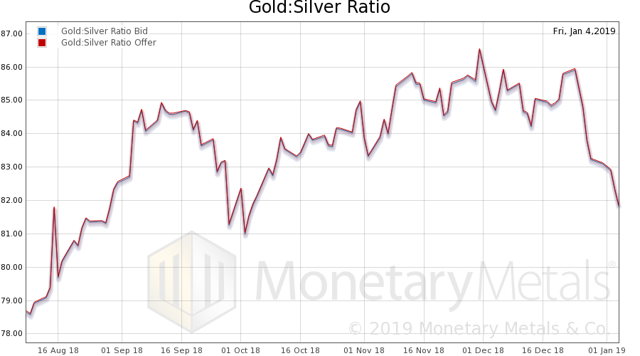 Gold-silver ratio
Here is the gold graph showing gold basis, co-basis and the price of the dollar in terms of gold price.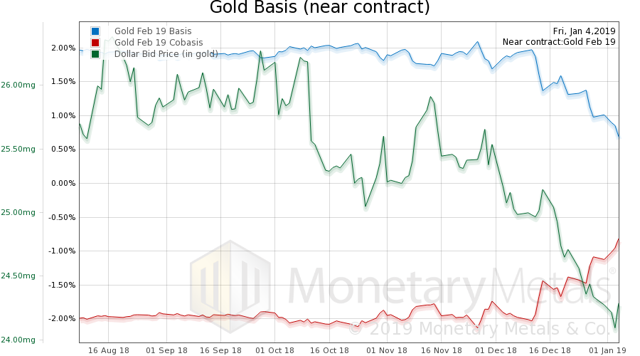 Gold basis, co-basis and the USD priced in milligrams of gold.
Keep in mind that this is the February contract, which is under selling pressure as it approaches expiry. The gold continuous basis is basically flat. So this week, no real price move and no real supply and demand move.
The Monetary Metals Gold Fundamental Price fell back $4 to $1,321, so no real fundamental move either.
Now let's look at silver.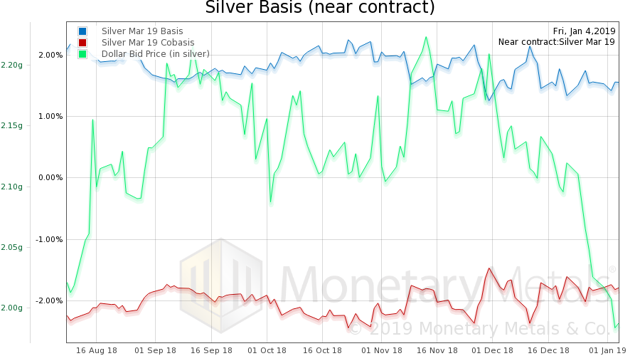 Silver basis, co-basis and the USD priced in grams of silver
As the price of silver rose over 2% this week, the co-basis basically held steady. There is some buying of metal here, and some speculation too. This is not exactly the picture of a feeding frenzy, with an outlook of silver-to-da-moon. But nor is it a sign of a speculative blip, with a prognosis of a crash.
The Monetary Metals Silver Fundamental Price rose 12 cents, to $15.91.
Is it too Late for Jawboning Alone?
This week, of course, the stock market went up. Does the incredible bull market roar back to life? We are not stock market prognosticators, but we don't think so if the Fed stays the course. As we have written, the discount on future earnings is higher now and therefore the present value is lower. Also, the interest expense is up and this will crush marginal debtors.
The biggest up day in the stock occurred when Fed Chairman Jay Powell said the Fed is "listening to markets." So stock market speculators believe that the Fed will change its policy, or at least mitigate its policy to serve a real or imagined third mandate - a rising stock market?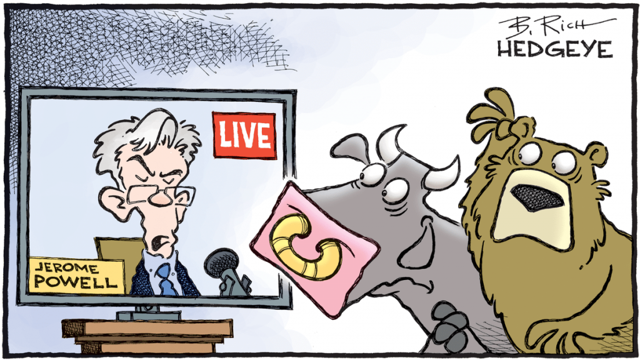 Mr. QT on TV. [PT]
We think that the market is past the point where mere jawboning will work. So if the Fed changes nothing, then eventually higher rates will convert into a higher discount rate and hence lower stock prices. And not just lower stock prices, but defaults from marginal debtors big and small. Stresses on balance sheets big and small; underfunded pensions coming back to the fore. Etc.
In short, that would not be an environment of rising trust in the banks. More likely, it would be an environment of a rising co-basis and maybe backwardation. We haven't seen this in quite some time.
Alternatively, the Fed can reverse course and lower interest rates. The way a 5-year-old child, first learning to play chess, will move a bishop too far and then waste a move pulling it back. Not a way to develop credibility (though we must point out that the dollar does not depend on credibility per se).
In an environment of the Fed saying it will drop rates to accommodate the stock market, we might get a return to the halcyon days of 2009-2011. So we cautiously take the position that the prices of the metals are likely to rise from here.
One thing is for sure, it's not curtains for the dollar or America. That day will come, but to fall back to our favorite quote from our favorite movie character, Aragorn, "today is not that day."
© 2018 Monetary Metals
Charts by Monetary Metals
Chart and image captions by PT
Editor's Note: The summary bullets for this article were chosen by Seeking Alpha editors.