Though it may be correct in literal terms to define the drop in yield between the 1-year Treasury and the 3-year Treasury as an "inversion", even a casual observer would note that the trajectory is linear, with the exception of a "bulge" propping up the yield of 1-year Treasuries. Which raises the question - why is there a meaningful kick-up in yield in that particular spot? This is not an easy question to answer.
As the chart below shows, the current yield curve inversely mirrors the yield curve at the start of December, even at the 1-year point.
Treasury Yield Curve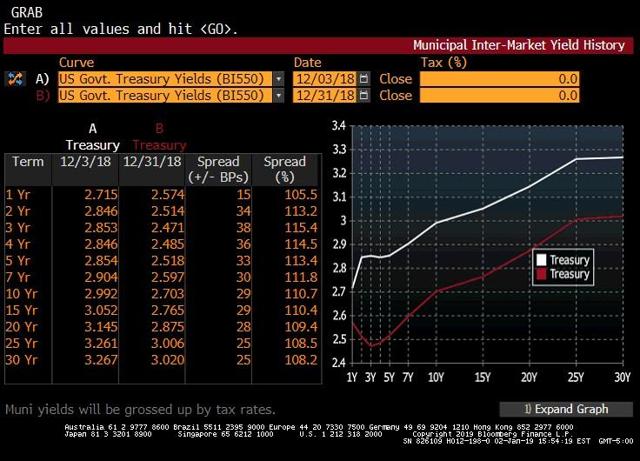 (Source: Bloomberg, accessed 1/2/19)
The broad, sharp decline in rates all along the yield curve suggests there isn't much fear about being paid. The bulge in 1-year rates (and the related "inversion") is a December 2018 phenomenon that accelerated toward mid-month and the December 19 Fed hike. There is a general assumption that the Fed decrees a hike in short-term rates and, by mere force of rhetoric, rates just go up.
That would imply that the Fed has obviated the laws of supply and demand. Despite significant balance sheet sales, there is still so much liquidity sloshing around that even the Fed can't raise rates merely by decree. It has to intervene to influence supply. I'm not on their email list, but I would assume that that intervention occurs through open market operations focused on very short maturities, that those open market operations are positioned to drain liquidity that puts upward pressure on short-term rates, and there is a spillover effect to contiguous maturities.
Despite how this looks on the chart, this is all about a difference of 10 bps between 6-month and 8-year bonds (2.5% vs 2.6%). It's essentially a flat curve.
Editor's Note: The summary bullets for this article were chosen by Seeking Alpha editors.