Background
Financials have been severely punished lately. Wells Fargo (WFC) has been no exception. The stock is down around 25% from its recent highs. The dip in Wells Fargo's seems surprising given the fact that the bank already traded at a very significant discount to the broader market. The bank just can't seem to catch a break and just recently agreed to pay another $575 million in fines related to the violation of consumer protection laws. Wells Fargo is also months behind complying with risk management policies which have been implemented by the Federal Reserve to prevent abuse of customers, following the sales scandal which took place in 2016.
However despite all of this, I don't think investors should be fearful of the recent dip but rather embrace the opportunity to scoop up even more shares.
Business Fundamentals
Wells Fargo's financial performance has barely suffered throughout its numerous scandals. While the bank has failed to grow earnings, Wells Fargo still earns $20+ billion in profits every year and continues to return capital aggressively to shareholders with massive share repurchases and increases to its quarterly dividend payouts. The bank's return on assets is still far above industry average coming in at 1.27% in the recent quarter. Wells Fargo also earned 12% on equity which is still well above competitors like Bank of America or JP Morgan, who continue to post below 10%.
For longer term investors, there are some encouraging metrics which point to the strong financial health of Wells Fargo. Firstly, the bank has increased its loan origination's in auto, small business, home equity and personal loans lines of business. In the previous quarters Wells Fargo had struggled to grow its loan book, stating that it needed to tighten its underwriting standards in auto loans and consumer real estate to meet the bank's risk criteria. A return to growth means that Wells Fargo will be able to grow earnings in the long run, particularly when the asset cap is lifted. Even more encouragingly the total average yield of the bank's loan portfolio is 30 basis points higher than last year reflecting the impact of higher rates.

Source 1: Quarterly Report
In such a volatile market, Wells Fargo is also one of the most conservative investments which an investor could make. Tier 1 capital stands at 11.9% and is significantly above the 10% minimum requirement which is authorized by regulatory authorities. The company has excess capital which it will continue to return to shareholders over time, meaning that investors can expect years of increased dividend hikes and share buybacks which will be accretive to earnings.
Wells Fargo's 2018 Capital Plan covers the four-quarter period from the third quarter of 2018 through the second quarter of 2019. The plan enables the Company to begin prudently returning excess capital to shareholders, relative to its internal target – an opportunity resulting from capital built in recent years through continued stable earnings and a lower level of risk-weighted assets. The Company's internal capital target is established in connection with a rigorous risk-based capital adequacy assessment process that includes comprehensive current and forward-looking evaluations of the Company's capital position relative to its risk profile and the operating environment.
Source: Business Wire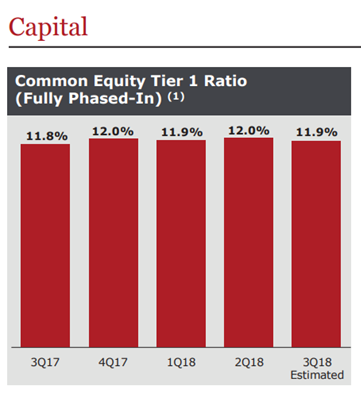 Source: Quarterly Report
The only challenge which Wells Fargo has faced in the last year is a slowdown in deposit trends. Deposits have slowed down as consumers continue to move to higher yield alternatives. The cost of Well Fargo's bank's deposits is also rising as an increase in interest rates means that the bank incurs a higher cost of holding their clients' money. There is also increasing competition for consumer deposits as the fight for consumers' money increases. Clearly, deposits are extremely important and if Wells Fargo is unable to attract deposits, the bank's ability to grow its loan portfolio will be limited in the future; however, this seems unlikely.
FDIC data shows that since 1934 deposits in US commercial banks have grown at a compounded annual rate of 7.3% and total deposits are now in excess of $12 trillion dollars. Given the consolidation in the banking industry, Wells Fargo is likely to retain a significant share of these consumer deposits which means that the bank will easily be able to return to growth.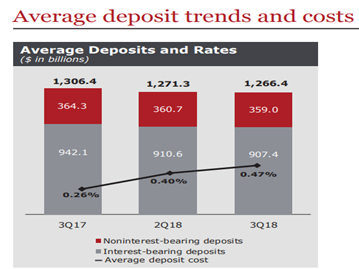 Source 1: Quarterly Report
Valuation
Wells Fargo is trading at an earnings yield of 10% as its forward price to earnings ratio is just 10. This represents a significant discount to the broader market. Given that Wells Fargo has excess capital that it is planning to return to shareholders, the valuation may be even lower than this. Investors who purchase stock now get a solid 3.6% dividend yield while they wait for the bank to return to growth. I believe that shares have not tracked fundamentals, however as long as the bank continues to strengthen its core business there is no possible direction which shares could head, other than upward.
It's important to note that earnings have been hurt in the short-term because of the difference between short-term and long term interest rates. As the Federal Reserve has raised rates, Wells Fargo needed to increase the interest it paid on deposits to its clients immediately. To raise rates on long-term loans though, takes slightly more time. This means that even though fundamentals have strengthened, earnings have not increased immediately. However, investors with a long term horizon can rest assured that higher loan origination's now will pay major dividends in the future.
Finally, Wells Fargo's asset cap is still a major hindrance to the bank. A cap on the bank's assets directly limits the banks earning power and its ability to take deposits from institutional and retail investors. Realistically though, it is only a matter of time before this asset cap is lifted and the bank can get back on track with its growth. It seems that everything at Wells Fargo has taken longer than it should have, but the bank will inevitably comply with the regulations imposed by the Fed, so that it can return to its normal practices.
Takeaways
I believe Wells Fargo offers investors a significant margin of safety and is a great investment for the long run. There is no reason to fear recent declines as fundamentals continue to strengthen. While the Wells Fargo turnaround seems like it has taken far longer than it should have, rest assured that the tide will indeed turn. The bank will return to growth and shares will head significantly higher from where they trade today.
Disclosure: I am/we are long WFC. I wrote this article myself, and it expresses my own opinions. I am not receiving compensation for it (other than from Seeking Alpha). I have no business relationship with any company whose stock is mentioned in this article.