All indications are that the international toy market outside the U.S. and Canada is growing much more rapidly, and there are basically two questions surrounding this statement - why should this be, and how do Mattel (NASDAQ:MAT) and Hasbro (NASDAQ:HAS) perform in this changing environment?
Basically, toy sales are driven by two fundamental factors - demographics and economics. Logically, the more children there are and the better their parents do, the more toys are sold. First, a look at where most children live: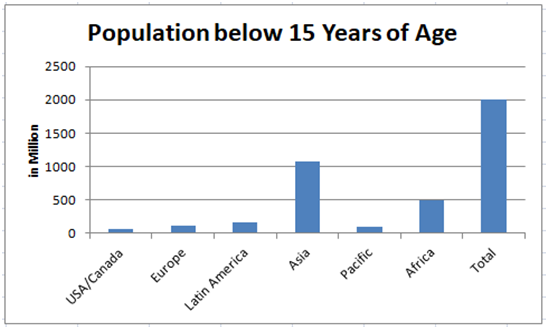 Source: Statista
More than half of all children live in Asia and nearly a quarter in Africa. In contrast, the U.S. and Canada represent a mere 3%. This disparity is likely to grow further if one looks at the fertility metrics: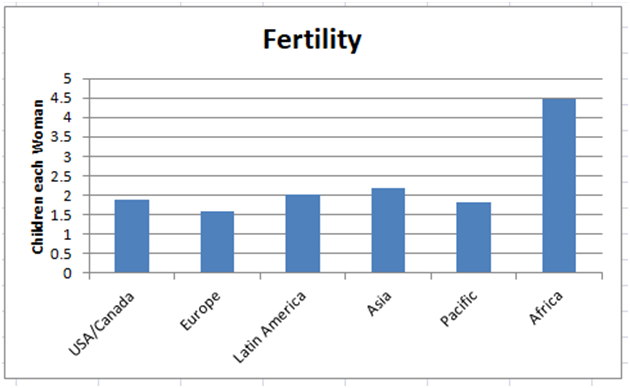 Source: Fertility rate, total (births per woman) | Data
As a rule of thumb, it takes 2.1 children per woman to ensure a stable child population. Anything above that leads to an increase in the population, and anything below this gets you the opposite. Asian and African children are hence likely to become more numerous, and U.S., Canadian, and European children, less so.
As for the Economic issue - Per Capita GDP is generally accepted as a reasonable yardstick for the well-being of a people: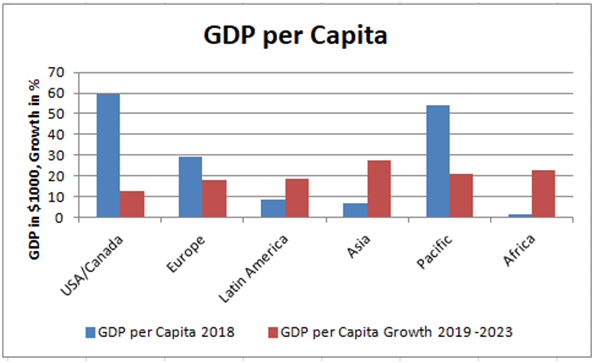 Source: Wikipedia and Fertility rate, total (births per woman) | Data
While the children in the U.S. and Canada live in very rich countries, and those in Asia and Africa in very poor ones, the latter two are expected to outstrip the Western World in terms of GDP per Capita growth over the next five years. Please note that Europe, of course, includes Eastern Europe and Russia.
Given all this, toy market growth around the globe is likely to develop as set forth below: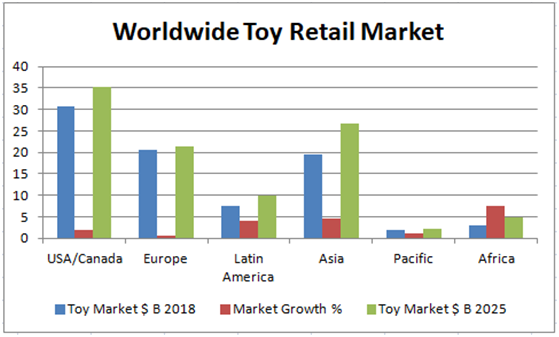 Source: Klosters Retailer Panel
(Incidentally, whilst this information will undoubtedly be redundant for most of my readers, the editors of Seeking Alpha insist that I explain how I get the data for the Klosters Retailer Panel quoted at the bottom of each of the chart above. It is derived from my proprietary U.S. retailer panel consisting of ten individual stores - one Walmart, one Target, one Barnes & Noble, one J.C. Penney, one Kohl's, one CVS, one Walgreens, and three Learning Express specialty stores. In addition, I am in regular contact with national buyers at 32 major retailers in 18 countries around the globe. I will not provide any further identification, given the confidential nature of the relationships.)
This forecast was developed by consulting national buyers at 32 leading toy retailers in 18 countries on all five continents. This suggests that market growth in terms of dollars will be highest in Asia and in terms of percentage in Africa over the next seven years. In summary, it tells us that the toy market worldwide will grow from a 2018 base of US$ 83.1 billion to $99.9 billion in 2025 at an average annual growth rate of 3.1%.
Against this background, it is useful to look at how Mattel and Hasbro performed over the past three years in terms of their geographical sales distribution. To judge from both companies' SEC filings, they do not do any business in either the Pacific (Australia, New Zealand) nor in Africa. This is, of course, not accurate, and these sales are presumably just rolled into the numbers shown for Latin America. However, it also suggests that whatever sales these two companies do on these two continents are too small to warrant a specific mention.
This is what the two companies reported in their SEC filings [2018 nine months only]: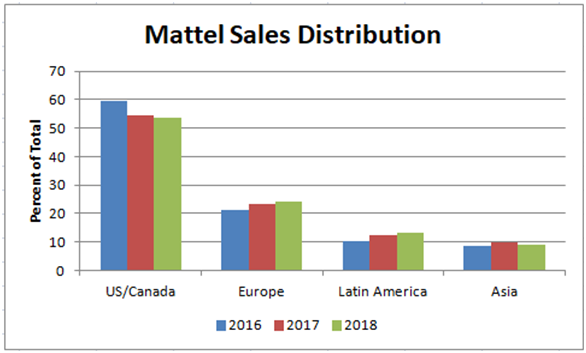 Source: SEC filings
This tells us that Mattel was reasonably successful in diversifying into non-U.S. markets, particularly in Europe and Latin America.
In comparison, Hasbro's chart looks like this: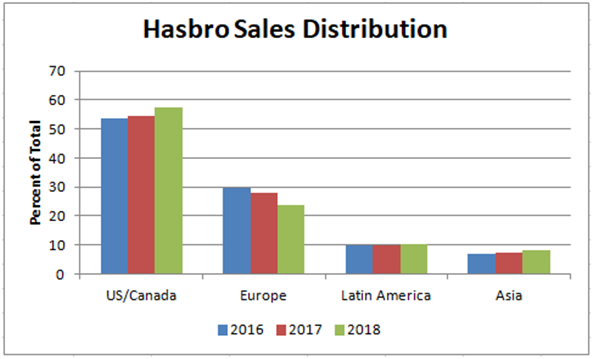 Source: SEC filings
Hasbro showed further concentration of their sales in the U.S. and Canada. This now allows us to look at the position of each company in terms of their 2018 market shares worldwide: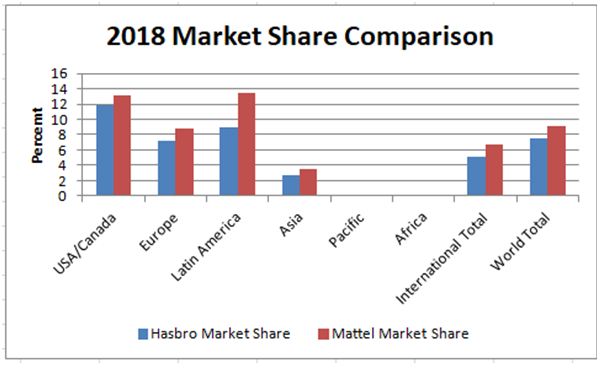 Source: Klosters Retailer Panel
Overall, this suggests that Mattel is stronger in the high-growth regions compared to Hasbro, and this is likely to become more of a factor as time goes by, given the demographic and economic dynamics there.
Why is all this important?
For one, it shows you a company's overall strategic impulses. In the case of Hasbro, this impulse is to follow a defensive strategy and to focus investments and resources on short-term opportunities even though these may over the longer haul work against them. Their investment in the North American toy market tries to capitalize on the fact that the consumer not only is ready to buy a lot of toys but also has the wherewithal to do so. There is nothing wrong with this approach except that you are competing in the most contested and most saturated market in the world. Everybody and his brother either has its base in North America or sees North America as its second market after Europe - Lego, Simba Dickie, Ravensburger, and Brandstätter Playmobil are cases in point. Also, as the charts above show, the demographic dynamics are against you.
In the case of Mattel, you are looking at a company that has adopted an offensive strategy and one that sees ongoing demographic changes worldwide as a competitive factor to be exploited. This is a more costly approach in that the investment required to make a sale is much higher in Asia than in the United States or in Europe simply because you are creating a business from a very small base for the long haul. This strategy is also evident from the fact that Mattel as a rule builds its own factories and employs its own people outside the U.S. as opposed to Hasbro which is much more prone to go the subcontracting and the distributor route. It is an old truism that it is always more difficult to be the first into a market but much less expensive than what it would be for the second comer because he goes up against a by-then entrenched competitor.
All this does not mean that Mattel's longer-term success is assured. The company has an unfortunate habit of shooting itself in the foot at the worst possible moment. They lost the Disney Princess franchise (which, in retrospect, appears to have been a mistake on Disney's part); they just now lost the prime part of the DC Comics license, they are at their fourth CEO in less than four years, and they dumped down American Girl until they now nearly have to give the things away. However, they do have a first-class set of brands; they do have a really very good supply chain and marketing infrastructure; and their sales operation is second to none. Given all this, and if they manage to keep out of trouble, their geographical strategy as seen in this article is very probable to provide them with a major competitive advantage.
Disclosure: I/we have no positions in any stocks mentioned, and no plans to initiate any positions within the next 72 hours. I wrote this article myself, and it expresses my own opinions. I am not receiving compensation for it (other than from Seeking Alpha). I have no business relationship with any company whose stock is mentioned in this article.