Continental AG (OTCPK:CTTAF) is a global auto supplier and tire maker. Operations include chassis and safety, powertrain, interior, tires, and ContiTech. Continental's largest markets are Germany, the rest of Europe, and North America, accounting for about 25%, 33%, and 20% of revenue, respectively. Asia has been growing rapidly, representing about 15% of revenue. Auto-parts supply revenue is 60% of Continental's total business while tires are 30% and rubber products (ContiTech) are 10%. The top five customers are BMW, Ford, Daimler, Volkswagen, and General Motors, representing about 40% of the total.
Depressed valuation levels
In the last year, the majority of the automotive manufacturing companies (tires) went through a rough time losing billions of their market cap. The shocks came mainly from the largest auto manufactures cutting their sales guidance, rising raw material prices and the increased pessimism levels of a global economic slowdown. The general trend of transitioning to electric cars pushes up the costs as well.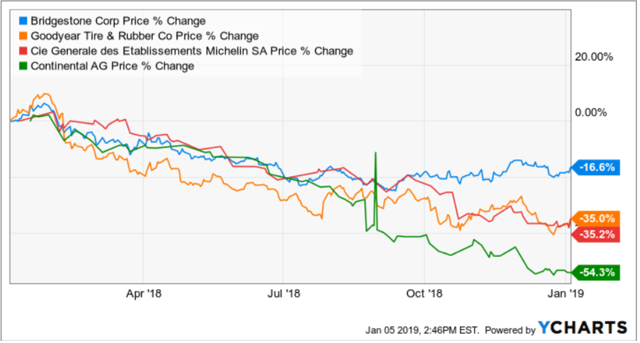 Source: Ycharts
As the chart above indicates, Continental has suffered the biggest share price decline among its peers. This gap has, in turn, has pushed down CON valuations to its historical lows and into discount territory relative to its peers. Currently, the TTM P/E ratio of Continental is lower than the average of its sector 10.13, resulting in an 18.5% discount. Compared to its 5-Y average the discount is even deeper – 42%. If we compare Continental`s EBT margin to that of its two closest peers by market cap, the discount is somewhat justified.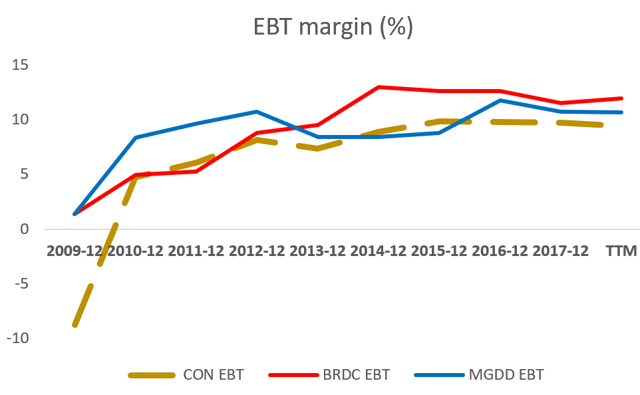 Source: Author, based on Morningstar
Continental has indeed marginally lower EBT margin than both Michelin and Bridgestone and the TTM development shows slightly downward sloping EBT margin while Michelin has managed to hold it flat and Bridgestone increase it. However, when comparing the debt to equity ratios among these 3 firms, one can conclude that Continental has the lowest financial risk. According to the latest quarterly reports CON has D/E of 0.09 while Micheline and Bridgestone have D/E of 0.22 and 0.13 respectively. The ability to convert earnings into cash is also slightly better for CON (68%) - MGDD (67%) and BRDC (53%). Assessing CON fundamentally, it seems that ~20% discount relative to its peers is too pessimistically set and hence some convergence to its peers should be expected.
Spin-off
In mid-2018, Continental announced plans to carve-out its Powertrain division through an IPO into a separate publicly traded company. The carve-out will generate cash that will allow CON to focus on innovation. CON plans to keep controlling stake in the Powertrain unit. It could also plan a partial share sale of a minority stake in the rubber division, which could further help fund potential acquisitions. As a part of its broader restructuring, a holding structure of Continental would be created under the new "Continental Group" umbrella brand. This holding structure will include three business sectors: Continental Rubber, Continental Automotive, and Powertrain. These new names would be effective starting in 2020.
Given the fact that spun-off companies tend to perform better than the market (e.g. The Bloomberg US Spin-Off Index produced a total return of 35% in 2017 versus 21.8% for S&P 500), these changes should increase the likelihood of a positive CON`s share price development. Overall, the maneuvers made by CON send a clear signal that the firm is striving hard to take a leading role in the new industry environment.
R&D
The most important narrative thread from McKinsey&Company "The road to 2020 and beyond What's driving the global automotive industry?" is this: the global automotive industry is about to enter a period of wide-ranging and transformative change, as sales continue to shift and environmental regulations tighten. The lesson: companies that want to have a successful, long-term future need to get key strategic decisions right in the next decade. To capture future growth and find profit from these challenges – and to mitigate their risks – OEMs cannot simply turn to their traditional toolbox. They need to review and adjust their strategic priorities, deploy the appropriate investments and resources, and develop new skills to execute these strategic objectives.
From the financial perspective, this means that the companies involved in the industry should make huge investments to be able to satisfy the changing demand in the future. One of the most appropriate metrics that allow one to judge, which company is acting accordingly is R&D.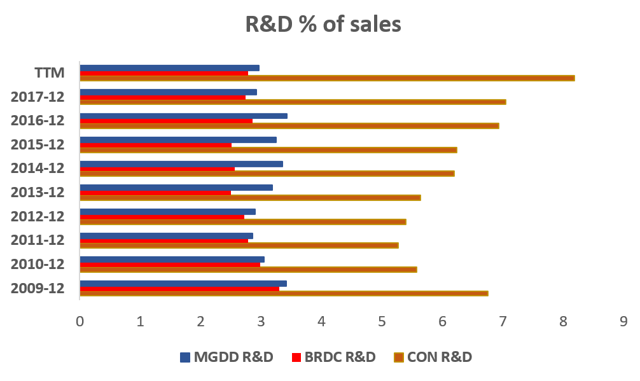 Source: Author, based on Morningstar
Compared to its closest competitors, Continental overdraws them in terms of % of sales spent on R&D. Looking at the TTM period CON`s R&D is 2.5 higher than Michelin`s and Bridgestone`s. In addition, if we measure this in absolute terms then the picture becomes, even more, brighter sine CON`s TTM sales are ~50% and ~20% bigger than those of Michelin and Bridgestone respectively. This big gap in R&D both as % of sales and in absolute terms allows one to conclude that Continental is taking seriously the changes in the industry and that the likelihood to keep and even strengthen its market share in the future is to some extent higher than for its closest peers. (Note: if we would adjust CON`s R&D levels to the average of its peers, the impact on the aforementioned margin would be considerable and hence the gap would narrow significantly).
Risks and Conclusion
The main risk to worry about taking a position in CON is mainly linked to the industry since the balance sheet is strong and the margins are healthy. There clearly is a risk that all the money spent on R&D won`t warrant a successful entry in the electric car business (e.g. some other competitor may spend less but more efficiently on R&D). However, its 147-year experience should provide some advantage and know-how in handling the changing nature of demand.
Given that Continental is trading at ~20 discount to its peers although having a safer balance sheet and a much bigger R&D, the expectation of its share price convergence to the valuation levels of its peers is reasonable. In addition, considering the coming spin-off and putting its above-average R&D in the context of the changes in the industry, the stock should be an attractive investment for an investor with mid to long-term horizon.
Disclosure: I am/we are long CTTAF. I wrote this article myself, and it expresses my own opinions. I am not receiving compensation for it (other than from Seeking Alpha). I have no business relationship with any company whose stock is mentioned in this article.