Thesis
Canopy Growth (CGC) is a stock which I believed was heavily overvalued during fall 2018, and I recommended shorting it. Shares have fallen considerably since, and I believe that Canopy Growth should not be shorted any longer.
Growth in the industry will be substantial going forward, and even though Canopy Growth is still trading at a relatively high valuation, shares are not as overvalued as they were. The company could grow into its current valuation over the coming years.
My Original Short Thesis
In September I wrote my first article about Canopy Growth, in which I argued that shares were massively mispriced and that the high growth rates did not justify the valuation at the time. I stated that Canopy Growth was a good short candidate, during two other articles on Canopy Growth I argued that I see downside potential to the $20s or $30s.
Shares have fallen below $30 over the last couple of months, and after revisiting I change my stance on the company's stock. Canopy Growth should not be shorted any longer, I believe, although the stock still may not be the best long investment yet.
Cannabis Industry Growth Outlook
Growth for the cannabis industry rests on two pillars, medical marijuana, and recreational marijuana. Recreational marijuana is a potentially much larger market due to a significantly larger portion of the population that is interested (and qualifies) for the use of recreational marijuana.
On the other hand, only one large country (Canada) has fully legalized cannabis (including the recreational use of cannabis) on a federal level, and it is not yet known which countries will legalize the recreational use of cannabis during the coming years. There is a larger number of countries where marijuana has been legalized for medical purposes, and it is relatively likely that this market will grow substantially over the coming years.
Analysts from Global Market Insights see massive growth in the medical marijuana industry through the 2020s, as they forecast that the global medical marijuana market will be worth $55 billion by 2024. This massive growth in the addressable market is based on two factors: Legalization of medical marijuana in additional countries (and additional US states), and increasing use of medical marijuana, or marijuana-based products, in states & countries where the use of medical marijuana is legal already.
Medical marijuana, as well as marijuana-containing or marijuana-based drugs, have potential as a treatment for several indications:

Source: nccih.nih.gov
Treating side effects in people that undergo chemotherapy is one of the largest markets for medical marijuana. About 1.7 million people in the US get a cancer diagnosis every year, and for a significant portion of these people, chemotherapy will be used as a form of treatment. Globally, the patient count is much larger - even when we focus only on those countries where medical marijuana has been legalized (parts of Europe, Canada, Israel, Australia, Argentina, etc.), the potential patient count is much larger than the US patient population.
The recreational marijuana market is potentially much larger, as analysts forecast a total legal marijuana market size of $146 billion by 2025. This implies a recreational marijuana market size of ~$90 billion, based on forecasts of $55 billion in medical marijuana sales annually. In Canada, forecasts for the recreational marijuana market typically range from $6 billion to $7 billion, but dispensaries were overwhelmed by strong demand initially. This could mean that the forecasts for the recreational marijuana market in Canada were too conservative and that actual sales will be higher during the coming years. Growth in the recreational marijuana market towards the forecasted $90 billion in annual sales will depend on the legalization of recreational marijuana in additional countries and US states nevertheless, which means that there is some uncertainty around the future market size - it is possible that a lower or higher number of new countries will legalize the recreational use of marijuana over the coming years, compared to what most analysts are forecasting/assuming right now.
All in all, we can summarize that the global marijuana industry will continue to experience rapid growth over the coming years, as rising use of medical marijuana and increasing utilization of marijuana as a (legal) recreational drug will allow industry players to sell an increasing amount of marijuana to their customers.
Canopy Growth: High valuation, but well-positioned for growth
Canopy Growth is one of the largest players in this industry. In industries that are experiencing some type of hype, the best-known companies see their share prices rise more than less-known peers, which can lead to above-average valuations.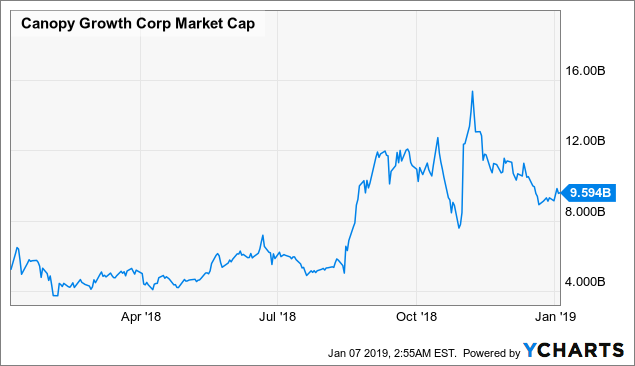 Canopy Growth's market capitalization has peaked at ~$16 billion and declined substantially since, but shares are still not trading at a low valuation at all. The company is forecasted to be able to produce about 500,000 kg of marijuana a year at one point. Based on a per-gram price of CAD9.87 (Canopy Growth's average selling price during Q2 of 2019) Canopy Growth has the potential to generate revenues of CAD4.94 billion annually. This equates to revenues of $3.85 billion, which means that Canopy Growth is trading at roughly 2.5 times future annual revenues right here.
The broad market trades at less than two times annual sales right now, thus Canopy Growth is still not a cheap stock at all. The valuation is not as outlandish as it used to be, though.
Canopy Growth is the largest player in its industry, which should be positive, as the largest players in this industry have a good chance of generating above-average margins thanks to better economics of scale. Canopy Growth also will benefit from its cooperation with Constellation Brands (STZ) (NYSE:STZ.B), which is a major player in the beer, wine, and spirits industry. Constellation Brands' investment of close to $4 billion into Canopy Growth has given Constellation Brands a sizeable stake in the cannabis player, which means that Constellation Brands will be heavily inclined to build out the cannabis-drinks business rapidly to recover the investment. The cash infusion that Canopy Growth got through this deal will also increase Canopy Growth's ability to grow its operations further, and gives management a lot of wiggle room, compared to more cash-restrained peers.
Takeaway
It is likely that Canopy Growth will not be profitable any time soon, and it is possible that its share price will continue to decline over the coming months and quarters. Canopy Growth does not look as massively overvalued as it used to during fall 2018 anymore, though, and I believe that shorting Canopy Growth here is not a good idea.
For those that seek exposure to the cannabis industry Constellation Brands looks like a better deal than Canopy Growth, though, as Constellation Brands will benefit from industry growth through its deal with Canopy Growth, but at the same time risks seem more limited.
Elazar Advisors' Tech Stock Service: Nail Tech Earnings
The most profitable tech stocks have delivered revenue and earnings growth meaningfully higher than analyst estimates. Nailing which companies will beat or miss consensus estimates is the key to profits for traders and long-term investors. I work with Chaim Siegel who's a professional tech analyst, originally with SAC Capital. Nail Tech Earnings, our research service, provides actionable calls for tech investors, backed up by rigorous research, to make money for our subscribers.
Disclosure: I/we have no positions in any stocks mentioned, and no plans to initiate any positions within the next 72 hours. I wrote this article myself, and it expresses my own opinions. I am not receiving compensation for it (other than from Seeking Alpha). I have no business relationship with any company whose stock is mentioned in this article.