Welcome to Part 2 of an ongoing series analyzing stocks uncovered by Wall Street brokers that appear to offer value based on a simple but effective value screen. If you've seen my previous article, you know I prefer to analyze stocks that aren't constantly monitored by professional sell-side analysts as it leaves more opportunities to find overlooked or unmodeled information. Similarly, the Piotroski score gives us an easy screen within that uncovered universe - I look for stocks that score 7 and above on a 0-9 scale, indicating strong fundamentals from an accounting perspective.
So without further ado: National Research Corporation (NRC), a Lincoln, Nebraska-based provider of services to the healthcare industry.
What's In a Name?
The nebulous name offers little insight into just what the company does, and in fact the company's own description does little to offer clarity:
The Company is a leading provider of analytics and insights that facilitate measurement and improvement of the patient and employee experience while also increasing patient engagement and customer loyalty for healthcare providers, payers and other healthcare organizations. The Company's solutions enable its clients to understand the voice of the customer with greater clarity, immediacy and depth. NRC Health's heritage, proprietary methods, and holistic approach enable our partners to better understand the people they care for and design experiences that inspire loyalty and trust, while also facilitating regulatory compliance and the shift to population-based health management.

[Source: 2017 10-K, pg. 1]
To add some nitty-gritty, NRC offers subscription-based services that allow healthcare providers to poll or research their customers, employees, and payers and compare resulting data to the aggregated information in NRC's database. Essentially, the company is a specialized pollster (with extra services) for the healthcare industry, and claims to have the largest dataset of its kind in the nation:
NRC Health's Market Insights is the largest U.S. healthcare consumer database of its kind, measuring the opinions and behaviors of more than 292,000 healthcare consumers in the top 300 markets across the country annually.

[Source: 2017 10-K, pg. 3]
The CEO and founder of the company (more on him below) started NRC after working as a vice-president at Gallup, which helps connect the dots. If a healthcare provider wants to understand perception of its brand, learn about customer satisfaction, discover its comparative strengths and weaknesses in the eyes of consumers, or dig into other marketing and quality-related issues, NRC has a solution to obtain, analyse, and take action based on that data.
With an understanding of just what the company does, the first things any investor will notice on diving into this stock are the tribulations around the company's capital structure over the past several years. Specifically, the founder of the company, CEO Michael Hays, in 2013 moved the company to a dual share class structure. Supposedly this was in the interest of liquidity, but as with all dual class structures, the dynamic seemed to be one of maintaining control while appeasing certain investors.
Fast forward to late 2017, when the company announced its plans to retire all Class B shares and return to a single share class. Once again the plan's exact structure and purpose came into question, so much so that NASDAQ itself became involved and the company made several adjustments. The (somewhat tweaked) recapitalization took place in April 2018, returning the stock to a single share class. The investing community seems to have lost interest in the stock after the potential arbitrage opportunity of the dual class era, however, which makes an updated fundamental analysis that much more interesting.
But first, an important note on ownership within the current capital structure.
The Days of Hays
NRC was founded in 1981 by Michael Hays, who still acts as CEO. Until last year his control of the company was partially direct, but has since become almost entirely indirect through trusts. In 2013, when the dual share class shift occurred, the Michael and Karen Hays Grandchildren's Trust was created, which as of 12/28/18 held 5.4 million shares of NRC. A few months before the 2018 recapitalization, Hays' direct holdings dropped from 5.4 million to 0.14 million, transferring the balance to a new trust - Amandla Mk Trust - which then gained another 1.9 million common shares in return for its B shares as part of the recapitalization. Thus, Hays' total control at the end of 2018 stood as follows:
% OS
Shares (thousands)
Value ($ million)
Last Report Date
Source
Amandla Mk Trust
29.8
7,379
285
4/18/2018
Proxy
Michael & Karen Hays Grandchildren's Trust (aka K/I/E/Trust)
21.7
5,365
207
12/17/2018

Form 4

Hays, Michael D.
0.6
141
5
4/23/2018

Form 4

Hays Family - Total
52.0
12,885
497
Source: FactSet, as of 12/28/18
Albeit mostly indirect, 52% of shares remains in the founder's control, so don't let the changing capital structure leave any doubt - Hays remains firmly in control.
From a related governance perspective, this means the board has essentially no power, and its make-up reflects this. While there is a "Lead Independent Director" (who has been in that position for 27 years, such that it's hard to imagine now is the time he will start rocking the boat) and three more "Independent Directors," the company doesn't bother to pretend anyone but Hays is the first and last name that matters when it comes to governance. At 63, Hays could certainly continue to run NRC for years, but with hundreds of millions of dollars in stock (plus the tens of millions of dollars of cash he received as part of the recapitalization) it would be hard to blame him if he retired. In any case, if the capital structure of the company continues to be dictated by what's best for the controlling shareholder, retail investors can do nothing but hang on and hope. A bet on the future of NRC is undoubtedly a bet on Michael Hays.
Fundamentals: Can NRC Raise the Quantity of Quality?
The company is in the business of providing feedback and measurement between healthcare systems and the customers they serve. Put differently, they help quantify the quality of healthcare. Given the Affordable Care Act's explicit emphasis on the quality of healthcare outcomes (and making that a part of reimbursement formulas) this would seem to be a sweet spot! And indeed, in the years immediately following the implementation of the ACA revenues surged, but growth has since tapered off in a way that suggests the company is no longer riding the wave of a reoriented health ecosystem: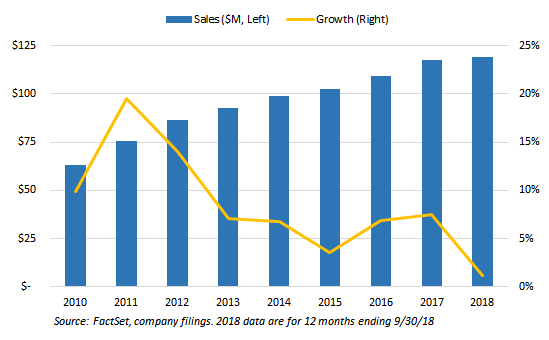 If sales aren't growing at a technology-like rate, then perhaps margins are the story? Also not the case. The company does an excellent job of maintaining its high gross and operating margins, but it is difficult to find any pattern than suggests margin expansion.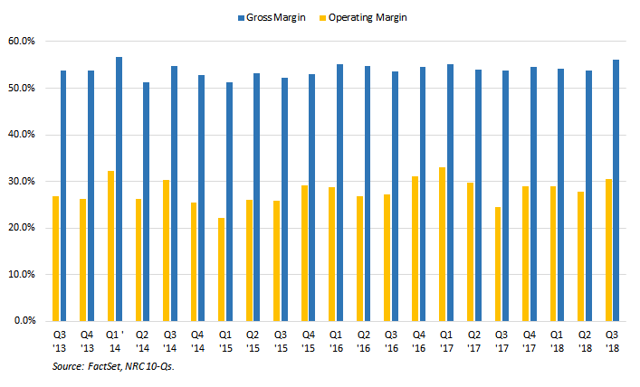 In fact, reviewing transcripts of earnings calls, management seems focused on revenue growth - I can find no mention of margins, cost controls, or any related topic as part of ongoing strategy.
If revenue growth, then, is the story management wants the income statement to tell us, its paucity of late makes NRC's price-to-earnings ratio of 39 seems expensive. One number in a vacuum can rarely tell us the whole story, but the company's balance sheet and cash flow statements have more of the same to say, begging us to examine the recapitalization and its effects on the value of the firm to shareholders.
The recapitalization, which took place in April 2018, brought about major changes to the long-time stability of several items on the balance sheet. For years, NRC kept roughly $30 million of cash on hand (NRC has bought 9 companies in the past two decades, the most expensive of which cost $22 million) and very little debt. To fund the recapitalization - each Class B share was swapped for one Class A share and $19.59 in cash - the company burned through most of its cash and also needed to assume some $35 million of debt. Thus after years of roughly constant total assets and liabilities, the cash crunch and assumption of debt dropped the book value of equity to around $30 million from its customary $80-90 million range: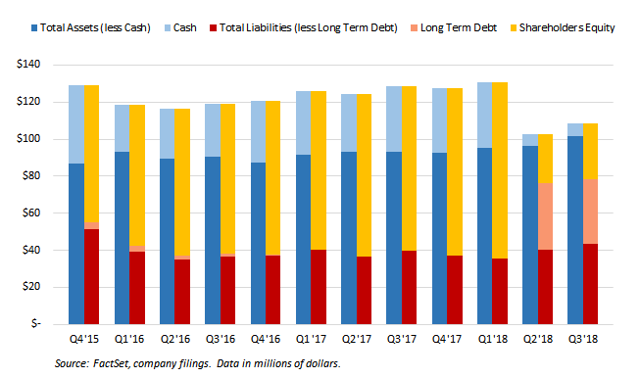 This means the stock is trading at around 31 times price-to-book value! Is this as out of kilter as it sounds?
Valuation and Competition
As mentioned above, the company's current price-to-book value of 31 is high (Netflix's price-to-book value is 25 as a comparison, while other technology darlings are in the single digits) but that number admittedly skews upwards due to a likely temporary assumption of debt and a cash drawdown. How long will it take the balance sheet to normalize? Net operating cash flow has averaged about $7 million per quarter for the last several years, while net investing and financing activities have summed to around -$5 million: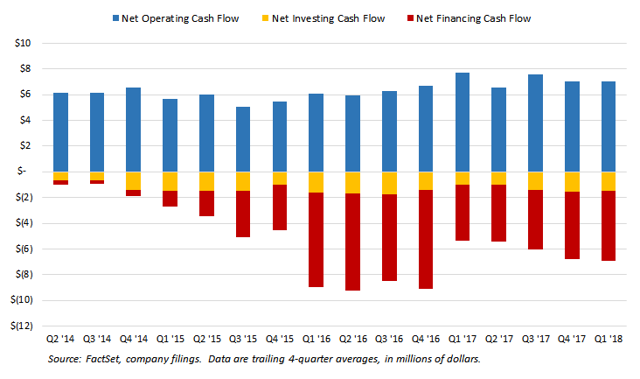 Assuming the company needs to maintain its dividend stream (currently about $4 million per quarter) and can drop every other investing and financing cash flow to zero (unlikely), that is a net cash inflow of $3 million per quarter or $12 million per year. At that rate, from Q3 2018 it will take at least 10 quarters to pay down long term debt, and another 10 quarters to return to holding $30 million in cash. That's 5 years in total! And even if we value the company on its 5-years-down-the-road book value of $90 million, the stock's price-to-book value today remains over 10. While not as outrageous as 31x, a 10x price-to-book still seems lofty, but a look at NRC's competition will give us better ground for judgment.
Per the company's own filings (see 2017 10-K, pg. 5) its primary competitors are private, and the only one it specifically names is Press Ganey. Searching for public competitors that can provide some comparative value, I choose Ipsos (the French polling, research, and consulting company), Huron Consulting Group (a management consulting firm focused on healthcare and life sciences), and NextGen Healthcare (a software and service company that provides electronic medical records and practice management). These competitors are not entirely apples-to-apples, but we can see that NRC blends together their core competencies of research, analysis, and software services in the healthcare sector.
Yet, as we can see, there is no way to combine these three companies to get a business that even comes close to receiving NRC's current valuation:
Not one competitor has a price-to-book value above 3x - including the healthcare software company - and all offer superior free cash flow yield, which I think is critical given the likely devotion of NRC's cash flow to restoring its balance sheet for the next 5 years.
To be fair, the statistics also reveal the superior margins of NRC. As reviewed above the margins are indeed consistently high but being applied, I think, to a low-growth business whose reinvestment rate may be about to plummet. In addition, the high price-to-earnings multiple looks less extreme next to (HURN) and (NXGN) but the former is hampered by negative earnings due to a large, one-off goodwill impairment in 2017 while the latter's numbers were affected by a large acquisition. Based on steady-state earnings numbers in pre-2018 filings, I estimate their price-to-earnings ratios would be in the 20s, again making NRC look expensive.
Conclusions
However nebulous NRC's description of itself may be, this is not a fast-growing, software-as-a-service, next-big-thing healthcare stock. While the company has identified a successful niche and done an excellent job fending off its competition, is it still essentially a marketing data and services firm, and it should be valued as such. The lofty valuation on this stock is partially temporary due to recent capital structure adjustments, but those adjustments also underscore the fact that a single controlling shareholder is the arbiter of such decisions. Given that shareholder's focus on revenue growth that has yet to materialize, and the years it will likely take to restore the company's balance sheet, it is difficult to find a catalyst that would allow the stock to achieve the future its price seems to imply. Being uncovered by Wall Street and possessing sounds fundamentals does not overcome the valuation challenge here, and investors should avoid NRC.
Disclosure: I/we have no positions in any stocks mentioned, and no plans to initiate any positions within the next 72 hours. I wrote this article myself, and it expresses my own opinions. I am not receiving compensation for it (other than from Seeking Alpha). I have no business relationship with any company whose stock is mentioned in this article.